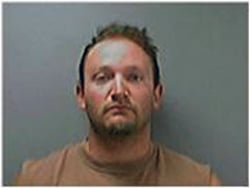 Mattoon, IL- An alleged bank robber is now behind bars after a high-speed chase through two counties Thursday morning.
The Mattoon Police Chief says when an officer tried to pull over Morris Thompson III, he fled. A chase ensued and lasted nearly 30 minutes, with the cars traveling over 100 miles per hour.
Police say Thompson drove down a dead end road in Moultrie County, jumped out of his car and tried to run away before he was arrested. Thompson is wanted for robbery in other states.
Thompson is now awaiting charges for robbery, fleeing and eluding police, reckless driving and damages to government property.