J.C.'s Blog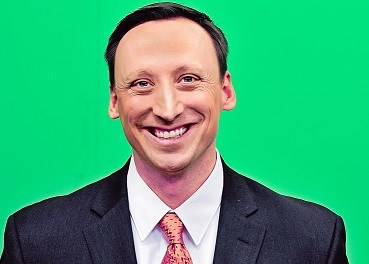 Thoughts on Rain Chances Mid-Week
High pressure remains in control of the weather across the Prairie State this evening. A clear and cool night ahead with lows dropping into the mid to upper 50s. The high will slide east tomorrow allowing warmer air, along with more moisture to stream back north. Temperatures will warm into the lower 80s tomorrow.
A cold front will drop out of the central Plains and approach Tuesday night into Wednesday. Forecast models agree that most of the morning Wednesday should remain dry, as storm chances will increase later into the afternoon. The front will slowly slide southeast into Thursday, lingering showers and storm chances into the first half of Thursday. Rainfall totals look to range from .50" to .75" with locally heavier amounts.
The boundary will become stationary across the Tennessee Valley for the start of the weekend and washout into Monday. Forecast models have different solutions for the end of the weekend and start of the work week. The GFS brings in chances for scattered storms Sunday and Monday with a system passing through the upper Midwest. The EURO has highs pressure set up across the mid south keeping shower and storm chances to our west and north. I am going to introduce a chance for a scattered storm Sunday and Monday and keep an eye on model outputs the next few runs.
---
July Ends With Above Average Precipitation and near normal temperatures
July goes in the books as the 3rd wettest on record for the state of Illinois, 2nd wettest in Springfield and 7th wettest in Lincoln. Temperatures were at near normal levels across much of central Illinois. Here is a list of stations with precipitation and temperature stats from the NWS Lincoln office.
| | | | | |
| --- | --- | --- | --- | --- |
| Site | Rainfall | Departure from Normal | Average Temperature | Departure from Normal |
| Charleston | 4.18" | -0.29" | 77.1 | +0.9 |
| Danville | 6.67" | +2.00" | 75.3 | +0.2 |
| Decatur | 5.08" | +1.10" | 75.3 | -1.2 |
| Effingham | 8.45" | +4.27" | 77.6 | NA |
| Flora | 6.95" | +2.84" | 78.1 | +1.0 |
| Galesburg | 8.19" | +3.81" | 73.6 | -1.0 |
| Havana | 8.22" | +4.18" | NA | NA |
| Jacksonville | 10.59" | +6.64" | 75.3 | +0.5 |
| Lincoln | 8.69" | +3.63" | 75.5 | +0.5 |
| Normal | 7.86" | +3.70" | 75.0 | +0.6 |
| Olney | 5.01" | +0.68" | 76.3 | -0.1 |
| Paris | 5.84" | +1.01" | 74.6 | -0.9 |
| Peoria | 5.01" | +1.16" | 76.4 | +0.9 |
| Springfield | 9.51" | +5.57" | 77.5 | +1.7 |
| Tuscola | 4.04" | -0.72" | 74.9 | -0.6 |
| Urbana | 4.53" | -0.17" | 75.0 | +0.1 |
Here at WAND we ended July near normal temperature wise and a little over 1" above normal for precipitation. Here is the break down
July Stats
Avg High: 87.4 Avg Low: 65.6
July High: 85.3 July Low: 67.4
---------------------------- ----------------------------
-2.1 Below Avg. +1.8 Above Avg.
Avg Mean: 76.5
July Mean: 76.4
-------------------------------
-.1 Below Avg.
Avg July Precip: 3.98" YTD Avg. Precip: 23.67"
July Precip: 5.16" 2016 Precip: 21.28"
------------------------------ ---------------------------------
+1.18" Above Avg -2.39" Below Avg
90+ Degree Days
June: 13 Avg: 6.3
July: 5 Avg: 9.6
---
May Ends With Below Average Temperatures and Precipitation
A tale of two different halves of May, with a chilly start and a warm and muggy finish. We also saw a string of 5 days in a row of rain, from May 7th thru May 11th. The breakdown of highs shows 12 days in the 80s, 7 days in the 70s, 9 days in the 60s and 3 days in the 50s.
Precipitation totals are all over the place and dependent on where you live. This is due to the scattered nature of the thunderstorms the past several days. For example, Champaign received 2.14" of rain in less than an hour while Taylorville recorded .66" and Springfield .50". I measured .06" at the station on the south side of Decatur.
Here is the breakdown of numbers for May at WAND-TV:
Average High: 75.9 Average Low: 52.5
May 2016: 73.2 May 2016: 52.6
-------------------------- ------------------------------
-2.7 Below Avg. -.1 Below Avg.
Average Mean: 64.2
May 2016: 62.9
-------------------------------
-1.3 Below Avg.
Average Rainfall: 4.79" Average YTD: 15.19"
May 2016: 3.25" May 2016: 13.74"
---------------------------------- --------------------------------
-1.54" Below Avg. -1.45" Below Avg.
Coolest High: 54 May 14th
Warmest High: 86 May 30th
Coolest Low: 40 May 5th
Warmest Low: 68 May 28th
---
Taking some time off
I am looking forward to taking a few days off! My wife and I spend so much time with our daughter that we decided it was time for an adult vacation. I will be gone from tomorrow through Wednesday next week. Kevin Chierek will be in for me during the evening shows. Hope you all have a great weekend and I will see you when I get back.
---
A Wet Wednesday in Central Illinois
A system pushed across the great lakes today drove a cold front across central Illinois. This boundary helped produce some widespread rains this afternoon. We dodged a bullet as strong wind gusts were reported in southeastern Illinois and southwestern Indiana. The heaviest of the rains fell across Ford and Iroquois counties with another pocket of heavier rains in northern Macoupin, southern Morgan and southern Sangamon counties.
Here is a list of totals sent in from viewers today.....
DeLand 1.25"
Clinton 1.10"
WAND 1"
Oreana .92"
Elwin .91"
Lincoln .24"
Beardstown .16"
If you have reports please send them my way! Our weather station is a CoCoRaHS reporting site, which that information is used by many different agencies. If you are interested in weather and already make daily observations you can find out more information by clicking here!
The big story in central Illinois weather will be the next blast of cold air headed this way for Friday. A blocking high south of Greenland, combined with a negative phase of North Atlantic Osculation (NAO) will keep our temperatures below normal. A persistent trough has been in place in the Midwest and across the lakes and will once again dig deeper Friday night into Saturday. Lows by Saturday morning in many locations will drop into the middle to upper 20s! Sunshine on Saturday will help to warm the area some but highs will struggle to make it into the lower to middle 40s during the afternoon. A brief warm up will arrive on Sunday and Monday but showers chances will accompany the warmer weather. Below average temperatures are forecast to continue through the middle of next week.
---
High Winds April 2nd and 3rd
The weekend roared in with strong gradient winds that gusted to over 60 mph on Saturday and up to 50 mph on Sunday. A strong clipper system across the lakes set up a very tight pressure gradient in the Midwest. The speed of the system, hint clipper, helped to create the pressure changes. The low finally pulled off the to the east allowing high pressure to build in, allowing the wind to relax.
Here are the highest recorded wind gusts:
Saturday: Sunday:
Newman 66 mph Havana 50 mph
Springfield 62 mph Hopedale 50 mph
Mattoon 61 mph Bloomington 49 mph
The complete breakdown...click here
---
A Warm March at WAND!
Here are the numbers from our station at WAND. According to State Climatologist Jim Angel this was the 10th Warmest March in Illinois on record!
Temperatures
Avg High: 53.1 Avg Low: 32.3
March 2016: 58 March 2016: 39.2
------------------------ ----------------------------
+4.9 Above Norm +6.9 Above Norm
Avg Mean: 42.7
March 2016: 48.6
-------------------------------
+5.9 Above Norm
Precipitation
Avg Precip: 2.59 YTD Avg: 6.73"
March 2016: 3.46 YTD 2016: 6.48"
-------------------------- ------------------------------
+.87" Above Norm -.25" Below Norm
---
Hello Monday!
We have had a little shake up in the weather department this week. Meteorologist Adam Del Rosso is moving to mornings and Meteorologist Kevin Chierek is moving to weekends. I really enjoy working with these two guys and I know this move will be great for us not only as a team but also on a personal level.
When you have a child it's hard to find that balance between work and family. I struggle with it to this day and miss out on stuff that I wish I could attend. I don't want you to think I am complaining about working, because I am not. The challenges will only get greater as my daughter grows up and becomes involved in extra curricular activities. It just makes you sit back and think about where you want to go in life. Is work something you're going to talk about when you are sitting in that rocking chair with your grandchildren or would you rather tell them something about their parents? This is a thought that I have pondering for a couple of years now.
In the television world we work some strange hours. My schedule is Monday through Friday from 2 PM until 10:30 PM, on a normal day. This week with all the changes I worked Sunday night and will be off Friday. When severe weather is possible it is all hands on deck and you will be here until the event is over. That means my wife becomes a weather widow. I have hands down the most understanding wife and most patient wife. She is always there to pick up the pieces and keep our family running when I am at work for long stretches.
Why do I do this job? I have been asked that question many times. My answers is always the same! I love what I do and if I can save just one life during severe weather, well I have done my job. I like to look at my job this way. It isn't any different than any other career, it just so happens to be in front of a camera. That is something I stress to kids who are getting into this business. Just because you are on TV doesn't mean you are any better than anyone else. Always remember where you started! I am a husband, father and lastly a meteorologist and love every challenge that is thrown my way. I love talking to people and if I ever run into you out and about I look forward to saying hey!
---
Weekend Family Fun plus some Baseball
I know there are a few of you out there who have seen me on either the basketball court or on the diamond. In my spare time I enjoy officiating sports that I really enjoyed playing growing up. Baseball season is here and I had a chance to umpire my first baseball game of the season on Saturday. I had to shake off some rust! This game had a little more meaning as my middle brother joined me on the diamond umpiring the game. Most people like to spend time with their family at home or doing something fun...well us Fultz boys find umpiring fun and it makes for some good ribbing of each other about calls. I might see some of you around this Spring if you are headed to a high school baseball game.
Anderson loves animals and on Sunday Ashley and I took her to a farm. My Dad's best friend, who is like an uncle to me, has a farm with cows and there was a baby calf. We had talked about going with Anderson for about and week and on Sunday morning she was so excited to head out there. The whole drive to the farm she kept saying, "Cows Dada" "Cows"! When she first saw the cows this cute little squeal came out of her. She was so fascinated that she stood on the fence and just watched them. We finally were able to get her down off the fence but then she wanted to head to the barn to check it out. She found some bales of hay and had to climb on them. I love watching her experience new things and seeing the joy on her face makes any weekend great!
---
My Favorite Time of the Sports Year!
Today marks the beginning of what some reefer to as, "basketball Christmas"! The NCAA tournament is the most exciting and emotional time during the basketball season. The term March Madness is very fitting! People always ask me who my favorite team is and some are surprised by my answer. I am a Duke fan! This goes back to the days of Bobby Hurley and Christian Laettner and Grant Hill. I remember the shot Laettner hit against Kentucky at the buzzer and I was hooked! I wrote Coach K a letter and didn't expect to hear back from him. A couple weeks later my Dad came into my room and said I had mail. A big envelope from Duke University was handed to me. Coach K had written me back and personally signed it and a photo of the team! I will never forget that and I am sure I was not the only kid to bombard him with a letter. In that package was a bumper sticker and other Duke items. This has left a lasting impression on my to this day. Coach K is a class act and will always be held in the highest regards in my eyes! I also root for the Illini, who I have grown up watching along with SIU Salukies, as I attended that school for two year. I can't leave out my Alma mater EIU!
Spring training is now under way and my favorite line to hear on the radio is...."Chicago Cubs Baseball is on the Air"! I have to give credit to Harry Carey and WGN for my love of the Chicago Cubs! During the early days, Wrigley field didn't have lights so most of the games were day games. I used to run home from school and turn on the end of the Cubs game. During the summer it was time for a rest when they were on. When they installed the lights it made it easier to watch the games as my parents would let me stay up. It wasn't always easy to catch a game when I would visit my great grandparents. My great grandfather was a HUGE Cardinals fan. He would be watching a game and fall asleep and I would wake him up and ask him the score. He could tell me the exact score and what inning the game was in. I thought he had magical powers! We used to have some great discussions about baseball and how he said I should become a cardinals fan. Well...he tried but he never could convince me to leave my Cubbies!
I am a kid in a candy store as I will flip from a basketball game to a baseball game and don't forget hockey is on. This is a great sports problem to have! Who are some of your favorite teams?
---
You Can't Please Everyone
As a broadcaster you learn quickly that not everyone is going to like you, or be pleased with your work all the time. It's hard not to take certain comments personally but you have to keep your chin up and keep moving forward. Severe weather is one of those times! Interrupting programming is not something I enjoy doing, or want to do, but is necessity in certain circumstances. Every county in our viewing area is just as important as another. We battle the stereotype that we are the "Decatur" station. Yes, we are based in Decatur, and do focus heavily on that area, but we are the NBC affiliate for all of central Illinois. That being said, we will break in for a storm that is impacting any one or more of our counties/communities. I wish it was possible to just break into programming for the area that is being impacted, which is not possible. If someone could figure that out in terrestrial broadcasting they would be a billionaire.
Here at WAND our management has handed us meteorologists a blank check to break in and stay on as long as we feel is necessary. We try not to abuse that privilege! There are a lot of places that a decision by a manager to preempt a show has to be made before the meteorologist can break in. That time could mean the difference between life and death in some circumstances. Preempting programming is not popular and I get that. I look at it this way. I am here to keep an eye on a storm and if I feel it could cause damage or could possible kill someone, then I will stay on as long as I need to to make sure those being impacted are safe. My biggest fear is that I will be on live, covering a storm and someone loses their life because they didn't have enough time or information to get to safety.
I know it sounds like we are repeating ourselves from time to time but think of it this way. You tune in at a certain time, while through out the next 10 minutes people will tune in at different times. It is hard to find that perfect balance between new information and repeating what you just said. Sometimes repetitiveness is necessary in case a group of new viewers have just tuned in. This way they can get the information and get to safety. I will say this. The positive feedback always out weighs the negative comments but the negative comments cut a little deeper. This is just the nature of the beast and I have learned over the past 14 years not to let those nasty comments get to you. My advise to a new broadcast would be this... Just do the best job possible and if you get a negative comment go back and think about your broadcast. Did you give your best effort? If you say yes, then you have nothing to worry about keep moving forward!
---
Severe Weather Tears Across Parts of Central Illinois
A sunny and warm afternoon turned into a stormy evening across the area. The radar screen was quiet as of 4 PM in eastern Missouri then as of 4:40 PM storms were intensifying. A Tornado Watch was issued around 4 PM in the evening for areas west of US-51. Click on this link to see a radar time line of how quickly the storms fired to our west. https://www.facebook.com/490627770949438/photos/pcb.1154305947914947/1154305771248298/?type=3&theater.The first warnings were issued shortly before 5 in northeastern Missouri and far western Illinois. Those storms raced into western Illinois producing a couple of possible tornadoes and very large hail. A storm quickly developed near Pittsfield and raced northeast. A severe thunderstorm warning was issued for E. Scott and Morgan Counties at 6:43 PM. This storm produced penny size hail in Winchester around 6:25 PM. The first tornado warning of the night was issued at 7:01 PM for SE Morgan County as the storm was near Murrayville. Thirteen minutes later at 7:14 PM a Severe Thunderstorm Warning was issued for NW. Sangamon, SW. Menard, NE. Morgan and SE Cass Counties as the northern storm was near Ashland. The southern storm had the next Tornado Warning issued at 7:26 PM for Sangamon and E. Central Morgan County as the storm neared Alexander. At this time very large hail reports were coming in with an unconfirmed report of Baseball Size hail in that area. The storm continues on its northeasterly track with the next Tornado Warning being issued for Sangamon and SE. Menard at 7:48 PM. A funnel cloud was spotted southwest of Springfield. The rotation weakened after the storm moved northeast of Springfield with a Severe Thunderstorm Warning issued at 8:37 PM for Logan, SW McLean and NW DeWitt. This same storm continued to track into Ford and Iroquois where a Severe Thunderstorm Warning was issued at 9:52 PM. Rotation once again returned to the storm near St. Anne in southern Kankakee County where some damage was reported.
A cell developed along I-70 near Vandalia and tracked through Effingham. It continued to gain strength before a Severe Thunderstorm Warning was issued at 9:45 PM in N. Clark and Edgar counties. This storm produced some hail and gusty winds.
Here is a list of reports from tonight's storms...
0625 PM     HAIL             WINCHESTER      M0.75 INCH       SCOTT              0638 PM     HAIL             2 N ALSEY      M1.00 INCH       SCOTT               0645 PM     HAIL             3 SSW JACKSONVILLE    M1.00 INCH       MORGAN            0659 PM     HAIL             JACKSONVILLE       M2.00 INCH       MORGAN             0720 PM     HAIL             ALEXANDER        M2.75 INCH       MORGAN            0728 PM     FUNNEL CLOUD     1 N WAVERLY      MORGAN            0733 PM     HAIL             NEW BERLIN         M1.75 INCH       SANGAMON        0745 PM     HAIL             5 E PLEASANT PLAINS    M0.88 INCH       SANGAMON           IL   0746 PM     TORNADO          3 NNE TRIVOLI           PEORIA     SIGNIFICANT DAMAGE TO A CHURCH AND LARGE TREES SNAPPED.             NEAR TEXAS RD AND COTTONWOOD RD.0747 PM     TORNADO          LOAMI    SANGAMON       0748 PM     HAIL             1 W KICKAPOO    M1.75 INCH       PEORIA          0750 PM     TORNADO          4 N HANNA CITY          PEORIA      HOUSE DAMAGED...ROOF BLOWN OFF0750 PM     FUNNEL CLOUD     1 S SPRINGFIELD        SANGAMON           0752 PM     TSTM WND DMG     4 W SPRINGFIELD    SANGAMON      TWO HOUSES DAMAGED ON WEST ILES.       0838 PM     HAIL             BEASON     M1.00 INCH       LOGAN             0848 PM     HAIL             CLINTON          M0.88 INCH       DE WITT            0854 PM     HAIL             1 E HEYWORTH       M0.75 INCH       MCLEAN           1008 PM     HAIL             WESTVILLE         M1.00 INCH       VERMILION        1012 PM     HAIL             S DANVILLE       M0.88 INCH       VERMILION          IL   
---
HEADS UP!!! The SPC has part of central Illinois under the 2-Slight (Yellow) Risk area for severe weather tomorrow. A line from Jacksonville to Hillsboro to Vandalia southwest is a 1-Marginal (Green) Risk area.
Synopsis: Low pressure across the southern Plains will lift north tomorrow swinging a warm front through. Elevated storms will slide across northern Illinois and could clip McLean, Ford and Iroquois. Storms could produce large hail and gusty winds.
The second round will arrive by late afternoon/early evening as a cold front approaches. Steep lapse rates and increased winds aloft, along with veering winds will help to enhance storm development across northern and north central Illinois. Super cells are possible to develop in southeastern Iowa and Northwestern Illinois and push east. Here in central Illinois a cap will be in place from clouds in the morning. If sunshine can break through, that will help to destabilize the atmosphere and may break the cap. Winds aloft in the CI look to be more unidirectional supporting a damaging wind threat. A line of storms will form and race through as a cold front approaches. I am not worried about a heavy rain threat in central Illinois, due to the fast moving nature of the storms.
Timing: 4 PM until 10 PM Tuesday
Threats:
Damaging winds of 60+ mph (Most of central Illinois)
Large Hail: (Mainly north of I-74)
Isolated Tornado: (Mainly north of I-74)
Stay tuned to WAND for updates into tomorrow.
---
Snow or bust….
This winter has been a record breaker for snow and cold. It has also been a very tough winter to try and forecast as winter storms can change course or other factors can cause forecasters to have nightmares. This past event was one that looked promising but under delivered. Here at WAND all of our meteorologist take great pride in the work we do and try to provide the most accurate forecast. I want to take a few minutes and address some of the concerns that a handful of viewers might have about our forecast and their validity.
All of our on-air meteorologist take pride in our work and work extremely hard to provide the most accurate and up to the minute forecast that you can count on. The business has changed so much over the past 12 years I have been here at WAND. We used to provide the weather on one platform now we have multiple sites we update. Social media provides a great outlet for our forecast to get information out that we might not have time to hit on TV it also provides the viewer with updated information on the storm in real time. This also opens the door for more criticism and other topics I will not touch on here today. We all know that when you work in the public eye there will be times when your put under a microscope and you will take your fair share of criticism. The hardest thing to do is not take it personal and let it affect you. I am writing this blog entry because of some things that were said about our forecast not being right ever. I felt I need to address those issues. I am not trying to come off as a jerk, or trying to provide excuses for a busted forecast, I just want to get the facts out there.
I keep records of all my forecasts that I write every single day. This was something that was drilled into my head in school and by my mentor. The notebooks that I keep them in are 70 pages long so that means I get to see after 70 forecast how my accuracy stands. I use a plus or minus two degree variant to grade my forecast as successful and plus or minus 4 degrees for a satisfactory. If I do not meet that range then I will take time the next day and look back at what went wrong and what I could have missed. Here at WAND we cover such a vast area in central Illinois that we try to make sure the forecast is not only for just Decatur but for all of the area. That is why when you see our snow forecast we will hand draw so you can know what to expect for your area. Also, with snow forecast we will list a range. For example, we might say Decatur, Springfield, Champaign could see 6" to 10" of snow. It doesn't mean that we will get 10". We just expect the snow accumulation to fall somewhere within that range. Every winter storm EXPEPT this last one our forecasts have fallen with in the range we have listed for the area. I just finished a notebook, so I went back to look at the accuracy of the forecast and I found that we had nailed the forecast with in the parameters list above 64/70 times. That means we have been accurate 94% of the time. From time to time a forecast bust will happen as is the case from this past weekend. I know it may cause some inconvenience but we are not trying to do this intentionally it just happens.
I want to thank all of you who watch our forecast and station everyday. Our staff is comprised of some very talented people and I am so happy to be able to work along side them. Greg, Lauren, Kevin and myself will also try to provide you with the up to the minute information in the most accurate and understandable way. Thank you for trusting us and understanding that at times we will miss a forecast but know we take it personal and will use it as a learning experience to try and keep improving everyday. If you every have question, want to catch the latest weather, or just see what we are up to you can follow all of us on facebook and twitter.
Twitter Facebook
@GregTrumbold Greg Trumbold
@KevinChierek Kevin Chierek Wand-tv
@LaurenRainson WAND Lauren Rainson
@jcfultz WAND JC Fultz
---
January was a cold and very snowy month here in the CI. Most of the area is approaching record levels of snow with more than half of winter left. Decatur's snowfall for January ranked 13th most since recorded keeping started. The Climate Prediction Center has project February to be colder than average and see above average precipitation. If the beginning of the month is any indication it could be a cold and snowy February. Here are the number for January off our weather site at WAND.
Average High: 36.1 Average Low: 19.2
2014 Jan High: 30.2 2014 Jan Low: 11.6
---------------------------- -----------------------------
-5.9 below normal -7.6 below normal
Average Mean: 27.7
2014 Jan Mean: 20.9
----------------------------
-6.8 below normal
Average Jan Snow: 4.8" Average Liquid Precip: 2"
2014 Jan Snow: 14" 2014 Jan Precip: 1.47"
--------------------------- ----------------------------------
+10.8" above normal -.53" below normal
7 night below zero
1 afternoon high below zero
Warmest Temp: 53 January 13th
Coldest Temp: -12 January 6th
---
20140205
Snow has been well above normal this season as you might have guessed. Here are some stats from the NWS office in Lincoln on how this snowy winter ranks all time. The long range forecast from the Climate Predication Center call for above average precipitation with below average temperatures. We will see as still have plenty of winter left.
Snowfall This Winter Well Above Normal - Updated Feb 5
The frequent winter storm systems, which have affected central and southeast Illinois since mid December, have resulted in snowfall running well above normal over the area. The totals observed so far, have surpassed the normal for an entire winter, and most are in the top 10 snowiest winters. Last winter, snowfall over much of central Illinois was well below normal through early February.
The table below shows observed snowfall as of February 5 for several area cities, and how they compare to normal and last winter. Also shown is snowfall in January and rank, along with how this winter season (Dec-Feb) ranks in the historical record of snowy seasons.
Location

This Winter
Through
February 5

Normal Through February 5

Departure from
Normal

Last Winter
Through
February 5

Normal for Entire Winter

Jan 2014 Snowfall

January Snowfall Rank

# of Days this Winter with 0.1 or more of snow
2013-2014 Winter Season Snowfall Rank

Charleston

28.3 inches

11.8 inches

+16.5 inches

2.7 inches

17.2 inches

17.2 inches

7th

10

#7

Danville

31.5 inches

11.0 inches

+21.5 inches

3.4 inches

17.9 inches

19.3 inches

4th

15

#4

Decatur

M inches

10.8 inches

M inches

3.5 inches

16.0 inches

12 inches

13th

10

M

Effingham

31.3 inches

8.3 inches

+23.0 inches

3.5 inches

15.2 inches

19.8 inches

3rd

14

#5

Galesburg

32.8 inches

15.7 inches

+17.1 inches

5.2 inches

22.5 inches

12.1 inches

15th

16

#5

Hoopeston

32.6 inches

11.9 inches

+20.7 inches

3.3 inches

17.7 inches

19.4 inches

2nd

20

#8

Jacksonville

25.3 inches

11.1 inches

+14.2 inches

5.9 inches

17.4 inches

12.3 inches

15th

16

#13

Lacon

42.1 inches

15.0 inches

+27.1 inches

1.3 inches

23.0 inches

18.5 inches

2nd

22

#1

Lincoln

32.2 inches

13.9 inches

+18.3 inches

4.1 inches

20.6 inches

15.7 inches

5th

17

#5

Normal

36.5 inches

13.7 inches

+23.8 inches

3.4 inches

19.9 inches

17 inches
Tied 5th

16

#3

Olney

22.5 inches

7.9 inches

+14.6 inches

10.0 inches

11.7 inches

9.5 inches

15th

13

#7

Paris

35.9 inches

16.1 inches

+19.8 inches

9.5 inches

23.6 inches

20.5 inches

6th

11

#8

Peoria

35.8 inches

16.3 inches

+19.5 inches

4.5 inches

24.6 inches

15 inches

Tied 10th

24

#4

Rushville

29.9 inches

11.2 inches

+18.7 inches

4.0 inches

15.3 inches

9.9 inches

22nd

15

#6

Springfield

34.2 inches

13.7 inches

+20.5 inches

5.5 inches

20.9 inches

15.9 inches

Tied 7th

18

#5

Tuscola

34.6 inches

12.5 inches

+22.1 inches

4.0 inches

18.0 inches

15.6 inches

8th

18

#3

Urbana

34.4 inches

15.5 inches

+18.9 inches

4.0 inches

23.2 inches

14.3 inches

10th

22

#4
---
---
20140129
FORECAST UPDATE:
High pressure continues to influence the weather across the CI tonight. We are on the back side of the high which is turning the winds more southerly. This will help to keep temps overnight in the upper teens to near 20 which are where we are supposed to be for this time of the year. Several waves are slated to move across the Midwest from tomorrow through the weekend.

The first wave will slide to our north tomorrow dragging a cold front into the CI by the late afternoon hours. The morning will start partly sunny before clouds build in. Looking at the thermal profiles they suggest a rain/snow mix to start before some snow showers will be possible by the evening. The front looks to stall out across southern Illinois Thursday night. The next wave will push across the northern half of the area on Friday morning into the early afternoon which could drop up to an inch of snow along and north of I-74. The track of the low and position of the front Friday evening into Saturday morning will be the key to what type of precipitation we can expect. Right now I am expecting all snow to the north of I-72 with a potential to see a mix of sleet/snow for areas between I-72 to I-70. Thermal profiles indicate an area of warm air that could create the wintry mix. Snow totals could range from 2" to 4" with locally heavier amounts farther northeast

Groundhog Day and Monday will be quiet as we will between systems. Highs will be in the 20s and lows in the upper single digits and lower teens. Our attention then turns to the middle of the week. I have heard a lot of people talking about a huge winter storm coming. There is a huge spread on the models right now with some calling for a lot of snow, while others call for minor accumulations and another one that keeps the area dry. Its way too early to jump to any conclusions on accumulations or snow chances as we need to see how the models evolve over time. The models that are painting the higher snow total have trended that way last week with the storm that moved through this past weekend as we saw the out come. Don't panic right now we need to sit tight and watch over the next couple of days to see more agreement in the models. I am going to put chances for snow in the forecast for Tuesday and Wednesday next week but I am going to watch this weekend to see how the system evolves on the models and then we will start to talk more about it as they have a better handle on it.
---
20131511
The sky will start to clear out over the next couple of hours. Temperatures should reach into the middle 40s before the clouds build back in after midnight. The southerly breeze combined with cloud cover will allow temps to rise after midnight. Tomorrow will be a cloudy, breezy with scattered showers by the afternoon. A warm front will slide through helping to increase the winds out of the south and put us in the warm sector. Gusts could reach 35 to 40 mph.

Sunday's forecast will be all based on timing of the precip and dynamics. A cold front will push into western Illinois tomorrow and stall out until Sunday morning. The front then will push into the CI late morning into the early afternoon. The greatest dynamics (500 mb jet winds of 90 to 100 kts) look to work in sometime early afternoon which will be the key to get any strong storms going as instability perimeters are low. If the storms can tap into the upper level winds they could become very strong with main threat being damaging winds. The SPC has already places areas to the east of I-55 under a slight risk for Sunday with greater chances for stronger storms further east that you live in the CI. Rain totals should range from .65" to .75" with locally heavier amounts before it wraps up Sunday afternoon. Clearing could take place and some sunshine could pay a visit to areas west of I-55 by the late afternoon.

Next week looks to be quiet and cool from Monday through Thursday. A couple weak waves will slide by to our north which could bring a few clouds through Wednesday and Thursday with maybe a stray shower west of I-55 Thursday afternoon. Models disagree by the end of the forecast period with the GFS dropping a system through Friday while Euro keeps system and energy to our south. I am going to use a blend and add a mention of a scattered shower for Friday.
---
20131311
The area of high pressure will continue to slide SE over the next couple days. A return flow from the south has begun to develop across the CI this evening which will help keep our temperatures about 10 degrees warmer than last night. Sunshine will be the rule tomorrow with breezy conditions. Highs will top out around 50 but feel cooler thanks to the wind. A cold front will arrive in the upper Midwest tomorrow which will wash out as it arrives here Friday morning. We will see an increase in clouds Friday but should still see a fair amount of sunshine.

The weekend will be warm and wet. The GFS and Euro models are coming into better agreement on their solutions for the weekend. Showers will start to arrive west of I-55 by the late morning and spread east through the afternoon into evening. The nose of the 500 mb jet along with the 250 mb jet will work into the area which will help to enhance lift and could help to get some thunderstorm going on Sunday. The cold front will arrive late Sunday evening bringing an end to the precip from west to east into early Monday morning.

Next week another punch of cold air will arrive but this is where the models once again differ. I am going to use a blend in the extended and bring temps back into the 30s for highs Tuesday and Wednesday but we will see plenty of sunshine. Lows by Wednesday morning will once again drop back into the teens.
---
20132108
T-Minus 18 days until baby Fultz is supposed to arrive.
I am sure that Ashley might say differently but it seems like just yesterday we found out that we were expecting. It has been interesting to read about how the baby is developing each and every week and to take Ashley's picture. If I could change anything during the pregnancy, I wish I would have asked her more often how she feels. I think that has been my biggest flaw as an expecting Dad. Ashley has been felt pretty good during the second trimester but now she get tired quickly and hasn't been feeling the best. There are no excuses for me not asking her more often how she feels. Guys, make sure that when your wife or significant other is pregnant that you are always asking how they feel.
We have been in major prep mode over the last couple weeks as it's almost baby time. The major house projects have started to wrap up and the babies' room is complete. Ashley's parents hosted a baby shower for us a couple weeks ago and we received an amazing out pouring of gifts for the baby. Then Matt our Sports Director and his wife Tiffany threw us a shower and once again our WAND family spoiled us. Finally, Ashley's coworkers threw here a surprise shower yesterday! I knew about it for a week and it was really hard to not slip up and tell her I would see her that afternoon. Once again everyone went over and beyond for us there. Its amazing how loved our little one is and her or she isn't even in the world yet.
People have started to ask us what names we like and to be honest we haven't settled on any yet. We have a couple picked out but we are going to wait until the baby is born to reveal that along with the sex of the child. I have one name that I really like but we will see over time if it still sticks.
---
20131908
August has been cooler than normal and dry as well. So far here at WAND we have only received .09" of rain which for the first 19 days is about 2.22" below normal. We are still ahead for the year by .72" but if we don't see any rain then we will be back below normal by the end of next week. Its hard to believe that we would be talking about abnormally dry conditions after such a wet start to 2013.
When we look at the number compared to last year we are in much better shape. At this time last year 100% of the state of Illinois was under drought conditions with 100% at Moderate levels, 94.10% in severe drought, 81.18% extreme drought and 8.38 in exceptional drought. This year none of the state is under a drought but about 44.82% is not considered abnormally dry.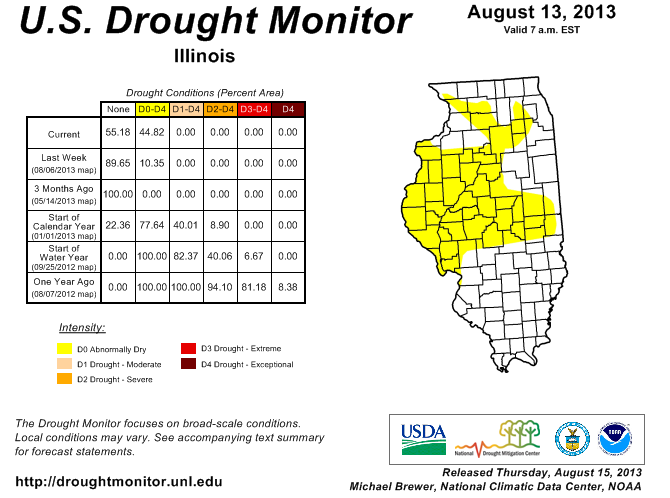 The Midwest is looking a lot better as well but parts of Iowa are still in drought even with the wet spring they saw. Right now 72.82% of the Midwest is not in a drought with 27.18 abnormally dry and 6.29% in a moderate drought. When you compare this to last year only 18.58% of the Midwest was NOT in a drought. 81.42% was considered abnormally dry, 69.11% moderate drought, 55.13% severe drought, 38.19% extreme drought and 5.78% exceptional drought.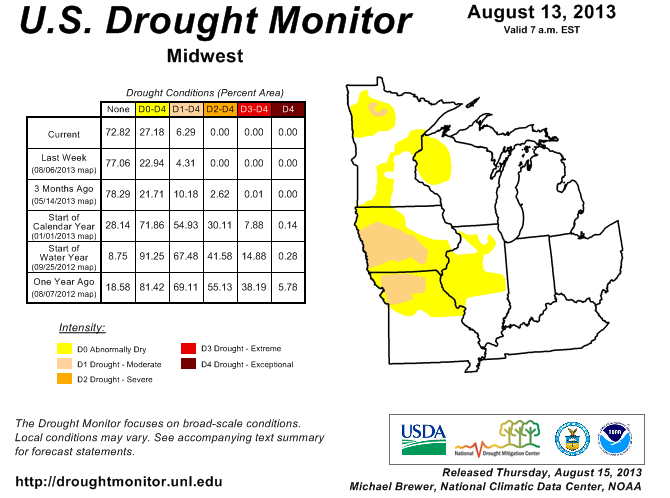 Locally we have been wet but now the summer sun along with an extended period of dry weather is starting to take its toll on our water surplus. From July 1st through August 16 Springfield has received 3.6" of total rain. That is about -2.05" below the norm for this time period of 5.65". Last year during this same time Springfield only received 1.59". In Decatur the official reporting stations has received 3.65" which is about -2.29" below the norm of 5.94" from July 1 though August 16th. Last year during the same period only 2.42" fell.
The moral of this story is we could use some rain to help to recharge the soil which is getting dry across parts of the area. When you get into the I-70 corridor and areas along the Wabash River in SE Illinois they are running way ahead of schedule as they have been seeing some the bigger rains that have stayed just to our south. Looking at the forecast models there doesn't appear to be much help in sight but this time of the year the storms are more scattered unlike in the spring and fall when they become more widespread.
---
20130708
Tonight during dinner break Ashley and I attended our final baby class. Its hard to believe in one month from tomorrow the due date will arrive. I have so many things going through my mind but the baby classes we attended really helped to ease my fears and to better understand what to expect when we arrive at the hospital.
In the first class three weeks ago the instructor asked at the beginning if there was anything that we were nervous about. I didn't speak up, but seeing Ashley in pain and not being able to help out and knowing I was the cause of this pain will really bother me. I don't like being helpless but I will try and comfort her the best that I can during the birth. We were talked about that question again tonight before class and the same thought kept coming up. If there is any other things that make me nervous I think just trying to do everything right when the baby comes home is the next biggest worry.
I am excited, nervous, and ready to meet out little one. We have been talking about names but we are going to wait to revel the name when the baby is born. We also choose to wait to find out the sex of the baby. There are not to many surprises left in life so why not have the greatest surprise of them all. In Germany, I saw a licence plate that said Sven on it. I looked at Ashley and said, "how about this name." Quickly I was given a NO! So from then on I have joked about calling the baby Sven for a boy and if its a girl Gretel. I really feel you need to see your baby before you settle on the final name. Some babies just don't look like the name that you have picked out before the birth.
I will try an update the blog a little more over the course of the next couple weeks. I look forward to meeting my son or daughter! I really don't know what to expect emotion wise the first time I get to hold the little one. I guess I will find out soon!!!!
---
20130208
We put July in the books on Wednesday and what a difference one year can make. This July was much cooler than what we saw in 2012 along with almost 3" more inches of rain falling in July 2013. I will also talk about why this has been the case plus compare 2012 from January to July 31 rainfall wise. Temperatures have also seen a complete turnaround from May through July in 2013. All the stats that I am talking about are recorded from our site at WAND-TV on the south side of Decatur.
This July has turned out to be 11.4 degrees cooler than July 2012. When we compare the months we look at the mean temperature. The mean temperature is the average between the recorded high and recorded low. The mean temperature for this July was only 74.2 compared to the hot mean of 85.6 in 2012. The reason why it's been so cool has to do with the jet stream and a persistent low across Hudson Bay. The jet stream is a river of air in the upper part of the atmosphere. When a trough develops, (which is a dip in the jet stream) cooler air is allowed to spill in from Canada. The flow around the persistent low in Hudson Bay is counter clock-wise so that mean we have had a northwesterly flow for most of the month of July. At the begging we were under a ridge for a week which did allow us to see 5 days in the 90s. It also allowed for ample moisture from the Gulf of Moisture to invade the Midwest. In the western half of the Nation a ridge has been in place the last few weeks allowing 90's and lower 100's to surge all the way into Idaho. Models over the next 10 to 15 days keep this pattern going which means below average temperatures along with periodic chances for showers and storms.
When a trough develop such as the one we see now from time to time we will see waves of energy develop across the northern Plains then drop into the Midwest. With the active jet set up just to our west those wave will ride the jet and push a cold front through about every 3 to 4 days.
Temperatures have not been the only thing that has been different than last year. January through July 31st 2013 has seen almost 18" more rain than we did up to this point in 2012. We have been in a more active weather pattern especially late in the winter and spring which helped to replenish our soil moisture. When you lose too much soil moisture it is harder to moisten up the lower levels of the atmosphere. Last summer with the lack of that moisture it was harder to get showers going plus the jet was positioned across the US-Canadian border most of the summer. What also helped to enhance the drought was the amount of sunshine and heat which helped to increase our evapotranspiration rates. When we talk about ET rates it's the amount of moisture lost from the soil and from plants such as corn sucking in the moisture and then releasing it into the atmosphere. When the soil is already dry and you continue to pull moisture from it and not add anything the deficit grows. The best way I can think of it to describe is when you don't have an income coming in and you still have to pay your bills you only have so much savings. Until you get more money coming in, then you will watch that saving account dwindle. This year our ET rates have been much lower and we are about 3" ahead for the year rainfall wise!
Below are some numbers breaking down some of the things I have talked about above. One of the most interesting stats I found when running the number was the amount of 100 and 90 degree days from 2012 compared to 2013. In 2012 we saw 11 days at or above 100 and this year none! In 2012 we saw 30 days from May through July of 90 or high and in this year only 11 so far. The hottest temperature recorded last July was on the 6th when we hit 106 at WAND. This July 94 was the highest recorded temperature for the month in the 19th. I hope you enjoy looking at what a difference just one year can make as much as I did putting these together.
July 2013 Stats
Average High: 87.8 Average Low: 64.6
Recorded High: 83.1 Recorded Low: 65.2
---------------------------- ----------------------------
-4.7 below +.6 above
Average Mean: 76.2
Recorded Mean: 74.2
------------------------------------
-2 below normal
Average July Rain: 3.98" Average YTD Rain: 23.67"
Recorded July Rain: 3.02" Thru July 31 YTD Rain: 26.61"
----------------------------------- ----------------------------------------
-.96" below norm 2.94" above norm
July 2013 vs. July 2012
July 2013 High Avg: 83.1 July 2013 Low Avg: 65.2 2013 July Mean Avg: 74.2
July 2012 High Avg: 96 July 2012 Low Avg: 72.2 2013 July Mean Avg: 85.6
-------------------------------- ------------------------------- ----------------------------------
+12.9 warmer in 2012 +7 warmer in 2012 +11.4 warmer in 2012
July 2013 Rain: 3.02" Jan-July 2013 Rain: 26.61"
July 2012 Rain: .14" Jan-July 2012 Rain: 8.67"
---------------------------- ----------------------------------
+2.88 more this year +17.94" more in 2013
July 2013 July 2012
------------ ------------------ Hottest Temperature July 2013 94 July 19th
100's 0 100's 9 Hottest Temperature July 2012 105 July 6th
90's 5 90's 18
80's 17 80s 4
70's 9 70s 0
---
20130530
With meteorological spring coming to an end on Saturday some records have been set in parts of the CI. Meteorological Spring is from March thru May. This information comes to me from the National Weather Service Lincoln.
Lincoln….13th wettest spring with 15.08"….Record 19.75" (1995)
Pana…8th wettest spring with 18.37"…Record 24.88" (1892)
Beardstown….3rd wettest spring with 18.04"…Record 20.17" (1898)
Virginia…This year is the wettest spring with 19.02"…Old Record 16.95 (2009)
Springfield…8th wettest spring with 17.21"..Record 21.83" (1893)
Jacksonville…5th wettest spring with 17.57…Record 18.21 (1927)
With more rain in the forecast some of these locations could set new records by Saturday. When you average all the models rain forecasts together it comes out to range from 2.5" to 3" with locally heavier amounts under stronger storms that develop. Stay tuned!
---
20130528
The balance between work and family…
Working in television is tough especially when your hours are dependent on the weather and very odd to begin with. We don't have a normal 9 to 5 job and when the weather turns nasty I have to be in the weather center until it's over. The questions I have been asking myself lately, how do I balance this crazy work schedule and have a very active family life? What are things I can do to delegate some duties so that I can be home but not over work other team members? When our baby is born, what can I do to be home with the baby and not miss out on things? Finally, when our child is old enough is the sacrifice of missing out on school plays, sporting events, birthdays, and holidays worth it?
I love what I do and I really hope it shows on the air. This weekend for example we had our newest meteorologist Lauren on duty! She comes to us from EIU which is the same school that I attended. Lauren did a great job and it was nice to get away from work during the weekend. Holiday's such as Monday are not guaranteed off days like in most other jobs. In TV, we have all have worked many Christmas', Thanksgivings and other major holidays. This Monday, I was able to spend some quality time with Ashley and Wrigley. The day started out at 4:30 AM for me as I was doing live radio cut-ins for WTAX. Once I finished that it was time to sleep in. Plans changed as originally we were going to the Terre Haute area to go boating. Instead, we decided to head out to Fairview Park and enjoy the sunshine and a mild temp since the whole weekend was rainy. I checked the radar and everything was quiet but next thing I know on our way home my phone rings and it's the station; there is a tornado warning! Well, here we go its time to cut the family day short and head to the station. I arrived and got on the air as quickly as I could to let people know what was happening. My goal is be the calm voice and give you the information you need to keep safe.
When I got home from doing the 6 PM newscast Ashley and I started to talk. I am very lucky to have such an amazing wife who understands this crazy business. Ashley used to be a producer so she understands why I have to leave at times. This brought up the conversation of how much the family of a weather person has to sacrifice and how they are left to fend for themselves in the event of severe weather. When I am in the office, I think about my family all the time. When a severe storm is headed for my house, my parents house or Ashley's families homes I get nervous. When I am on the air I can't pick up the phone and call them. I try and text Ashley, my parents, and her parents to let them know what's coming but sometimes it impossible. I know this is part of the job but its one part that I really don't like. I feel helpless for my family and even for you the viewer. I can only give you the information but then it's up to you to get to safety along with my family. I never want to see any damage or anyone to get injured. I pray every night and thank God for my job and for the safety of my family. If there is one thing I fear the most is someone will loose their life on my watch during severe weather and I can't do anything to prevent it. The only thing I can do is to tell you to "hit the deck".
In the years to come once our baby (boy or girl) is born, how do I not miss out on big events in their life? This is something that I have thought long and hard about. With any job it's going to be tough not to miss out on things. Most jobs you can have time off for major holidays and birthdays. What happens if on our child's 1st birthday we have a major severe weather outbreak? I will have to be at work to make sure everyone is safe and keep people informed. Once again my family will have to make the sacrifice of me being gone. I know this is especially hard for our men and women who are fighting for our freedom. I can't imagine being gone for a year at a time. They miss out on so much more; the birth of their children, the babies first steps, first words, and other major family events.
I don't mean to sound negative on this blog post but its something that Ashley and I have talked about since we have found out we are expecting our first child. I love doing weather, school visits, visiting with you the viewer! It's just going to be something I have to balance and try to be the best Dad, husband and family person I can be. I look forward to many more years here in Decatur giving you the weather but I have to remind myself to always focus on my family and not get wrapped up in work all the time. Have you ever though about these things? What did you do to try and be more involved with your families? Let me know. These are just a few questions I have been throwing around in my mind since we have our new addition coming in September. I look forward to hearing what you have to say!
---
20130515
As I sit here at work watching storms tonight I got thinking about baby stuff. I know that is not what you want to hear from your meteorologist on a night with storms, but nothing is severe at the moment. My wife Ashley writes a great blog and I wish I could write like her. Here is a link to her blog if you a moment give it a read. http://passportthroughtheworld.blogspot.com/#!/2013/05/your-pregnant-now-open-up-your-wallet.html
Her latest post was about how expensive it is to raise a child. I am so excited about the opportunity to become a Dad as I have mention in a previous blog post. It's also overwhelming when you see how much the first year alone will cost. When Ashley put in where we live and when our baby will be born she told me the amount on our walk tonight and I almost tripped. The amount of money is staggering! I know that the baby is worth it, but you don't think about that when you are starting to plan a family. I started thinking about ways we could save money and still buy things we need for the house, baby, and putting money away for a rainy day. I keep reminding myself that things will be ok and we will make it.
I am one of those people who when I see the check book at the end of the pay period I start to think how can I make that number larger. How can we use that money we have left to the max and save. Growing up working and traveling in the summers with my Grandparents really made me think about money and how I could make more and work hard for what you get. The money I would earn in the summers working with them was the money I would have for the whole year. I had to stretch that money until the next summer when I hit the road again. That was an invaluable lesson that I still carry with me today and I am so grateful to them for teaching me so many amazing lessons. To make extra money, I work baseball and basketball games through out the year. I love those two sports and this keeps me active, plus I get paid to do something I enjoy. Its going to be hard when the baby arrives to do these games but hopefully I will still be able to do some games and bring in that extra money to help our child. I know you have to make some sacrifices in your life and I want to be able to provide the best for our child. I know your not supposed to obsess about money but I just want the best for my wife and unborn child and I will work hard to give it to them.
Tonight like every night before I come back to the office I also kiss Ashley goodbye and then kiss her stomach and tell our little one (boy or girl) that I love them. I don't leave Wrigley out either. Every once in a while the baby will kick and when I feel that I can't describe the feeling to you. Its a high that nothing in the world can bring me down from. Ashley has been amazing through this so far and will be the most amazing Mom in the world. I am so glad to call her my wife, best friend, and partner in this amazing journey we are on called parenthood!
---
20130501
April is in the books and it was a cool and rainy one. Here are some stats from the month.
Avg. April High: 65.3 Avg. April Low: 41.8
Recorded April High: 62.5 Recorded April Low: 41.8
---------------------------------- -----------------------------------
-2.8 below Normal
Avg. April Mean: 53.5
Recorded April Mean: 52.2
------------------------------------------
-1.3 below normal
Recorded Monthly Rain: 6.29" YTD Recorded Rain: 12.39"
Average Monthly Rain: 3.67" Avg YTD Rain: 10.40"
------------------------------------ , ; -----------------------------------
+2.62" above normal +1.99" above normal
171% of normal 119% of normal
April 2012: 3.05"
April 2013: 6.29"
--------------------------
+3.24 more in 2013
Temperatures
April 2012: 57.2
April 2013: 52.2
-------------------------
-5 degrees cooler than last year.
---
20130424
An exciting time in the Fultz Household!
My wife Ashley and I are very excited as we will be brining a new Cub fan into the world in September. As a Dad to be, there will be so many questions I will have. If you have any feedback please let me know.
When we found out that we were expecting I was beside myself excited! The news brought so much joy but also brought some questions. Are we ready for this? Yes! Do I think I can be a great Dad? Yes! Those were the first questions that popped into my mind.
As the weeks have gone on I find myself at times feeling helpless. I wish there was a way that I could bear some of the burden that my wife is going through growing our child inside of her. I have noticed that she runs out of breath a lot quicker when we are on a walk. She will get tired a lot quicker than she used too. I just wish I could feel some of these things, so that I would have more of a sense of what is going on with her body. The one thing I always try to do and I have been doing this since we have been together is; I always tell her how beautiful she looks! She is beautiful and I want her to feel that way.
There are some things that I need to help out with more during this pregnancy. Taking on more around the house is something that I need to make sure that I am conscious about. We usually do a good job of working together on keeping the house clean but sometime I am guilty of leaving stuff lying around. I also want to make her feel special because she is. She is the love of my life, the mother of my unborn child, and my best friend. It's hard at times to remember that she is going through so much change, because I don't feel those changes on a daily basis like she does. I just have to keep reminding myself to try and be the best husband I can be and try and make her feel special everyday.
Something exciting happened last night...I got to feel the baby kick for the first time. We were in bed the other night and she said, "The baby is kicking". I ran over to the bed and tried to feel but came away disappointed. Last night she was lying on the couch and told me to come over and see if I could feel the baby kick. Sure enough after about a minute a good strong kick hit my hand! That is a feeling that I am never going to forget. Feeling your child kick for the first time is at the top of the list of the most amazing things I have ever experienced. I am looking forward to feeling more kicks and being able to feel the baby moving. My wife is an amazing woman and I am so proud of her for being a great Mom already and I love her so much.
Stay tuned for more....
---
20130403
Super Tornado Outbreak 1974
On this date in 1974 one of the most violent days of tornadoes in US history occurred. We were not spared here in central Illinois. Here is a little trivia from the National Weather Service Lincoln on the outbreak.
4/3/1974
The most violent tornado outbreak in U.S. history began on this date and continued into the early morning hours of April 4. A total of 148 tornadoes were noted in 13 states in the central and eastern U.S., including Illinois. This outbreak killed 307 people and produced $600 million in damage. In central Illinois, the strongest tornado of this outbreak moved across Macon County affecting the west and north sides of Decatur in the early afternoon. This tornado killed one person and produced $3.4 million damage, destroyed 52 homes and severely damaged 110 others. Tornadoes were also reported in Logan, McLean, Champaign, Vermilion, Ford, and Edgar Counties.
The outbreak began on April 3rd and continued into the morning hours of the 4th. The map above shows all 148 tornados that occurred during the outbreak. Notice the long track tornadoes across Indiana and Alabama. The numbers show there where 6 F5 tornadoes, 23 F4 tornadoes, 35 F3 tornadoes, 30 F2 tornadoes, 31 F1 tornadoes, and 23 F0 tornadoes. The F5 torandoes impacted Xenia Ohio, Depauw Indiana, Sayler Park Ohio, Brandenburg Kentucky, Tanner Alabama and Guin Mississippi-Alabama. Here is a link to a website dedicated to this outbreak. http://www.april31974.com/index.htm
The two year anniversary of the Super Outbreak of 2011 will be coming up on April 25th. I will post about that one when we get closer.
---
20130403
The air mass has continues to modify today with temperatures warming into the upper 40s and low 50s! The warming trend looks to continue as high pressure slides to our east tomorrow. Another system will pass to our south tomorrow allowing for a few clouds to arrive tomorrow afternoon. A cold front will slide through tomorrow with little fanfare. The only way we will know the front passes is the wind will start out of the south tomorrow and by the afternoon switch to the north.
A storm system off the Pacific coast will push into the Rockies over the next couple days and turn our winds back out of the south. Highs on Friday will top out into the low 60s! The pressure gradient will tighten in the Midwest over the weekend which will help to drive our highs in the mid to upper 60s.
The extended forecast will become more active. A front will stall across the are in a zonal flow pattern. Pieces of energy will ride along the front bringing us a periodic shot for some showers and even rumbles of thunder from Sunday evening through Wednesday. The models don't agree on the timing of these waves or the placement of the front. Its not going to be a wash out next as of now just daily chances for showers. I will keep on eye on this as it evolves over the next couple of days. Rain amounts could be in order of 1" to 1.5" total by the middle of next week.
---
20130402
New wording when warnings are issued in central Illinois.
The National Weather Service Office in Lincoln will be using impact based warnings. These impact based warnings are designed to provide more information about a storm. The idea of the warnings is for you to understand how strong this storm is and what could happen as the storm arrives. Here is a link to the article from the National Weather Service with more information about the new wording in the warnings.
http://www.crh.noaa.gov/crh/?n=2013_ibw_info
---
20130401
March 2013 Stats
Avg. High: 52.6 Avg. Low: 31.9
Recorded High: 44.2 Recorded Low: 28.8
------------------------- --------------------------------
-8.4 below normal -3.1 below normal
Avg. Mean: 42.3
Recorded Mean: 36.5
----------------------------------
-5.8 below normal for March
Avg. March Precip: 2.59" Avg. YTD Precip: 6.73"
Recorded March Precip: 1.71" Rec. YTD Precip: 6.10
--------------------------------- ----------------------------
-0.88" below normal -0.63" below normal
Avg. March Snow: 1.7"
2013 March Snow: 16"
-----------------------------
+14.3" above normal
In Decatur the average yearly snow from January to December is 16" and as of April 1st 2013 we have received 22"! Keep in mind we saw 14" of those on the 24th of March.
March 2013 temps where -20.3 degrees cooler than March 2012. The warmest temp recorded in March 2012 was 83 while this March 62 was the warmest it got.
The outlook for the April is above normal temps and above normal precipitation. We will see how it plays out. I am going to try and keep the blog updated more often!
---
Send Feedback to J.C.'s Blog

Email J.C. your comments.

* denotes required fields

We're sorry, but only one entry is allowed per person.
Thank you for your continued interest.

Thank you!
20130324 Snow, snow, and more snow!!!! Today's snow event has ranged from 6" along I-70 to over a foot to 13" inches in areas from I-74 to IL-16. The last time we saw this much snow dates back to

More \232a

20130324 Snow, snow, and more snow!!!! Today's snow event has ranged from 6" along I-70 to over a foot to 13" inches in areas from I-74 to IL-16. The last time we saw this much snow dates back to

More \232a

20130130 Heavy rains last night into this morning. Here is a list of rain reports sent to the National Weather Service.... (1/30/2013 10:22:19 AM) nwsbot: Local Storm Report by NWS ILX: Windsor [Shelby

More \232a

20130130 Heavy rains last night into this morning. Here is a list of rain reports sent to the National Weather Service.... (1/30/2013 10:22:19 AM) nwsbot: Local Storm Report by NWS ILX: Windsor [Shelby

More \232a

20121130 Good Bye November. Here are the stats for the month. November Stats Recorded High: 52.5 Recorded Low: 34.16 Average High: 52

More \232a

20121130 Good Bye November. Here are the stats for the month. November Stats Recorded High: 52.5 Recorded Low: 34.16 Average High: 52

More \232a

20121031 Happy Halloween! Looks like a great night to head out for trick or treating! I can remember how excited I used to get when Halloween would get close. I would try and think of what I wanted to

More \232a

20121031 Happy Halloween! Looks like a great night to head out for trick or treating! I can remember how excited I used to get when Halloween would get close. I would try and think of what I wanted to

More \232a

20120925 Fall and Football! This weekend defiantly felt like fall with cool temps and football! I have been trying to convert my wife from an Indiana fan into and Illini fan. I finally got her to

More \232a

20120925 Fall and Football! This weekend defiantly felt like fall with cool temps and football! I have been trying to convert my wife from an Indiana fan into and Illini fan. I finally got her to

More \232a

20120730 New feature on our weather computer…. I am really excited about a new feature we have on our weather computers. We can now take, for example the 7-day forecast once I get it ready to go

More \232a

20120730 New feature on our weather computer…. I am really excited about a new feature we have on our weather computers. We can now take, for example the 7-day forecast once I get it ready to go

More \232a

20120531 We are going to put May 2012 in the books as a warm and dry month. Even though today was a cool afternoon with showers across the area, the temps and precip didn't make a dent in an already

More \232a

20110429 Update about Deep South Twisters April 27th Deadly Tornado Outbreak Southeast States One of the deadliest tornado outbreaks in this country's history took place on Wednesday April 27th,

More \232a

20101216 Snowflakes... Did you know there are different kinds of snowflakes? Here is a diagram of snowflakes and temperatures at which the different kinds form. Thought this was interesting

More \232a

20110201 Forecasting Winter Storms…UGGHHHHHH This time of the year is a forecaster's nightmare. Just a little track deviation can change an entire forecast. If a low tracks further to the north or

More \232a

20090727 July 27, 1981 Thunderstorms moved across central Illinois around sunrise, producing 4.33 inches of rain at Springfield's Capital Airport. This set a record for single-day rainfall during July

More \232a

20100504 Warm April This was the warmest April on record across the state of Illinois. The state wide temperature was 58.4 which is 6.2 degrees above average. This beats the record set in 1955.

More \232a