Mitchell, Brown Call For Creation Of New State
Posted: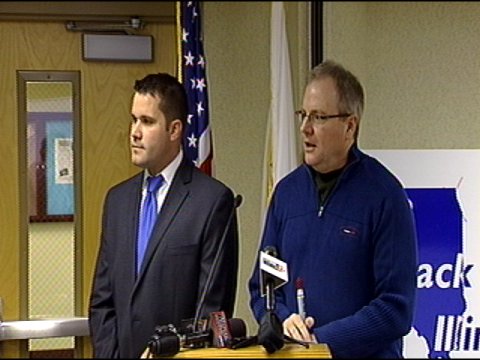 DECATUR, IL- Two local lawmakers say they are fed up with Chicago politics dominating the state of Illinois and believe they have come up with a solution: separate Chicago from the rest of the state.
State Representatives Bill Mitchell (R-Forsyth) and Adam Brown (R-Decatur) held a press conference at the Macon County Building in downtown Decatur Tuesday morning to discuss the idea of creating a 51st state. Both representatives say making Cook County its own state makes sense to the rest of Illinois.
"When I talk to constituents, one of the biggest things I hear is, 'Chicago should be its own state,"' Mitchell said. "Downstate families are tired of Chicago dictating its views to the rest of us."
"Our downstate values are being overshadowed by Chicago's influence over the legislative process," Rep. Brown added. "The 2010 election swept a number of downstate Republicans into office, but the lame-duck Democrats went ahead and passed a 67 percent income tax increased, along with civil unions and the abolition of the death penalty in Illinois. These liberal policies are an insult to the traditional values of downstate families."
Rep. Mitchell brought up the state of Indiana multiple times Tuesday morning and said that he would like Illinois to become more like its neighbor to the east. "Take a look at Indiana. Their population is similar to the new Illinois we are proposing. But there are some fundamental differences between Indiana and Illinois as it exists now: Indiana doesn't have a budget deficit; they haven't raised taxes to pay for more government spending; they have a lower unemployment rate than Illinois. And what's the biggest difference? Indiana doesn't have Chicago."
The proposal, House Joint Resolution 52, calls for Cook County to become one state and the other 101 counties in Illinois to become another. If passed, the resolution would create the first new state in the union since Hawaii in 1959. It would also be the first time since the Civil War that a state was divided into multiple states.
Cook County currently has a population of about 5.3 million people, which would make it larger than 29 states. The "new Illinois" would be left with about 7.5 million residents.
Both representatives spoke about Illinois being a state divided by politics and offered up this divorce as a way to solve Illinois' problems. "We have irreconcilable differences," Mitchell said. "We're going to go our way, you go your way. I wish you the best."