The Value of Remembering
Posted: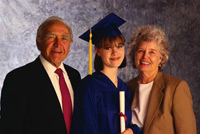 Our directors and creative staff have ways to help you define and express yourself. There are many traditional choices to make; simple or elaborate, viewing or visitation, remembrance or religious rites, chapel or grave site, burial or cremation. Additionally, your choices of music, flowers, location, monument, etc. can all reflect your individual tastes and wishes. As you consider your choices, also think about the people who will attend the service. Sometimes, something as simple as a certain piece of music or type of flower can offer loved ones a great deal of comfort when it elicits a special memory or significance. Below are some of the ways we can help you personalize a funeral service.
Write a letter to the person who has died and express all of the feelings you ever wanted to say and place it in the casket.
Bring in the favorite song or types of music of the person who has died and have it played during the visitation and/or funeral service.

Compose a:"LifeStory" on your own or with the help of our talented staff that will summarize you loved one's life in a way that pays tribute, beautifully and honorably.
Bring photographs to be used in a specialty scrapbook folder that can be handed out at the visitation and funeral service and kept later as a keepsake memorial.
Add photos on a "memory board" or video presentation for the visitation and funeral service.
If your loved one had a hobby, bring some of their works in to be added in photo form to the service folders and/or displayed at the visitation and service. For example you could take a special quilt work and drape it over the casket or on a rack near the display table and it could become the background picture on the service folders.
If you or your loved one have favorite scripture readings, let us know and they can be incorporated into the folders, videos, memorial products and funeral service.
If your loved one composed poetry or essays, we can include them in specialty folders for others to take with them or engraved on memorial plaques. They could also be recited as a part of the service.
If the person who died was not a regular churchgoer, consider a memorial service in a favorite place that perhaps reflected their lifestyle; like a park, the marina or even a basketball court.
Eulogize the person who has died during the funeral or visitation. Oftentimes the clergy person did not know the person who has died. Who better can do that than someone who better knew the person who died?
Place cherished items in the casket like pictures of the grandchildren and other family members, a photo of the family pet, a favorite golf club, a pool stick, a well worn baseball cap, or a religious item.
In proceeding to the cemetery, consider passing a favorite place your loved one liked to go, by their favorite park, or following a scenic motorcycle run, or even passing their favorite restaurant or coffee shop.
There are as many creative ideas as there are people. Let us help you come up with just the right way to say "good-bye" to those you love.