Remembering Ages in Pages
Posted: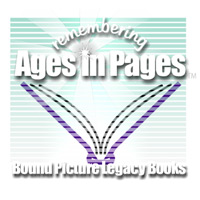 Another popular specialty item is our bound photo legacy books. These One of a kind books are "coffee table" quality and include portraits, candid shots and photos of personal items belonging to your special someone... You can also include favorite poems, songs, passages and journal entries. There is even a space to add a summary 'Life Story". Hard cover or soft cover, or a mixed order of both. Available in a large array of sizes number of pages and price points, there is bound to be one that comfortably fits what you have in mind.
These memory books are put together after the funeral, giving you more time to go through your favorite photos and keepsakes and can be passed down to the next generation with pride. More than a reproduction of the register book from the funeral, these books integrate many aspects of a person's life.
These books can also be "started" pre-need and finished by your family later on, if you would like. That gives you the opportunity to choose your favorites, and express in your own words to your posterity.
Contact our design staff to set up a time to coordinate your book, or request a brochure on "How to leave a legacy in book form"