Our History
Posted: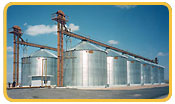 Craig Sloan, like his father and grandfather before him, began to recognize a need for reliable, affordable storage for the grain they were so successfully producing with the equipment Sloan Implement was selling.
In 1972, in a 5,000 square foot garage, Craig helped establish Grain Systems, Inc., and began manufacturing a wide variety of corrugated steel, bulk grain storage bins. GSI grew from being the smallest of the nation's 26 storage bin manufacturers, to the largest in the world by 1988.
The establishment of Cumberland in 1985, and Agri-Plastics (renamed Automated Production Systems) in 1989, allowed the company to expand, beyond grain storage, drying and handling systems, into the poultry and swine production markets manufacturing a variety of feeders, waterers, feed storage and delivery, heating equipment, ventilation systems, and more.
Avemarau Equipamentos Agricolas Ltda., South America's largest manufacturer and supplier of poultry feeding and swine equipment was acquired in mid 1998. The acquisition of Avemarau, renamed Agromarau, expanded the company's international presence which includes manufacturing facilities in Europe, China, South Africa, Asia, and Mexico.
In addition, the acquirement of David Manufacturing Co. in 1997 and Farm Fans Corp./Zimmerman in 2001, further supplemented GSI's "complete" line of grain storage, drying and material handling systems with trusted names and innovative products known throughout the ag industry.
All of these manufacturing divisions make up what is known as GSI Group, your "Complete" systems manufacturer.
Today, GSI Group markets its products to over 75 countries worldwide through a network of independent dealers to grain/protein producers and large commercial businesses. Craig Sloan has since retired and in May 2005 placed the GSI Group in the capable hands of Charlesbank Capital Partners, a leading private equity firm with more than $1.5 billion in assets. As of August 2007, Centerbridge Partners, L.P. became the majority interest holder of GSI Group while Charlesbank continues to hold a significant stake in GSI. Centerbridge Partners, L.P., the largest first-time private equity fund ever raised, is a $3.2 billion multi-strategy private investment fund. The firm is dedicated to partnering with world class management teams to invest across multiple stages of a Company's life cycle and to employ various strategies to help companies achieve their operating and financial objectives. Centerbridge's limited partners include many of the world's most prominent financial institutions, university endowments, pension funds, and charitable trusts.
The GSI Group continues to offer the same reliable equipment and service customers of the Sloan family have grown accustomed to over the years. A commitment to identifying and serving the needs of communities near or far, and excellence in the quality and selection of products we manufacture, and services we offer, will continue to be the blueprint by which we operate the business. We look forward to serving the future equipment needs of each and every customer and invite you to browse our division websites for more information on our complete line of quality products.