JC's Past Blogs
Posted:
20090727
July 27, 1981
Thunderstorms moved across central Illinois around sunrise, producing 4.33 inches of rain at Springfield's Capital Airport. This set a record for single-day rainfall during July in Springfield.
July 27, 2006
Major flooding affected the city of Joliet during the afternoon and evening hours. Torrential rains fell across parts of the city, with 5.50 inches falling in just 90 minutes between 4 pm and 5:30 pm near Black Road and Infantry Drive. Storm total rainfall of 6.13 inches was reported on the west side of Joliet. Approximately 30 homes and businesses suffered basement flooding. Center Street ramps to I-80 were closed with 4 feet of standing water. Cars were stranded in 4 to 5 feet of water under the viaduct on Route 30 east of Briggs Street. Pavement buckled under the force of flood waters at Western and Cass Ave.
---
20090724
July 24, 1981
Springfield's wettest summer on record was recorded in 1981, when 24.93 inches of rain was recorded. This is also the record for any season. In Peoria, a total of 18.91 inches,, stands as the 9th wettest summer on record.
July 24, 2005
Excessive heat and humidity occurred across the region during the second part of July. Daytime temperatures ranged from the mid 90s to around 105 degrees, with heat index values of 105 to 115. On this date, Peoria reported its first 100 degree day in 10 years with a high of 104 degrees, which was its warmest reading since a 105 degree temperature in July 1988. The dry conditions across the region helped to temper the stifling humidity that normally occurs across this area during the summer.
Have a great weekend everyone and come down to Findlay where you will find me in a dunk tank from 11:30 to 12:30 in the morning.
Sizzle Out
---
20090723
July 23, 1975
Severe thunderstorms affected parts of northern and central Illinois. In Peoria, winds gusting to 85 mph knocked over trees. Two tornadoes affected Fulton County. The first passed through mainly rural areas. The second tornado caused major damage in Canton, where 127 businesses and 100 homes were destroyed. 300 other homes and 100 trailers were damaged; t, otal damages were around $20 million. Two people were killed as the tornado moved through a mobile home park. Power lines were downed during the storm; some areas were without power until the 28th.

July 23, 1988
During the drought of 1988, the driest July on record was observed at the following cities: Springfield, with 0.05 inch; Champaign, 0.32 inch; and Peoria, 0.33 inch. Springfield's total also established the city's 4th driest month ever.
---
20090722
July 22, 1993
Record precipitation that occurred across a good portion of the mid-Mississippi valley during the summer fell as far east as parts of central Illinois. During the month of July, Canton reported 12.66 inches of rain and Peoria reported 10.15 inches, both setting a record for the month. Springfield's 9.46 inches was good enough for the 2nd wettest July on record.
---
20090721
July 21, 2001
Thunderstorms formed along a lake breeze in northeast Illinois during the late afternoon and evening. Some damage occurred across Will and Cook Counties, but the main damage was from torrential rainfall. The heaviest rain fell across southwest Cook County, extreme northeast Will County, and central DuPage County. Water burst through a basement foundation in Tinley Park, filling the basement and topping out at 6 feet 11 inches deep. Several homes in Orland Park and Tinley Park had 2 to 4 feet of water in basements. Streets were also flooded in these areas. Some rainfall totals from the event include 3.08 inches in Olympia Fields, 2.79 inches in Park Forest, 2.30 inches in Winfield, and 2.03 inches in Glenwood. There were no reports of injuries.
July 21, 2006
Widespread damaging winds, estimated around 90 mph, raked most of Jefferson County in south central Illinois. The city of Mt. Vernon was especially hard hit, where about 14% of all homes received at least minor damage. Several thousand trees were blown down, landing on cars, power lines, roads, and houses. In Mt. Vernon, damage assessments indicated 1,107 homes were affected by some type of damage. 491 homes received , m, inor damage such as roofs blown off, 152 received major damage, and 18 were destroyed. On I-57, several semis were blown off the road or overturned, and a manufactured home was blown onto the southbound shoulder from a deadership located just off the highway.
---
20090720
The cool July continues here in the CI. We have not had a day where temperatures have touched the 90's. Warmest temperature so far at Stormcenter 17 has been 86 degrees. The coolest recorded low has been 56. I did some calculations tonight and here is a look at how cool it has been.
Normal High : 87 Normal Low: 65
Avg. to date: 80 Avg. to date: 63
-7 degree deficit -2 degree deficit
That gives you an idea of what is has been like this summer. In the extended forecast the same cool weather will remain with a trough staying put according to some of the models runs.
Friday was the annual OVAF golf outing and as always it was a great outing. Our team had never won the event and so Brain Jodice, Joe Bauer, and my Dad played with me. We shot 15 under par and won plus I took home longest drive. I think the b, est part of the whole thing is who we are helping. All the money goes into a fund to help kids have advantages in school that they might not have had. Computers, and other things the school might not have been able to buy this group comes in and helps out. Great event guys and we are looking forward to coming back to defend out title next year.
Sizzle Out!
July 20th 2009
An average summer in central Illinois usually sees one or two days with high temperatures of 100 degrees or higher. An analysis of Springfield weather records, which began in 1879, indicate that the longest period between 100 degree highs is 12 years and counting, with no 100 degree days having occurred since July 1995. The next highest total is 11 years, from July of 1890 to July of 1901.
---
20090716
July 16, 1980
Millions of dollars in damage was done by a strong microburst and blinding rain that hit the south side of Chicago during the morning. Winds were estimated to be as high as 100 mph in the microburst. Further west, the same storm system produced a tornado near the town of Hampshire, destroying two silos containing 48,000 pounds of corn.
---
20090714
July 14, 1936
The intense heat wave that affected Illinois during the month produced all-time record high temperatures at the following cities on this date: Mount Vernon (114 degrees), Danville (112 degrees), Olney (112 degrees), and Charleston (110 degrees).

July 14, 1954
Although the heat wave of 1936 produced some of the hottest weather in central Illinois history, another heat wave on this date in 1954 brought more all-time record high temperatures in excess of 110 degrees to central Illinois. Records included 115 degrees at Pana, 114 degrees at Jacksonville and Virden, 113 degrees at Decatur, 112 degrees at Quincy and Springfield, and 111 degrees at Mattoon. Champaign also established an all-time record high of 109 degrees. At East St. Louis, the high temperature of 117 degrees set a record for the entire state of Illinois.
---
20090713
I want to say thanks to everyone who came out today and gave to your neighbors. Today we had Toby Tuckers 3rd annual fan drive at Pinkstons furniture trying to raise money and fans for seniors here in Macon County. The goal today before we started was 100 fans. The goal was reached and passed with 108 fans being raised. Thank you so much again Macon County for being so generous. When there are times of need central Illinois comes together and always answers the call. Toby and I were 65 feet in the air today in a bucket truck I think at one point I was eye to eye with a pilot landing at the Decatur Airport. I also have to thank Toby for the invite to the event because anything I can do to help people I am all for it.
Warrensburg tree service was gracious enough to bring in their bucket truck to keep us in the air during the day. These guys are great and they stayed around the whole day to help with the fan drive. So if you need anything tree work wise give them a call and you can get to them on the internet as well. Also some of them are Cubs fans so that makes them even better in my book. I also have to say thanks to Pinkstons for allowing us to use their parking lot and Rural King again for being there for a place people could purchase fans. Thanks to everybody again.
We still are continuing the Stormcenter 17 fan drive that goes to everyone in central Illinois. You can go to the link on our homepage to find out where you can help out people all over the CI.
This is going to be another busy week as I will be visiting the Argenta and Oreana libraries on Wednesday morning. So be looking for the Stormrunner that day. Then on Friday there is a golf outing at Eagle Creek in Findlay for the Okaw Valley Academic Foundation. This event is always a great job and Bonnie Scott always makes this event a great success. If you are looking for a good time and a great thing to donate to look them up next year at Eagle Creek plus if you are looking for a place to go play golf and see wildlife in the process head down. Yes it is still open.
Sizzle Out!
July 13, 1936
Record heat occurred across much of the U.S. during the summer of 1936. In Springfield, the heat peaked on this day, with a high temperature of 108 degrees. Nighttime didn't provide much relief, as the temperature only fell to 84 degrees, the warmest night in Springfield history. From the 4th through the 15th, the high in Springfield was at least 100 degrees. The average temperature during the entire month was 86.2 degrees, the warmest July on record.

July 13, 1993
Major flooding on the Mississippi River produced a record river crest at Quincy of 32.3 feet; the old record of 28.9 feet was set in April of 1973. At mid-month, only 5 of 28 bridges that cross the river into Illinois were open.

July 13, 2004
A violent tornado quickly developed across Woodford County during the mid afternoon. This tornado was at F4 intensity as it demolished a manufacturing plant 4 miles west of Roanoke. Although 140 people were inside at the time, all escaped injury by reaching storm shelters a few minutes before the tornado's arrival. Steel beams and metal siding from the plant were found approximately three quarters of a mile east in a farm field. Four farmsteads east of the plant were severely damaged or destroyed.
---
20090710
July 10, 2000
Thunderstorms brought heavy rain and strong winds to northeast Illinois, during the early morning hours. Flash flooding occurred in parts of La Salle, De Kalb, Kendall and Kankakee Counties, where rainfall of 4 to 7 inches was reported. Flooding ripped up 50 feet of pavement in downtown Kankakee.
Have a great weekend everyone. Both days look good if you have boating plans on the lakes but make sure to keep an eye out atleast in the morning as we may catch a stray shower but let it rip in the afternoon. Stay tuned next week as there will be another addition of JC Sizzlin' Summer Tips. Don't forget to stop by Monday by Pinkstons on 121 in Decatur and check me out 60 feet in the air helping raise money and fans for seniors in Macon County.
Sizzle Out!
---
20090709
Its time again for Stormcenter 17 fine drive. That means we need your help with Fan donations. Once your done reading this please go to the link on our ,, homepage and see how you can help seniors around the area stay cool this summer. Some people don't have air conditioning and that can be deadly for seniors. So with your help we can prevent heat related fatalities in the area.
Also on Monday July 13th I will be at Pinkstons Furniture in Mt. Zion on 121 with Toby Tucker from 95Q as we will be raising money and fans for seniors in Macon County. I will be out there from 9 am until 2 pm so stop out and donate so that we can help citizens of Macon County. I'm not scared of heights as I grew up in a plane most of my summers but being 60 feet in the air in a bucket truck for a while on a hot summer afternoon will not be a great place to be. Sometime we have to put others first and if this is a way for me to help out the community I live in I'm totally up for it.
Finally before I put up this date in history I wanted to touch on a point that came up yesterday. We had a STRONG storm move through the Mattoon and Neoga areas yesterday evening. In Neoga 1.75" inches of rain fell in a 90 minuter period and in Mattoon in an hour 1.80" inches fell. There was frequent cloud to ground lightning and some strong winds but nothing to prompt a Severe Thunderstorm Warning. But what is a Severe Thunderstorm Warning? Here is the factors that go into the decision making from the National Weather Service whether to issue a warning. Winds in excess of 60 mph and/or hail 1" or greater. Lightning is not a factor in whether a storm is severe. Lightning is a major issue and kills many people but it is not what makes a thunderstorm reach severe criteria. Also I want to let people know when there is a warning issued the warnings come from the National Weather Service in Lincoln for most all of central Illinois. Ford and Iroquois the warnings come out of the Chicago WFO and for Macoupin, Montgomery, and Fayette counties the warnings are issued out of the St. Louis WFO. Once there is a warning issued I become a mouth piece of the Weather Service to try and keep people informed. The watches whether it is a Tornado Watch or a Severe Thunderstorm Watch are issued by the Storm Prediction Center out of Norman Oklahoma for the entire country. Just a little fun information if you where wondering about watches and warnings.
Stay Cool and watch JC's Sizzlin' Summer Tips tonight and then again on Wednesday's and Thursday nights in July for information on how to keep safe in the summer months.
Sizzle Out
July 9, 1992
Severe thunderstorms produced a swath of very large and damaging hail and damaging winds. Golfball-size hail and 60 mph winds were reported on the west side of Decatur, with numerous roofs and automobiles damaged by the hail. Hail grew to nearly the size of baseballs by the time the storms reached the Charleston/Mattoon areas. Total damage from the storms was estimated around $5 million.

July 9, 2001
Flash flooding affected many areas in eastern Illinois, between Danville and Lawrenceville. Observers and radar estimates indicated from 8 to 10 inches of rain fell in parts of Edgar and Coles Counties, causing widespread flooding. One person died several hours after the heavy rain ended, when he drove into a flooded area near Oakland, in Coles County.
---
20090708
July 8, 2001
Downburst winds caused considerable damage on the west side of Hoopeston. Three businesses were destroyed, 100 homes sustained minor to moderate damage, and the EMS building was destroyed. Also, the sewer department suffered major damage, and a church suffered minor damage. Numerous trees and tree limbs, power poles and power lines were blown down in Hoopeston and areas to the southeast, east of Rossville. No injuries or deaths were reported. Damage was estimated around $8.5 million.
---
20090707
July 7, 1915
A tornado touched down just west of Lawrenceville, in southeastern Illinois, and moved east. As the tornado moved into town, it widened, damaging nearly every building in town. One person was killed.
---
20090706
Hope everyone had a great 4th weekend! Below are some rain totals from the washout we like to call the 4th of July.
July 6, 1972
Springfield's July record low temperature of 48 degrees has been set on four occasions. The 48 degree low on this date tied records first set in 1967 and 1971.

July 6, 1998
A narrow band of thunderstorms dumped between 3 and 4 inches of rain, in , , ,, less than 3 hours, over parts of north central and northeast Illinois. In LaSalle County, the heavy rain caused a portion of a road to collapse, leaving a hole about 12 feet wide, and 10 feet deep.
Significant Weather Observers (SWOP) & Airport Rainfall Totals...
1.87"... Oakland 7 N (Douglas Co)
1.83"... Chestnet 2.5 S (Logan Co)
1.70"... Charleston (Coles Co)
1.54"... Monticello (Piatt Co)
1.54"... Cisne 2 NE (Wayne Co)
1.50"... Homer 2N (Champaign Co)
1.46"... Champaign Airport (Champaign Co)
1.40"... Ogden (Champaign Co)
1.40"... Martinsville (Clark Co)
1.34"... Clinton (De Witt Co)
1.34"... Morton (Tazewell Co)
1.33"... Germantown Hills (Woodford Co)
1.26"... Mahomet (Champaign Co)
1.20"... Bismarck (Vermilion Co)
1.16"... Wataga (Knox Co)
1.10"... Gridley (McLean Co)
1.07"... Peoria (Peoria Co)
1.06"... Abingdon 1 N (Knox Co)
1.06"... Bloomington 3 NE (McLean Co)
1.05"... Eureka (Woodford Co)
1.05"... Lincoln NWS (Logan Co)
1.02"... Peoria Airport (Peoria)
0.98"... West Union 1 W (Clark Co)
0.98"... Manito 1 S (Mason Co)
0.95"... Bloomington Airport (McLean)
0.90"... Mattoon (Coles Co)
0.88"... Watson (Effingham Co)
0.85"... Petersburg (Menard Co)
0.84"... Newton (Jasper Co)
0.83"... Henry (Marshall Co)
0.83"... Mattoon Airport (Coles Co)
0.82"... Shelbyville (Shelby Co)
0.81"... Springfield Airport (Sangamon Co)
0.51'... Lawrenceville Airport (Lawrence Co)
0.50"... Chatham (Sangamon Co)
0.47"... Bloomington 3 SW (McLean Co)

Cooperative Weather Observer Rainfall Totals...

2.05"... Sullivan 3 S (Moultrie Co)
2.02"... Tuscola (Douglas Co)
2.00"... Havana (Mason Co)
1.89"... Lovington (Moultrie Co)
1.69"... Paris (Edgar Co)
1.69"... Mount Pulaski (Logan Co)
1.64"... Mason City (Mason Co)
1.55"... Altona (Knox Co)
1.48"... Ogden (Champaign Co)
1.47"... Marietta (Fulton Co)
1.45"... Champaign-Urbana (Champaign Co)
1.39"... Chillicothe (Peoria Co)
1.37"... Morton (Tazewell Co)
1.32"... Mackinaw (Tazewell Co)
1.32"... Sidell (Vermilion Co)
1.30"... Princeville (Peoria Co)
1.29"... Mattoon (Coles Co)
1.28"... Lewistown (Fulton Co)
1.20"... Camp Grove (Marshall Co)
1.20"... Clinton 1 SSW (De Witt Co)
1.19"... Roanoke (Woodford Co)
1.17"... Normal 4 NE (McLean)
1.09"... Galesburg (Knox Co)
1.05"... Peoria 5 NW (Peoria Co)
1.04"... Effingham (Effingham Co)
1.01"... Bloomington 5 W (McLean Co)
1.00"... Fisher (Champaign Co)
1.00"... Clay City (Clay Co)
0.97"... Springfield (Sangamon)
0.94"... Moweaqua (Macon Co)
0.92'... Pana (Christian Co)
0.92"... Effingham SE (Effingham Co)
0.91"... Minonk (Woodford Co)
0.91"... Rankin (Vermilion Co)
0.88"... St David (Fulton Co)
0.83"... Stanford (McLean Co)
0.79"... Newton (Jasper Co)
0.79"... Neoga 4 NW (Cumberland Co)
0.78"... Jacksonville (Morgan Co)
0.75"... Bradford (Peoria Co)
0.68"... Neoga (Cumberland Co)
0.67"... Morrisonville (Christian Co)
0.66"... Hutsonville (Crawford Co)
0.64"... Virgina (Cass Co)
0.64"... Claremont 6N (Richland Co)
0.49"... Robinson (Crawford Co)
0, .3, 7"... Lawrenceville (Lawrence Co)
Sizzle Out!
---
20090702
July 2, 1904
Unseasonably cool weather was found across central Illinois. Champaign reported a low temperature of 41 degrees and Decatur reported 45 degrees, both setting records for the month of July. Lows of 48 at Peoria and 53 at Springfield were daily records.
---
20090629
June 29, 1976
A violent tornado in Peoria County moved northeast from near Kickapoo to near Dunlap. An entire farm was destroyed south of Dunlap, and 2 other homes were destroyed in the area. A second tornado in McLean County touched down 4 miles east of Lexington, destroying a barn and two outbuildings.

>June 29, 1990
A microburst wind estimated around 150 mph did extensive damage in the town of Streamwood, in the Chicago metro area. At least $10 million damage was done to 25 stores and industrial buildings. Radar and eyewitness accounts indicated no rain or thunderstorms in the immediate vicinity of the area at the time.

June 29, 1998
A derecho (wind storm), which originated in Iowa, moved across Illinois during the afternoon and evening, and continued as far east as Ohio the next morning. Every county in central Illinois sustained some sort of damage, as these severe thunderstorms passed. Winds gusted in the 60 to 80 mph range, with some localized microbursts producing winds in excess of 100 mph. Significant damage occurred in the microburst areas, including the towns of Morton, McLean, LeRoy, and Tolono. Trees were blown over, buildings lost their roofs, and in Tolono, 21 cars of a freight train were blown off the tracks. Overall, 12 people were injured, and damage was estimated around $16 million.
What another great weekend as I had a lot of fun seeing everyone in the parade in Bethany on Saturday. The morning started early though as I headed out to the race for the cure what an inspirational event. If you can participate in this next year you should because once you put a face with a survivor then you really know why people do these events. My family has been touched by cancer and it does things to families and makes them stronger in ways that you would never know. If you know someone or knew someone who is or was fighting this battle you should come out to this event next year and honor them.
I'm looking forward to the 4th of July this weekend but remember when you are celebrating this weekend please do it responsibly so that we don't have to run a story about you in the news! Have a great night and think about all the blessing that we get every single day
Sizzle Out!
---
20090625
If you are looking for something this weekend to do head down the Bethany for the Bethany Celebration. The event kicks off on Friday and runs until Saturday when there will be fireworks at dark in Crowder Park. There is a lot to do and great food. I'll be there in the parade which steps off at 11 am and you can see the storm runner! Also going on this weekend is the Arthur fireworks at the county fairgrounds. If you are planning on being out and about please use caution as temperatures once again on Saturday will climb into the mid 90's with the heat index again around 100 to 105. Hope to see everyone out at the celebration this weekend!
June 25, 2005
Drought conditions were becoming widespread over much of central and northern Illinois, having developed during April and May. Many locations received less than an inch of rain during the month, with a few locations only receiving a quarter inch. Water restrictions began to be implemented, especially in northern Illinois.
Sizzle Out!
---
20090624
June 24, 1924
A strong tornado moved across McDonough and Fulton Counties, touching down east of Bardolph. About 50 buildings were damaged or destroyed, and barn splinters were driven into trees, a half mile away. Five people were injured.
Get updates on twitter @jcfultz
---
20090623
June 23, 1962
A tornado in Cook County severely damaged 14 homes in Oak Forest, with 40 others having minor damage. Damage was estimated at $1.1 million along the half mile long path.

June 23, 1994
Severe thunderstorms moved across central Illinois, from Quincy to south of Decatur. In the town of Moweaqua, in Shelby County, strong winds downed or destroyed over 1,000 trees, with numerous power and phone lines down. Property damage around the area was estimated near $750,000, with crop damage estimated to be near $6 million.
---
20090622
June 22, 1944
A violent tornado which touched down in southwest Wisconsin crossed the border into Illinois, northeast of Freeport. Both states had at least $1 million damage each. In Illinois, 66 farms lost barns, and 21 homes were destroyed. Two people were killed in Illinois, with 7 more in Wisconsin.
Hope everyone is enjoying the this date in history that I decided to do on my blog. This is lightning awareness week here in central Illinois. Here are some facts and also things you should do to stay safe during thunderstorms.
In the United States, there are an
estimated 25 million lightning
flashes each year. During the past 30 years,
lightning killed an average of 62 people per year
. This is more than the average of 54 deaths per year caused by tornadoes. Yet because lightning usually claims only one or two victims at a time and does not cause mass destruction of property, it is underrated as a risk. While documented lightning injuries in the United States average about 300 per year, undocumented injuries likely much higher. The motto is:
When Thunder Roars, Go Indoors!
Keep this in mind when you are out and about this summer. Also please make sure you are staying safe in the heat this week as we have a heat advisory until 7 pm Wednesday. The weather service issues an advisory when the heat index tops 100 and temps at night dont drop below 70. We could be seeing or heat index top 100-105 even warmer in some places over the next couple of day. Make sure you drink plenty of water and also sports drinks if working outside. Take breaks to cool down. Check on the elderly who have home without AC and make sure they have a fan. We will be starting our Fan Drive again the first of July. Finally make sure your pets have plenty of shade and water during days like today.
Have a great night...Sizzle Out!
---
20090621
June 21, 1939
A widely visible tornado, estimated at F2 intensity, was watched by hundreds of people in Winnebago County. The tornado reportedly "meandered" in the Pecatonica River valley in the northwest part of the county. No deaths or injuries were reported.

June 21, 1995
Severe thunderstorms moved across central Illinois during the afternoon and evening hours. Damaging winds were the main result of these storms. In Charleston, part of a roof was blown off a mall. Downed trees and power lines were widespread, extending in an area from the Illinois River eastward to the Indiana border.

June 21, 1998
A thunderstorm produced winds of 100 mph in Harrisburg, in southeast Il, linois. Hundreds of trees were uprooted or snapped, with some of these trees as much as 5 feet in diameter. A few outbuildings were blown off their foundations. The damage path was from 3/4 to 1 mile wide, and 4 to 5 miles long.
---
20090616
June 16, 1882
Springfield recorded 12.71 inches of rain during the month, setting a June record which also stands as the third wettest month ever in the Capital City. Peoria's total during the month was 11.18 inches, marking the second wettest June on record.
---
20090615
June 15, 1936
Besides record heat, the summer of 1936 was also noted for its dry weather. The season started with only 0.45 inch of rain in Peoria during June, a record for the month. Springfield reported 1.14 inches during the month, its 7th driest June on record.
---
20080611
June 11, 1928
A tornado across far northeast Illinois moved across McHenry County, destroying a school, barn, and granaries near Harvard. Another tornado on May 18th of the same year affected areas a few miles to the north.
You can get weather updates by following me on Twitter @jcfultz
Sizzle Out!
,
---
20090608
June 8, 1883
A tornado estimated to be F2 intensity moved across Springfield from southwest to northeast. The tornado was on the ground for, 4 miles and unroofed homes, but no deaths or injuries were reported.

June 8, 1981
Severe thunderstorms in northeast and central Illinois produced hail the size of grapefruits at Kankakee. One tornado traveled along an 77 mile intermittent path from Brooklyn, in Schuyler County, east-southeastward to near Springfield. A second tornado was on the ground intermittently for 80 miles, originating southeast of Pekin and traveling to Mahomet, northwest of Champaign. Minor damage resulted from both tornadoes.

June 8, 1993
Severe thunderstorms moved acros, s northern and central Illinois during the early evening hours. The storm, s produced winds near 70 mph south of Springfield and west of Pawnee. A small tornado developed from the system and moved through Illiopolis, damaging over 5 dozen buildings. Other tornadoes touched down near Decatur and Champaign.
---
20090604
June 4, 1999
Several tornadoes touched down across central Illinois, as severe thunderstorms moved through the area. A tornado moved across northern parts of Lincoln, with extensive tree damage in a park. High winds also produced damage to residences and trees in Lincoln. Damage to trees also occurred in Delavan, where a tornado moved across the north side of town. Other tornadoes that day were mainly weak, and brief in nature.
---
20090603
Thought this was kind of interesting!!!!
| | | |
| --- | --- | --- |
| 2009 | Peoria(normal) | Galesburg (normal) |
| March | 7.49"* (2.83") | <, STRONG>6.83" (2.84") |
| April | 6.68" (3.56") | 6.36" (3.81") |
| May | 5.47" (4.17") | 7.16" (3.97") |
| Total | 19.91" (10.56") | 20.35" (10.62") |
20090225
Baseball Seasons underway...
Wednesday is finally here and that means all you baseball fans the cactus league kicks off play. They are also starting play in the grapefruit league in Florida as well. How exci, ting is this we get a chance to watch baseball now until October!!!!! I have a lot of high hopes this year and some people probably think I'm crazy because this time of the year brings a renewed hope for a world championship to the north side of Chicago. I know there are those cardinal fans out there reading this and are you are probably saying not so fast the curse is still alive and well in Chicago. All I can say is what a great time it is though, to hear the sounds of the bat cracking and the smells of the ball park coming back alive. That is something that all baseball fans have in common even if we are at odds during the season. Its spring training time and we all get to look forward to watching a great game that has been tainted over the past years with the steroid issues but I really don't mind all of that talk lets just get back to the way the game is meant to be played and that is on the field and for fun. I think if you were to ask anyone who has every played this game at any level the first thing out of there mouth would not be their favorite team, or their favorite stadium; I would hope you would say I would love to have another shot at stepping onto the field again. I know that is what I would say because there really isn't any better game on the face of the earth where you can go to a ball park sit in the summer and socialize with friends and family enjoy a great game and some good food and drinks. This is the best time of the year we still have basketball, hockey, and now baseball back to watch every night. I just want to say good luck to all the teams this year but I will always have hope that next year has arrived for my beloved Cubbies.
Finally I want to say hey to a great guy by the name of Travis down at Stan's Stake House in Findlay. I stopped in there the other night and he took good care of us. It's a neat little place to go if you're looking for a good meal and good company. Its always one of my must stops when I head to Findlay along with the Neimerg Winery. You woul, dn't think of central and southern Illinois as much of a wine area but there are really cool places to visit. During the summers is always a great time to head to one of those and sit outside on a warm evening and enjoy great company. If you get a chance stop in and visit with Dan and Bill there they will take care of you the way people should be. Be watching tomorrow during Newscenter 17 at 6 when we announce the winner of the Stormrunner contest. This place really has a special place in my heart and I will tell you why tomorrow.
Sizzle Out
---
20090223
Last week the Stormrunner made a stop in Springfield for the co, ntest, "where in central Illinois is the Stormrunner?" I though that it was fitting that we show the Old State Capital in celebration of Presidents day and how popular that building has become over the past couple of years. It's awesome to think of all the national POSITIVE spot light with Lincoln's bicentennial this past year. I know we have has some really bad pub here in the state with Blago its not even worth typing the whole name anymore but what a great scene it was to see Air force one return to the CI again. It's great that President Obama, is so active in returning to where it all began for him. So in light of all the events I think it was a great thing to show the Old State Capital building.
This week we have made the trek to a new location. I can tell you where this is until Thursday but I will say this it is near and dear to my heart. After we announce this I will have to tell you why that is and review some interesting information about this building or place. It's a must stop on the tour of central Illinois in my mind as there isn't many places like this anywhere in the state. Keep sending in those guesses and please if you don't win again this week you must apply again every week. It has been great to see all the response from all of you with this contest and I just want to say thanks again for the entries.
Finally I want to say to Greg that I would also agree the Giordano's in downtown Chicago is really good. When you go to Chicago you really must make it a thing to stop and get some pizza. I really don't care what people say but you are not going, to get better pizza then in Chicago. What a great city with such diversity and great food. I would , also h, ave to say that St. Louis is not one of my favorite places to go "just because I'm not a Cardinals fan!" but I had a really great time there this weekend. Ashley and I headed down there to visit and one of my best friends Pat and he lives in St. Louis. If you get a chance visit the Soulard neighborhood. Its ri, ght off of I-55 and what a great place to visit. There are some many things to do in this neighborhood and you feel safe to walk around after dark. I also really enjoy going to "The Hill" for some really good Italian food. If you are younger and looking for some place to go in St. Louis , I would really recommend the Soulard neighborhood. It has such great places to go out to and great food. If you are looking for an alternative other then the Landing then head there.
Sizzle Out!
---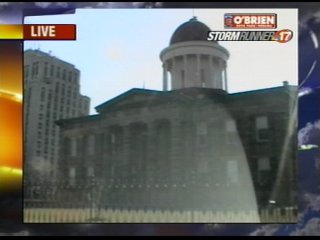 20090223
Jason Smith was the winner of last weeks contest. You was able to correctly identify the Old State Capital. Read above for the next location. There will be a picture added for you to look at in case you missed , the news yesterday.
20090216
"Season of Change"
Here at Stormcenter 17 we are nearing severe weather season and in anticipation of this we are launching "A Season of Change." This campaign will bring you weakly tips on what you need to know and how to keep you and your family safe. Storm tips will air weekly along with a new contest for the Stormrunner. Every week on Monday during the noon news we will have the Stormrunner somewhere in central Illinois and you will see live pictures. Then at 5 and 6 we will re-air the video so that you can email me or call the Stormrunner hotline at 217-424-2500 ext. 4125. If you guess correctly then your name will be put into a random drawing with a chance to win a Red Cross storm preparedness kit. These kits have everything that you will need to have in case of a severe weather situation. We will announce the winner on Thursday during Newscenter 17 at 6. So be watching and try and guess where the Stormrunner was located. If you missed the news don't worry you can log onto my blog here and see the picture. If you get a chance head to the Season of Change link on the weather page and check out the tips and other information that we have put up there for your viewing pleasure. Spring time is nearing and, that means storm season. So now is the time to get prepared for what mother nature has in store for us in this spring and you know the best place to tune into for that information is right here at Stormcenter 17.
Sizzle Out
---
20090205
National Weatherperson's Day
It's a fun day in the weather world as we have our own day. You may not have heard about national weatherperson's day but you have now. Here is a little history about this date. Thursday, February 5 is National Weatherperson's Day, commemorating the birth of John Jeffries in 1744. Jeffries, one of America's first weather observers, began taking daily weather observations in Boston in 1774 and he took the first balloon observation in 1784. This is a day to recognize the men and women who collectively provide Americans with the best weather, water, and climate forecasts and warning services of any nation. Weather observations in central Illinois date back to the early 1800's (National Weather Service, 2009). I though this was really interesting. I was reading more about this date and stumbled upon some more interesting facts that I wanted to share with you as we head towards the spring storm season.
Nationally, lead time for flash flood warnings improved from 22 minutes in 1993 to 78 minutes in 2008. Accuracy over the same time period increased from 71 percent to 91 percent (National Weather Service, 2009).
Lead time for tornado warnings has increased from 6 minutes in 1993 to 13 minutes today. Tornado warning accuracy increased from 43 percent to 72 percent. Winter storm accuracy in 2008 was 89 percent with an average lead time of 17 hours. Since 1990, the Tropical Prediction Center's 24 to 72 hour tropical storm forecast track errors have been reduced by more than 50%. These more accurate and longer lead time warnings help communities stay safe (National W, eather Service, 2009). Lead Time is referring to the time that you have from the issuance of the warning to the time the event takes place in the warned area. It is amazing to see how much has improved over the last 16 years with warnings here in central Illinois. This gives you a chance to make sure that you informed and then you know when you should take action to keep you and your family safe. We will be talking about more statistics as the spring season arrives but I just wanted to give you a chance to see what the statistics are as we move closer to the spring season.
To all of you out there who are fascinated by weather and those of you who have interest in weather which I think that covers everyone....Happy Weatherperson's Day! Keep looking at the sky as God has created an amazing place for us to live and a planet that is a, live with activity that never stops atmospherically speaking. We will never totally conquer weather as the earth will always have the last laugh but it is really fascinating to look to the sky and think what is around the corner in weather. That is why my job as a meteorologist is so cool is that I get a chance on a daily basis to try and forecast seven days ahead and try and beat the odds Mother Nature has stacked against me.
Take Care and God Bless
Sizzle Out
20090203
Snowfall number 12
I woke up this morning and looked out the window to see more snow on the ground. This makes number 12 on the year. This snow was just enough to cover the ground in pl, aces were we have already seen some melting occur. Here is to counting towards 30 we still have 18 more snows left.
Yesterday was Groundhog's Day and he saw his shadow in Pennsylvania. That means that we are supposed to see 6 more weeks of winter. If you were to look at the calander its only 6 more weeks until spring anyway. If you see the forecast for the weekend it won't seem like winter still. Well keep counting the snows we are starting to run out of months that we usually see snow here in the C.I.
Sizzle Out
20090201
What a Super Bowl!!!!
Last years game was a really good one but I think tonight may have topped it. 23 points in the 4th quarter, how crazy is that. Here are some of my highlights I think are the best from tonight's game. The 100 yard INT return by James Harrison after the Cardinals were knocking on the door about to score on a very impressive drive that was turned away after the INT. You know Larry Fitzgerald was quiet for a long time in this game as the Pittsburg Defense shut him down early. He was not down and out when Warner connected a 64 yard pass play to Fitzgerald. Everyone was really excited but you can not count out the Steelers and big , Ben. They came right back down the field for the game winning drive as Ben R. connected with Holms in the end zone on a great catch. What a night for football and what a great game. The look on Larry Fitzgerald's face was a look that I don't think too many people will forget as he just saw his team's championship hopes dashed on a big drive by the Steelers. Final score 27 to 23 Steelers.
People were asking me who I was rooting for and I really didn't are who won the game but I would have to say in the long run I was rooting for the Steelers. I just could root for the Cardinals as I am a Bears fan and I am sure if they were still in Chicago to this day I would be a Bears fan and not a Cardinals fan. Plus, they wer, e in St. Louis and I just can't do it because it reminds me too much of the baseball team and being a Cubs fan just couldn't root for the Cardinals. I would also have to say that I rooted for the Steelers because my Dad is a fan.
Changing the subject a little tomorrow is Groundhogs Day. The question that everyone wants to know is will he see his shadow? If he does that means six more weeks of winter if he doesn't then an early spring. If you were to look at the 7-day it looks like spring will be here early. But, if we look at the calendar it doesn't really mean anything because it is only six w, eeks until spring. It's all up to the "HOG" tomorrow for those of you who want an early spring or more winter.
Have a great work week
Sizzle Out!
20090128
Snowfall #11
I had been watching this system develop since last week on the forecast models and it look really promising for a good snowfall. As the week went on it became clear once again that Mom nature is the one in charge here when it comes to weather. As this system got closer the models began to push the snow farther, south into southern Illinois. So when we went on the air we were saying that the track of thi, s system, will be south and we will see snow totals around 2 inches. Well then at the last moment it decided to track back north and we were in for it this time. I know that people who are , in the (BOK) and if you are from Bethany you know what that stands for you were very happy. Jack I hope you get a good ride over the next couple of days before the weekend begins to melt this stuff. Only 19 more snows left to get to our 30 so here is to hoping as we start to look into February.
Here is a list of snow totals from central Illinois!
12.5 SUMNER LAWRENCE 0800 AM
12.0 5 NW FLORA CLAY 0600 PM
11.0 11 NE LAWRENCEVILLE LAWRENCE 1100 AM
11.0 PINKSTAFF LAWRENCE 1100 AM
11.0 6 SE FLORA CLAY 1043 AM
11.0 OLNEY RICHLAND 0858 AM
10.5 BIRDS LAWRENCE 1100 AM
10.5 7 ESE LAWRENCEVILLE LAWRENCE 1100 AM
10.3 1 E TRIMBLE CRAWFORD 0600 PM
10.2 4 SE CLAY CITY CLAY 1011 AM
10.0 PALESTINE CRAWFORD 0500 PM
10.0 1 NE SHELBYVILLE SHELBY 0700 AM
9.5 3 SW HIDALGO JASPER 0600 PM
9.3 2 NE MARTINSVILLE CLARK 0200 PM
9.0 8 NW NEWTON JASPER 0730 AM
9.0 10 S MARTINSVILLE CLARK 060, 0 AM
8.6 6 N CLAREMONT RICHLAND 0730 AM
8.5 ALTAMONT EFFINGHAM 0650 AM
8.3 3 NW WHEELER JASPER 1159 AM
8.0 MATTOON COLES 0755 AM
8.0 NEWTO, N JASPER 0730 AM
8.0 5 NW SIDELL VERMILION 0700 AM
7.8 &n, bsp; ROSAMOND CHRISTIAN 1053 AM
7.6 ROBINSON DELAWARE 0700 AM
7.5 CHARLESTON COLES 0618 AM
7.0 WINDSOR SHELBY 0600 PM
7.0 FLORA CLAY 0713 AM
6.5 7 N OAKLAND DOUGLAS 0917 AM
6.5 3 SW EFFINGHAM EFFINGHAM &, nbsp; 0700 AM
6.5 PARIS EDGAR 0700 AM
6.5 2 S OLNEY RICHLAND 0600 AM
6.0 3 S SULLIVAN MOULTRIE 0700 AM
5.7 DANVILLE VERMILION 0943 AM
5.6 2 SW TAYLORVILLE CHRISTIAN 0700 AM
5.5 TUSCOLA DOUGLAS 0700 AM
5.3 VERMILION EDGAR 0623 AM
,
5.2 5 SE CALHOUN RICHLAND 07, 00 AM
5.0 ARTHUR MOULTRIE 0203 PM
5.0 LOVINGTON MOULTRIE 0200 PM
5.0 SULLIVAN MOULTRIE 0733 AM
5.0 LAWRENCEVILLE LAWRENCE 0600 AM
4.9 OGDEN &nb, sp; CHAMPAIGN 0848 AM
4.7 2 N HOMER , , CHAMPAIGN 0700 AM
4.5 CLAY CITY CLAY 0700 AM
4.5 2 ENE PHILO &n, bsp; CHAMPAIGN 0700 AM
4.4 7 NE MAHOMET CHAMPAIGN 0800 AM
4.4 KINCAID CHRISTIAN 0700 AM
4.3 DECATUR MACON 0700 AM<, P> 4.2 URBANA CHAMPAIGN 0600 PM
4.2 3 SW CHAMPAIGN CHAMPAIGN 0700 AM
3.8 MONTICELLO PIATT 0821 AM
3.5 3 W BISMARCK VERMILION 0816 AM
3.5 CHATHAM SANGAMON 0700 AM
3.2 1 S MANITO MASON 0801 AM
3.2 RIVERTON SANGAMON 0731 AM
3.1 FISHER , CHAMPAIGN 0700 AM
3.0 1 N COOKSVILLE MCLEAN 0700 AM
2.7 4 SW BEASON LOGAN 0730 AM
2.5 CLINTON DE WITT 0300 PM
2.5 MOUNT PULASKI LOGAN 0600 AM
2.4&nb, sp; BUFFALO SANGAMON 0830 AM
2.4 SPRINGFIELD SANGAMON 0600 AM
2.3 1 SW JEROME SANGAMON 0700 AM
2.0 BROADWELL LOGAN 0730 AM
2.0 3 SSW LOAMI SANGAMO, N 0730 AM
1.9 1 S MOSSVILLE PEORIA 0852 AM
1.9 HENRY , MARSHALL 0744 AM
1.8 LINCOLN LOGAN 1200 PM
1.7 &nbs, p; PETERSBURG MENARD 0816 AM
1.6 EUREKA WOODFORD 0718 AM
1.5 3 NE BLOOMINGTON MCLEAN 0300 PM
1.5 1 NW JACKSONVILLE MORGAN 0815 AM
1.5 JACKSONVILLE &nb, sp; MORGAN 0700 AM
1.5 2 N ATHENS MENARD 0700 AM
1.5 LACON MARSHALL 0700 AM
1.5 5 W LINCOLN LOGAN 0700 AM
1.5 2 SW ATHENS&, nbsp; MENARD 0600 AM
1.4 5 NW PEORIA PEORIA 0800 AM
1.4 2 N GERMANTOWN HILLS WOODFORD 0659 AM
, ; 1.4 PEORIA &am, p;n, bsp; PEORIA 0600 AM
1.3 1 N BLOOMINGTON MCLEAN 0745 AM
1.2 5 NE AVON KNOX 0910 AM
,
1.2 MORTON TAZEWELL 0700 AM
1.1 2 SW PETERSBURG MENARD 0800 AM
1.0 2 W PRINCEVILLE PEORIA 0815 AM
1.0 MINONK WOODFORD&, nbsp; 0730 AM
1.0 1 SE PEKIN TAZEWELL 0700 AM
1.0 LEWISTOWN FULTON 0700 AM
1.0 1 SSW GERMANTOWN HIL WOODFORD 0600 AM
1.0 HAVANA MASON 0600 AM
Sizzle Out!
---
20090126
Snowfall number 10
On Sunday morning we woke up to find almost 2 inches of snow on the ground. This makes snowfall number 10 for the season. This means we only have to deal with another 20 snows over the next 2 months to make it to the 30 that mother nature says we are supposed to recieve. Only time will tell as we go over those months. It looks like snow number 11 will be here very soon tonight and into the day tomorrow. Lets see what happens. It looks like the southern half of the state will get the brunt of the storm with time.
Be careful over the next 36 hours as the snow falls here in central Illinois. Well talk again soon. Keep those pictures of the stormrunner coming in as we are still doing the contest on Thursday evening for the umbrella.
Sizzle Out
---
20090121
Snowfall #9
Monday was a little snowfall and it was what we were supposed to have seen on Sunday. It did just enough again to, s, l, icken up the roads and make travel a little tricky. We are at 9 sn, ows now and we still need to get t, o 30, if this myth is true. On average area wide we received about a half in most places. Let's keep counting and let me know if it snows where you live if we don't get any here in , Decatur.
I will have to admit that I was not a big Obama supporter. Don't hold that against me but I think it was a really cool day in American history yesterday to see someone who is biracial become our 44th president. I am one of those people who would like to see change in the economy and in government. We all know how things in Illinois politics are right now. I want to say good luck to Mr. Obama and I hope that he can bring us about face and turn this great nation back around on the right track. It's awesome to think that we have had 3 presidents from Illinois (Grant, Lincoln, and now Obama). When I was watching from the beginning all I could think about was how much he reminded me of Lincoln. He comes out of the middle of no where and over night becomes a sensation. It's amazing to see people become so connected to someone so quickly. He really is a great speaker and I think that is one thing people are most attr, acted to him by. When you have fresh ideas people begin to listen to what you have to say and that is always a good thing. It's going to be a wh, ile before we see any real change with the state of the economy but it will take time to turn this whole thing around but in the end things will get better we all just need to be patient.
Keep counting those snows and enjoy the 40's well for one day!
Sizzle Out.
---
20090119
Snow #8 a little suprise
I was sitting in my house yesterday watching football and let me say th, e Cardinals/Eagles game was a good one. I really didn't care who won the game but its still fun to watch. Its a guy thing I think there is some unwritten rule that guys are born to watch football and for that matter all sports. I looked outside and I said, "Oh there is the snow that we though would come through." Then about 45 minutes later I look out and it was still snowing and the road was covered. Finally I looked out there was about 2 inches on the ground. I was totally shocked because I was not expecting that much snow! It was a really nice snow in the fact that the winds were light and it just came straight down and didnt blow around all that much, . I , am a big fan as you know of snow a, nd for some reason I enjoy going out and shoveling the stuff. Its good exercise for me to get out there and scoop that white stuff but if you are doing it you need to make sure to give yourself plenty of break so you dont run into health problems. Here is a list of just a couple places that recieved snow yesterday. Stay tuned there may be some more tonight but not as much as what we saw last night. Only 22 snow left if we get the 30 that the wives tail says we are supposed to get.
Neoga 3.5"
Shelbyville 3"
Beecher City 2"
Tuscola 2"
Moweaqua 2"
Lovington 2"
Decatur 2"
Mt. Pulaski 1.5"
Sullivan 1.5"
Effingham 1.3"
Lincoln 1.3"
Charleston 1"
Edinburg 1"
Paris 1"
Have a great evening and be careful on the roads.
Sizzle Out!
---
20090116
Snow number 7
We had our biggest snow yet at least for some this season. In Decatur we had 2 inches while in Urbana 4.5 inches where recorded. This was finally a snowfall that we could actually count. The last few have been very light but this time we actually got something measurable. Not only did we get the snow but that wind was just wicked out there the past couple of days. We had wind chill values around -30 in a lot of places. These cold temperatures just seemed to bring everything to a stand still. I went outside the past couple of mornings to start the car early and I tell you what it didn't take long before I was ready to head back inside. I was thinking the other day that we are already about half way through January and that means that spring is not that far away. We only have 4 full weeks in February and then March will be here along with , spring. Let keep counting those snowfalls to see if we can get to the 30 before the snow season is over!
Changing gears a little I had a chance to go tonight and see a little area high school basketball. Dice and I headed to Central A&M for a little while and then over the Macon to Meridian High School. I wanted to say thanks to those two schools for being very hospitable. It's great to go places and feel very welcomed. It is like this in every school that I have ever been to in this area. Thanks again for all the kind words. The words may not be as kind when I am in the strips on the floor but after the game everyone from the school staff and fans in the stands at the places I have refereed at this season to the places I have just come to watch some games I want to say thanks and we are always glad that you guys are there for the kids. I think this is something that some officials forget is that you are not there to be the show but you are there for the kids. You are there teaching them to be a better student athlete and to become a better all around people with d, iscipline that will translate into the classroom and in their everyday lives. That is what these school want from their student athletes is a person to represent their school and town to the best of their ability. This is what I am seeing from most all the student athletes that I have encountered through out my time as an official. Keep up the hard work everyone and you know that one day this will pay off.
Stay warm everyone and try and enjoy the weekend even though it will be a bit on the chilly side.
Sizzle Out!
20090113
Snow number 6
I woke up this morning and guess what I saw, no it wasn't Santa Clause but a little snow on the ground! This makes number 6 and on Wednesday if it comes together we could be seeing number 7. It's going to be a cold one over the next couple of days and the best piece of advice to give you at home is bundle up and try and limit the time out side. When you do bundle up plea, se try and cover all exposed skin. This is going to be a short entry but I will again make comments about the snow we are going to see on Wednesday so stay tuned and we will keep counting as we are headed towards 30 snows this year.
Sizzle Out
---
20090107
Snow!!!
We had another little trace of snow tonight here in the CI. I am going to count this one as a snowfall because it was evident in the grass and on some of the roads. This makes number five on our way to 30. I know it wasn't much but maybe just maybe mom nature will give us enough again soon that we can actually enjoy it for those of us who enjoy winter sports.
I want to thank the Shrine Club of Decatur for the opportunity to come and speak to their group this afternoon. They are a great group of guys and it was exciting to be able to speak to them. I really enjoy that part of my job as it is always nice to get out in the community and meet people and get their input on what we are doing.
On a final note tonight it has been a good s, , tart to the New Year as I am trying to stick to my diet and have been good over the past few days. When I started this quest back in late September and early October I was dropping pounds like the bears receivers were dropping passes this season. I had dropped close to 20 lbs and I was hoping to drop more. Well then came the holidays and that was the end of that. I have gotten back on board and I plan on dropping the lbs that I gained back during the holidays. Heres to letting the pounds melt away in 09. Also I am hoping like every other Cub fan that this is the year and I am sold it is going to be an odd year for us to finally break out of the curse and win the big one.
Sizzle Out!!!!!
---
20081231
2008 Gone
What a great year it was in 2008. Here are some of the highlights I can think of. The most important one is my engagement. There is a funny story behind it but I am too embarrassed to tell it here. Let's just say I may have put the ring on the wrong hand at first. I would also have to say seeing Carlos Zambranos no hitter against the Houston Astros in Miller Park. What a great season it was but to only end in heart break. I think the best thing was , thi, s Christmas being able to help a young boy who wasn't going to have a great Christmas because of the tough economy realize his dream of meeting the weatherman and doing the weather on an actual stage instead of at home. That is what the holidays are all about giving back to someone who really looks up to you and helping people who need it the most. There are so many more great memories of 2008 but we have to close that book and move on to 2009. I was thinking about something the other day when I was reefing a basketball game. Ten years ago at this time I was playing High School Basketball and not having too much in the way of responsibility. The only things I was worried about at the time where when is my next test, are we going to have a snow day, and who is next on the schedule for the games this week. Its amazing how things change in a matter of just a decade. People always say that they would love to go back and relive that part of their life but, , you know I am so happy here in the present that going back would only take away all the great blessing that I have in my life to this day. Lets look back and think about all the wonderful people, places and things in our lives and be grateful for all the things in our lives that we are blessed with. Even if those things are small or grand everything is equal in the eyes of the beholder. Have a very Happy and Great New Year and I look forward to hearing from all of you in the New Year.
Welcome 2009
Sizzle Out
---
20081225
Merry Christmas!!!
I wanted to tell everyone Merry Christmas and God Bless. I hope that you get everything that you wanted. I am just glad that I am able to go see my family and be with the ones that I love on this very special day. Be safe if you have to travel and take it easy on the slick roads.
Sizzle Out
---
20081216
Snow # 4
Well here we go again. I woke up this morning and there it was again a gift from the sky. We have had an inch so far from this snow and we are expecting some freezing drizzle. If you are counting with me this makes number four on the way to 30 snows. If they are all like this I think I will be a little disappointed because I am ready for a good sizable snowfall. If it was to come on a Friday night late and into Saturday morning when most people don't ha, ve to go anywhere I think that would be ideal. As we all know I think Mother Nature loves to laugh at us and brings the snows at the most inopportune times. I know that most of you would think that if we see 30 of these snowfalls that it won't be that bad. I am on of those people that if it is going to be cold then let's have some snow on the ground to cover up all the dead grass and plants. Our attention turns to next week Wednesday evening and Thursday. Christmas can you believe it is here almost? Like I talked about in one of my other blogs I really am a huge Christmas fan. A w, hite Christmas is on the minds of a lot of people and to have a white Christmas you much have at least an inch of snow on the ground on Christmas morning. So here is a map that shows our chances of a white Christmas since the 70's here in the area. I, t's, , , a low chance but we are still hopeful maybe this year it will happen. I was just looking at one of our long range forecast models and it is showing maybe a chance for some snow on Christmas Eve! Let's keep our fingers crossed and hope that it comes true. We can let everyone get to the place that they want to get to and then let it snow. Maybe this year Santa won't have to put the wheels on the sled when he comes to central Illinois. Stay safe everyone.
God Bless
Sizzle Out
---
20081209
Snow number 3!!!!
This past weekend I was out and about and it was snowing. Greg and I were in the Champaign Christmas parade and let me tell you it was freezing! But as I was on my way over there it was snowing some and it was sticking. That means we had snowfall number 3. On Monday I went to speak with the noon Lions Club of Decatur. Some of the members asked me how much stock I put into the wives tails. It made me laugh because I told them that we are trying to bust some of the myths. I talked about the 30 snowfalls that we could possible have and one guys said, "If all the snowfalls are like the ones , we have had then ill be ok with that." I know that some of you would agree with that statement but I really would like to have a little more snow enough at least to be able to snow mobile around the country side. If you are counting with me we are at 3 and if we get some measurable snow tonight that will make four but only time will tell.
Christmas is only 16 days away! I have been shopping and am almost done. I am a huge Christmas person and in our house we have a tree up already and yes I have my train that I got from my Grandma a long time ago around the tree. I usually take all the presents and make tunnels out of them to make it look like the train is going through them. I know now you probably think I'm a huge dork but it's something that I have done for a long time. I was trying to think of things I wanted for Christmas and I really couldn't thi, nk of anything well besides snow. I know that only thing that I really want is to thank God for my health and for my job that I have. With these tough times here in the U.S. I am very thankful to be healthy, employed and loved. Stay warm everyone and we will still be counting.
Sizzle Out
---
20081204
Snow!!!!!
<, FONT size=2>Sorry it's taken me a couple days to get back on this topic.
Here we go busting the myth. The first snow that counts was on November 30th. This means that if the myth is true then we are in for 30 snowfalls this year. Last night here at the station we received ½ inch but this one counts as the 2nd snowfall. We are at snowfall number 2 on the way to 30.
Kristen from Maroa,
A college buddy of mine told me about that tale and I have counted snows since. I think it is usually pretty close to accurate, depending on how you count it. For instance, it started snowing on Saturday in Maroa around 1:00 am. (Yes, I was up waiting for it to start.) Later on the same day it stopped , for awhile and then started again. So does that count as one day of snow or two snows? Does the first snow count as one of the snows? What about overnight snows...is it just, o, ne, or is it two since it's two, days? These are all questions that I haven't had answered about snow counting. So if we are going to try to bust this myth...we will need to figure this out. I am glad you addressed this, because my husband has always thought I just made this up!
Oh, and "Hi Barb" (Barb from Argenta is formerly from Maroa!) Let's count snow! Woohoo!!!
Kristen thanks for the response when I have counted them it seems to come close as well. To answer your questions that counts as the same snow. Yes the first snow counts as numb, er one! When this happens overnight we will count it as one snow as it is with one system. Hope that helps...and happy counting!
Barb from Oreana
I snowmobiled years ago, what a blast. I'm also a fan of , the snow. I'm not well liked by many people. If it snows twice on one day does that count as 1 or 2?
Barb tha, , nks , for the response. I know how you feel about not being the favorite from people because I like snow too. It was kind of a tease last night with the snow coming down last night and we didn't get much. It counts as one snow because it comes from the same system. It looks like snow number 3 and 4 are in the near future.
Jenn
I too am a snow lover, my children were excited to wake up to snow! Today is my sons 9th birthday and he can not wait for 30 days of SNOW! The Farmers Almanac states that this is going to be a COLD winter why not complete it with lots of snow.
Hey Jenn I used to wake up to see if it snowed when I was little. The Farmers Almanac is always an interesting book. It is close sometimes but lets see if it turns out to be true. I would have to agree with your son I am hoping for 30 snows myself.
Pate from Decatur
J.C. There is also the persimmon seed myth. If you cut open a seed and see a knife it means the wind will cut right through you, a fork means a mild winter and last but not least the spoon it signifies a shovel and all the snow that will be dug out...I have cut open a couple and only seen the spoon. I also have heard from other people that is all they are seeing, so who knows we may be in for 30 days of white stuff only time will tell.
Hello Pate thanks for the input on the persimmon forecast. The spoon can only mean like you said a snowy forecast. It has seemed like it so far and it has been a cool fall here in central Illinois. I am hoping that we see the snow that is being predicated from Mother Nature but as you said only time will tell.
Thanks everyone for the responses. I will keep talking about all the snows on here all winter long. Not to mention its not even winter , h, ere in the CI we have to wait until the 21st. Have a great night everyone and stay warm.
Sizzle out
---
20081128
Snow count!!!
There is an old "wives tail" that says the first tracking snow of the season will give us the number of snows that we will see during the winter. For example, this weekend on Sunday will mark day 30 of the month. If we get a measurable snow that would mean that according to the "wives tail" we would see 30 snowfalls during the season. I like the show Myth Busters so I want to try and bust this tail/myth. Over the next few months I am going to track the snowfalls that we have here in central Illinois and well see how this ends up. I would like to see what other tails are out there. Let me know and I will post them on my blog.
Barb Lamont from Argenta
I too know about the "old wives tale" of the sticking snow. I will be counting them also. Maybe we won't get it until Monday, the 1st.
Thanks for the email Barb. Im kind of a fan of snow but I know that there are some people who don't like snow. I am a huge fan of snowmobiling or as Sarah Palin called then snow machining. Thank for the email and I hope for those people that don't want snow it happens on Monday but for us snowmobilers I hope this myth comes true and we get some good snow this year. I was looking at the 90 day temp outlook and it is calling for above average temps but equal chances for precipitation.
Have a great weekend everyone!!!
Sizzle Out!!!
---
20081127
Happy Thanksgiving,
I just wanted to tell everyone Happy Thanksgiving and have a safe weekend. I am looking forward to eating tomorrow and giving thanks for my health and all the blessing that I have in my life. I will be working tomorrow evening but we are going to Ashley's parents in the morning for lunch. It's a, lways nice to be able to do something with family and that I am thankful for this Thanksgiving. Don't forget that tomorrow at 6pm we will be drawing for the O'brien Auto Park Urbana Stormrunner contest. Look for it tomorrow in Coles, Moultrie, and Macon Counties.
Finally, I want to thank Jim Turner and everyone at O'brien Auto Park in Urbana for the hospitality that we received when we had the Stormrunner there on Tuesday. I also want to say thanks for the partnership between us because it wouldn't have been possible without their support to have such a great weather tool.
Happy Thanksgiving,
Sizzle Out!
---
20081118
Tu, esday's
I can remember back in college Tuesday's were always a good time. Well matter of fact every night of the week there was always something going on. This time of the year is always great because we still have college football and now college basketball is starting and not to mention NFL and NHL. I will, have to admit that I am already having baseball withdraws and I know that February is a long was off but it will be here soon for pitchers and catchers to re, port. There is a huge college basketball game on Thursday night as SIU plays Duke. I went to SIU but I am also a Duke fan. I'm not one of , , those bandwagon fans I used to watch them when I was in grade school and I really liked the way they play the game and the way Coach K coaches. I'm ready for it to be Thursday so I can watch that game and still flip back and forth to a football game. If you are wondering I am also an Illini fan. When it comes to basketball I would say Duke is number 1 then followed by the Illini and then SIU. I also root for EIU but the program is really bad and its hard to root for a team that has a losing record every year and when the schools facilities are at best high school level. I have been in newer high school gyms in this area that make Lantz arena look bad. I am EIU all the way because I graduated from there but things are going to have to change before I really start to pay more attention to EIU basketball the way I do the Blue devils and the Illini.
Sizzle Out!!!!
---
20081117
Stormrunner Contest....
The week one winner was Leanna Kalka! If you submitted pictures last week don't worry you are still in the contest. Keep those pictures coming in! This week the O'brien Auto Park Urbana Stormrunner will be in Taylorville tomorrow, then in Urbana at O'briens on Wednesday. Thursday you can spot the, , Stormrunner in Shelbyville. The week will round out on Saturday when it will roll down the streets in Decatur during the annual Christmas Parade. Get your ca, meras ready and snap those pictures and get them to me for your chance to win the umbrella.
I have to admit when I saw the snow today I got a twitch in my thumb. I love to go snowmobiling and in Bethany there is a group of guys who wish for snow. If I'm talking about snow in the forecast you better believe that I will be on the back of a snowmobile somewhere in the country side around Bethany. So if you see me and I have a smile on my face because we may get enough snow it's because I'm ready to go hit the trails. If you have any plans that take you into th, e NW Indiana area in the next 24 hours take you time with all the snow th, at they are expecting.
Sizzle Out!
---
20081107
O'brien Auto Park Urbana Stormrunner Contest
Starting on Monday you can have a chance to win an umbrella. I have one of the umbrellas and it's on my golf bag, these things are huge! All you have to do is look for the stormrunner in your t, own and take a picture of it. Then email it to me at
james.fultz@wandtv.com
. Yeah that's what the "J" sta, nd, s for in JC. On Thursday's at 6 pm we will draw at random and announce the winner on the air. Stay tuned for where the stormrunner will be this week. Here is a hint, Charleston on Tuesday and around Decatur on Thursday. I'm going to be going through Sullivan, Bethany, and Mattoon on the way, so get those, cameras out and snap those pics, and , win. Have a , great weekend and stay warm.
Sizzle Out!
,
---
20081021
Eng, agement Photos!!!!!!
,
Sorry it has been , , so long since I have written in here. I have had about a million and one things going on in the past month it's been crazy. If you looked at the tag atop the page you know what this blog is going to be about. Ashley and I headed out to The Great Pumpkin Patch in Arthur this weekend for our engagement photos.
To give you a little background on this we meet at Eastern and I finally decided to ask this really cute girl out. When I was doing the show one day here at WAND I asked Elizabeth Moors what she though about if I asked Ashley to go on our first date to the pumpkin patch. She thought it was a great idea so I asked Ashley and she said it sounded like a good time. We went there and it was so muddy out in the patch that you could barely even walk around. Well to make a long story short here we are back out at the pumpkin patch 3 years later getting our engagement photos done. I guess the mud and me trying to hold her hand the whole time didn't scare her off.
Sunday turned out to be a great day. It was a bit windy but all and all it was sunny and mild. I really have to give a huge thank you to the people at The Great Pumpkin Patch they are terrific. Mr. and Mrs. Condell, Ashley and I say THANK YOU! Mark Jones who was our photographer you may have see him if you are ever at any Illini games he is on the sidelines and on the floor shooting the games for the university. He and his wife Beth own The Tintype in Arthur and are great p, eople. Thanks to Mark for coming in on a Sunday after a long night at the Illini game on Saturday night. We had some great pictures taken at The Great Pu, mp, kin Patch and had a , great time taking them. So if you are still looking for tha, t "GREAT PUMPKIN" you should head over to Arthur and get the one perfect pumpkin to carve. I'm sure that the people at the patch could help you out and not to mention it's a great place on the weekends as they have live music and pumpkin foods of all kinds.
Mark sent me a picture as a little preview from our photo shoot so I thought I would share this with everyone so you can see what a great time we had at the patch. Hope you enjoy!
Sizzle Out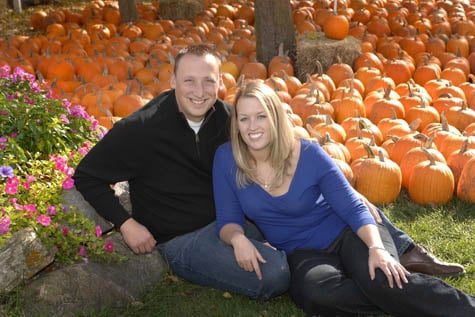 ---
20081006
Here are the average dates for the first freeze here in central Illinois. This will hopefully help you to keep it in mind that its that time of the year to start thinking about the cold.
20080929
Hurrication and good news in the mail....
I headed to Houston last weekend and helped my family clean up. The city of Houston is about 3 million people and if you can imagine an area about 3 times the size of Decatur without stoplights that's what it was like in Houston. I got off the plane and headed downtown with my uncle and just leaving the airport , was a nightmare. There are some big intersections before you get onto the freeway and it was 4 way stops, . If you have lived in a city where people are not used to using a 4 way stop it's a nightmare. People have been running the lights and slamming into people. There was power in downtown but it looked like a war zone. The Citi building had windows missing in a lot of its floors that were facing south. The building across the street didn't have any windows in it either. It looked like a bomb had gone off. When we headed back to the south side of town there were trees down everywhere. Image when there is snow pilled up here in the winter time when we hav, e had about a foot snowfall. That was the way the sides of the streets looked except it was full of trees and leaves. In some places there were piles of things as high as 8 feet in some places. We headed then over to the Seabrook area, near Kemah. In this area of Houston the bay touches these towns. The closer you got to the bay the , worse the damage, . I have some pictures of a house that was totally destroyed and a women sifting through things that were left. When I saw that poor women it really sank in because I relieved the people who lost everything came home to find a total loss. That made me realize how lucky I am to come home to things that I have every night. I could never image having to go through that. If you have never seen what a hurricane can do you never want to see it. In Texas they shoot first then ask questions later. In some places there were signs that read "you loot we shoot." I don't understand why people would go into a place that was destroyed to loot stuff. Work for something and it will make you respect what you have or what you did have if something like this happened to you. I have a lot of pictures of some of the damage and I will, work on, getting them up on the website.
Changing the su, bject I got some news when I got home this weekend. In weather broadcasting you set goals for yourself and one of those goals for me was to get my classes to be a meteorologist. I checked that one off. Then I wanted to get a seal of approval from the National Weather Association. I took a test and passed it then I had to send in three shows that were consecutive. So I sent in a show from Friday, Saturday and Sunday. I waited and waited to hear back and , I got the letter on this Sunday. I opened it an, d I found out that I was awarded the NWA seal of approval. This is another goal that I had set and achieved. So now I am working on setting another goal and well see if that goal is realized soon.
If you want to know more about the Hurrication or have any questions about what I saw let me know and ill get back to you.
Sizzle Out
---
20080916
A no no.....
I got a call on Saturday night and it was from my buddy Russ. He said that he had four tickets to the Cubs and Astros game in Milwaukee and wanted to know if I could go. I thought about it because it was going to be a very long day and I had to work on Monday. But something told me that I should go to the game. I called him back and said I am in and let's go. We left in the middle of all the rain that we had here on Sunday and headed towards the cheese curtain. We pulled in the parking lot and it was like we had pulled into Chicago because of all the Cubs jerseys. The atmosphere was amazing at Miller Park and if you haven't had a chance to take the trip there you really should.
After about the first 6 innings I looked at the scoreboard and though he has a no hitter going but don't say anything about it. We got in to the bottom of the eight inning and people started to stir a little bit. To start the whole thing off Soriano hit a lead off homer , and then we put up 4 in the 4th. As we sat there, and Big Z ended the 8th inning we though o my gosh we might see history. I looked at Russ and didn't say anything and neither did he. As we batted the suspense was building. When Big Z came out to the mound he looked like he was a man on a mission. I have seen him through a few times but I haven't seen him though like this ever before. He got the first two guys out and then the crowd started chanting ZZZZZZZZZZZZZZZZZ. Then the final pitch and the, crowd just erupted. Even though the loud speaker didn't belt out Go Cubs Go we started singing it. Then the party moved out into the parking lot where I was out of the sunroof singing Go Cubs Go. You would have thought that we had just won the World Series or something. This was the first no hitter thrown by a cub since Milt Papaas in 1972. That's 38 years of history and I got to see it in person. On top of it all it was the first ever no no at a neutral site in major league history. Keep this number in mind 6 that's the magic number. I still don't have a voice and it's been two days since the game but it was so worth it and what an idea to have for a road trip.
GO CUBS GO
JC
---
20080911
Thoughts and Prayers.....
I am asking if you could please put the people of Houston in your thoughts and prayers. Part of my family live in the south side of Houston and its going to be very rough for people who live in that part of Texas. I know that there are other people out there who have family and friends in the Houston area. Ike is expected to come through as a very powerful storm and has the potential to cause some serious damage. I was talking to my aunt today; she was telling me that people in Baton Rouge Louisiana still don't have power beca, use of Gustav. She was also saying that if this storm comes ashore like what we are forecasting there may be part of Houston with out power for more then 2 to 3 weeks. That is going to be a huge challenge for a city of more then 3 million people. Once again lift up your thoughts and prayers to all those people who are in the path of this storm. Ill keep everyone up to date on what's going on in the Gulf Coast as the week and weekend goes along.
We also must reflect on today's significance. All of those people who perished in the attacks on September 11th 2001 we must never forget. This day will always stand as a day that our country suffered but today we can reflect and remember all of the people who serve and protect us that being our men and women who serve in our military, our first responders, and most of all the people who have perished pro, tecting this great country.
Sizzle Out
---
20080910
Golf this morning...
Today was simply bea, utiful! I got up this morning with every intention on playing great golf. Brian Jodice and I headed out to the course this morning and it was a little cool but great just to be at the course. We headed to Nelson Park and if you are familiar with Decatur this is a very hilly course and that might be an understatement. I hit my first shot which at Nelson is a par 3 and I really don't like starting on Par 3's and it was not a very how do you say my best. I hit it just short of the green but then I ended up taking a bogey on the hole. Let's just say I started the round 3 over par. Nelson is not a course that you really should start out that many strokes over. After that I pretty much just gave up and decided just to hav, e fun. It's hard to get mad at yourself when you haven't played in a few days or play everyday. Let's face the facts, if I played everyday then I would have a reason to be mad when I don't hit the shot that I wanted. When there is a day like today you can't waist it no matter what. A bad day on the golf course is still better then a day at work! I don't think that we will get much golf in this weekend but I know that there isn't much longer and it will be time to have an Easter egg hunt through the leaves to try and find the ball in the fairway. I am still looking for the elusive hole-in-one but maybe I c, an get that before the end of the season.
Sizzle Out
---
20080909
One Uppers.....
This is an interesting topic that I know people have a pet peeve about. When you tell a story and the, n someone has to one up you with a better story that drives me nuts. It's very frustrating when this happens an, d I know a few people like this. When you hear a story just let them tell it and then if you tell a story which is fine, but don't try and one up the story. Back to the burn out for just a second, I don't mean to sound negative because I do love my job and I wouldn't trade it for any other gig. It's just frustrating when there are things that go on that put a sour taste in your mouth. When this happens it makes life a little more difficult.
Hey lets change things up a bit and take a more positive approach today. Ashley and I had a chance to head to Champaign this past weekend and watch the U of I play EIU. I know that Eastern got beat but man it was exciting to watch them give Illinois a little test. I am very impressed at which the boys in blue kept their composer as the game went on and the lead stretched out a bit. Its going to be , a great time I think in Chucktown this season when we start playing teams within our own division. If you are a football fan and looking for some good ball being played and cant get Illinois tickets head to EIU and watch some good ball. The atmosphere is on a smaller scale but still great football being played on the field. If you are out golfing in the morning you may find Brian J and I out on the local courses. Just make sure that you have long sleeves on in the morning.
Sizzle Out!!!!!!
<, hr />
20080908
Fun times...
How about that Bears game last night. Brain Jodice and I were watching the game last night and what an exciting time to be a Bears fan. I can't believe that we actually beat the Colts and finally the D looks up to the challenge again this year. Kyle Orton may not be the flashy QB but he at least knows how to get the job done. That's all you need is an offence that can actually put up more then 4 field goals a game. That was the story last year was as injuries took their toll on the team. I hope that last night was just a preview of things to come this season.
Onto another story is what is going on with the Cubs. I know most Cardinal fans would say, "O its September and the Cubs Useless By September." I don't think that the case but man we have a tough road a head. We have to go to STL this week and then to Houston who for some reason has had our number lately. If the Astros were in the w, est they might be a playoff team. How bad is that division? Let's just hope that we get our act together and can win some baseball games this week.
Finally, do you ever get the felling of being burned out? I don't mean other things but at work. Don't get me wrong I love my job and everyone I talk to about it. There are some days when I , come in and , I question if I am really cut out for this job. Weather is something I love but not even close to as much as I love my beautiful Fiancé Ashley. I don't know what it is sometimes but I see things going on and question why I chose the TV industry. Let me give you a little inside this is not a glamorous business. It's an amazing job to have because I get to do something I grew up always wanting , t, o do when I grew up but when you have to come to work some days with a smile on your face and it's a , little forced it makes you think a little bit. Then there are weeks that you go to work and think you are on top of the world. Do you guys ever feel this way? Let me know what you guys go through in the working world so maybe I don't feel like I'm the only one who goes through this.
Go Bears and Cubs!!!!!
---
20080903
Hurricane Ike....
I have added the maps for Hurricane Ike and For Tropical Storm Hanna. Ive decided since im not going to be around much this weekend to just put up the maps and they will update automatic. This way you can stay up to date on what is going on in the tropics. Sorry if there are some misspelled words I fell tonight on the way out of my house and my right arm is really sore and not w, orking well right now. Just an FYI we have had 3.20 inches of rain today and over the last two days 4.56 inches. Have a great night everyone.
Here is the scale we use for categorizing Hurricanes.
Tropical Depression: Winds below 39 mph
Tropical Storm: Winds 39-73 mph
Saffir-Simpson Scale
Cat 1 Winds 74-95 mph
Cat 2 Winds 96-110 mph
Cat 3 Winds 111-130 mph
Cat 4 Winds 131-155 mph
Cat 5 Winds 155 and Higher
Hurricane Ike
Tropical Storm Hanna
<, div>
---
20080826
Good times....
This past weekend was a really good time. Ash and I headed over to Urbana for the sweet corn festival. I think I lost track after I finished my 3rd ear of corn. If you are looking for something to do next summer you really, should go over there and get some sweet corn. I would recommend taking a bib with you because the butter will run everywhere but that's what makes sweet corn so good. Writing this is making me hungry and I just ate dinner not to long ago.
After I got back from the corn festival I headed back to my old stomping grounds. I lived in Bethany most of my life and it's a nice quiet little town. Mike and Gina had some people over fo, r a gathering so I headed over there for some frosty cold ones, and great company. The golden goodness was cold and very tasty. Thanks guys for the invitation. Then on Sunday we got to have a day just to lie around the house and do nothing. I don't know about you guys but isn't so nice to have nothing to do but sit and watch TV sometimes. Looks like this weekend is going to be a great one too and it's a 3 day weekend for most people!
High school football starts on Friday night and as we all know that's a huge deal here in the CI. I wish all the teams' great luck this year. My y, oungest brother is in high school this year and I'm looking forward to seeing him march in the band. He is about 6'3" and about 140 pounds dripping wet so not really cut out for football at least right now. I know he will fill out soon though. Josh was giving me a hard time th, e other day because I hadn't talked about him in my blog much so I guess I should talk about him. There you go Josh you may be famous. My other brother was a football player when he was in school and it was always great to go every Friday and watch him play. It's hard to believe that he is a sophomore at Eastern this year. He is a smart kid because he is going to Eastern. I only say that because I am an alum and so is Ashley.
On a last final note, college football kicks off this week on Thursday. There is a rivalry this week here at Newscenter 17. EIU plays against Centra, l Michigan. Dawn Sterling is alum of Central Michigan. We have already been talking about the game and you should tune in on Thursday evening because we are going to have some fun about the game at 10 pm. This will be worth watching I promise. Well have a great day everyone and ill be talking to you guys soon. Feel free to send your comments anytime to me here at the station I always look forward to hearing from you and I enjoy talking with everyone.
JC
---
20080820
People can be rude.....
I was reading Greg's blog entry the other day and people can be really rude. It's hard in this business to put a smile on your face and just say thanks for watching. Some people just want to call or email and complain just to have something to do. I received an email the other night that said that I should get a new suit because it didn't look good on me. I have more then one suit. When I first started here I had calls about my hair and after about call number 5 million I finally changed it. I don't understand how people can call and complain about what we are wearing or how we say things. Now I can understand if we say a town wrong or have a story wrong, we are glad to get calls about that so we can make sure that we don't make the same mistake again. I have a hard time having people tell me what I should wear on the air. I know that I am not the m, ost stylish person in the world but it's so frustrating when people call and say something nasty about what you look like.
I do really enjoy when people call and have good suggestions and have questions. It's just frustrating when people call and just want to tell you how to do your job. This business I know is under a microscope every time we go but we are human and we make a mistakes every once in a while. I don't mean to sound bitter, but this makes people not want to stay in this business. A little inside into the TV business is that it's not as glamorous as it seems. I love doing what I do but sometimes it's hard to get motivated especially when you have a bad show or you get negative comments. I am one of the most positive people in the world but it does get frustrating.
On, a more upbeat note I am getting really excited about football season. I just got some tickets for the EIU and U of I game. Ashley and I both graduated from EIU and its hard for me to root for the U of I that game because I am a big Illini fan but an EIU alum. Tailgating, the smell of food, and fall in the air aww football season it's almost here.
Have a great one everyone; hope I don't seem bitter about this.
---
20080813
A Wednesday night that won't end.....
I hope everyone has been enjoying the Olympics. They have been very exciting to watch and how about Phelps...he's a beast!!!!! I'm really looking forward to watching the baseball and the track and field events that are to come. The O, lympics are great to watch on TV but it does play (you know what) with a schedule. Tonight we go on at midnight and if I was a betting man I would say we won't be on until around 12:30 or later. O well it's worth it because there actually is something to watch on TV here at work.
I had a great weekend last wee, kend as Ashley and I had our engagement party at my Dad's house. It was so nice to be able to get our families together for the first time along with our friends from high school and college. It turned out to be a great success and everyone seemed to have a great time. It's so great to have someone in your life as wonderful as what I do. Ashley and I have great families and it's great to be able to have so many blessings in a world that seems to be so negative. I don't know what I would do if I didn't have this wonderful women in my life. Moving on past the sappiness, this weekend is going to be a great time. We are going to Champaign to a wedding. Jennifer Ketchmark who used to work here is getting married this weekend. Jennifer and I went to college together at EIU and I helped her get into this business. I know that she works at the station in Champaign but people who work in TV are a unique bunch. Even if someone works at another station (the competitor) you still hang out together. I don't think it matters if the person works at another station it doesn't mean you can't hang out.
Today has been exciting today because of the rain out last night in Atlanta. The Cubs get to play a double dip. If you missed the first game the Cubs took care of business with a 10-4 win. As Banks would say "Let's play two." Its so exciting to watch the second game as Rich Harden has looked good plus the we put up 4 runs in the first , which always helps. Its exciting because we are getting close to the end and we are still in first place. Jeff you better be thinking about what we need to do for this bet. I need your input out there...so let Jeff and I know what you guys would like to see on the air with the loser of the bet. Thanks again Greg for the plug on this and if you would like to get into the bet you would be more then welcome to. Well everyone have a great night and I look forward to hearing from all of you as usual.
Have a great night
JC
---
---
20080808
How bout those Cubbies......
That game was very exciting today and how sweet it was with Edmonds going yard twice today. I have to s, ay that Jeff and I are in a friendly Cubs and Cards rivalry. We are trying to think of bet that would involve one of us wearing the other team's apparel. Hopefully he will be wearing the Cubs jersey.
I had a chance to head out to the Illinois State Fair. It was fair weather day and Decatur day at the fair. I wanted to tell everyone who stopped by and said hi thanks. We had a blast letting people play on the wall. I want to send out a special thanks to Joshua for the picture and note that he made for me. While I was out at the fair I though that I saw a ghost.....It was the governor!!!!! I was totally surprised that he actually made and , appearance at least he knows where Springfield is. I love his excuse for skipping the parade...."I was working on a capital plan." Interesting ey!!!!!!!! All and all today was a great time. The food if you get a chance to get out to the fair is amazing. I smelled it all day and let me tell you its hard not to try everything out there. It was nice to be able to head over Campus Town and see some people from EIU who were at the fair today. H, ave a great weekend everyone and I look forw, ard to watching the Olympics and the Cubs Cards series this weekend.
JC
20080807
No game today.......
Days like to today are so nice when you have plenty of , sunshine and it's mild. The only thing that would make today even better would be if the Cubs were on. The big games are coming up this weekend as we host the dirty birds!!!!! I know you Cardinal fans out there would probably like to shoot me for calling them that but o well it's a great rivalry. I always look forward to playing the Cards because it's usually a great series. It doesn't matter if either team is in first or last for some reason they find a way to make the season series interesting. Who would have thought that in the NL central this season that the three top teams would be Chicago, , Milwaukee, and St., Louis. I knew that the Cubs were going to be a top team and I'm not just saying that because I'm a fan but just looking at who was coming back. You have to admit to that the Beer makers were going to be a team to recon with. As I was hearing before the season the Cards fans were not expecting that great of a season. I knew that it's probably not going to be a good season but they have surprised a lot of people. You guys have a good manager no matter what some of the fans say about Tony. He knows how to win with the talent that he is given each year. Lou is in the same boat with Tony in that he will find ways to fire his teams up.
Who wants to make a beat that the Cubs take at least 2 of 3 from the Cards this weekend at Wrigley? Pat my college roommate and great friend we go round and round about the Cubs and Cards all the time. He has always been a St. Louis fan and we used to make bets with me about the games and he would rub it in so bad when they would win. Of course I have to come right back and rub it in when the Cubs would win.
Tonight I will be in Blue Mound at the festival. I am going to hosting the Ms. Blue Mound event. If you are looking for something to enjoy the nice weather you should head out to Blue Mound.
On another note I'm really excited for this weekend as it looks like its going to be really great out and we have some great plans. I am going to be out at the state fair this Friday as its Fair Weather Day. If you are out in Springfield on Friday stop by the twilight ballroom and say "hey". It's always a good time at the fair but honestly I'm not a huge fair fan. When I was growing up my grandparents owned a business selling fudge and taffy at fairs all over the country. We would start in Wisconsin and work our way to Montana and then I would finish in Missouri. This taught me a lot of great things but being at the fair every day of the week makes me not a huge fan of going. I have only been to the Illinois State fair once in my life. It's nice compared to oth, er states that I have been too. It's much bigger then the other states besides Missouri...their fair is just a little bit bigger. Hope to see you guys in Springfield tomorrow.
JC
20080806
Changes to the blog.....
You may have noticed that I have added a Cubs logo to my blog. I have to give credit to Jeff because he added the Cards logo to his. I can't let him one up me with that logo. So I added the go cubs go song to the blog. If you really want to hear a great song make sure you listen to my video on my blog. How about the grand slam by DeRosa in today's game!!!!! I think that the whole station heard me yell today as the ball was headed for the bleachers.
Well vacation was a blast as we got back from Tybee Island on Sunday evening. I didn't get a chance to get to the Celebration this weekend but I heard it was a grea, t time. Savannah is an amazing city and I think one day I would like to live there. Ashley and I really enjoyed just going to the beach and the pool the whole day but I got so burned. Back to Savannah, there are 21 squares in the city with historical meaning. The houses there are so neat and old. When you drive through the city there are trees that line the street, s and they drape over the streets. The Spanish Moss that's in the trees really makes it look unique. The people in this city are so friendly and it's so clean there. If you ever are looking for a great place to go on vacation you really should look into heading to Savannah and Tybee Island.
I better get back , to the baseball game that's on right now. Go Cubs GO.
JC
20080718
It's the weekend....
It's been a while since I have had a chance to get on here and write in my blog. Things have been going great with the new shift. It's really h, ard to get used to the hours but it's so nice to have weekends off. I'm looking forward to vacation next weekend as we will be headed to the south for a week. Tybee Island Georgia looks so nice on the internet and its going to be great to see the ocean for a week. Don't get me wrong seeing corn everyday that's green is good but I'm ready to see a body of water that I can't see the other shore for a while.
If you get bored this weekend you should head down the Mattoon and check out the beagle fest in Peterson Park. It's always, a great time and the beagles are great!!!! If you head out to Lake Shelbyville this weekend you need to look up the new rules regarding boats being tied up together. You can find that here at wandtv.com.
I had a chance to play some golf a week ago with Brian Jodice at Eagle Creek in Findlay. If you ever have time you should head down there and play it won't feel as if you are playing golf in Illinois. You are in the middle of a state park and there are trees everywhere. If you like wildl, ife you will be guaranteed to see a deer on the course. When your down there say hey to Steve Nickerson who's the pro out there he's a great guy. We played in the Okaw Valley Academic Outing. It's always a great time and it's for a great cause. With the money raised in this event they are able to help purchase things to help the kids in the school district. The group who puts on this outing does a great job every single year. As Brain talked about in his blog it was him and I my dad and Joe Bauer the , former Chief Meteorologist here at Stormcenter 17. A funny story about the golf outing and there are more stories that I could tell but not enough room to tell them all. Joe has always wanted to win one of the big prizes at this event and they usually have lawn carts and spreaders in the raffle drawing. Jack Scott Jr. drew the ticket and said blue ticket. Joe yelled "YES" and then the numbers were read and he won the big yard cart. He ran over to the cart and jumped in it for the rest of the evening until all the prizes were drawn. It was so funny because he finally won the big prize at the event.
Well have a great weekend and try and be safe if you are planning to be out and about try and sta, y cool because it's going to be a hot one! Take care and ill see everyone on Monday at 6pm.
JC
---
---
---
---
---
---
---
---
Wettest spring on record for Peoria & Galesburg
A very active spring weather pattern has brought repeated heavy rainfall to portions of central Illinois. For the period of "meteorological spring" defined as the months of March, April, and May, both Peoria and Galesburg have established a new all time record wet spring. Rain totals for these three months were nearly 200% of normal.
Peoria's cumulative March through May rain total of 19.91" for 2009 surpassed the old record of 18.64" set in 1927. In Galesburg, the new record of 20.35" crushed the previous high of 17.73" from 1898. Both sites have a long historical record, with data at Peoria beginning in 1883, and Galesburg in 1895.
The Peoria observation site is currently located at the Peoria International Airport. Click
here
for a Peoria weather station history. The Galesburg observation site has been maintained by a number of volunteer
Cooperative Weather Observers
through its 114 year history. Data are considered preliminary and subject to revision until certified by the
National Climatic Data Center
.
Also here is some more of this date in history:
June 3, 1990
Strong winds to near 60 mph affected a large areas of northern and east central Illinois. A 13-mile stretch of Interstate 57 was closed from Arcola to Mattoon due to blowing dust. Some damage occurred to trees, power lines, and roofs.
Sizzle Out!!!!
---
20090528
Aw June is right around the corner and we have our first tropical depression in the Atlantic. It's not going to impact the US mainland at any point, . Hurricane season starts on June 1 and I'm hoping for a quiet season so that my honeymoon in Mexico in late September doesn't get hurricane out! Here is the latest information on tropical depression number 1.
---
20090521
Need your advice,
I have thought about doing this day in weather on my blog. What do you think about that would this interest you guys if I posted that kind of thing on here? Please let me know and of course I will not leave out the golfing stories! This will also include other climat, e data that might interest you with precipitation totals.
For example: May 21, 1949
south central Illinois was affected by several tornadoes during the late afternoon hours. One affected areas around Mt. Sterling, destroying several barns and unroofing many homes. A violent tornado crossed the Mississippi River from the St. Louis area into Wood River, then to Roxanna. This tornado damaged or destroyed 300 homes in these two towns, killing 5 people. Another violent tornado in southeast Illinois caused significant damage in Palestine, before the storm moved into Indiana. Four people were killed in a destroyed restaurant in Palestine; one body was recovered from a tree.
Sizzle Out!
---
20090520
The Epic battle took place at 9:20 AM this morning at Scovill Golf Club in Decatur. The first tee resulted in three great balls. I was the only one not to find the fairway but also the only one who didn't hit driver. The opening hole at Scovill is a par 5 and its only 420 yards! That should be a hole you could score one but it harbored two pars and a bogey from our group. Jon and I got the pars. It was a tough front nine for me today but let me tell you about how much Jon Nilles has improved! This kid the first time we played was hitting worm burners low and right. He spent some dough in the offseason and got some great equipment. Today he comes out and lights it up on the first few holes. It's night and day to see his game. The course was in great shape today there still are some flooding issues out there but that makes the course just that much more challenging. All and all it was a great day for golf. We made the turn around 11:15 this morning and as we started the back nine it was a challenge for D, ice and Jon as they went right into the thick rough and behind a tree. I hit mine right down the middle and had a lob wedge left to the green. I ended up with a par on the hole and they ended with a bogey and a double. The holes that will get you on the back though are as I like to call them Agony, Misery, and Defeat or 13, 14, & 15. The first of the trio is a down hill par 5 that has a creek running through the fairway you have to carry about 290 to clear the creek. I hit the ball on the other side about 330 down the middle. Dice came up and blasted his and it was right in the area where you would want to be, it was his best drive of the day and best ball I have seen him hit this year. Jon on the other hand hit a tree but got a bad bounce into the snake infested thicket. I can't believe I am going to say this on here but I was about 150 out on a par 5 and took a 6 on the hole. For some reason I pulled my wedge and found the thick rough on the right side next to the pond. Then a chip and a put should have given me par but I took a three put. This was Jon's worst hole of the day he took an 8 and, Dice took a bogey with me. Then we moved to the 14th and this par 5 is up hill and a bear. I hit a drive down the right side of the fairway and crushed it. Dice and Jon hit theirs to the right. This time I hit a ball to the left of the green and got behind a tree which left me a decision go over or take a 7 iron and punch and run, ., My old golf coach would have been proud I took the 7 and knocked it on the green and saved par and the other guys took bogeys. Finally 15 is a short par 4 with the creek running though the middle we all hit good balls and decent 2nd shots but once again putting for all of us today could have saved a ton of strokes. We all took bogey on the 15th. The story out of all this is putting will kill you and you could save so many strokes on the course if you avoid 3 putts! I just want you to know that these guys are great guys to play golf with and its always a friendly competition when we go out.
Todays Scores
Front Back Total
JC 40 39 79
Brian &nb, sp; 46 42 88
Jon 43 , , 43 86
I took the title today but we all could have shot better if we would have made more putts! Had a great time guys and next time maybe we can knock down more putts.
Sizzle Out!
,
---
20090518
Last Stormrunner trip...
This was the last place for the' "where in central Illinois is the Stormrunner" contest. This week I took you to a place that is a little more challenging to spot from this angle. Here is a clue its in Piatt County. This is the first time I have headed out here and it's really a great place for families who just want to escape and go somewhere you can interact with nature. The grounds are really cool with gardens that are blooming and look really cool. There are some statues out there that are very European influenced. I will be drawing for the winner on Thursday. Then starting again Monday we will bring back the umbrella contest where you take a picture of the Stormrunner and send it in and I will draw a winner again on Thursday's for the winner.
Once again its time for the Cubs/Cards matchup as I'm writing this I'm watching the game. As my blog shows I am a big Cubs fan. So this series is always a big one plus when these two teams match up it's like a playoff atmosphere every game.
Finally can you believe it's already Memorial Day weekend this coming weekend? Hard to believe as we head in the "unofficial" start to summer its late May already. The lakes will start to become busier with boats and campgrounds will have that familiar smell of campfires, aw the smells of summer! It looks like its going to be a great weekend for those activities only isolated chances for afternoon/evening storms Sunday thru Tuesday.
Finally tonight there is going to be a battle tomorrow at Scovill Golf Club in Decatur tomorrow. Myself, Dice, and Nitro are having a little battle on the course tomorrow. We always have a blast when we play and it's, nice , t, o, play with some guys who are fun and like to have a great time. Stay tuned I will post scores soon from what we shot or at least who won. Enjoy the sunshine the next couple of days.
Sizzle Out!
---
20090515
Another round of severe weather across central Illinois.
As the day wore on we had a warm from that set up along I-72 and warm moist air was being pumped in from the south. As that air was lifted up and over the cooler air at he surface we started to see the development of severe storms across western Illinois. Also we had shear going on or winds changing in direction aloft. Precipital water values were around 2 inches all across the area. As a super cell formed across Pike and Adams county it made its way east and the first warning were issued for Cass, Morgan, and Scott Counties. Then the storm tracked east and would loose strength and then regain strength as it fed off the boundary and the moisture being pumped in from moisture advection and warm air advection. Then the storms made their move east into N. Sangamon County and Logan County then on to the east into Macon and Piatt. Then the tornado warnings were cancelled but in Champaign and Vermilion Counties severe thunderstorm warnings were issued. We had reports of ping pong ball size hail in some location in Monticello some windows were busted out of cars as the storm rolled through Piatt County. As time went on the storms become more linear and then pushed into southeastern counties in the stormcenter 17 viewing area. Then we were left with heavy rain and flooding which caused many roads to be closed across the area tonight.
Before tonight's rain started here are some number compared to last year with rain.
2009 &, nbsp; 2008
Yearly total as of May 14th: 19.93 , ; 20.91"
Average: 13.36" 13.36"
We are ahead 6.57" &nbs, p;&nb, sp; 7.55"
May total as of the 14th 4.54" 2.82"
What this really means is that we are about an inch behind where we were at this time last year. We also though have had more rain in May this year then last. I will update this on Monday with the latest rain totals.
Sizzle Out!!!
---
20090514
What a night it was yesterday. We had some storms fire out in Missouri which drops some tubes before they headed east. As these storms moved toward I-55 the air was more stable because of the morning showers we saw. The cold front is one of the reasons that the storms were so strong as they made thier way this direction also we had shear issues going on as the squall line tracked across the CI. There was a lot of damage across Shelby County and we had a brief touchdown of a tornado in Vermilion County. Ill be watching the weather closely tomorrow for another wind threat and a flood chance. Keep it here tomorrow as ill be watching the storms closely. Have a great night!
Sizzle Out!
---
20090512
A severe weather threat is forming , for tomorrow. I am watching a few factors that could bring us some severe weather on Wednesday. I don't want to jump up and down about this tonight but there is a chance some storms could be strong. We have to get some sunshine going tomorrow to really help to destabilize the atmosphere in the afternoon. The latest RPM Precisioncast run holds the rain around a little longer then what it showed this morn, ing. It brings in a chance for some heavy rain tonight which will help to stabilize the atmosphere in the morning. Then as the afternoon goes on if the clouds stay put temperatures will stay in the low 70's but if we get some sunshine we could pop up to 80. This is a wait and see game that we are in tonight. The GFS brings CAPE values up to around 2000 to 2500 G/kg as the evening approaches if that happens and we get a squall line blasting into central Illinois the chance does exist that we could see winds up to 70 mph as this line comes through. We also need to watch as the line comes through for a quick spin up tornado in some of the areas where we get some bowing segments and large hail could be possible. SPC has put some of central Illinois from a line from Decatur to Bloomington to Peoria to central Missouri to Springfield Illinois and back to Decatur. Keep in mind a, ll this can change at a moments notice as forecasting has been tough over the past few weeks as some of the models have been all over the board. Just remember that tomorrow afternoon if we get some sunshine then it could be a bum, py evening in central Illinois. Keep it here to Stormcenter 17 and we will watch this developing situation over the next several hours. Also the Stormrunner will be out and about tomorrow if the situation gets nasty.
Where in central Illinois is the Stormrunner contest is in its final two weeks. This week it's a place where you can always at during the summer months. Good luck the picture is located just, above this entry. Last weeks winner of the contest was Sue Nichols of rural Bethany.
Sizzle Out
20090429
Stormrunner Monday's
This weeks Stormrunner trip has had , a lot of response. I think the place that you see maybe is a little bit of a give away. You still have until tomorrow morning to get your guesses in for the contest. The last week for at least Where in central Illinois is the Stormrunner?" will end the week of May 18th. So keep watching and see if you can identify where the Stormrunner is located. Then the next week we will begin the umbrella contest again.
Be watching on Friday during the 6 pm news and I am going to tell you how many snows we actually had this year and if we busted the myth! So be watching for the moment of truth as we will finally end our experiment that day. Also I'm trying to show the soil temps for you farmers during the news and also on LWS. So if you need to know the 4 inch bare soil temps tune in on dry days for that information.
Sizzle Out!!!!!
---
20090413
Aw Monday's Trip...
The picture above is a really neat place here in central Illinois that I had never visited until Monday. This town was a little bit of a trek this week but well worth it. The object has been featured before on Stormcenter 17 when our Scot England did a central Illinois A to Z on this place. Good luck to you all this week identifying this landmark. The response again has been overwhelming this week. I won't be here again this Thursday but Laine will be announcing this week's winner.
We have some exciting things in store for you here at Stormcenter 17 that we will be doing next week during the 6 and 10 that will test your knowledge. You will have to stay tuned to see if you can answer our quizzes that we will be giving you about severe weather and what to do. You may think you know what to do but when the pressures on but this will help to jog your memories.
I'm getting excited because the next couple of days I will be on the golf course just chasing the little white ball all over the place. Hopefully it will be down the middle every time I hit it but well see what happens. Tomorrow is a trip to Carbondale with my Dad for golf and some wine and then a stop at my favorite pizza place Quatros. When I was in school at SIU we used to go there every Wednesday night. There is a course down there that we both want to go down and play so we are going to take off early in the morning and play golf and hit a couple wineries and the head back here so we can play a Hickory Point on Thursday morning. Brian Jodice will be joining us , out at Hickory on Thursday morning and my Dad is already talking trash about who is going to win this week between him and me and Brian and his buddy Brett. We will see what happens as we will make sure to settle things on the course. So if you are going to be at Hickory or Red Tail on Thursday be on the look out for us.
Sizzle Out
---
20090407
Where did spring go?
People have been asking me where spring went and I think it decided to take a spring break. It is in the southern US where it's laying on the beach getting some sun. Its coming back don't worry tomorrow we will see temps back into the upper 50's. I know as a golfer I am really ready for some warmer weather so that I can get out on the course and play without a jacket.
On another note tonight Alfonso hit another one for the Cubs. He is on track to hit 162 homers this year. Now let's get this straight its not going to happen but fun to joke about. There is nothing better though when the Cubs are on the west coast and I can get in the car and listen to the game on the way home and then watch the game with a frosty beverage until midnight or later. I am jealous because Lee was rubbing it in that he is going to opening day at Wrigley on Monday. Yes Lee is a Cubs fan and so is Laine. So it looks like the weather department wins in the Cubs favor...sorry Greg and Jeff your out numbered.
Finally I wanted, to let you know I haven't forgotten about the myths that we have been watching this winter. I am just waiting until the first of May to reveal the number of snow that we have received here in the CI. So if you have been counting let me know how many you have and we can compare notes then I am going to announce this on the air the first of May. Also March came in like a lamb and went out like a lamb so we have busted that one this year. Finally, there is a wives tail that states if it rains on Easter Sunday then the next 7 Sundays in a row will have rain. The way it looks now there isn't a chance for rain until la, te Sunday so we will keep an eye on that and see what happens. Have a gre, at rest of the week as I will be off hitting up the links all across central Illinois. Lee will be announcing the winner to the Stormrunner contest on Thursday at 6!
Sizzle Out!!!
---
,
20090406
Aw back to reality on a Monday. We had an amazing trip to Houston the weather was perfect as we had sunshine the whole time and temps around 80. It was nice to be able to escape the cold for a couple of days and also visit with some family. I'm looking forward to it warming , up here again soon because on the way back from the airport last night we ran into snow and it reminded me that I live in the Midwest and it doesn't matter if its April or not it still can snow!
What a day today on the other hand because it was opening day for baseball. I am a huge baseball fan and as you can see above a Cub fan. Big Z got his first opening day win tonight in Houston. I wish I could have stayed one day longer so that I could have been there in person but I did actually get to watch the Astros and Indians on Friday night. We sat in the Crawford boxes for the game and they were great seats...but it would have been better though if it was for the Cubs game.
Finally the stormrunner was on the prowl again today. The picture is here on my blog so check it out and email so you can be entered in for the chance at the American Red Cross Preparedness Kit. Lee will be announcing the winner this week because I will be gone on Thursday.
Sizzle Out Go Cubbies
---
20090330
This week I was back on the road to take the stormrunner to its annual stop on Mondays. This week you can see the building in the picture. I told you that I would give you a clue so I though about what to tell you guys so here we go.
Clue 1: You can head to this town for some great acts on stage throughout the summer time. There have been some big names to walk the sidewalks in this town.
Clue 2: It is a town that a couple people here at WAND know very well even yours truely.
Good luck and I need to make sure you get your guesses in soon because I am not going to be here on Thursday and I will be drawing the winner late Wednesday night so Laine can announce the winner on Thursday. If you get it wrong in the email I have been giving people a second chance and have responded back to those people. If you dont hear back from me then you got it right! Have a great evening and its just one day closer the opening day. The Cubs will be playing in Houston 1 week from tonight. I am actually headed there this weekend but I will miss seeing them by one day. I will be watching that night on TV though.
Sizzle Out!
---
20090325
The response to this weeks contest has been overwhelming. I want to thank everyone for participating week in and week out. This is a fun thing for all of us to do not only for you to guess the location but for me to be able to travel around and explore central Illinois. Even though I have grown up here I still find things that I don't know exist. There are also new things that keep popping up every single day. Now that we are headed into spring and the weather is warming up take a trip around the area and see these really neat places that we live around and sometimes take for granted. We at least again have our state parks to go back to now and visit which would have been a great loss to so many people if they would have remained closed. I know times are tough but if you are looking for a place just to go for the day and get away from everything whether that is life or just want some peace and quiet head to a place here in this area and just visit and thank how lucky we are to live in a place that has so much to offer us. Stay tuned tomorrow at 6 I will have the winner of this weeks contest and also revel where the stormrunner was located. I will say this most everyone who submitted this week got it right; I don't think you could really miss this place if you are driving along the interstate in this community.
Sizzle Out!!!!
---
20090316
St. Patties day and what a day it was. Sunshine and temps, in the 70's has me coming down with spring fever. The picture you see above is this weeks where in central Illinois is the stormrunner contest. I will give you a hint this is on a campus here in central Illinois and its a very popular place to take pictures after graduation on this campus. Good luck with the contest and we will announce the winner on newscenter 17 @ 6 on Thursday.
Sizzle Out
---
20090310
Where in ce, ntral Illinois is the Stormrunner?
This is a question that we pose to you every Monday. This last week to give you a clue as to where the Stormrunner was located is a small friendly town where you can meet the 19th century while living in the 21st century. I didn't turn the Stormrunner in the Car from Back to the Future but it's a place right here at home. Send in your guess and let me know so that you can have your chance to win the preparedness kit.
Taking a step back to the weekend some of the things that I saw from the Loami area near Springfield were pretty incredible. If you are wondering what mom nature can do all you need to do is see some pictures from this event. I feel so bad for the people who lost their homes and seeing what was left just makes your heart break. I will see if I can get some of those pictures here on my blog so that you can see what this tornado did to some of these homes. Also I have a picture of a power pole that was sucked out of the ground and thrown into a fence. I was in Houston right after the hurricane s, tuck and , you see about the same damage as what I saw here but on a much broader scale but still seeing this up close and seeing the people who were impacted by this storm just hours before makes this storm a very close second. This is why we practice for severe weather here in central Illinois so when an event like this occurs we are prepared and know what to do. ,
Sizzle Out
---
20090302
Where in Central Illinois, is the Stormrunner?
Its week number three of our contest and it's your turn to guess where the Stormrunner was located. Here is the picture from today so if you missed it during the news you can look at the picture here on my blog. Here is what you need to do to enter this contest. You can email me at
james.fultz@wandtv.com
and let me know where the Stormrunner was located.
On other notes tonight we need to start thinking about severe weather season here in central Illinois. Yesterday kicked off severe weather preparedness week here in Illinois. While you are here at wandtv.com head to the "season of chan, ge" link and look at storm tips that we have prepared for you here at Stormcenter 17. Also you can still catch the half hour special on Newscenter 17 as well. I don't know about you but I am ready for some warmer temperatures. This whole being cold but no snow on the ground has got to go. It is going to start to warm up soon and that means its time to get outside and enjoy. This winter has been a cold one. Here is a look at stats from meteorological winter here in the CI.
In Decatur in December our temperature average range was 37.5 to 22.1 degrees. The warmest day of the month was on December 27th when we hit 64. That day was followed by high winds and storms that rolled across the state.
January came in and it was a really cold one. We averaged 31.3 for high temps to 14.2 for lows. Our average high for January is 32.7 to 16.5. So this year we were 1.4 degrees below average for highs and 2.3 degrees below av, erage for lows. The coldest temperature recorded in January was -12 below on the 15th and 16th.
February rolled in and it was an up and down roller coaster ride. Our highs through out the month range, d from 43.4 degrees for highs to 25.3 for lows. The averages are 37.3 to 20.6. We were 6.1 degrees warmer then average for the month. We were 4.7 degrees warmer then average for the low temps as well. The warmest temps recorded in February was on the 9th and 10th of 65 degrees.
Sizzle Out