Jane Grace M. Manalo, M.D.
Posted: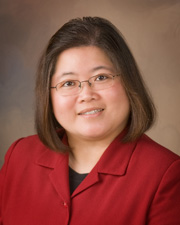 Cancer Care Specialists of Central Illinois, S.C., Welcomes Jane Grace M. Manalo, M.D.
Full-Time, Board-Certified Medical Oncologist/Hematologist at Centralia Oncology Clinic
Decatur/Centralia, IL – Cancer Care Specialists of Central Illinois, S.C., (CCSCI) is pleased to announce the addition of Jane Grace M. Manalo, M.D, board-certified medical oncologist/hematologist, to its medical practice. Dr. Manalo joined Cancer Care Specialists of Central Illinois, S.C., on July 1, 2010.
Dr. Manalo is board certified in Medical Oncology, Hematology and Internal Medicine. She received a Doctor of Medicine and Surgery degree from the University of Santo Tomas in Espana, Manila, Philippines in 1992. She completed a postgraduate internship at Jose B. Lingad Memorial Regional Hospital in San Fernando, Pampanga, Philippines, and finished pre-residency neurology training at the University of Santo Tomas. She completed a residency in Internal Medicine at Maimonides Medical Center in Brooklyn, New York in 1998, and went on to complete a fellowship in Medical Oncology and Hematology at the Montefiore Medical Center, Albert Einstein College of Medicine in Bronx, New York.
Dr. Manalo comes to the Centralia/Mt. Vernon area from Utah, where she was a Medical Oncology and Hematology attending physician at Snow Canyon Clinic from 2001-2010. In May 2010, Dr. Manalo was awarded "Oncologist of the Year" at Dixie Regional Medical Center in St. George, Utah, where she also received the 2006 Outstanding Service and Quality Award and served as Chairman of the Cancer Committee during 2006-2007.
Dr. Manalo holds membership in the American Society of Clinical Oncology, American Society of Hematology, and the American College of Physicians. She has also been actively involved in cancer research and has jointly published review articles, including "Phase II Trial of Infusional Cyclophosphamide, Doxorubicin, and Etoposide in Patients with HIV-assicated non-Hodgkin's Lymphoma: an Eastern Cooperative Oncology Group Trial (E1494)" and "Phase II Study of Weekly Docetaxel Alone or in Combination with Trastuzumab in Patients with Metastatic Breast Cancer."
Dr. Manalo has recently relocated to the Centralia/Mt. Vernon area and looks forward to helping patients and families at the Centralia Oncology Clinic. "It is my pleasure and privilege to join an outstanding team of doctors in fighting cancer and treating blood disorders in south-central Illinois, particularly in Centralia," says Dr. Manalo.
Dr. James L. Wade III, founder of Cancer Care Specialists of Central Illinois, S.C., says "We welcome Jane to our Centralia Oncology Clinic. She is the only full-time, locally-based, board-certified oncologist/hematologist in Centralia and will be a tremendous asset to the community. Her expansive knowledge, compassionate bedside manner, and desire to help, make her an integral part of our cancer team. Dr. Manalo brings to Centralia full time access for patients to state-of-the-art treatments and National Cancer Institute research programs."
Dr. Manalo is now accepting patients at the CCSCI Centralia Oncology Clinic on the St. Mary's Good Samaritan Hospital campus and is on staff at St. Mary's Good Samaritan. She will work closely with Dr. Philip Dy, Dr. Justin Floyd, and Dr. Hanna Saba, as well as with Nurse Practitioner Kristi Toennies, who will also continue to provide services at the clinic. Patients may be referred to Dr. Manalo by their physician or may contact the Centralia Oncology Clinic directly at (618) 436-5410.