Read JC's Past Blog Entries
Posted:
20110201
Forecasting Winter Storms…UGGHHHHHH
This time of the year is a forecaster's nightmare. Just a little track deviation can change an entire forecast. If a low tracks further to the north or south by just 50 miles it can mean a total forecast bust. Not only is the location of the low important but the speed as well. This storm has been a bear to try and forecast. Heaviest snows have fallen across Missouri and into Western Illinois causing Missouri to shut down I-70 from mile marker 15 near Independence to mile marker 212 outside of St. Louis tonight. If you wanting the big snows that this systems looked to bring us earlier yesterday you can thank a little thin layer of warmth in the atmosphere which kept this event in the SE mostly sleet. Plus the low sped up which has driven all the heavier snow tonight into northern Illinois. Huge issues still exist because of the blowing and drifting of the several inches we have on the ground. Be Safe and I will see all of you bright and early for the morning show!!!
Sizzle Out!!!!
---
20110128
Possible major winter storm....
Yesterday when I was writing my forecast I saw a possible storm on the Canadian model but on all the other models nothing was showing up. Today the 12Z models started to come in line with the Canadian model. It shows a low coming on shore in California late this weekend and then tracking into the Plains by Monday. The track of the low will be crucial because if it tracks further north then we could see a rain/snow mix. If they low tracks the way the models are projecting we could be in for several inches of snow. If the low tracks further to the south then less snow will fall in the area. Once the low tracks by the GFS models show a very strong Canadian high settling across Montana which would cause a tight gradient to develop here in central Illinois which could mean very gusty winds. We are going to keep a very close eye on this system and I will keep you posted here and on my facebook page @jcfultz. We should have a good handle on the evolution of this system as we head over the weekend.
This is a look at the 12Z GFS Model forecast on Wednesday at 6 AM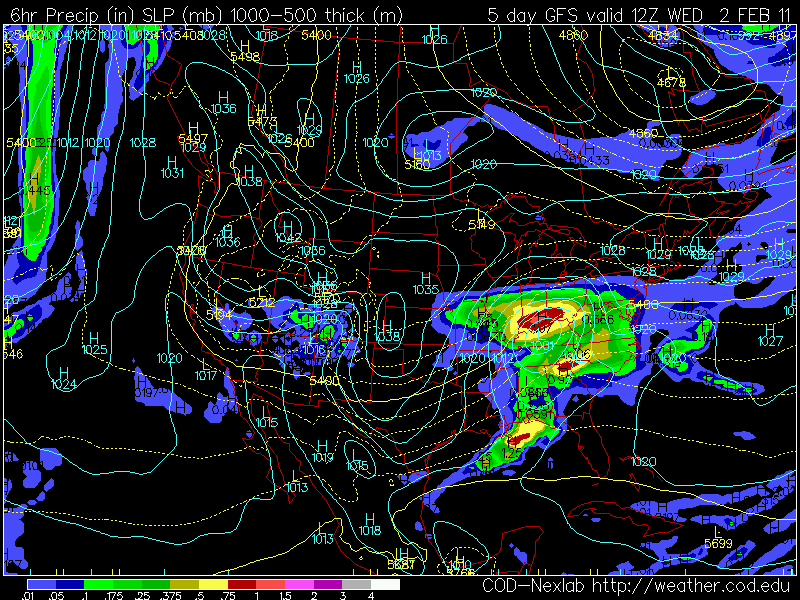 ---
20110127
Snow and cold winter...
We can thank the influence of La Nina for the weather this winter. The set up across the lower 48 has been a ridge in the Rockies and a trough across the eastern US. The Polar jet the river of air in the upper atmosphere which locks away the cold polar air behind it has been to our south for much of the winter. When this happens we stay locked away in the deep freeze. Then as the season goes along we see areas of low pressure come on shore in the Pacific Northwest and come over the ridge that is in the rockies. As this system drops into the upper plains these systems bring some snow to the Dakotas and Minnesota. When the air is cold we see fairly fluffy snow which result in lower liquid moisture when the snow melts. So we could receive 5 inches of snow but only a quarter inch of liquid precipitation. This has been our set up so far this winter. When you start to add up all the smaller snows this season totals start to add up. Once these lows track to the east they start to intensify again as they track up the eastern seaboard. They not only then have the Gulf of Mexico as a moisture source but then Atlantic moisture starts to get wrapped into the system.
This year has been a prime example of this pattern. Two major storms have impacted New England with another 19" inches of snow dumped on New York City yesterday. The other major system dumped 20 plus inches of snow on the Big Apple the day after Christmas. Their season snow total is at 55.1" which makes it the 7th snowiest winter in NYC history. The snowiest winter takes us back to 1995-96 when 75.6" of snow fell. The average snow for NYC is 24.4 inches so this year so far they are 30.7 inches ahead for the year. Keep in mind we still have February and March to get through.
Here in central Illinois it has been a cold winter so far. As I described above because of the trough that has been parked across the eastern 2/3rds of the nation we have been locked in the deep freeze. We have only had 8 days of temperatures above freezing in the month of January. The lack of sunshine has also been noticeable with 17 of the 27 days this month resulting in cloudy/mostly cloudy sky. Here is a temperature breakdown for December and January.
December
Normal High: 39.2 Normal Low: 22.6
Recorded Avg: 31.8 Recorded Avg: 19.6
------------------------- ------------------------
-7.4 below normal -3 below normal
Normal Mean Temp: 30.9
Recorded Mean Temp: 25.7
-----------------------------------
-5.2 below normal
Warmest Temp: 59 on the 31st
Coldest Temp: +1 on the 14th
January
Normal High: 31 Normal Low: 16.8
Recorded Avg: 28.7 Recorded Avg: 14.7
----------------------------- --------------------------
-2.3 below normal -2.1 below normal
Normal Mean Temp: 23.9
Recorded Mean Temp: 21.7
---------------------------------------
-2.2 below normal
Warmest Temp: 42 on the 1st
Coldest Temp: -4 on the 21st
Looking out this winter usually January, February and March are snowy months during La Nina.
Sizzle Out
---
20110126
Basketball Crowds...
I referee basketball on the side to have something else to do plus I have always enjoyed basketball. If you have ever thought about becoming an official you should. You get great exercise and you have the best seat in the house. When I first started doing games I was a little nervous and would hear people in the crowd. Now 9 years later I don't get nervous and I very rarely hear people yelling in the crowd. If you are one of those people who love to yell from the crowd at the officials we don't hear you very often. Plus, when some people yell it can be comical. First if you are going to yell because you thought we missed a call thats fine but know the rules before you start to yell. Three seconds is probably the most misunderstood rule in basketball. You only have three seconds to be in the lane unless a shot is in the air, the ball is bouncing on the rim, and if no one has possession. The one I love are when people are yelling three seconds from the stands and the ball is in the air on a shot or people are trying to rebound. Another rule that is misunderstood is on an in bounce pass. I heard someone the other night yell the thrower stepped on the line. If you are the thrower you can step on the line because its the out of bounce line.
In the weather world it looks like we might actually break the freezing mark on Friday and Saturday! It will be short lived but lets enjoy it while its lasts. The latest model runs are all over the board right now with a possible system that might impact us for Monday into Monday night time frame. I dont have one that I am buying into as of now but one thing is for sure temperatures will start to drop off by the first of next week.
Stay Warm
Sizzle Out!!!
---
20110124
Bears go down…
I am not going to be negative today because of the Bears loss yesterday. At the beginning of the season no one was giving the Bears a chance this season. The loss still really hurts because we lost to the Packers but over all it was a great season. I have to say congrats to my brother who for some reason is a Packers fan and to my friend Grant.
Looking ahead pitcher and catchers report on February 14th and positions players report for the Cubs on Feb 18th! The first spring training game is at 1:05 pm in Feb 27th against the A's at HoHo Cam Park! There is some light at the end of the tunnel this winter. But looking at the forecast for the end of the weekend into the first of next week you wouldn't think so.
Sizzle Out!
---
20110121
Snow Totals.....
Here are the snow totals from the storm system that moved through yesterday. We are going to be stuck with a troughing pattern which will help keep temperatures cold and several storm systems will move through providing us with some snow chances. We are going to pay very close attention to a storm system that will move in here for Sunday night into Monday which might bring several inches of snow. Its a complicated set up which there isn't a model solution that I am comfortable with. So no snow estimates yet but stay tuned over the weekend as models start to come into a consensus agreement with this weather maker.
7.00 LAWRENCEVILLE LAWRENCE 0228 PM
6.00 5 SW OLNEY RICHLAND 0400 PM
6.00 FLORA CLAY 0205 PM
6.00 XENIA CLAY 0205 PM
5.20 4 SE CLAY CITY CLAY 0335 PM
4.70 2 E BIRDS LAWRENCE 0330 PM
4.50 RIVERTON SANGAMON 0628 PM
4.50 LOUISVILLE CLAY 0205 PM
4.50 2 S PHILADELPHIA CASS 1104 AM
4.50 OLNEY RICHLAND 0815 AM
4.20 3 W BIRDS LAWRENCE 0145 PM
4.10 TUSCOLA DOUGLAS 0408 PM
4.10 FLAT ROCK CRAWFORD 0349 PM
4.10 MOUNT ZION MACON 0152 PM
4.00 PANA CHRISTIAN 0701 PM
4.00 DECATUR MACON 0500 PM
4.00 OAKLEY MACON 0120 PM
4.00 2 E DECATUR MACON 0100 PM
4.00 NEWTON JASPER 1210 PM
4.00 MURRAYVILLE MORGAN 0700 AM
3.90 SPRINGFIELD SANGAMON 1200 PM
3.80 4 W WINDSOR SHELBY 0410 PM
3.70 7 N OAKLAND DOUGLAS 0100 PM
3.70 SHERMAN SANGAMON 1230 PM
3.50 CHATHAM SANGAMON 0632 PM
3.50 BEARDSTOWN CASS 0224 PM
3.50 1 E TRIMBLE CRAWFORD 0100 PM
3.50 8 NW NEWTON JASPER 1140 AM
3.30 FORSYTH MACON 0431 PM
3.20 NEOGA CUMBERLAND 0228 PM
3.20 MARTINSVILLE CLARK 0200 PM
3.20 TOLONO CHAMPAIGN 0100 PM
3.10 NEWMAN DOUGLAS 0802 PM
3.10 WOODSON MORGAN 0757 PM
3.10 EFFINGHAM EFFINGHAM 0220 PM
3.00 3 SE HIDALGO JASPER 1210 PM
3.00 ASTORIA FULTON 1158 AM
3.00 1 W ARTHUR MOULTRIE 1030 AM
3.00 5 SSE CLAY CITY CLAY 0630 AM
3.00 VIRGINIA CASS 0600 AM
2.90 WINCHESTER SCOTT 0700 AM
2.80 MOUNT PULASKI LOGAN 0630 PM
2.80 8 E PETERSBURG MENARD 0610 PM
2.80 OGDEN CHAMPAIGN 0332 PM
2.80 DANVILLE VERMILION 0250 PM
2.80 4 NW WINDSOR SHELBY 0847 AM
2.80 BUFFALO SANGAMON 0700 AM
2.60 JACKSONVILLE MORGAN 0833 AM
2.50 WATSON EFFINGHAM 0815 AM
2.50 MATTOON COLES 0700 AM
2.50 3 S SULLIVAN MOULTRIE 0650 AM
2.50 3 E PANA SHELBY 0530 AM
2.40 LINCOLN LOGAN 0500 PM
2.40 3 W BISMARCK VERMILION 0418 PM
2.30 1 SW CLINTON DE WITT 0514 PM
2.30 SAVOY CHAMPAIGN 0222 PM
2.30 URBANA CHAMPAIGN 0200 PM
2.30 7 NW ROBINSON CRAWFORD 1106 AM
2.30 2 SW PETERSBURG MENARD 0800 AM
2.30 1 SW JEROME SANGAMON 0722 AM
2.20 3 W KINCAID CHRISTIAN 0700 AM
2.20 ST. DAVID FULTON 0700 AM
2.10 PETERSBURG MENARD 0700 AM
2.10 BEECHER CITY EFFINGHAM 0700 AM
2.10 ROBINSON CRAWFORD 0700 AM
2.00 ABINGDON KNOX 0403 PM
2.00 HAVANA MASON 0700 AM
2.00 WINDSOR SHELBY 0700 AM
2.00 3 SSW LOAMI SANGAMON 0700 AM
2.00 2 S MOWEAQUA SHELBY 0600 AM
1.90 MANITO MASON 1053 AM
1.90 1 NW FLAT ROCK CRAWFORD 0610 AM
1.90 CHARLESTON COLES 0552 AM
1.80 CHAMPAIGN CHAMPAIGN 0900 AM
1.80 PARIS EDGAR 0700 AM
1.60 1 S MANITO MASON 0656 AM
1.50 BLOOMINGTON MCLEAN 0800 AM
1.50 CLINTON DE WITT 0700 AM
1.30 PEKIN TAZEWELL 0513 PM
1.00 ELLISVILLE FULTON 0121 PM
0.90 PEORIA PEORIA 1145 AM
Stay Warm this weekend....
Sizzle Out!!!
---
20110120
Snow Snow and more Snow…..
With this snow event this marks our 6th measurable snow since December. Our first measurable snow was on December 12th. If you believe in wives tails then that would mean we should expect 12 snows. If you follow this then it has already been busted in Champaign. Their first measurable snow was on December 3rd when 8 inches of snow fell. This past event marks the 8th snow event in the Champaign area. So far this winter we have picked up 15.75 inches of snow and we usually average around 22 inches. We are well on our way to that average in Decatur.
Today in Springfield 3.5 inches of snow fell breaking the record for today of 1.2 inches set back in 1959.
I went out today to measure the snow and here on the south side of Decatur we had 4 inches. When you melt the snow down I found .24" of liquid precipitation. So that means that our liquid to snow ratio was 16:1. You might ask your self what does that mean. If we had 1" of liquid precipitation then we would have seen 16" of snow. We try to figure out this ratio so when we give you our forecast for snow totals we can try and get it right. I was going with 14:1 last night so it was close. I look at the QPF (Quantitative Precipitation Forecast) to get the possible liquid precipitation. Then I do the calculation of my ratio and we come up with a possible snow total. There are several methods to forecasting snow and people usually have their own preference.
I found this really cool map that is interactive that shows snow totals across the country and you can zoom into central Illinois.
http://www.srh.noaa.gov/ridge2/snow/index.php?lat=40&lon=-90&zoom=4
---
20110119
Winter strikes again,
Last night we saw some light freezing drizzle across the area. This caused the roads to become slick and many people to hit the ditch. Here we go again overnight into Thursday morning. Snow will start to pick up tonight and continue through out the day. If you are planning on traveling to work or school please give yourself plenty of extra time in the morning. Most of the time the heaviest snow sets up to our north but this time its going to be the opposite. The low pressure system that will cause the snow is expected to track across southern Illinois and bring the heaviest snow along I-70. You will want to keep it locked here at Stormcenter 17 for all the latest weather information. While you are here at the website check out our interactive radar its a really cool tool which gives you the ability to zoom in where ever you want. Be careful over the next couple of days and stay warm.
Sizzle Out!!!!
---
20110118
Spring is coming!!!
Spring is around the corner, a long corner. The Spring Equinox will occur on March 20th at 12:32 pm. That is 60 day and 18 hours from the time I wrote this blog. I know that seems like a long way away but it will get here before we know it. With that said my attention has turned to a snow producer that will move in here for Wednesday night into the day on Thursday. My breakdown for snow totals looks like this.....
I-74 to the north places include, Bloomington, Paxton, Watseka 1 to 2 inches
I-74 to I-72 places include, Champaign, Danville, Clinton, Lincoln, Decatur, Springfield 2 to 3 inches
I-72 and to the south places include, Mattoon, Effingham, Charleston, Taylorville, Carlinville, Paris...4 to 6 inches.
I-70 looks to be the target for the heaviest snow some location may see more then 6 inches. The track of the low will be the key to the snow totals. A Winter Weather Advisory will go into effect Wednesday evening at 6 and continue until 6 pm Thursday for counties to the south of I-74.
Sizzle Out
---
20110117
3rd week of the year already?
What has happened to January already? Its hard to believe we have started the third week of 2011. It seems like just yesterday it was Christmas. How has the start to your year been? It's been a great start so far on this end with the big Bears win this past weekend. For some unknown reason my middle brother is a Packers fan. I know what your thinking, "what is wrong with him?" Maybe, thats what I am always saying. I am surprised at how many Packer fans are here in central Illinois. This weekend will only mark the second meeting between these two teams in the post season since 1941. With a Super Bowl trip on the line I will never hear the end of it from my brother if the Packers pull off a win. On Sunday you can bet that I will be somewhere watching the game with my brother and hopefully rubbing it in that the Bears are Super Bowl bound!?!?!
Sizzle Out!!!!
---
20111013
Taxes, Taxes, and more Taxes….
All that we have been hearing about in the news over the past several days has been about cold, snow, and TAXES! I know the state is in the hole several billions of dollars but we need to look at the bigger picture. Is taxing the citizens to the Nth degree the real solutions? Then on top of this there is a corporate tax increase as well! States around Illinois for example, Wisconsin's new Governor just said he would try and entice Illinois companies to move north of the boarder. Why? Because they will offer tax incentives and they won't have to pay exuberant amounts of money to the state. You know what happens when companies move…that's right there goes more jobs. I know that living in a democratic society we have to pay taxes to help pay for roads, schools, and our security but when is it too much?
On a brighter note, if you like snow we have several more chances moving in our direction. There are several storm systems lined up like a parade off the west coast. These storm systems will move over the Rockies and then drop into the trough that is across much of the eastern US. The storm system that I am keeping a close eye on will develop in the 4 corners and then deepen as it moves into the Ohio Valley. The track of this low will determine how much snow we could see and also our temperature profiles. After that system pushed through a reinforcing shot of cold arctic air settles across the area. Then another chance for some snow moves in on Thursday caused by a storm system that will drop from the northern plains. This could bring below zero temps by Friday morning. Looking out past this nothing yet points to any type of warm up. If you are ready for warmer temps keep your fingers crosses. Like I said early on this season January, February, and March are typically the snowiest months during La Nina.
Here is a look at the GFS model, one of the models I use to forecast the weather. This is the models forecast at 6 AM on Monday morning. This is showing a chance for some snow from a low pressure system moving into the Ohio Valley.
Sizzle Out!
---
20110112
Cold and Snow…
Do you remember when you were a kid and you couldn't wait to wake up and see if school was cancelled. If school was cancelled that usually meant that me and my friends were headed to McRenolds hill in Bethany to go sledding all afternoon and when I got older it usually meant a trip out to the farm to go snowmobiling. Kids today I think when they see school is closed it means time for 24/7 video games. What happened to getting all bundled up and having some fun in the snow and just exploring your surroundings? What do your kids do when they are out of school on a snow day?
Sizzle Out!!!
---
20110111
Snow everywhere!!!
We aren't the only ones dealing with the snow. Check out this map it shows the snow coverage in the continental United States. I know it looks like places in Illinois don't have snow on the ground but this was taken this morning before some places in the northern part of the state picked up snow.
Be careful if you have to drive this evening the NWS has extended the Winter Weather Advisory until 6 AM tomorrow morning for blowing and drifting snow.
Sizzle Out!
---
20110110
Monday's…
Why is it on Monday it's so hard to get back into the groove? I feel like my forecasts are good and strong by Friday then on Monday the first show nothing sounds right. O well as long as you can understand what I am trying to say that's what is important. Hope everyone had a great weekend! I have been lucky this weekend because my cousin and his girlfriend are in town from Houston. I usually get to see my family from Texas a couple times a year but we usually make the trip down there because it warmer. When he told me they were coming to visit I told him to make sure they packed warm clothes and we might have some snow. They packed those warm clothes but they still had to run to Wal-mart to get long underwear. The snow they saw was a little dusting the first day they were here and now as we roll into Tuesday I think they will get their wish.
I always talk about snow and how I enjoy it. In my hometown we have a group of guys who are huge snowmobile enthusiast. That group unfortunately shrank by one yesterday when we lost a great guy. Jerry (The Coronel) as most people knew him as lost his recovery battle from an accident a few weeks ago. It's only fitting that we will have some snow on the ground Thursday when they lay him to rest. If you know his family or knew him keep them in your prayers during this tough time. It's not going to be the same in Moultrie County riding the ditches and the trail without the old golden helmet leading the way.
Sizzle Out!
---
20110105
Home Improvements 2…
I thought putting on door handles would be an easy finishing touch today. I was totally wrong when I started to put them on. I pulled the first one out of the box and put in the piece that goes into the door and it didn't fit. The hole where the knob goes was too small for the knob to fit through the holes in the lock. So out I went again to the home store in town to get a drill bit to make the hole larger so the knob would fit. I thought that would be fairly easy and wrong again I was. I started to drill the hole and it bounced everywhere but where I wanted to cut the hole. After a few choice words for the door and two hours later they are up and the handles are on. The thing I have learned from the experience is I need to be more patient. Have you had problems like this doing home improvements? The room is complete and we can finally relax and enjoy.
Sizzle out!
---
20110104
Home Improvement Projects...
Have you ever tackled home improvement projects? Ashley and I decided we were ready to do some improvements to our house. We have lived in our home since September and we are tired of how things look so its time to tackle some of the things on our to do list. We have wanted to paint, get new light fixtures, and change all the plugs and switches in the house. I cant understand how you can buy new covers for the wall plugs and not have them match the outlets. I actually changed all the plugs and switches and they all match now. I have hung up 2 lights and we have painted the living room and laundry room. I was proud that I didn't electrocute myself today and all the outlets and switches work properly! We have plenty more projects planned but I think Ashley and I are both ready to be done painting.
Sizzle Out!
---
20110103
What an end to 2010...
New Years Eve day was interesting with a Tornado watch being issued. Then in the late morning into early afternoon Tornado warnings were issued and damage was reported from St. Louis into parts of central Illinois. Lake Petersburg was hit the hardest with one person injured and several home severally damaged. Here is the link and damage assessment form the national weather service from this event.
THESE RESULTS WILL BE UPDATED AFTER THE HOLIDAY WEEKEND. A SURVEY
TEAM FROM THE NATIONAL WEATHER SERVICE IN LINCOLN SURVEYED STORM
DAMAGE FROM THE SEVERE THUNDERSTORMS THAT MOVED THROUGH CENTRAL
ILLINOIS ON NEW YEARS EVE.

THE MAJORITY OF THE DAMAGE WAS CONFINED TO THE LAKE PETERSBURG AREA
IN MENARD COUNTY...SOUTH OF THE CITY OF PETERSBURG. A TORNADO
TOUCHED DOWN ON THE WEST SIDE OF LAKE PETERSBURG AROUND 1237 PM.
THE TORNADO TRACKED FROM SOUTHWEST TO NORTHEAST ACROSS LAKE
PETERSBURG...CROSSING SUNNY ACRES ROAD...BEFORE LIFTING SOUTHEAST
OF THE INTERSECTION OF TICE ROAD AND ILLINOIS 123 AROUND 1240 PM.

THE TORNADO HAD A MAXIMUM ESTIMATED WIND SPEED OF 136 MPH...
CLASSIFIED AS AN EF3 ON THE ENHANCED FUJITA SCALE...IN THE
RESIDENTIAL AREA ON THE NORTHEAST SIDE OF LAKE PETERSBURG. THE
TORNADO HAD AN ESTIMATED MAXIMUM WIDTH OF 200 YARDS AND WAS ON THE
GROUND FOR APPROXIMATELY 3.6 MILES.
http://www.crh.noaa.gov/ilx/?n=LakePetersburgTornado31Dec2010
Here is to a great and prosperous 2011!!!!
---
20101230
Resolutions Responses..
I asked you for your resolutions and I received tons of responses and here are a few of them.
Micheal....buy more quality wine
Sherri...lose 15 to 20 pounds
April...already started, stopped smoking on December 13th
Amanda...Stop Smoking
Brad...Avoid injuries at the gym and get into shape
Juli...get blood pressure down
Jennifer...do things on my own time and not take on everyone else stress
Theresa...to not make any resolutions
Cheryl..take better care of myself mind,body,soul
Larry...continue to try and make a difference with things I do around my community
Andy...not cuss at the weatherman
Andrew..finally pet a lion
These are all great resolutions I really like the one from Andy about not cussing at the weatherman anymore! Everyone have a great and safe New Years Eve and day. I plan on watching a lot of football on New Years and just enjoying some R and R.
Happy New Year!!!!!!
---
20101228
New Years Resolutions...
Have you thought about your New Years Resolutions yet? There are the old standbys of losing weight,start running, save money and so on. I was thinking about this today as I was sitting here in the office and I cant nail it down to something that I could stick to. You know the gym's will be packed the first two months with all the people trying to keep their resolutions. Some people will start on their diets after the first of the year but how long can you stay on a diet? I used to weigh a lot more then I do now and my wife and I decided that we were going to loose weight before our wedding. We didn't do a diet but we changed our eating habits and exercised and it paid off. If you eat the correct portion sizes and just do some exercise the weight will drop off. Its so easy this time of the year to slip back into the bad eating habits which I have done. So I guess if I had a resolution this year its to get back to the way I was eating and exercising the past couple years. I asked around the newsroom today to see what people were planning on for their resolutions.....
Internet Producer Cody Carter....join the gym and get in shape
News Producer Tanner Lovett...does his resolutions like Christmas shopping wait til last minute..To be continued!!!!
Sean Streaty....save more money
Assignment Manager Elaine Voelker....weight loss
Assistant News Director Tom Lesyna...Nope not for him
Sportscaster Noah Newman....less fast food
Reporter Vanessa Murphy...bring lunch to work more often
I will list peoples resolutions on the blog Thursday.
Sizzle Out!
---
20101227
First White Christmas since '02
The last White Christmas we saw here in central Illinois was back 8 years ago in 2002. Decatur saw 2.7 inches, Champaign had 1.8" and Springfield had 5 inches on the ground. This year most totals ranged from 2 to 6 inches across the area.
Since we are on the topic of snow Champaign-Urbana set a record for the snowiest December. They picked up 20.4" but the average snowfall is only 5.1" which means they where 15.3" inches above normal. This December ranks 5th amongst the snowiest months on record in the CI.
32" March 1906

28.3" January 1979

22.2" January 1982

20.9" March 1960.

20.4" December 2010.

20.2" Janurary 1987

20" January 2007

19.1" December 1983

18.8" January 1977

18.8" January 1999
Snowfall records started being kept in 1903.
Did you get everything you wanted for Christmas?
Sizzle Out!!!
20101223
Illini game last night…
The game last night was disappointing to say the least. Some people have been ragging on the refs but when you look back at the game stupid mistakes add up. I am an official and you call what you see and the rules are in place for you to enforce them. The call at the end of the game I thought as an official was a good one. Tisdale reached out with both hands instead of going for the ball and that in the rule book that is an intentional foul. My thought was just let him make the lay up and we still have plenty of time to come down and shoot a three or get a quick two and foul. What do you think about the game last night? I never feel that officials decided the out come in a game because if you were to look back in that game you will find a couple plays that could have made a difference. I would love to see all the people who have never officiated a game who always criticize the officials to put on the stripes and do a game. This might show some people that it's not an easy job.
We will be tracking Santa and the snow tomorrow night stay tuned!
Sizzle Out!!!!
---
20101222
White Christmas?
Usually we have about a 30 percent chance of a white Christmas. Here is a map with the percentages of a white Christmas based on climate date from 1971 through 2000.
A storm system that has been dumping copious amounts of rain and snow in southern California which has added up to feet of rain and snow is now headed in our direction. The storm system which each and every model run has been going further and further south but here in the CI we will still see a chance for some snow. I have downgraded the snow totals a little I am going to go with 2 to 4 inches of snow. We might see some locally heavier amounts with some banding taking place but I feel fairly confident on these numbers. One forecast model today actually took all the precipitation and kept it to our west. I threw that one out as soon as I saw it but I think the snow will start to fall late morning on Friday and could continue while Santa is delivering his packages in the area. If you have to do any traveling I would try and get it out of the way early on Friday. I will keep a close eye on the models as this storm approaches and only time will tell how this pans out.
I hope all of you have your Christmas shopping done I only have one more gift to buy. I usually wait until the last minute but I figured this year I would get all of Ashley's gifts done. I went shopping on Monday evening and for me that is early Christmas shopping. It's intimidating for a man to go into certain shops and try and make sure you get the right sizes and right things. I, did it, and made it out alive! Guys out there, what part of Christmas shopping makes you the most nervous? Let me know….
Sizzle Out!
---
20101220
Lunar Eclipse on the Solitice
Too bad we won't be able to see it but there will be a full lunar eclipse tonight into tomorrow morning. Winter officially arrives tomorrow evening at 5:38 pm CST! I know it has already felt like winter.
Here is the article I found…
This lunar eclipse falls on the date of the northern winter solstice. How rare is that? Total lunar eclipses in northern winter are fairly common. There have been three of them in the past ten years alone. A lunar eclipse smack-dab on the date of the solstice, however, is unusual. Geoff Chester of the US Naval Observatory inspected a list of eclipses going back 2000 years. "Since Year 1, I can only find one previous instance of an eclipse matching the same calendar date as the solstice, and that is 1638 DEC 21," says Chester. "Fortunately we won't have to wait 372 years for the next one...that will be on 2094 DEC 21."
If you were watching the show last week you might have heard me mention we were watching another winter storm that might impact us during Christmas Eve. If the current track stays the way one model is playing it out we could see anywhere between 4 to 6 inches of snow by Christmas morning. If the track shifts south then we will get less snow so we will keep an eye on things.
Have you got your Christmas shopping out of the way? I just finished shopping for Ashley and I hope she likes what I got her. I even went online this year and ordered her last present tonight but no worries it will arrive by Wednesday! I am off tomorrow but I will be back on Wednesday and I will be tracking Santa on Christmas Eve with Live Doppler Santa 3D Tracker!
Sizzle Out!!!
---
20101217
A Cold December…
It has been a cold start to December so far and looks to be staying that way for a while. The scary thing about this cold is we aren't even officially into astrological winter yet it doesn't begin until 5:38 pm on Tuesday, December 21st. I took a look at our climo sheet here at the station and did some calculations to see just how cold our high temperatures are compared to our average or normal highs for this time of the year. Here are the results below.
Day Normal Hig, h Recorded High
,
1 43 29
2 44 34
3 46 36
4 45 34
5 45 31
6 42 23
7 41 25
8 38 29
9 36 35
10 37 48
11 39 42
12 37 27
13 36 14
14 36 21
15 37 26
16 36 27
17 37 29
----------------------------------------------------
Avg: 39.7 Avg: 30
-9.7 below normal
The warmest day of December was on the 10 when we made it up too 48 and the coldest high on the 13 when we only managed 14 degrees. As we continue on it will be interesting to see if we can squeeze some warmer air back into central Illinois. Last year though remember how cold it was in January so only time will tell.
I have started to look ahead in the forecast to Christmas weekend and some models are showing a system in time for Christmas Eve but its still too far out to start getting excited about.
Today we had our Spirit of Giving Campaign here at the station and we were collecting toys for the Toys for Tots program so no child here in central Illinois would have to go without this Christmas. Our total toy count was 3,255! It's amazing every time you have something like this people really come out to help each other. Central Illinois always answers the call in time of need and this still proves that people are still wonderful and thoughtful. This just proves that God's love is alive in the hearts of many this season who have sacrificed a little to give a lot of joy for a child. Thanks to all of you for what you do and just know you have helped someone have a Christmas they might not have had.
Sizzle Out!
---