Read JC's Past Blog Entries
Posted:
20101216
Snowflakes...
Did you know there are different kinds of snowflakes? Here is a diagram of snowflakes and temperatures at which the different kinds form.
Thought this was interesting and fitting on a day like today. Plus, as I was on my way to work today I noticed in Mattoon we were picking up the needle flake so temperatures aloft where around 5 below Celsius. To get the classic big dendrite flake you need temperatures in the atmosphere at -12 Celcius and for any snow growth we need to see a thick layer of subfreezing temperatures. Hope all of you made it safe to your locations this morning.
Sizzle Out!
---
20101214
I want to thank Greg for his shout out today on his blog. I enjoy reading his as well and sometimes will comment on it. Thanks man for the plug.
Lake Effect Snow.....
A basic definition for lake effect snow is when cold air blows across the relatively warmer lake waters. The more lake that the wind blows across (lake fetch) the more snow will result. This week in northwestern Indiana the snow belts have been very active. Here are some very impressive snow totals up there.
LOCATION

SNOW AMT

LOCATION

SNOW AMT

Wanatah 4.4 ESE

31.5

Valparaiso 5.7 WSW

7.1

Westville 4.7 ESE

28.0

Porter 0.6 S

6.6

La Porte 1.6 SW

24.7

South Bend ASOS

6.6

North Judson 5.7 ESE

20.0

Niles 2.7 W

6.4

New Buffalo 0.4 WNW

18.3

Hebron 3.7 NE

6.2

Valparaiso 0.4 SSW

17.0

Valparaiso 1.8 NW

6.2

Valparaiso 1.4 ENE

15.6

Lima 2.7 NE

6.2

Kingsbury 0.3 WNW

15.1

Crown Point 7.8 E

6.1

La Porte 6.2 N

14.5

NWS Northern Indiana

5.7

Kingsbury 5.0 ENE

14.0

Fort Wayne 7.0 NE

5.6

Valparaiso 2.8 NNE

13.5

Woodburn, 2.8 WSW

5.5

Valparaiso 0.9 NNW

13.3

Crown Point 1.1 N

5.5

La Porte 1.2 E

13.2

Schererville 2.3 E

5.5

Lakes Of The Four Seasons 1.5 NNE

10.0

Merrillville 3.0 NW

5.5

Headlee

9.5

Valparaiso 0.6 SE

5.5

Chesterton 4.2 E

9.0

Bronson 5.9 SE

5.5

Portage 0.9 ESE

8.2

,

Leesburg 6.7 ESE

5.3

Burnettsville 9.9 NNW

8.1

Fort Wayne 9.1 SE

5.1

Chesterton 1.4 ENE

8.0

Logansport 2.2 NNW

5.0

South Bend 4.6 SE

7.2
Another Winter Storm headed our way!
In other news tomorrow night into Thursday morning travel conditions will become slick. We will see a snow and sleet mix along with some freezing rain in parts of the area. Right now I am thinking the snow will show up Wednesday late afternoon then the warm air will push in at about 4 thousand feet especially in our southern counties which will turn over some of that snow to a freezing rain, sleet mix. Here is my break down. A line from Taylorville to Shelbyville to Toledo and to the south snow late tomorrow afternoon then over to freezing rain and sleet with total snow accumulations of less then an inch. From IL-16 to I-72 this would include Springfield, Decatur, Mattoon-Charleston and just south of Champaign snow late tomorrow afternoon then a mix of snow and sleet into Thursday morning then a few flurries late morning. Total snow accumulations of 1 to 2 inches. North of I-72 all snow out of this with the heaviest snow accumulations of 2 to 3 inches from Watseka to Danville. This is still up in the air we have to keep a close eye on this storm because if the snow, sleet and freezing rain line changes it will impact snow totals. This is NOT going to be a huge storm but it will impact travel with slick spots on the roads. Please drive carefully on Thursday morning. Stay tuned for the latest on what we can expect to see out of this
Sizzle Out!!!
---
20101213
Happy Birthday to my brother Andrew tonight. I cant believe that he is 22 but time flies when your having fun!
Forecasting can be a challenge…
Forecasting the weather has always been a challenge and always will be. I have had many posts on my facebook asking my why I made it cold. We can thank the cold air to a big trough that extends all the way into Florida where this morning the temperatures were in the 30's. The low tonight in Orlando will make it into the mid-20's and with winds at 10 to 15 miles per hour they have a Wind Chill Warning across much of central Florida and all the way to Miami. Wind Chill values will drop into the teens in central Florida and into the low 20's in south Florida. Hopefully this makes you feel better to know we aren't the only ones suffering.
The official beginning of astrological winter is on December 21st at 5:38 pm when the winter solstice occurs. So technically all this cold air is occurring in the fall. I am watching a storm system developing that will have some impacts on our weather for the middle of the week. It should start as snow on Wednesday afternoon then we will see a mix of sleet, snow and freezing rain Wednesday night into Thursday morning before it changes back to snow on Thursday late morning. It's too early to really pinpoint where the line will be located. Just start to think ahead and make plans to leave a little earlier for work on Thursday morning. It's still a long ways out but thanks to warm air that will work in at about 4 thousand feet we could see that mix.
Sizzle Out!
---
20101211
A nice break,
I had this past week off and its Saturday morning and I am in the office filling in for Laine. It was so nice to be able to spend some quality time at home with Ashley this week. Television is a tough business because our hours are not great. My shift starts at 1:30 in the afternoon and ends at 11 pm. I don't get home until about 11:45pm most days and by then the day is over. Some people would love it because I never set my alarm and I do admit that is great. On the other hand for Greg his is totally opposite of mine, he is home in the evening but at work really early in the morning. It's a challenge sometime because you want to be home in the evenings for dinner or out with your friends on a Friday night. I'm not complaining about this because I knew the hours going into this job and I love what I do. It was nice to be a normal TV viewer though, just to sit back and get a different perspective on what is on and how it looks from the outside looking in. If you ever want to take a good look at what you do for a living look at it from a distance and really think about things. Be careful this weekend with the snow and the wind.
Shifting gears a little did you happen to hear about the Illini game against Oakland University? The game started like all other games with the official taking the game ball to the opposite side of the floor and prepared for the jump ball. The ball was thrown into the air and the game started just like normal. The first few shots were horrible, air balls, and shots that where really strong off the back board and dribbling was a challenge. It turns out 8 minutes into the game that the ball they were using was a women's ball. The players were telling the officials that the ball felt funny and finally the referee stopped play and realized the gaff. I am a basketball official and before every game I check the game ball to make sure it bounces correctly and it's the right ball. These are college officials and it's not that hard to feel or see the difference between a women's ball and a men's ball. It was really funny to see and I'm sure embarrassing for the officials and the University. Here is a link to an article about the game.
, http://www.foxsportsdetroit.com/12/09/10/Oakland-gets-early-jump-on-Illinois-usin/landing.html?blockID=369938&feedID=3701
Sizzle Out!
---
20101203
Baseball Legend…
I woke up this morning to my phone blinking. If you have a blackberry you know what I am talking about. I rolled over and decided to check my email and saw one from cubs.com. As you all know or can tell from my large Cubs logo on the blog that I'm a huge Cubs fan. I opened the email to discover that Ron Santo had passed away. My heart instantly sank because he has been a part of many Cub fans lives over the years. I wasn't lucky enough to see him play but I was lucky enough to hear him on my radio. Some people didn't like to listen to him but he had a connection to the fans through his microphone. He didn't have the same impact like Harry Carey but Ron was the biggest Cub fan alive. I heard someone today say he had only two missing chapters in his life. The first, being inducted into the hall of fame while he was alive and the second seeing the Cubs win a World Series title. I still love what Santo said when the Cubs retired his number and that was, "This is my hall of fame," that is Wrigley Field. It won't be the same this season when you turn on WGN radio and only hear Pat Hughes. Ron will be missed immensely this coming season and seasons to come it's not going to be the same not hearing in cheer on the Cubs from the radio booth.
Here is what the email said….
CUBS LEGEND RON SANTO PASSES AWAY AT AGE OF 70
December 3, 2010 – Cubs legend Ron Santo passed away overnight at the age of 70 following a courageous battle with bladder cancer.

"My siblings and I first knew Ron Santo as fans, listening to him in the broadcast booth," said Cubs Chairman Tom Ricketts. "We knew him for his passion, his loyalty, his great personal courage and his tremendous sense of humor. It was our great honor to get to know him personally in our first year as owners.

"Ronnie will forever be the heart and soul of Cubs fans. Our thoughts and prayers today are with his wife Vicki and their family and we share with fans across the globe in mourning the loss of our team's number one fan and one of the greatest third basemen to ever play the game.

<, /td>
Next week I will taking the whole week off because if I don', t use that time I will loose it. Be careful this weekend with all the snow flying in the area and I will see all of you back on the air Monday, December 13.
Sizzle Out!!
---
20101202
Birthday shout out!!!!
Today is my Dad's birthday and I wanted to give him a special birthday greeting on the blog tonight. I can't tell all of you how great he has been and supportive of me through my life. A Dad is someone who you can tell your problems to and know you are going to get terrific advice from. I guess you could say the old adage, been there done that would go along with this. Some people haven't had that father figure in their lives to look up to or to help extract the best out of you. I feel for those people because it's something that everyone needs. How special is that father figure in your lives? My Dad is a coach and has been ever since I can remember so sports have always been a big deal in my life. He was always at all my games along with my Mom cheering me on and was the first to let me know what I could improve on and the first there to congratulate me on my achievements. I don't know if I would have had the drive that I have if my Dad wouldn't have helped guide me along. So here is to you Dad on your birthday, I know you have influenced a lot of kids over the years but just know this you I have always looked up to you and thanks for always being there and helping me strive to be the best at anything I do. Also, thanks for instilling that winning attitude in me and the willingness to never quit anything I start. Have a great birthday and just know I will always be thankful you're my Dad!
Sizzle Out!!!
---
20101201
Hello December…
December has roared into central Illinois and the weather is reminding us that it's almost winter. How many of you like snow and some cold? I enjoy the snow but some people call me crazy for that reason. I have always enjoyed getting out in the snow and shoveling my walk and driveway for exercise. Plus, snow also means snowmobiles come out! In my hometown we have a group of people who love to ride and I am very lucky to have to privilege to ride with them. I am always in contact with them in the winter to tell them when we might see enough snow to get out on the powder. If you are reading this Moultrie County snowmobilers my thumb is twitching for that first good ride and snow of the season. So if you want to call me crazy that's fine but it is fun unless you have to travel.
Tonight I made the trip to Clinton for their Christmas parade. What a great little town! Everyone I saw and talked to were so friendly and very proud of their town. The downtown area is very cool with little shops and restaurants. If you get a chance go up there and check it out you won't be disappointed. The Christmas decorations are very cool too; a big tree on the square, lights over the roadway, and all the buildings have some sort of Christmas display in the windows. I took the Stormrunner up to the parade and decorated it with tons of Christmas lights and had a blast with everyone. Thanks to all of you who came out and said hello, and waved to me in the parade.
Sizzle Out!!!
---
20101130
Warm November...
November was a warm month and the numbers confirm this. One day we saw temperatures in the 70's then the next day back in to the 30's and 40's. Typically November is a cloudy and cooler month here in central Illinois. We are seeing La Nina having an influence which typically means a warmer then average fall and little on the dry side. As December arrives tomorrow along with meteorological winter temperatures look to stay cool. Usually during a La Nina winter we see precipitation starts to increase in January, February and March. This usually means its a little snowier during that time frame. Only time will tell but in a La Nina year which we are in thats when we can anticipate to see our snowiest months. I crunches some numbers today and here is what the numbers how for November...
These are Decatur's stats....
Nov High Avg: 54.9 Nov Low Avg : 32 Mean Nov Temp: 43.4
Normal High: 52 Normal Low: 33.5 Normal mean Temp: 42.8
+2.9 above normal -1.5 below avg +.6 above avg
Normal Monthly Precipitation: 3.32"
November Measured Precipitation: 3.91"
+.59" above average
-We saw 6 days at or above 70
-We saw 10 days at or above 60
17 days were clear
10 days party cloudy
3 cloudy days
I will add Springfield and Champaign stats over the next couple of days to the blog. I hope all of you had a great holiday weekend as I am just trying to get back on board from a trip this past weekend to Las Vegas. Ashley and I had a great time with friends but the weather in Vegas was horrible. It was cold the whole time but at least we saw some sunshine.
Sizzle Out!!!
---
20101125
Thanksgiving!!!!
Happy Thanksgiving to all of you in central Illinois and I hope you didn't eat too much, I was thinking on the way home last night I have a lot to be thankful for. Do you have things you are thankful for? Here is my list of thanks I really need to give thanks for….
Thanks to God for all his blessing he gives me everyday…First and foremost my Wife Ashley for being amazing and supportive.
Thanks for my parents for always loving me and being there for me.
Thanks for all great friends and family who are always around us.
I have a job in these tough times.
Our house we bought and all that is in it.
I could go on and on but this is my top five. Ashley and I will be traveling to Las Vegas this weekend so I will be off the next several days. When I get back please send me things that you are thankful for. Have a great rest of the Thanksgiving weekend and be careful if you are going to be shopping tomorrow.
Sizzle Out!!!!
---
20101124
Icy start to the day….
What a morning here in the CI?!?! This was a little reminder that it's November and we are closing in on the winter months. Did you have any problems getting anywhere this morning? The best thing on a morning like this is just take it slow and give yourself plenty of time to get to your destination. I got a nice work out this morning scrapping off the car. Now as I am writing this temps have warmed into the 40's and I am watching thunderstorms moving across the area. I know its Wild Weather Wednesday here at WAND but Mom Nature didn't need make take part in this.
I was listening to the radio last night on the way home from work and some windbag was talking about how wasteful it is to be investing in renewable energy. He was lobbing for the cost of energy to come down before we invest in the new sources. I know the cost of energy is high but we need to find a sustainable way to produce energy before the costs get any higher and we start to run into supply issues. Lets face it one day fossil fuel supplies will be depleted. He was talking about the electric car. I know they are great in cities where you are only traveling a certain distance but this isn't going to be the answer if you want to travel a long distance. He was bellowing about how we should stick with the combustible engine. I believe we have to find a way to improve fuel cell technology and bring in one of the most abundant gasses in the world Hydrogen into the mix. I know this technology is expensive but like all things price will come down and the only waste product of hydrogen is water. We have the technology to achieve so much today we just are afraid to push into new frontiers and explore new ideas because we are so stuck in our ways in the country. I just found this show interesting and wanted to hear what you guys think.
Tomorrow is Thanksgiving and I will post some things that I am thankful for. I will also post this on my facebook page so you have a chance to sound off at either location.
Sizzle out!!!!
---
20101123
I posed the question yesterday about when is too early to turn on the Christmas lights? Here is what some people have said about this.
John Adcock After Thanksgiving
Barb Hardy After Thanksgiving
Donna Ralph to each his own but we never did till after thanksgiving
Marsha and Brooke day after Thanksgiving
Daniel Lawhorn Well today the 23rd is my daughters birthday and thursday is Thanksgiving. To me I wouldnt say any earlyer than saturday afternoon.
Daniel tell her Happy Birthday for me!
Carol Blackwell I always do the Christmas decorating and lighting the wkend after Thanksgiving
Cindy Hunter Who wants to wait until last minute, I already have ours up and on...Happy Holiday's......LOL!!!!
Cindy I have never thought of it that way!
Nike Krohe BLACK FRIDAY!!!
Juli Bishop I won't turn on the outside lights until Thanksgiving evening at the earliest. The inside decorations are not put out until Friday.
Thanks to all of you who have responded and I think most people are on board for the day after Thanksgiving. The weather over the next couple of days looks rainy and maybe a few flakes mixing in by Thanksgiving Day! We will have to watch and see how this pans out.
Sizzle Out!
---
20101122
Christmas lights....
I decided last night to scale the house and get my lights up. I am refusing to turn them on until after Thanksgiving. When is it to early to turn them on? It seems like every year I see lights earlier and earlier being turned on. The other thing that cracks me up is when you still see some up in May. I don't know if those people are just late to take them down or early to put them up for the next year? Putting up the lights is always and adventure. As I have mentioned before on the blog Ashley and I just bought a house this fall so I was really excited to decorate for Christmas! I am a little like Clark Griswold because I want things to be perfect decoration wise and Ashley has to rein me in sometimes. I went up on the roof and measured everything out and even had a sharpie with me to mark the beginning and end of the lights. Then I had to ref a few games so I decided to put them up after dark and the wind started to pick up. I put the ladder up and bent down to grab the lights, next thing I know I took an aluminum latter to the head. I don't care how careful I am, every year it seems I either get a latter to the head or cut myself. Its totally worth it in the end when your house glows with the holiday spirit. Do you have any funny decorating stories? If you do please send me those and I will post them.
Sizzle Out!!!!
---
20101119
Tonight we end winter weather preparedness week here in central Illinois. Here are some winter weather definitions. For more information you can visit the National Weather Service website at www.chr.noaa.gov/ilx.www.gettingaroundillinois.com and click on the "winter road conditions" icon.
Winter Weather Definitions
A Warning means severe winter weather conditions are imminent within the next 12 to 24 hours. Avoid traveling and stay inside.
Winter Warnings are issued for:
o Blizzards
o Ice Storms (ice 1/4 inch thick or more)
o Winter storms with heavy snow (6" or more), sleet(1/2" or
more) or a combination of heavy snow, sleet,icing and/or
blowing snow
o Wind Chill (-25 F or colder)
An Advisory means that winter weather will cause a
significant inconvenience, especially to motorists. Use extra caution while traveling.
Winter Advisories are issued for:
o Freezing Rain (light icing less than 1/4 inch thick)
o Winter weather with snow (generally 3 to 6 inches),sleet
(less than 1/2 inch accumulation), blowing snow, drifting
snow or a combination of winter weather
o Wind Chill (-15 to -24 F)
The "Hazardous Weather Outlook" highlights potentially
dangerous winter storms, high winds, and extreme cold,
up to seven days in advance.
A Watch means severe winter weather is possible in the
next day or two. Check your supplies of food and fuel.
Winter Watches are issued for:
o Blizzards
o Winter Storms with heavy snow, sleet or a combination of
heavy snow, sleet and icing
o Wind Chill
The National Weather Service uses the terms below to convey the weather threat to the public.
Winter Storm Watch – Indicates severe winter weather, such as heavy snow or ice, is possible within the next day or two. Prepare now!
Winter Storm Warning – Indicates heavy snow (greater than 6"), heavy sleet (½" +), or a combination of wi, nter weather hazards are highly likely or occurring. Stay indoors and adjust travel plans!
Ice Storm Warning – Heavy accumulations of ice will create extremely dangerous travel, damage trees and likely cause extended power outages.
Blizzard Warning – Strong winds of 35 mph or greater will combine to produce blinding snow, near zero visibility, deep drifts, and life threatening conditions – especially for those attempting travel.
Wind Chill Warning – Life-threatening wind chills of 25 to 30 below zero or colder.
Winter Weather Advisory – Indicates snow accumulating 2 to 5 inches, or a combination of winter weather conditions will cause significant inconveniences and may be hazardous, especially to motorists. Use caution if you venture out!
Freezing Rain Advisory – Light accumulations of ice will cause hazardous travel.
Wind Chill Advisory – Dangerous wind chills of 15 to 24 below zero.
Freezing Rain – Precipitation that falls from the clouds as r, ain, but freezes into a glaze of ice on ground based objects (trees, power lines, roads, cars, etc.).
Sleet – Small pellets of ice, created by frozen raindrops. Sleet bounces when hitting a surface and does not stick to objects.
Wind Chill – A calculation of how cold it feels outside when the effects of temperature and wind speed are combined. Wind chill ONLY applies to bare, human skin. The effects of wind chill are different for animal, and doesn't apply at all to non-living objects.
Have a great weekend
Sizzle Out
---
20101118
Snow Plows and Illinois Roads....
I know some of us don't want to talk about this harsh reality but its that time of the year. I am a snow person myself and enjoy riding across the prairies on a snowmobile. But being prepared is very important and this winter don't get plowed.
Today we talked to IDOT about how they determine when they send the plows on the highway. They say the first thing they like to focus on is prevention and preparation. They use a brine solution on the bridge, s, which is the white lines you see this time of the year on the bridge decks. This solution helps to keep frost from forming on the bridge deck. They monitor weather forecasts to make a determination when they need to be on the roadways. IDOT and the Illinois State Police work hand in hand. ISP are the eyes in the field and will call and let IDOT know where trouble spots are located. Here are some other safety tips from IDOT.
Other safety tips include:
Don't crowd the plow – a snowplow operator's field of vision is restricted. You may see them, but they may not see you.
Watch out for black ice roads that appear clear but can be treacherous. Take it slow when approaching intersections, off-ramps, bridges, and shady areas - all are prone to black ice.
Always keep your gas tank at least two-thirds full to prevent the vehicle's fuel line from freezing.
Do not travel unless absolutely necessary - if you do have to make a trip, check the forecast and make sure someone is aware of your travel route.
Always carry an emergency car care kit that contains jumper cables, , flares or reflectors, windshield washer fluid, a small ice scraper, traction material, blankets, non-perishable food and a first aid kit.
Carry a cell phone and dial *999 for roadway assistance.
Always wear a safety belt.
Motorists are urged to check travel conditions before any trip. You can get interstate condition information by calling 1-800-452-IDOT (4368), Illinois Tollway information by calling 1-800-TOLL-FYI or online at
---
20101117
Driving through the winter wonderland...
Winter can cause more then just a headache for you driving it can cause damage to your car. How many of you have found the fluffy stuff in the ditch before? Did you know what you should do in that situation? I talked to Macon County Sheriff Tom Schneider about things people should do. He says just stay calm and get acclimated to your situation. He says if you can get out give it a try but if you are stuck then stay in your car. Make sure your cell phone is fully charged and clear all the snow away from your tail pipe. Before you head out on the roadways double check to see if your fuel tank is full. When you call the Sheriffs office make sure you know your location. Sheriff Schneider says "your probably not the only car in the ditch so be patient." He said deputies are busy and just know they will come to help you as soon as they can. He also suggested having a bright colored cloth and tie it to your car so you can be located quickly. If you don't have to travel in a winter storm just stay home and avoid getting yourself into a bad situation.
Sizzle Out!
---
20101116
Is your car ready?
Winter can be stressful on you and your car. If you haven't had the chance to take your car in for a routine check up now is the time. First thing to check is your Anti-freeze. This helps to prevent your car from freezing up and over he, ating while driving. Tires are also important because you need to make sure you have traction on the snow and ice. Your belts need be in good shape so you don't get stuck out in the cold with a car that is not running. Your battery needs to be in good shape because it takes more to turn the car over in the cold winter months. Finally, make sure your windshield whippers are in good shape because if you are on the road and the salt and liquid are mixing and being splashed up you will have a hard time seeing. Just by taking these simple steps this might safe you from some stressful moment this winter.
Sizzle Out!
---
20101115
Winter Weather Preparedness…
This week marks winter weather preparedness and should start to get you in the mind set about winter. It's important to prepare now because the earlier you are ready for the harshness of winter the less you will have to stress about it.
Tonight's topic is your heater. If you have not had your furnace inspected this year or for many years you should really consider it. I spoke with Air King and they suggested having this done twice a year. First in the spring before you turn on your air conditioning and then in the fall before you turn on the heat. They have a program where you can pay once for the two calls. They said think of this just like a car if you keep the oil changed every three thousand miles the car will run a long time. This applies to your furnace if you check it out every season and get it cleaned it , should last a long time. Another important thing to remember is to change your filter. If you have a dirty filter its will cost you more money because the furnace is working harder and you are losing energy. If the filter continues to remain this way it can cause cracks to develop which can lead to carbon monoxide to leak into your home. I think a 10 dollar filter is a little easier to swallow price wise then paying five thousand dollars for a new furnace. If you have any questions about your furnace or home safety you can call a heating and cooling expert today to schedule your inspection.
As the week goes on we will talk about car safety. Tomorrow will focus on preparing your car for the winter driving season. We take a trip to Fleaner and Roberts in Decatur and go step by step through the process of winter preparation. Then on Wednesday, If you have ever slide off the road and been stuck or maybe you haven't I will talk with Macon County Sheriff Tom Schneider. Sheriff Schneider will tell you what you should do if you are stuck in a ditch. I ask IDOT on Thursday about the procedure they follow for maintaining the highways in the winter to keep you safe. The week will wrap up with some definitions of winter weather, watches, advisories, and warnings. Stay tuned all week and you will also find these reports on our website and extended discussion right here on my blog.
Sizzle Out!
---
20101012
Tree of Lights, ,
TGIF everyone! I hope you enjoyed this great weather and it hard to think about the Christmas season when its 70 plus degrees. I was asked to do a live shot tonight at the Hickory Point Mall as the Salvation Army is kicking off its 2010 Tree of Lights campaign. Their goal this year is 355 thousand dollars. I was talking to Major Gauthier and he said, "Its only 3000 more then last year." I know this community and all of central Illinois has been so generous every single year and I am sure we will all answer the call again. This will go toward helping the kids in Macon County have a Christmas because if they didn't receive anything from the Salvation Army they might wake up Christmas morning with nothing to open. I remember as a child I was always so excited to see what Santa and brought me.
They have an Angel Tree at the mall near the food court that you can choose a tag or two off of the tree and buy a gift for a child. With your help, kids will have a very Merry Christmas. Last year Ashley and I bought a couple presents for some kids and it makes you thankful for what you h, ave by giving back to help instill the joy in other people's lives that are less fortunate. If you have a chance where ever you live help a child out if you can have a Christmas they can remember and be thankful for. Have a great weekend the countdown to the holidays has begun!
Sizzle Out!
---
20101111
A big blunder today…
Last night Greg's girl sent me a message and asked if I would help out with a scavenger hunt for him. I was more then happy to since Greg is a good friend and there is a little story to go along with this. A few years ago I was working the weekend mornings and Greg has a great since of humor. I noticed the weather clicker was missing that morning and I see a note that says enjoy your egg hunt. I looked and looked and finally found the clicker. I had a great laugh over it so when I was contacted I was really up for making him go on this hunt.
The hunt was supposed to be on Friday m, orning but instead I set up everything on Wednesday night and oops; one day too early. I am so glad that Greg and his girlfriend where understanding. I let the cat out of the bad a day early. The whole surprise is not a complete lose because he still has no idea what is at the end of the line. So Greg, have fun with this scavenger hunt and I hope you enjoy this thoughtful thing that she has set up for you.
What another great day we had with sunshine and warm temperatures. It's all going to come crashing down on Saturday when rain will show up and cool the temps off. This will be mark the 3rd week of high school playoff football and we made it 11 weeks without any rain during the season but it doesn't look like 12 weeks in a row.
I hope you had the chance to thank a veteran today for what they have done for our country. Once again THANK YOU to our veterans and current military personal for all that you have done and are currently doing! This shouldn't be only thought about today but always. One day isn't enough for all that has been done for our country from these Men and Women in uniform.
Sizzle Out!!!
---
I want to thank all those who have served our country so that we can continue to enjoy our freedom! Also, thanks to the current military personnel who are serving across this great land and overseas. All of these men and women rock and deserve a huge thank you when you see them. Let's remember what this day stands for as we go about our daily lives.

Sizzle Out!

Veterans Day
---
20101109
EIU today!!!!!
I want to thank Mike Bradd's broadcast announcing class at EIU for having me come speak today. It's always a great when you get a chance to go back to your alma mater and speak to a class. These guys and gals are broadcast students and it's weird to think that I was in their shoes only a few years ago. We talked about the TV business and how it's changed and how you really have to be able to do more then just one job. This has become a multi tasked industry unlike it used to be when you were only doing one job. We talked about how social media is playing a huge role in the dissemination of information now. That being facebook and twitter plus blogging. You not only have to in my job, forecast the weather and deliver it to your audience but you need to build a relationship with the people on facebook and other media platforms. I think it has become fun because facebook has opened so many doors with severe weather coverage because now you can answer question for people and also keep people informed in ways that, we never have had that avenue. Facebook is on your phone, laptop and other media outlets. I also told them that you never burn a bridge in this business. Broadcasting is such a small industry even if you don't care for a person you shouldn't tell them how you feel or get in a fight with them because you never know when you might meet them again or they might have the chance to hire you.
We had great Q and A season after I was done releasing hot air about the wonderful world of TV and broadcasting. I think we have a very bright future coming out of EIU which by the way is an award winning program; winning an Emmy. It makes me proud to say I AM EIU!
Sizzle Out!!!!!
---
20101108
Weekends? Where do they go?
I can't believe how fast this past weekend went by. It seems like you get off on a Friday and then you blink and here is Monday again. I guess you could use the old saying that times flies when your having fun.
This past Friday I had the chance to be a bar tender at the Decatur Club for Big Brothers Big Sisters night at the islands. Ashley and I are involved in the program and have a little named David. He has been a good time and its always great when you can give back some of your time to a cause that you know is helping someone out. We take him to eat, we have been on a nature walk, and he was in a forth of July parade this past year. It's fun to see his reactions to different events or places that we take him. When I was asked to participate I was excited because I wanted to give my time to an organization I am involved with. They had a great turn out but I will tell you this I am not cut out to be a bar tender I think ill stick to my day job. All the people who came out I want to, say thanks. Your support will help out here in Macon County with helping the youth of tomorrow have a very bright future! The winner that night won a trip to the Dominican Republic!
This weekend we went to visit family for their annual cookout. I love backyard fires and roasting hot dogs and making smores! I can't think of anything better on a cool evening then a fire in the back yard, hot chocolate, smores, and hot dogs. I guess by saying this that's why the weekend went by so quickly. I also have been seeing picture of people putting up their Christmas Trees already. I feel it's a little too early but when I think about it on Thursday we are only two weeks from Thanksgiving. All the commercials on TV have started too so I guess its not too early for the decorations. This would be a good week to hang out the outside ones but not turn them on yet. What do you think, is it too early to decorate for Christmas?
FYI did you remember to change your clocks, batteries in your smoke detectors, NOAA weather radios and Carbon Monoxide detectors this weekend?
Sizzle Out!!!
---
20101104
Rain, Sleet, and even a few flakes,
I had the chance to drive around for a little while this afternoon and wow you know winter is right around the corner. I was driving on the east side of Decatur and it started to rain then some sleet and even , a few wet snow flakes hit the windshield. We had some calls about people saying it was hailing. In fact what you were seeing was some sleet. Here are the definitions…..
Sleet (Ice Pellets) are frozen raindrops that strike the earth's surface. In a sleet situation the precipitation aloft when it is first generated will be snow. The snow falls through a layer that is a little above freezing and the snow partially melts. If the snow completely melts it will be more likely to reach the earth's surface as supercooled water instead of sleet. If the snow partially melts there will still be ice within the falling drop for water to freeze on when the drop falls into a subfreezing layer. The lowest layer of the troposphere will be below freezing in a sleet situation and deep enough to freeze drops completely. The lower boundary layer can be above freezing and sleet occur if the sleet does not have time to melt before reaching the surface.
Hail is dense precipitation ice that is that least 5 millimeters in diameter. It forms due to ice crystals and supercooled water that freeze or stick to the embryo hail stone. Soft hail is more white and less dense since it has air bubbles. Soft hail occurs when hail grows at a temperature below freezing by ice crystals and small, supercooled water and cloud droplets merging onto the hail. Hard hail occurs when liquid water drops freeze on the outer edges of the hailstone after the outer edge is above freezing. The freezing of supercooled water releases latent heat and this can result in the outer edge of the hail stone warming above freezing. Then the water refreezes creating solid ice. Hail will commonly have soft ice and hard ice layers when it is sliced open.
I also snapped this picture of a double rainbow tonight near Mt. Zion! There is always a positive spin to an evening that was cold and wet.
Sizzle Out!!!
,
---
20101103
Elections Over!!!!
How nice was it today to watch TV and not see all the mud slinging that took place this election season? I know here in Illinois we still don't know who our Governor will be but we will find out soon enough. I was looking at the map and Brady won every downstate county but 3 and Quinn won Cook County which isn't surprising.
I have heard people talking about something interesting so that downstate would feel like they have a little more say in the elections. Why not go to an electoral college similar to the presidential election? You still base this on population size but each county would get a select amount of electoral votes. Based on the popular vote in that county its number of electoral votes would go to the winning candidate. I kind of like this idea for , a couple of reasons. First, we would know who the governor is faster. We wouldn't have to wait around for a few weeks to see who won the election. The only snag would be if we had a close race in a smaller county for those votes, but they can be counted a lot faster now with computer technology. Two, this gives the candidate an idea on where they should target. The only downfall I see is would some candidates not elect to go to smaller areas because they already know they have strong hold in that particular county? I am not saying anything negative about Cook County because it is the most populated county in the state and a great place to visit. I just found this in, teresting, and thought about how it would work. I want to hear what you think about this idea.
I am not advocating who I voted for in this election or crying about the outcome I just want to see a more seamless process to occur especially when we are electing someone who will lead our state. It doesn't matter where they hail from in the Prairie State what matters is what they are going to do for us as citizens.
---
20101101
Tomorrow is Election Day!!!
I am excited for a few reasons for election day. First and foremost is I will get to exercise my right as a citizen of this great county and state to voice my opinion on who I feel would best represent me. I think we have lost sight of this in our county and state. Its about the people that you are in there to serve. Its not about your party or your agenda it should be about us as citizens. It kills me to hear all the fighting amongst the parties lets talk about what the people want. If the partied continue to fight and argue nothing will ever get done in this country. The second thing about , tomorrow will be the lose of negative ads on television and radio. I am so tired of seeing all the smearing going on and no one has told me what they will do for me in this election. They are too worried about the other candidate throwing mud in their direction they have to go back and throw again. It reminds me of little kids who have a snowball thrown at them. Once there is one thrown there is no way to stop them until someone steps in to stop them. Tomorrow will be that day! I don't have to tell you how important it is to vote. I am not going to tell you how or who to vote for because thats not what I am here to talk about. Please use your right because if you don't then you don't have a right to complain when the candidate who gets elected isn't doing what you want them to do. I am excited to see what happened tomorrow here in Illinois and across the country because the results of this election could totally change the landscape of this country. The weather will be great tomorrow so there wont be an excuse not to make it out tomorrow to the polls.
Sizzle Out!!!
---
20101028
Boo at the Zoo!!!
I had the chance to stop out at Boo at the Zoo for a while tonight. If you haven't had the chance to take the kids out there it is a must. There are 9 treat stations and plus the train ride is a great time. It is a bit scary but nothing you can't handle. The carousel is still running and they even had hot chocolate! It was cold tonight out but that didn't put a damper on the crowd, . I think one of my favorite costumes I saw tonight was a panda bear; way too cute. Stay warm t, onight as those temperatures drop below freezing. The best thing about tomorrow besides the sunshine, ITS FRIDAY!!!!
Sizzle Out!
---
20101027
Wrigley!!!
I had to put up this picture of my puppy Wrigley. I have caught all kinds of grief from some of my friends who are Cardinal fans for the name. Most of the quotes I get are why, "why would you put your dog through that torture?" I can tell you this, Wrigley is doing just fine with his name and if you want to question it to his face I'm sure he would voice his displeaser at you for making fun of him. He is almost 5 months old and is growing so fast. He has just started to lose his baby teeth and as Ashley and I call them, "big boy teeth" are coming in. Golden retrievers puppies are a handful and he is no exception. He has a little attitude at times but then at times he can be the most loving dog. I'm looking forward to the day when he will calm down a bit but I don't want to rush the puppy stage. Here is the picture I took today and I just wanted to introduce you to him.
Sizzle Out!!!
---
What a morning!!!!
I was looking through some thing this morning and I found this article from the weather service.
Record Low October Barometric Pressure Set in Peoria & Springfield Oct. 26
An historic fall storm system affecting the central U.S. on October 25 and 26 has established new record low October barometric pressure levels at Peoria and Springfield.
In Peoria the barometric pressure at 506 AM October 26 fell to 28.98 inches of mercury (981 mb). This is the lowest pressure on record for the month of October. The old record of 29.22" was set on Halloween of 1960. The all time record lowest pressure at Peoria is 28.89" on March 11, 1923.
In Springfield the barometric pressure at 434 AM October 26 fell to 29.03 inches of mercury (983 mb). This is the lowest pressure on record for the month of October. The old record of 29.18" was set in 1892. The all time record lowest pressure at Springfield is 28.71" on February 28, 1902.
In fact, this system has produced many monthly and all time record low pressure readings for individual sites and state records in the north-central U.S. As of 1 PM October 26, the center of the low pressure system in northern Minnesota had a minimum pressure of 28.26", or 957 mb. This is one of the deepest low pressure systems ever observed in the continental U.S., outside of a hurricane. In fact, if this system were a hurricane its intensity would be equivalent to a category 3, or major hurricane. Winds associated with this system have gusted between 40 and 70 mph across the upper Midwest. These winds are much lower than what would be observed in an equivalent strength hurricane due in part to the friction caused by land.
The image below as of 1 PM Oct. 26, courtesy of the Hydrometeorological Prediction Center shows the infrared satellite image (background) overlaid with isobars, or lines of equal pressure, surrounding the center of the low in Minnesota. Winds blow with more velocity the tighter the isobars are packed, as nature tries to equalize the difference between regions of high and low pressure. This map shows the scope of the system and amount of wind energy affecting the central United States and Canada.

---
20101025
EIU Homecoming!
Its always great to see friends and just visit the old alma mater. This past weekend we made the trip back to campus at EIU for homecoming. WEIU was celebrating its 25th anniversary and they had a dinner that brought back alumni from many different years. The video they had of the history of the station was really well done and very interesting to see how it all began. It was fun to talk to the people who worked before you did at the station. I want to say thanks to the people who organized this event and for all their hard work.
The weather turned out to be perfect with plenty of sunshine and this is the first homecoming in a long time I can remember wearing shorts and a polo shirt to the football game. Even though we didn't win the game it was a great time.
One of the questions we had to answer was when we received or information for the dinner was, What was your favorite memory during your time at WEIU and at EIU? I put down meeting friends and because of the station I met my wife. What is your favorite memory of school whether that is high school or college?
Sizzle Out!!!!!
---
20101021
NOAA has released their winter outlook!!! Below is the outlook for the whole United States and its interesting with the impacts expected from La Nina.
NOAA: Another Winter of Extremes in Store for U.S. as La Niña Strengthens
The Pacific Northwest should brace for a colder and wetter than average winter, while most of the South and Southeast will be warmer and drier than average through February 2011, according to the annual Winter Outlook released today by NOAA's Climate Prediction Center. A moderate to , strong La Niña , will be the dominant climate factor influencing weather across most of the U.S. this winter.
La Niña is associated with cooler than normal water temperatures in the Equatorial Pacific Ocean, unlike El Niño which is associated with warmer than normal water temperatures. Both of these climate phenomena, which typically occur every 2-5 years, influence weather patterns throughout the world and often lead to extreme weather events. Last winter's El Niño contributed to record-breaking rain and snowfall leading to severe flooding in some parts of the country, with record heat and drought in other parts of the country. Although La Niña is the opposite of El Niño, it also has the potential to bring weather extremes to parts of the nation.
"La Niña is in place and will strengthen and persist through the winter months, giving us a better understanding of what to expect between December and February," said M, ike Halpert, deput, y director of the Climate Prediction Center – a division of the National Weather Service. "This is a good time for people to review the outlook and begin preparing for what winter may have in store."
"Other climate factors will play a role in the winter weather at times across the country," added Halpert. "Some of these factors, such as the North Atlantic Oscillation, are difficult to predict more than one to two weeks in advance. The NAO adds uncertainty to the forecast in the Northeast and Mid-Atlantic portions of the country."
Regional highlights include:
Pacific Northwest: colder and wetter than average. La Niña often brings lower than average temperatures and increased mountain snow to the Pacific Northwest and western Montana during the winter months, which is good for the replenishment of water resources and winter recreation but can also lead to greater flooding and avalanche concerns;
California and the Southwest: warmer and drier than average. This will likely exacerbate drought conditions in these areas. All southern states are at risk of having above normal wildfire conditions starting this winter and lasting into the spring;
Northern Plains: colder and wetter than average. Likely to see increased storminess and flooding;
Southern Plains, Gulf Coast States & Southeast: warmer and drier than average. This will likely exacerbate drought conditions in these areas. All southern states are at risk of having above normal wildfire conditions starting this winter and lasting into the spring;
Florida: drier than average, with an equal chance for above-, near-, or below-normal temperatures. Above normal wildfire conditions;
Ohio and Tennessee Valleys: warmer and wetter than average. Likely to see increased storminess and flooding;
Northeast and Mid-Atlantic: equal chances for above-, near-, or below-normal temperatures and precipitation. Winter weather for these regions is often driven not by La Niña but by weather patterns over the northern Atlantic Ocean and Arctic. These are often more short-term, and are generally predictable only a week or so in advance. If enough cold air and moisture are in place, areas north of the Ohio Valley and into the Northeast could see above-average snow;
Central U.S.: equal chances of above-near-or below normal temperatures and precipitation;
Hawaii: drier than normal through November, then wetter than normal December through February. Statewide, the current drought is expected to continue through the winter, with several locations remaining on track to become the driest year on record. Drought recovery is more likely on the smaller islands of Kauai and Molokai, and over the windward slopes of the Big Island and Maui;
Alaska: odds favor colder than average temperatures with equal chances of above or below normal precipitation. The interior and southern portions of the state are currently drier than normal. A dry winter may set Alaska up for a greater chance of above normal wildfire conditions in the spring.
This seasonal outlook does not project where and when snowstorms may hit or total seasonal snowfall accumulations. Snow forecasts , are dependent upon winter storms, which are generally not predictable more than several days in advance.
NOAA's National Weather Service is the primary source of weather data, forecasts and warnings for the United States and its territories. NOAA's National Weather Service operates the most advanced weather and flood warning and forecast system in the world, helping to protect lives and property and enhance the national economy. Visit us online at weather.gov and on Facebook at http://www.facebook.com/US.National.Weather.Service.gov.
NOAA's mission is to understand and predict changes in the Earth's environment, from the depths of the ocean to the surface of the sun, and to conserve and manage our coastal and marine resources
I also wanted to give a special shout out to Cerro Gordo Middle School I visited with some of the kids there today and wanted to say thanks to all the staff for their hospitality!
Sizzle Out!
---
20101020
Wild Weather Wednesday!!!
Tonight we will be talking about Super Typhoon Megi which was rated a category 5 storm. As Megi made landfall in the Philippines it was packing sustained winds at 140 mph with gust to 162 mph. There are estimates of 120 million dollars in agricultural damage across that part of the country.
Typhoons are classified as such because they occur in the Northwest Pacific. Hurricanes happen in the Caribbean and Atlantic basins. They also occur in the Southeast Pacific off the Mexican coast. Typhoons are usually strong because the Pacific is larger and the storms have longer over open water before they make landfall. The only difference between these storms are their location in the world.
I did some searching to see how many category 5 storms have made landfall here in the US. I found that 3 storms have actually made landfall as category 5 hurricanes. The first one recorded was the "Labor Day" Hurricane that struck the Florida Keys in 1935. The second was Camille in 1969 in southern Mississippi. The last category 5 to strike was Andrew on August 24th 1992 in Dade County Florida. Hurricane Katrina which has become a famous storm here in the US was a category 5 but when it made landfall it was a category 3 storm. Another famous storm was the Galveston Texas hurricane of 1900 in which 8000 people where killed but this storm was estimated as a category 4 hurricane. Since records have been kept there have been 23 known category 5 hurricanes and only 8 of those made landfall as catego, ry 5 storms. Below is the Saffir-Simpson scale for tropical cyclones...
Cat 1 Winds 74 – 95 mph
Cat 2 Winds 96-110 mph
Cat 3 Winds 111-130 mph
Cat 4 Winds 131-155 mph
Cat 5 Winds >155 mph
Finally there is another storm in the Caribbean that is starting to brew. There is an area that is showing signs of organization just to the southwest of Jamaica and the hurricane center is keeping a close eye on this particular storm. Only time will tell what become of this particular storm but some forecast models start to show the storm developing. Tune in tonight at 10 to see video of Megi.
Sizzle Out
---
20101019
Winter outlook to come out on Thursday!!!
NOAA will put out their winter outlook this coming Thursday! It's a La Nina year here so typically we should be cool and dry. You can see the impacts on the country comparing El Nino and La Nina. The thing to notice is how dry it becomes in the southeast compared to a wet period during El Nino. There is a drastic change in the Pacific Northwest from a warmer then average temp to cool temperatures. You can attribute that to the blocking high that sets up off the coast and brings in a Northwesterly flow and an active jet over head will help to enhance precipitation. If the Olympics could have waited until this year in Vancouver we probably would have seen more snow and cooler temperature, s.
On another note tomorrow is Wild Weather Wednesday send me some ideas and we will see what comes up. I am also working on some pieces for November about driving and your options if you hit the ditch. Another one will be what criteria has be meet to get the IDOT trucks rolling and if they would ever stop if the weather is to nasty. Car preparedness will be touched on plus the standard home inspections. Finally I will talk about terms what they mean and what could happen when an advisory, watch or warnings are issued this winter.
---
20101014
A nice surprise today at work…
I strolled into the newsroom this afternoon and to my surprise I had the chance to do a live shot! I usually do live shots on Friday evening at the game of the week. It was so nice out how can you say "NO". I want down the street to the Cornerstone Tavern where they had a NASCAR simulator set up. It's not just your typical computer seat or screen but the actual Elliot Sadler 2006 M&M Ford Fusion car you sit inside and play the computer game. I have to say special thanks to Chapman Motor Sports for there help with the shot and the staff at Cornerstone. They are having a competition around the Decatur area for the fastest lap! Tomorrow the car will be at the Bourbon Barrel from 6 to 10 pm. Saturday at Pop's Place from 8 until midnight and on Sunday at Just One More. If you get a chance head out and try your luck. The best lap time I had was just inside 50 seconds!
For more information about this you can, check out the Chapman Motor Sports website www.chapman-motorsports.com
Sizzle Out!!!
---
20101013
WILD WEATHER WEDNESDAY
We started our new segment called Wild Weather Wednesday!! I have to give credit to my wife Ashley for the idea. Every Wednesday night we will highlight the wildest weather we can find whether that is from here in the CI or across the nation or world. Tonight we talked about the snow that was falling in Colorado. You might think it's a little early but in the higher elevations its typical this time of the year.
Here at home the earliest snow storm ever recorded in Illinois was on September 25th and 26th in 1942. Over 2.5" fell across the northern part of the state! On October 12th in 2006 we had some snow flurries in Springfield which was the 5th earliest time snow has been sighted in this area. The average first measurable snow is on Nov 28th and average first one inch snowfall is on December 1st. It's hard to believe that we have to talk about snow but the time is drawing near. Send me your Wild Weather Wednesday ideas and we will see what we can get on. You can send them to me at james.fultz@wandtv.com.
Sizzle Out
---
20101012
What a different October this year!!!
Thanks to a blocking pattern caused by the jet stream being draped across Canada we enjoyed 9 straight days of nothing but sunshine and only one day with precipitation in the first part of this October. When the jet pushed into Canada it set up a ridge across the central US and allowed warm air to move in and drive all the weather systems to our north. This could be attributed to La Nina. Usually in a La Nina pattern our fall is warmer and drier and that is how it has played out so far in the first of October. Last year we had a trough across the central US which allowed cooler air and a progression of storm systems to drop through here and provide us with copious amounts of precipitation. Last year was a direct result of El Nino.
As time goes on into the winter months it's typically cooler and drier in the winter months during La Nina. Only time will tell as this season unfolds but its something we should be aware of.
Below is the comparison at Springfield from last October 2009 to this October 2010
Springfield
Month: Oct 2009
Day MaxT MinT Pcpn
1 64 51 0.87
2 60 47 &n, bsp; T
3 56 45 T
4 65 40 0.00
5 68 37 0.00
6 72 51 0.84
7 65 42 0.00
8 56 52 2.08
9 53 36 0.37
10 55 33 0.00
11 51 35 T
AVG 60 43 &n, bsp; (4.16" total)


Springfield
Month: Oct 2010
Day MaxT MinT Pcpn
1 75 42&nbs, p;&n, bsp; 0.00
2 63 44 0.19
3 63 39 0.00
4 64 33 &nbs, p; 0.00
5 &n, bsp; 70 34 0.00
6 79 39 0.00
7 79 46 0.00
8 80 41 0.00
9 87 52 0.00
10 85 , ; , 52 0.00
11 85 56 0.00
AVG 75 43 (0.19" total)
Looking at these numbers Springfield has averaged 15 degrees warmer so far this month and has had 3.97" less of precipitation.
Decatur
Stormcenter 17
Month: October 2009
Day MaxT MinT Pcpn
1 61 50 .54
2 63 48 .00
3 55 49 , &, nbsp; .01
4 64 41 .00
5 69 36 .00
6 70 46 .75
7 65 47 .00
8 56 51 2.74
9 59 44 .93
10 56 35 .00
11 , ; 51 35 .00
AVG 60.8 43.8 (4.97" total)
Decatur
Stormcenter 17
Month: October 2010
Day MaxT MinT Pcpn
1 75 48 .00
2 60 , 52 .00
3 60 41 .20
4 63 38 .00
5 70 38 .00
6 77 41 .00
7 80 51 .00
8 83 42 .00
9 87 52 .00
10 87 54 .00
11 85 57 .00
AVG 75.1 46.7 (.20" total)
Something to remember when we look at the numbers from Stormc, enter 17 these are not official climatologically. They are still a good comparison from last year. We ran almost 15 degrees warmer at Stormcenter 17 then last year and have had 4.77 inches less of precipitation.
I will keep an eye on things as this month progresses and it will be interesting to see how we end up compared to last year. Today marked the 6th straight day in a row of temperatures at or above 80. That will come to a end tomorrow as cooler air settles in but precipitation chances wane again after tomorrow morning and even tonight into tomorrow morning precipitation should be very light.
Sizzle Out!!!
---
20101007
Fall is so beautiful, and Political season is here….
What a great day again with sunshine and warm weather. The trees are so pretty right now around the area as they are starting to change! I was driving into work today and snapped a picture of the fall leaves. You can head to my facebook page @jcfultz and see some of these that people have sent in. If you have a photo of fall send it my way james.fultz@wandtv.com.
How many of you are tired of all the negative ads on TV? I could care less about the candidates past or what dirt they are trying to dig up on someone. Tell me what you are going to do for me or what issues you want to see solved. The big one that kills me is, "I am going to help create change in the senate or house." One person is not going to cause a change. What I want you to do is vote the way the people who you represent want you too. That is who you are there for not for the party or the people that are in your wallet it's about the people you represent. Too many times I feel people are bullied into voting the way their party wants them to because they are affiliated , with them. Let's stop this whole back and forth Republican and Democrat battle and start working for the American people to create change and listen to what people want. I am registered under a party which I wont disclose in this discussion but its makes me angry to see the whole back and forth fighting going on between them. Nothing gets done besides name calling, backstabbing and the blame game. Tell me what you think about this.
Sizzle Out!!!
---
20101006
Tucson is a beautiful place!!!
I had the chance to make a journey to Tucson this past weekend! The National Weather Association held their annual weather conference on the University of Arizona campus. The hotel was amazing it looked like an oasis inside and was a great venue for this years meeting. The meetings have tons of information that really help to get us broadcasters focused on the science of meteorology. The field of meteorology is a fun and exciting field because even if there isn't anything happening here in the CI, I can always look somewhere else to see some active weather , happening. Plus, to maintain my seal that I worked hard to receive I must attend meeting like this one to help with continuing education. Like every field that you go into you will never stop learning your craft or trade you can always expand you knowledge on a topic or multiple topics. Plus, you get to network with other meteorologist from around the country and ask what is going on in their "shops" or stations and see how they do things differently and bounce ideas off people. It's also important to meet people and network because our business is so small and you never know if you have an opening and need someone you can just pick up the phone and they might be looking or they know someone who is. I try to tell kids at school to never burn your bridges because the world is a small place because you know someone who knows someone else who knows someone else.
This year we had more hands on training which we didn't have as much last year. There is some new technology that will be installed into all the radars across the country soon called dual-polarization or dual-pole for short. Right now, the radar sends out a signal that is only horizontal. With dual-pole there will be both horizontal sca, nning and vertical scanning going on. This really will help us during winter weather to better understand rain/snow lines and also in severe weather situation with hail, and other parameters. We looked at case that happened this past year in Oklahoma where a tornado occurred where they were testing this new technology. There are multiple new ways we can look at these storms and one way we were actually able to see a debris signature on the radar! Validity is very important and that's why it's so key to have weather spotters in the field and no matter how advanced technology get we will still relay on our own two eyes. This particular storm was in a rural area. We looked at the old radar imagery first and were asked if we would issue a severe thunderstorm warning, tornado warning, or nothing on this storm cell. My group chose to issue a tornado warning because of factors I won't go into here on the blog tonight. Once we decided to issue the warning we started to look for validation that we were right in issuing the tornado warning instead of a severe thunderstorm warning. Looking at the radar we had high reflectivity and hail signature with the possibility of over 2 inch hail. We were sure of that and as the scenario played out we were told still no spotter reports yet. Finally, about 45 minutes into this we got our first spotter report of a tornado on the ground. There was our validation! If we would have waited and issued a severe thunderstorm warning it would have been too late to upgrade this to a tornado warning because it was already on the ground. Once we looked at the dual-pole data for this particular storm before we got the report from the spotter we were seeing an area in that storm near the rotation that was below anything like rain, hail, or any atmospheric partials like birds or bugs. What we were seeing was debris that was being caused by the tornado in a rural area. Whether that was leaves, insulation, or anything else it was ripping up it also helped to validate that need for that warning. I am very excited to, see this technology come into play over the next several years around the country. This will help to further enhance the accuracy of warnings and help with lead times to keep people safe.
Something to think about though; radar is great and wonderful but it has its limitations. The human element will never be taken out of this equation. We have amazing spotter networks all across this great state and our area. If it wasn't for these guys and gals we wouldn't be safe from storms because these people are putting their lives on the line to help keep you safe we would miss certain things during severe weather.
How many of you when you here a tornado warning has been issued and then its over and nothing happen say, "why did they issue a warning?" It's like the boy who cried wolf if its inaccurately issued then you aren't going to believe its happening when there is a tornado or severe storm in your area. With technological advances this has limited those instances and also with the p, olygonal warnings that have been implemented across the country warning accuracy has gone up and lead times have improved. This helps to make people believe , a little more that it's happening and its important to act accordingly when there has been a warning issued. For example, if there has been a warning issued for southern Macon County for Macon, and Blue Mound people in Maroa and Warrensburg won't be impacted so instead of the whole county being warned it's only the area that will be impacted. This has helped keep people safe and keep people believing in these warning because only the warned area is being impacted not the whole county.
The world of weather is always changing and being able to learn about what's up and coming and using past events to learn how to improve next time are so important. I find it so important to always continue learning and improving so that next time we are being hit hard by a storm I'll be at the top of my game to help keep you safe.
Sizzle Out!!!
---
20100922
Fall Arrives....
The Autumnal Equinox occurs tonight at 10:09 CDT. This means that direct sunlight will be on the equator. Its hard to believe that the summer is over with. This year has been a hot one co, mpared to last year. I went back into the climate sheets and did some digging to find out how this summer stacked up to last. Wow it's a complete opposite then last. Here are the number from May through September for days at or above 90.
2009
May: 0
June: 10
July: 0
August: 2
September: 0
Total: 12
---------------------------------
2010
May: 4
June: 9
July: 14
August: 16
September 4
Total: 47
Looking at these numbers we had more 90 degree days along in both July and August then we had all last year. I found this to be interesting and thought I would share this.
Sizzle Out
---
20100913
Fall is in the air!!!!
It's h, ard to believe that we are already into the middle of September. Football is on TV now and the leaves are already starting to change. I have been going through a lot of change lately , along with the leaves. Ashley and I got a little Golden Retriever puppy! I know some of you wont like the name but we named him Wrigley. We both as you know are huge Cubs fans and so is Wrigley. We went to this little place called the Barkery in Decatur. It's on MLK just behind El Matador. You can get special made treats there for your pet or just some treats that are actually made there. The ladies are very nice and stop in and check it out. We found a little jar in there that said, "The Dog in this house is a Cubs fan." We had to get that for the little guy so now it's on the counter for him. He has been a blast so far. Puppies can be frustrating with house training but he's been really good. Even when he has an accident he knows he's in trouble and comes up to us and butters us up. If you are looking for unconditional love a dog is always loyal to you and its fun when you get home from work or just from being gone that little tail starts to wag and he's is so happy to see you. Ashley and I look forward to being home to spend time with the little guy.
The biggest change probably of all is that we are no, w home owners! We have been looking for a while and we bought our first house in Mattoon. It's a cute little house and we love the sun porch that is on the back of the house. Its funny I received a text from Greg Trumbold the other day that said, "you're all grown up now you have a mortgage!" Very true statement, a little scary, but what a great feeling to walk into your home and know its yours and that you have worked hard to get something that's your own. I want to say thank to all my new neighbors for making us feel so welcome in our new neighborhood.
I received this week the 2010-2011 Farmers Almanac in the mail. I want to track the accuracy of it again this year. Last winter it was really close to what was actually happing. The map for this winter says Cold and Dry for central Illinois. Let's see what happens. If you know of what the Persimmon seeds are saying or any of the other winter forecast let me know.
Sizzle Out!!
---
20100805
Counting down….
Decatur Celebration is here and this weekend looks really nice weather wise! It wouldn't be a celebration weekend if it wasn't hot and that's exactly the case on Sunday. Mak, e sure you stay hydrated if you are going to head downtown. If you are headed to the parade on Saturday wave really big so I can wave back in the parade.
On another note I won't be here all next week as Ashley and I are headed to the Dominican Republic for vacation! We are going to be in Bavaro on the east coast of the Dominican. We are praying the weather will be nice so we can enjoy some time away.
Finally Ashley and I are going to be proud dog parents as we will be bringing home Wrigley! He is an 8 week old Golden Retriever puppy. Ill have to post pictures when we get him.
Have a great and safe weekend and I'm sure ill see some of you downtown at the celebration.
Sizzle Out
---
,

20100722

What a week it's been here in the CI. First it was the storms that blew across the area and now the heat. I did some research and found that last year we only had 12 days with highs at or above 90. Here is a break down per month and then lets compare to this year.

2009

May: 0

June: 12….we had 6 straight days from June 22 to 27

July: 0

August: 2

Total: 12

2010

May: 4

June: 9

July so far: 9

Total: 22 if the forecast hold true we could have 28 days so far this year and we haven't even made it to August yet.

As you can see this year has been a warm and wet summer and it doesn't look like its going to change anytime soon. I am also watch Tropical Storm Bonnie developing just to the east of sou, th Florida. The track looks to bring it into the gulf which will hamper clean up efforts from the oil spill. Below is the map and shows the projected path of Bonnie. Here's to cooler temps and a great rest of the week!
---
20100719
This was sent to me from Tracy Grandfield from Blue Mound and the photo was taken by
Heather Steffens. This is just a little taste of what has happened tonight across central Illinois.
These strong storms today started in our western counties and as they rolled in I received many great pictures of the Shelf Cloud. A shelf cloud is rising cloud motion often can be seen in the leading part of the shelf cloud, while the underside often appears turbulent and wind-torn. Cool, sinking air from a downdraft spreads out across the surface with the leading edge called a gust front. This outflow undercuts warm air being drawn into the storm's updraft. As the cool air lifts the warm moist air, water condenses creating , a cloud. When this line hit the Sullivan and Findlay area it was starting to bow and when we see that on radar we can expect very gusty winds. The damage in these areas is very extensive. Luckly no one was injured by these storms. We wont know if there were any tornadoes officially until the National Weather Service team heads out to survey the damage left behind. If you have anymore pictures from these storms send them in and I can try and share them with you. The best place to look at the pictures are on my facebook @jcfultz.
Tak, e Care
Sizzle Out!
---
20100713
Decatur Parks…
The city of Decatur has great parks and they should be treated this way. I was out with my wife the other day with our little brother from Big Brothers Big Sisters walking in Nelson Park. We really enjoy walking along the lake front and in the flower/rock garden in the park. As we were walking in that garden area there was a few people in there with a young child. This child fell with a cup, full of water and they picked her up and looked at the cup and just walked off. This made me very mad because they could have picked up the cup and taken it to a trash can that was just down the walking path from there. Then just a little further down the path there was a water bottle just thrown out and left there. Why do people feel the need to just drop things and leave them there? Are we becoming so lazy that we feel everything is a trash can or that someone behind us will pick it up? I find this same problem in front of my house on the boulevard between the sidewalk and the road. Every time I head out to mow the yard I pick up all the trash. Let's try something, throw your trash away in a trash can and take some pride in where you live. If you keep things clean not only with bottles and trash but with graphite we could save tax payer dollars that get used to help clean up these things.
On another note the heat is on for tomorrow and Thursday. We could see highs in the lower 90's. We will see heat index values ar, ound 100 to 105. This number is a combination between the temperature and humidity. I'm not going to lecture you on what to do because we have the heat tips drilled into out heads.
These are just some thoughts about the parks. This I'm sure isn't the only community dealing with this problem. Send , me your thoughts on what you think would solve this problem and if you have the same issue where you live.
Sizzle Out.
---
20100712
New Radar on the website,
We have a new tool here on wandtv.com!!! You may have noticed the interactive radar. This gives you the ability to zoom in on certain areas, tell what to expect in the storm, and the storm track. I was playing with this today for a little while and it's really co, ol. This will help during severe weather for you to track the storm with us while we are on camera or if we are in a break between storms you can stay up to the minute with what's happening.
I hope all of you had a great weekend. My wife and I enjoy traveling and this next weekend we will be in Charleston South Carolina! I have heard nothing but great things about the "Holy City" as it's referred to. This past weekend we headed to Mill Creek Lake in Marshall and boated all weekend. It's still in central Illinois but every time we go out on the lake it seems like a mini vacation. Stay cool this week it looks like temperatures will climb over the next couple of days.
Sizzle Out!
---
20100708
Cold Air Funnels in east-central Illinois this afte, rnoon,
When we see cold air funnels they usually don't make it to the surface. On rare occasions one might touchdown. As the air rises rapidly its spins and we can get a funnel to form under the cloud base. Once rain begins these funnels typically dissipate rapidly and don't cause any problems.
---
20100707
Cutting into Programming,
It's hard not to be upset when we break into a program especially when weather is happening somewhere else other than your house. I wish there was a way we could only break into certain areas over programming and not in others. If you could think of a way to do that I think you could make a lot of money! Working in a market that is hyphenated which is what we are in here in central Illinois is difficult. The Champaign-Decatur-Springfield market is one out of 210 television markets in the country. We sit at number 84 with over 380 thousand households viewing our stations. We cover from Warren county Indiana to Scott county Illinois which is along the Illinoi, s , River. Then we cover from Beaverville in Iroquois County to Effingham and many points in between. It is 150 miles from Decatur to our northern most community. The whole viewing area is roughly the size of the state of Rhode Island.
It could be bright and sunny or just a drop of rain in Decatur but we could have a tornado on the ground in Iroquois county and we have to break in. This brings many forecast challenges to me and the other meteorologist on staff especially trying to forecast the weather and in tracking storms. When it comes to severe weather everyone in the viewing area is important. Just because we are based in Decatur doesn't mean that we are only going to cover the weather impacting Macon County. We have 25 counties to cover and if we have a tornado warning or a storm that is causing damage to property or could cost someone their life I am going to break in to let people know. This is frustrating for people who are not living in the path of the storm but I pose this question. If you where being impacted by this storm would you want to know? But trust me we hear you and we are listening to your concerns I promise.
I was reading the paper the other day and read a letter to the editor talking about how weather people are taking power over television stations. I found this to be very interesting. I know that when we break into your favorite show it makes you upset but we are only following guidelines that have been set by as Greg like to call them "the Suits." Thank Greg for letting me use your term. When there is a tornado warning we are to cut into programming and stay with it as long as we deem necessary to keep people informed. Typically if we see a hook on radar and the storm looks like at any point it could produce a tornado we are going to stay with it. If the storm is loosing strength then we will cut back to programming no matter where the s, torm is located in the area we cover. A severe thunderstorm warning is issued we break in and stay with it for no longer then 5 minutes and then head back to programming unless we are receiving damage reports out of the warned area. I would love to break in and go over the warning quickly then tell you to turn to our local weather station for extend, ed coverage but in some area people don't get the station on cable and no one who has satellite receives this channel . The only way certain places could get the channel is over the air and that has its own set of issues.
I think its great people are allowed to share their views in the paper and in all other forms of media. We need to have an open dialog so that we all can come up with a compromise. The part that gets to me is when you read things in the paper that are a little over blown. For example, someone commented about how the storms that I broke in for the other night and covered up America's got Talent was near Chicago but in fact was in central Ford and Iroquois County and was producing actual tornadoes at the time and eventually ended up in Vermilion County near Hoopeston just north of Danville. That is a long ways from here but its still in the viewing area and luckily no one was injured in that storm. It's tough to make these calls on when to stay with a storm or when to break away because of concern for peoples lives. Being in television you have to be able to take critici, sm and I have learned how to deal with comments left on voice mail and over email. They hurt still because first and for most I am human and have emotions but its my job to listen to the emails and voice message take the criticism and try and figure out a way to make the product better. This is one of the beauties about being in America we have the right to say what we feel. But before we jump too far and say something that is inaccurate that's when there are problems. I want to thank the people who expressed themselves for doing so because it takes a lot to do that and speak out and I mean that in a sincere way. Media is always changing and I have been trying to get more people information over the Internet lately on facebook and twitter so I don't have to break in as long as we used to. It's amazing how much information we can get over the Internet daily just by sitting at the computer for a matter of minutes. If you want to add me on facebook you can find me @jcfultz or type in my work email james.fultz@wandtv.com or hit me on twitter @jcfultz.
I want to hear your thoughts about what you like and don't like about our new weather equipment here at the station or how you feel about or local weather station (Doppler channel).
,
Take Care
Sizzle Out!
---
201020618
Its been another hot and humid week across the area and looks to remain that way. If you are headed out please remember to stay hydrated and take plenty of breaks. If , you are looking for severe weather updates on your computer you can add me on my facebook @jcfultz. I usually keep up with the latest watches and warning and if you have any question I try and get back to you quickly. Plus its fun to discuss some topics in a setting like that. Have a great weekend everyone and look forward to the summer to come.
Sizzle Out!
---
20100603
Cold Air Funnel and a water spout today...
Here is the definition of a Cold Air Funnel,
A cold air funnel is a high based weak circulat, ion that occurs in a cool air mass. By high based it is meant it develops well above the earth's surface. Since it is high based and weak they rarely impact the earth's surface although they can look threatening. Unlike typical tornadoes, cold air funnels develop in a shallow cool air mass and often behind a cold frontal passage. The mixing of cool and windy conditions in the lower troposphere with air in the middle troposphere flowing in a different direction may spark the rotation that spins up the funnel. If the air is moist enough and rises enough the condensation funnel will be visible. The image below gives an idea to what these cold air funnels look like.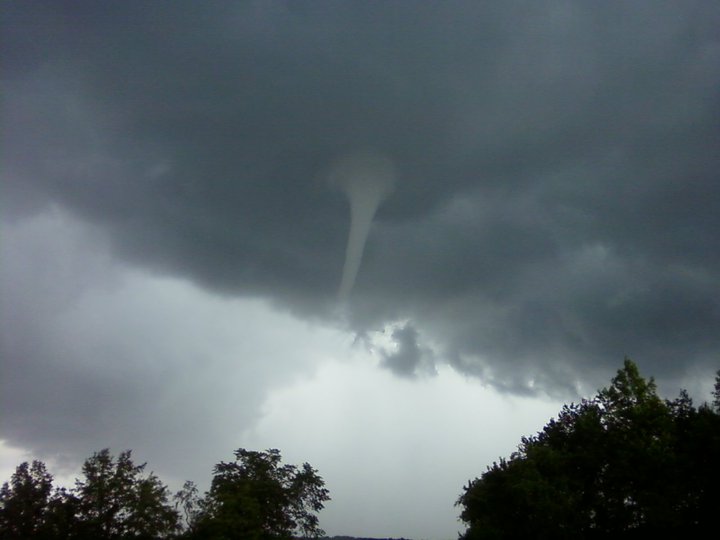 Cold Air Funnel
Lakeshore Taylorville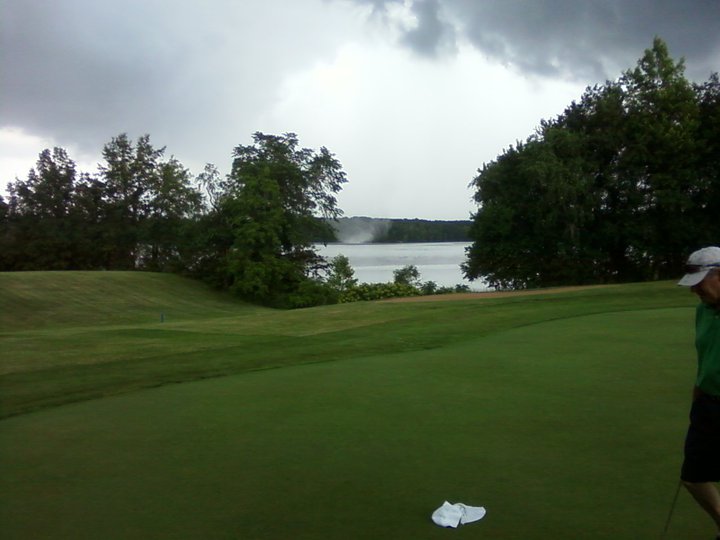 ,
Water Spout
Lakeshore Taylorville
---
20100531
I want to take this time and personally thank all those who have serve, d and who are currently serving this great country we live in. Because of you we have the freedoms that we all enjoy. We shouldn't just think about these folks on holidays but thank them everyday. If you see a soldier stop and shake their hand and give them a big thank, s because t, hey are the real reason why we still have such a great country and so many right we all take for granted.
Thanks Vets and those Serving!!!!!!!!
---