The Girls
Posted: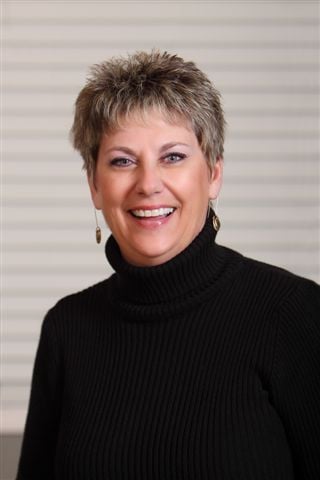 Judy:
Judy is one of the first team members our patients meet. She works in our business office and is able to assist with dental procedures when needed. Judy works to ensure patient comfort and helps patients understand the complicated world of dental insurance. Her positive attitude and spontaneous dance moves keep patients at ease. Judy graduated from Mt. Zion High School in 1978. She has been in the dental field for 30 years, and at our office for over 23 years. Judy and her husband Kevin live in Long Creek and have been married since 1993. Judy has one daughter, Emily, who attends Eastern Illinois University. Judy enjoys golfing, gardening, and reading.
---

Becky:
Becky is a member of our hygiene team. Becky graduated from Southern Illinois University-Carbondale in 2005 with a bachelors degree in dental hygiene. With her father being a dentist in Salem, IL, Becky grew up around the dental field and has been involved with patient care for more than 10 years. After school, Becky worked as a hygienist in Rolla, MO while her husband, Jared, completed his education. The couple moved to Decatur in June of 2006, when Becky joined our team. Becky has received advanced training in periodontal therapy that has included localized antibiotic therapy of periodontal pockets. She is certified in the delivery of local anesthetics. Becky and her husband live in Mt. Zion with their dog Max and enjoy outdoor activities including golf. Becky and Jared recently welcomed into their family son Ethan James in May of 2009.
---

Kelly:
Kelly is a Dental Assistant to Dr. Lewis. She attended Macarthur High School from 1993-1997. Kelly continued her education at Midwest Technical Institute, graduating from the Dental Assisting Program in 2006. She and her husband, Jeff, have three daughters; Taylor-12, Brooke-9, and Grace-6. Kelly enjoys spending time with her girls and her adorable yellow lab, Biscuit.
---

Shelley:
Shelley is our Dental Administrator. She works alongside Judy in the front office. She joined our team in March 2009. Shelley graduated from Maroa-Forsyth High School in 1994. She attended Eastern Illinois University. Shelley has worked in the dental field since 1998. She and her husband, Scott, live in Mt. Pulaski with their two dogs, Jack and Kaene. Shelley enjoys reading, spending time with family and friends, and shopping.
---
Kayla :
Kayla Mendenall is a Decatur native. She graduated from Eisenhower High School in 2005 and received her training at Lake Land College, graduating in 2010. She has a 2 year old rescue cat named Dora.
---