Eric Harrold is a photojournalist at WAND Stormcenter 17, and he also happens to love shiny things that make sounds and play videos. He also likes to write about himself using third-person perspective.
---
Introducing: the Kindle Fire!
On September 28th, Amazon unveiled their long-rumored tablet. Dubbed the Kindle Fire, it will feature a dual core processor and a 7" screen with 1024 x 600 screen resolution.
This thing is an exciting gadget. It's really the first tablet since the iPad to debut with a ready-made, tablet-optimized infrastructure already in place. If you want music, apps, or any other content for your tablet, it's available through Amazon.
Best of all, it's priced at $199. That's an amazingly appealing price.
That low cost does come with some limitations. The hardware specs will probably seem vanilla in comparison to the iPad 3, which should debut early in 2012. The frills are fewer in number, as well- there's no built-in camera, for instance. It's not the most cutting edge tablet on the market, and the 7" screen is significantly smaller than the iPad's 9.7" display.
It's a sharp-looking slate, though, and Amazon's cloud-based browsing and storage capabilities should help to alleviate some common tablet concerns- namely, limited hard drive space and sluggish performance.
And hey- it's $199!
---
Things To Know About Prepaid Wireless, Part I
No contract means no free phones. If you decide to buy a prepaid cell phone, there are no credit checks or contracts required. The downside is that you must buy the phone prior to activation, instead of getting it free with the contract. The cost can be negligible; most basic phones will cost you $30 or less. Smartphones, or phones with QWERTY keyboards and other extra features, can cost anywhere from $30 to $300 dollars. Many contracts require a deposit depending on your credit rating, but that payment is usually returned after a period of on-time payments. The cost of the prepaid phone goes out the window, never to be seen again.
Most nationwide prepaid carriers offer competitive coverage. Brands such as Boost Mobile and Net10 aren't household names the way AT&T and Verizon are, but they offer similar coverage in most respects. Many of them have contracts with the major carriers that allow their phones to use the same towers. So, while the names may not be familiar, the coverage is generally competitive. As always, be sure to check the coverage maps on a carrier's website before committing to a phone.
Unlimited data plans aren't totally unlimited in most cases. Virgin Mobile received a lot of attention when they started offering unlimited data plans on smartphones, but there's a catch if you read the terms and conditions:
Virgin Mobile reserves the right, without notice, to temporarily limit throughput speeds when monthly data usage on the $50 Broadband2Go Plan exceeds 2.5GB. Customers will continue to have access to Broadband2Go service but maximum speeds may be limited to 256 kilobits per second or below for the remainder of the monthly plan cycle.
It's unlimited in the sense that you can download as much as you want. Download too much, though, and your bandwidth will be throttled back. Many unlimited plans have similar fine print, so be sure to read the terms and conditions of the carriers you're interested in.
To Be Continued--->
---
5 Groundbreaking Gadgets, Part 5: OLPC XO-1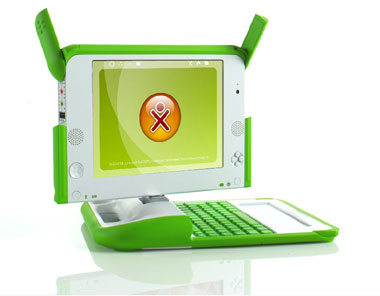 If you're not familiar with One Laptop Per Child, it's a non-profit organization that set out to create an affordable basic computer for use in the developing world. The XO-1 laptop, seen above, was the first result of their efforts. It was inexpensive to build, it was durable, and it was designed to consume minimal amounts of power compared to typical computers. All of those qualities made it ideal as an educational tool in developing countries.
Those same qualities would prove to be very attractive to everyday consumers. In essence, the XO-1 was the first netbook. Not long after the XO-1 hit the scene, netbooks like the Asus Eee PC, the MSi Wind, and the Acer Aspire One created a new segment of low-cost, basic computers. You've probably never actually seen or used an XO-1, but its influence has been far-reaching. Much like the iPad that followed it, the XO-1 showed that the power of a computer doesn't have to be too expensive, or too bulky.
---
Still Here!
So, it's been a while since my last post. There are couple of reasons for that. One, I took a week and change off from work to see my brother get married in Georgia. Two, preparing for Decatur Celebration and providing extensive live coverage demanded most of the newsroom's attention last week.
Tomorrow, I'll post the epic final chapter of 5 Groundbreaking Gadgets.
After that, I'm starting a new series- What You Need To Know About Prepaid Phones. There are some significant benefits to shunning contracts and going the prepaid route, but there are also some notable negatives. It's an intriguing option, especially now that many of the prepaid services are beginning to offer competitive smartphones.
---
5 Groundbreaking Gadgets, Part 4: Apple iPhone
Why it was groundbreaking: The iPhone wasn't the first cell phone to have extra features, such as a camera and the ability to play music. What's important is that it was the first successful mass market phone designed from the ground up as a pure entertainment device.
This was probably the most obvious gadget of the 4 I've written about so far, to be honest. I thought it would be interesting to actually show you the impact the iPhone's had, though. For example, here's a link to CNET's list of the Best Cell Phones of 2006:
http://reviews.cnet.com/4321-6454_7-6555472.html
The year before the iPhone launched, the top-rated phones available were still pretty conventional. They had keypads, they were all candy bars or flip phones, and they had some basic multimedia capability. The iPhone launched in 2007, Android hit the market in 2008, and the rest is history. The traditional feature phone is still around, and they still outnumber smartphones, but the market is slowly being taken over- and the iPhone was at the front of the pack from the beginning, leading the charge.
---
5 Groundbreaking Gadgets, Part 3: WebTV
Why it was groundbreaking: This is a great example of an idea that was simply too far ahead of its time to be successful. WebTV was a service that consisted of an internet-connected box that would deliver online content to your television. If it sounds like the same thing as Apple TV, Google TV, or any of the other web-capable media devices available today, it's because they're mostly the same concept. The difference is that WebTV came out in the late-nineties, before widely-available high-speed internet service (capable of streaming movies and music) gave people a reason to connect their entertainment centers to the web.
Everyone loves to watch movies; no one likes to watch someone else read an e-mail, or post on a message board. That's all WebTV was really capable of when it first came out. The idea behind WebTV was groundbreaking; it was one of the first attempts at presenting the web in a more elegant, easily accessible way. The same basic philosophy is behind many successful current products, such as the iPad. WebTV came out just a bit too early to benefit from the streaming media boom of the last 5-10 years.
---
5 Groundbreaking Gadgets, Part 2: J-Phone J-SH04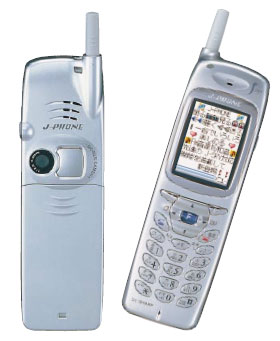 Why it was groundbreaking: It shouldn't look familiar, since it was only sold in Japan, but you're looking at the first modern camera phone. The addition of cameras to cell phones was one of the first giant steps toward making the cell phone into a truly multi-purpose device. The success of this particular phone, and others like it, proved that people were willing to embrace the concept of the cell phone becoming an electronic Swiss Army knife, serving many functions and replacing many other devices.
The J-SH04 was released in late 2000; by 2011, the most popular camera on the photo-sharing website Flickr wasn't a Kodak or a Nikon. It was the iPhone.
---
5 Groundbreaking Gadgets, Part 1: Sega Dreamcast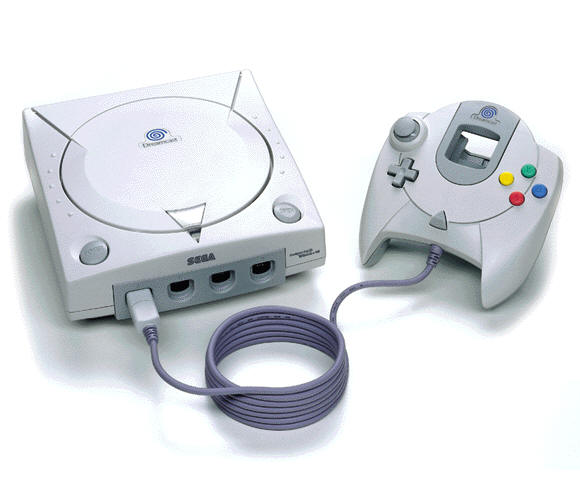 Why it was groundbreaking: The Dreamcast was the first mass market console capable of connecting to the Internet. That alone was a huge step forward for the gaming industry. It was the first move towards making game consoles the centerpiece of an entertainment center, and not just a frivolous accessory. The Dreamcast and SegaNet never sold in great enough numbers to reach critical mass, but they pioneered technology and features that would become commonplace in later consoles. It wasn't until the introduction of the original Xbox and Xbox Live service that internet-connected gaming systems would truly start to take over, and the current generation of consoles is the first to truly take advantage of high-speed Internet connections. Every console that streams movies through Netflix, or provides game expansions through market downloads, can trace its lineage back to the Sega Dreamcast.
---
Tablet for Kids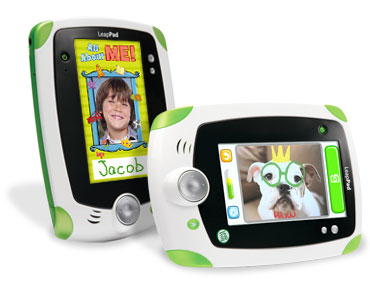 We've aired several stories about the role of technology in the lives of students. Many teachers and students say that technology enhances learning for kids, providing a fun and interactive element to the classroom.

One problem, though- would you really trust a smaller kid with a $500 iPad, or a Playbook, or any of the other multiple-Benjamin tablets? I know your kid is probably very well-behaved, but I still remember all the things I misplaced and lost when I was little. I wouldn't trust young me with anything more valuable than a Blu Ray disc, much less an expensive gadget.
That's where this device comes in. It's LeapFrog's LeapPad, a recently unveiled gadget geared towards younger kids (Ages 4-9). It's a small tablet (5" screen) built to be simple, durable, educational, and inexpensive.
It runs on 4 AA batteries- normal for a kid's toy, but odd for a tablet-like gadget- and LeapFrog promises to make a multitude of reading and learning apps available. It's an interesting product, and at $100 it won't break the bank- though the cost of batteries and apps will add quite a bit to that price tag.
It's another example of consumer technology being utilized for educational purposes. There have been a lot of false starts in that department- I don't remember my school's LaserDisc player adding much to my learning day, other than an occasional nap if the movie was boring- but some of the recent stories I've seen about the positive impact of interactive gadgets on education are very encouraging.

---
4G...in Central IL?
If you've watched any TV lately, you know Verizon, AT&T and Sprint are pushing 4G pretty hard. You probably have 2 questions:

"What is 4G?"
Answer: It's a newer type of mobile network with faster download speeds. Think of it as the DSL to 3G's dialup (though the difference probably isn't quite as dramatic). The network delivers mostly the same content to your smartphone that good old 3G does, only faster- assuming you have a 4G-capable smartphone. Your 3G phone still works, but download speeds will be the same even after your local network is upgraded to 4G.

"Great, so how do you buy it?"
Answer: It's not available here, not yet. Verizon, Sprint, T-Mobile and AT&T are still expanding their 4G networks. Verizon is planning rollouts in the Springfield, Bloomington, and Champaign markets by the end of 2011. You're out of luck if you want to use it in Decatur, though- for now, at least.
Bonus Question: "Why am I seeing so many ads for something I can't really use at the moment?"
Answer: Well, they're national ads. They're not tailored for certain areas, and 4G is gradually expanding nationwide. Also, the 4G phones being advertised will work just as well as any other smartphone if you live in a non-4G area. The download speeds won't be any faster than a 3G phone, but you'll be ready for it when the upgrades reach Central Illinois.
Bonus Question #2: "What don't they tell you about 4G?"
Answer: If you have a smartphone already, you probably know how much it drains the battery when you use data features on your phone. Take that quirk, and multiply it a couple of times for 4G phones. Not all of them have terrible battery life, but the 4G radio does seem to use a lot of juice. Several reviews (here and here) cited battery life as one of the main drawbacks of Verizon's HTC Thunderbolt.
---
Recent News Round-Up
Acer Iconia Tab A100 - This 7" Honeycomb tablet will soon be available at Wal-Mart for $350, according to Engadget. It's a smaller tablet, but it's a nice price for specs that are top-of-the-line (including a dual-core 1GHz processor). The cost of admission for good tablets continues to dip.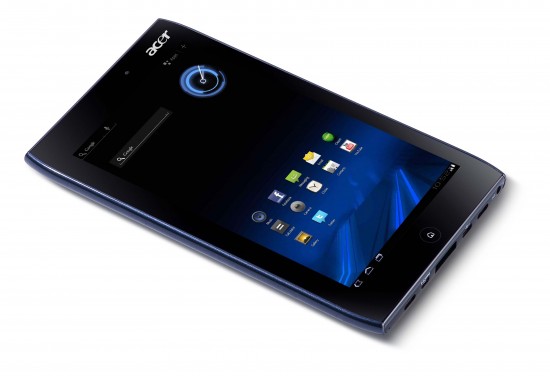 Nintendo Wii U - According to the President of Nintendo, the Wii U won't be able to play DVDs or Blu Ray movies. It probably won't matter 5 years down the road- Netflix is slowly making discs obsolete, the same way iTunes and Amazon MP3 made CDs seem dated- but it's interesting in the short term. If the Wii U costs significantly more than the outgoing model, not being able to play movies off of discs could be a turnoff for the same non-traditional buyers (meaning: not typical gamers) who made the original Wii a hit. Then again, the original Wii didn't play DVD movies, either.
Verizon Data Plans - According to Droid Life, Verizon will be changing their data plan prices July 7th. They'll be moving towards a usage-based pricing model- also known as tiered pricing- instead of offering unlimited plans on smartphones, including the Apple iPhone. The plans will range in price from $30 to $100, depending on how high the cap on data is set and whether or not you want the option of tethering. As smartphones and tablets increase in number, the list of carriers offering truly unlimited data plans continues to shrink.
---
The Wii U- Coming in 2012
In addition to bargain Android tablets and 3D televisions, E3 also served as the stage for the unveiling of Nintendo's new console- the Wii U.
It still features motion sensor controls, similar to the original Wii, but the controllers are much larger. In fact, they resemble tablets, with physical game controls grafted onto the front bezel. Each controller has its own full color screen built-in, which isn't a totally alien concept- anyone who remembers the Sega Dreamcast's controller (with the tiny black and white LCD screen in the middle) might have an odd feeling of deja vu.
Personally, I think it's an interesting gamble to complicate the original Wii with new, drastically different controller designs. The tablet-esque controllers look fun- and they prevent the classic "You're looking at my side of the screen!" fights you may have had while trying to find your opponent in GoldenEye 64- but a lot of the appeal of the Wii was due to its simplicity. Anyone could pick it up and play, and it was easy to figure out how to use the Wii's spartan, very basic controller- even if the last video game you played was on a Commodore. The Wii U's controller isn't the most complicated one ever made, but it also doesn't have the elegant simplicity the original design had.
Also, I'm wondering how much the controllers themselves will cost. Playing Mario Party could get awfully expensive if you have to buy a tablet-like controller for each player.
---
ViewSonic One-Ups the Nook Color?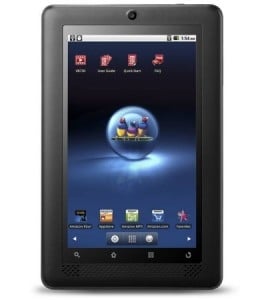 I recently highlighted the Nook Color as one of the better iPad alternatives.
There's a new kid on the block in the sub $300 tablet game, though. ViewSonic just announced the ViewBook 730, a 7" Android tablet that sees the Nook Color's 7" display and raises it with increased processor speed and added features. It has a 1 Ghz processor, and it includes a built-in front-facing camera (which the Nook Color doesn't have). It also runs full Android, instead of Barnes & Noble's closed-off version. The press release doesn't make it clear whether or not it will have access to the Android Market, though access to Amazon's app store is confirmed.
It will be available at the end of the month for $249. It's not the top of the line, but it's another option for anyone who wants an iPad-like gadget for half the price.

---
$500 3D TV Coming Soon
Intrigued by 3D, but scared of the huge prices on sets? How does a $500 3D TV sound? The TV, made by Sony, will go on sale this fall. It will be branded and sold as part of the Playstation line. The news was announced at E3 (the Electronic Entertainment Expo) earlier today, and has been reported on by numerous tech blogs.
There are negatives. It requires glasses, which will cost $70 per pair. The screen is 24 inches- not quite big enough to be the centerpiece of a living room entertainment center. Still, though- it's a $500 3D TV from a major brand. If you've been curious about home 3D at any point, $500 is probably the lowest cost of admission yet.
---
The Worst Gadget Ever?
The Virtual Boy came out when I was a kid. It was a giant red box that sat on a tripod, and you could see a 3D game world when you stuck your face into it. It was awkward to use, the all-red graphics were headache-inducing, and no one bought it. It was a rare Nintendo flop.

Failures in the tech world, like the Virtual Boy, are fascinating. It takes an enormous amount of research and development to bring a new gadget to market, and many failed products are so fundamentally bad that you wonder how so many people could work on them without raising their hands and asking, "Um, do you really think people will want a phone that doubles as a hotplate? Is there really that much demand for hot soup?"
The iHotplate doesn't exist. I made it up. It sounds cooler than the Nokia N-Gage, though.
I'm not sure what my favorite failed gadget is. By favorite, I mean the one that was the most hilariously absurd. The N-Gage is pretty high on the list, simply because it spawned the phrase "sidetalking."
E-mail me if you have a favorite tech failure. The Virtual Boy and the N-Gage are tough to beat, though.
---
iPad Alternatives (That Cost Less)


Asus Eee Pad Transformer
Price: $399
Savings Compared to iPad 16GB Wifi: $100

Pros: Matches the iPad spec-for-spec, storage can be increased with removable media cards
Cons: Weighs nearly a pound more than the iPad, limited availability
Verdict: For $100 less, you get a heavier Android tablet with performance similar to the iPad- if you can find it. Limited early production numbers have made it tough to keep in stock.

Archos 70 Internet Tablet
Price: $275
Savings Compared to iPad 16GB Wifi: $224

Pros: Solid specs for the price, light weight and slim frame, highly portable
Cons: Single core processor outclassed by high-end tablets, small screen size (7"), outdated Android 2.2 OS
Verdict: It's probably one of the best budget tablets available, but you're sacrificing on processor speed and storage (only 8 GB, expandable with a media card). It's also smaller and uses a smartphone operating system, instead of the tablet-optimized Android 3.0.

Nook Color
Price: $249
Savings Compared to iPad 16GB Wifi: $250

Pros: Uses a version of Android 2.2 specifically modified for the Nook, lightweight and solidly built, good performance for a very low price, includes microSD slot
Cons: No access to Android Market (it uses a Barnes and Noble app store instead), smaller than iPad (7" screen), limited built-in storage, no Android 3.0
Verdict: The Nook Color is primarily made to be an e-reader, but it does have a lot of the same features as higher-priced tablets. The operating system is nicer than the unmodified Android operating systems found in other non-3.0, budget tablets.

Wholesale Chinese Tablets
Price: Varies, usually listed on eBay under various names for $100-$200
Savings Compared to iPad 16GB Wifi: $299-$399

Pros: Price
Cons: There are oh, so many. They go by names such as SuperPad, ePad, eTablet, and many others, but they all share similar qualities- they're dirt cheap, they vaguely resemble iPads, and they have specs comparable to a 2-year-old smartphone. They have sub-1GHz single core processors, clunky resistive touchscreens that feel nothing like the smooth capacitive interfaces on most tablets, and build quality is probably questionable at best. They MIGHT be fairly usable, and they MIGHT not make you wish you had spent $100 on something else, but you're probably better off not testing those waters.
There are plenty of other alternatives out there. This is a pretty decent cross-section of what's available, though there may be a great deal out there that I didn't list. If you find an awesome tablet deal, e-mail me about it and I may mention it in a future blog.
---
Thanks, phone! You saved my life.
So I was shooting a baseball game last night, and it started to sprinkle. Rain and baseball don't agree with each other, and some of the fans around me started to worry. One of them pulled out a smartphone, checked the radar, and saw that there wasn't any significant rainfall in the area. The sprinkles went away, and the game went on.
That's hardly a severe situation, but it's a great illustration of how a gadget can be more than just a frivolous toy. It can be a great tool for getting up-to-the-minute, potentially critical information. While there are systems in place to provide advanced warning of severe weather, having a complete view of the situation when you are away from home gives you an added edge. This is a time of year when everyone needs to be on their toes in case severe weather strikes, as illustrated by the tragic loss of life during recent storms in the Midwest.
You can never be too safe. Use tools such as weather radios, television, or your computer to get the latest information- and if you have a smartphone, take advantage of apps that deliver warnings and watches to you as they are issued.
---
TABLETS!

What is a tablet, exactly?

It's a flat, portable computer with a touch screen interface. They have screens that generally range in size from 5 to 10 inches. They can stream music, play movies, send and receive e-mail, browse the web, and load a variety of games.

So, it's basically a huge smartphone.

The key word there is "basically," though. Smartphones and tablets share much of the same technology; they use similar processors, have similar amounts of memory, and the capacitive touchscreen interfaces feel the same. Some Android tablets use nearly the exact same operating system as Android smartphones, and Apple's iPhone and iPad both use versions of iOS. The main difference between a tablet and a smartphone is size- but that one difference has an enormous impact on how each device is used.

Look at it this way- a smartphone is your buddy. It's a Swiss Army knife of entertainment, communication, and information. It packs as much functionality as possible into a tiny frame. While it's not great at everything, it'll do if you're out and about. You have to squint to read text at times, and using your finger to hit a button or a tab can feel like a game of Operation, but it's portable. It's tiny. It fits perfectly in your pocket.

A tablet is something different. It's the device you curl up with on the sofa. It's the gadget that replaces your morning paper at the table, when you're eating Wheaties (or Cocoa Pebbles- I won't judge). You read books on it. You watch entire episodes of TV shows on it. You prop it up on a stand and watch movies on it, as if it were a small TV. It's an all-purpose media device.

I wasn't sold on the iPad when it first came out. I thought it was a bloated iPod Touch at twice the price. It's only when you pick up and use a tablet that you realize how much of an effect screen size can have on how you use a gadget, and what you use it for. Basically, tablets are pretty awesome. They're awesome in a different way than smartphones, even though they're both pretty similar under the hood.

$500 is a lot of money for just a fun gadget, though. So, this coming Monday, I'll tell you about some tablets cheaper than the iPad. Spoiler alert- one of them is so questionable, it should come with an "At Your Own Risk" label and a scary-sounding theme song.
---
---