J.C.'s Blog: Feb. 2011
Posted:
20110228
A noisy night here in the CI....
The storms that rolled across the area last night had a very impressive light show with them. When see that big of a temperature difference and you have a jet streak over head you can expect some strong storms to develop. Here is a list of some impressive rain totals from across the CI.
2.26" 1 S. Charleston
1.65" Coles County Airport
1.25" 8 W. Petersburg
1.16" 4. SSE Champaign
1.14" Willard Airport Savoy
1.02" Murryville
Here are the reports of hail and wind from the area last night....
.88" hail Emden
56 mph gust Jacksonville
trees down on US 267 north of Whitlock Rd. 1 SE Murrayville
.75"hail Mattoon
52 mph gust Mattoon
Power poles bent over, tree limbs down Altamont
12x12 Foot roof blown off a small utility shed Watson
This is why we have severe weather preparedness week here in central Illinois. The next several days at 6 pm I will be providing tips to help you stay prepared. Tomorrow at 10 AM is the state wide tornado drill.
Tonight I will focus on Plan, Practice, Monitor, and Act.....
Plan- make sure you have a plan for severe weather. Look for the safe areas in your home like a basement of a closet on the lowest most interior part of your house.
Practice- hold a drill at home so you can know what to do in the event severe weather strikes. I always tell the kids in school practice makes perfect. Think of it like studying for a very , important test or practice like you do for a sporting event.
Monitor- When a watch or advisory has been issued you need to pay close attention to the chance the weather can change.
Act- If a warning is issued its time to act. If you have your plan in place and have practiced the plan then you wont react to the issue but act in the manner that could save your life.
Sizzle Out!
---
20110225
Here are the snow totals from this past storm....
SNOW REPORTS LISTED BY AMOUNT...

INCHES LOCATION COUNTY TIME
------ ------------------- ----------- -------
4.50 HAVANA MASON 0600 AM
4.20 SPRINGFIELD SANGAMON 0600 AM
4.10 WINCHESTER SCOTT 0700 AM
4.00 3 SE ELLISVILLE FULTON 0837 AM
4.00 CHATHAM SANGAMON 0600 AM
3.90 TUSCOLA &n, bsp; DOUGLAS 0700 AM
3.90 SHERMAN SANGAMON 0700 AM
3.70 JACKSONVILLE MORGAN 0700 AM
3.50 PEORIA PEORIA 0600 AM
3.40 PANA CHRISTIAN 0600 AM
3.40 BEARDSTOWN CASS 0600 AM
3.30 ST. DAVID FULTON 0700 AM
3.10 MORTON TAZEWELL 0200 AM
3.00 3 NE BLOOMINGTON MCLEAN 0853 AM
3.00 3 S SULLIVAN MOULTRIE 0700 AM
3.00 3 W FARMER CITY DE WITT 0700 AM
3.00 PARIS EDGAR 0700 AM
3.00 NORMAL MCLEAN 0600 AM
3.00 DANVILLE VERMILION 0400 AM
2.90 OGDEN CHAMPAIGN 0600 AM
2.80 LOVINGTON MOULTRIE 0600 AM
2.60 5 NW PEORIA PEORIA 0800 AM
2.60 MOUNT PULASKI LOGAN 0600 AM
2.50 BUFFALO SANGAMON 0700 AM
2.50 MOWEAQUA SHELBY 0600 AM
2.40 3 NE NORMAL , ; MCLEAN 0730 AM
2.30 ROANOKE WOODFORD 0700 AM
2.30 EUREKA WOODFORD 0600 AM
2.20 2 NW CONGERVILLE WOODFORD 0800 AM
2.10 ROSAMOND CHRISTIAN 1230 AM
2.00 WOODSON &nb, sp; MORGAN 0732 AM
2.00 LOAMI SANGAMON 0700 AM
2.00 2 E JACKSONVILLE MORGAN 0600 AM
1.40 2 N GERMANTOWN HILLS WOODFORD 1130 PM
Have a great weekend!!!
Sizzle Out!


---
20110224
8th grade career fair…
Do you remember what you wanted to be when you were in 8th grade? I have always wanted to be a meteorologist since I was a little kid. I used to put up maps on my Great Grandparents wall and tell them what the weathe, r just like people on TV did. Its amazing how technology has changed how we present the weather over the last 25 years. In the nine years I have been here at WAND its amazing to see how our graphics systems have changed. Just imagine in the next 25 years what things will be like.
Today I spent the morning and part of the afternoon at Lake Land College in Mattoon at an 8th grade career fair. This marks the 19th year that this career fair has been going on. I remember when I was in 8th grade we came to the fair and looked at jobs. Its an interesting time in life when you are care free no worries but only about my homework and what mom or dad was cooking for dinner. In reality that is a great time to start to think about what you want to do with the rest of your life. High school can prepare you for college that prepares you for your career and even what life might throw your way. I think the biggest thing I learned in college was time management. That is a huge tool even in th, is job I must have because I need to make sure I get my job done in a timely manner and in the most accurate way. I think it's great that these schools bring their 8th graders so they can see what the world has to offer them career wise. It at least stimulates their brains for a couple hours and plants that seed in them to get them to think about their lives.
The fair opens up every year with a motivational speaker then they come around to the booths to talk with you about your career. The speaker again this year is Ben Glenn "The Chalk Guy" here is his website, http://www.simpleadhdexpert.com/. He does chalk art and his shows are very entertaining and his work is amazing.
Changing gears as I am writing this snow and some rain is falling across the area. Still expecting a few inches of snow across the area before the night is out. Be careful if you have to travel tonight into tomorrow morning.
Sizzle Out!
---
20110223
What a forecast week!
This week has been one of the most difficult weeks to try and write a forecast. Last night I was looking at the models and it showed this low level moisture getting out of here but low and behold this morning I wake up to cloudy skies again. , I also looking in the mirror this morning and noticed I have lost more hair because of this week. Trust me I don't have that much hair to lose. This morning in St. Louis they had an ice event that caused several accidents as the moisture returned a little quicker then anyone thought. That is the forecasters worst nightmare when you say, "looks like a dry start to the day," and well you have an ice event or severe weather. This just goes to show you that someone else is in charge and as much as we try to predict the weather we are going to miss it every now and then.
The latest forecast models bring an area of low pressure in our direction tomorrow afternoon. The event should start as rain and it could be heavy at times in our southern counties. By the evening as cold air moves to the south it could start to change the rain into snow along and to the north of I-72 and after midnight along and to the north of Il-16 we could see a snow event. This needs to be watched closely as the low track will be key in nailing down where the heaviest snow could fall, and if a dry slot develops that could hold down precipitation totals. Lots of variables to look at and try to work out over the next few hours with respect to this system.
The yellow line is the 5400 dm which I use to show where a transition from rain to snow could be. It runs right through central Illinois. The QPF values represent the liquid precipitation. I am going with a 9:1 snow to liquid ratio and if this plays out it could mean 3 to 6 inches of snow for places along and to the north of a line from Bloomington to Decatur to Mattoon to Paris line. Also something that needs to be watched is this QPF is impressive along I-70 which could mean some heavy rain which could aggravate already swollen streams and rivers across the area. This is just one of the forecast models and we need to keep a close eye on that low and where it tracks plus how quickly that cold air arrives.
This whole week we have been seeing huge temperature difference across the entire l, ower 48 with highs in the Dakotas in the low 20's to highs in the upper 70's along the Gulf coast. This helps to develop a very active jet stream which leads to a very progressive pattern across the lower 48 with storm systems every couple of days. I think once we get this storm out of the way we could see another shot at some light snow Saturday night into Sunday morning before it changes over to all rain on Sunday and stays rain into early Monday morning. Tuesday next week marks March 1st and it still looks to be coming in like a lamb and like I said yesterday the old wives tail says in like a lamb out like a lion. We will see as March rolls along.
Sizzle Out!
---
20110222
March 1st is closing in!!!!!
Happy Birthday to our first President and one of our founding fathers George Washington. He was born on February 22, 1732 to a Virginia planter family. Today would mark his 279th birthday.
As I am writing this blog I was looking out in the forecast models to see if March would come in like a lamb or a lion. As of right now it looks like a lamb with high pressure building in. The old wives tail says if it comes in like a lamb then it would go out like a lion. It will be interesting to see if this plays out. In the time being we are in for a rollercoaster ride with temperatures, rain and snow. Rain could start to show up tomorrow night into Thursday morning then a dry period during the day and then more rain changing to snow into Friday morning. Then another chance for some rain or snow on Saturday evening into Sunday morning, then Sun, day night i, nto Monday a chance for snow before changing to all rain by Monday afternoon. We are watching this very closely because temperature profiles will be crucial to precipitation types and the tracks and timings of these systems will be watched closely over the next several days.
Stay Tuned!!!
---
20110221
Happy Presidents Day!!!!!
Some people had the day off work in honor of our Presidents who have served this great country. Who was your favorite? I won't share mine on he, re because I don't want to get into a political debate but there have been so many who have left their legacy on this country.
If you had the day off today I am sure you found a way to enjoy it even though the weather didn't cooperate with us today. The rain has come to an end at least for a few days before we see warm temperatures and another chance of some rain on Thursday comes back. Weather models in the extended forecast are all over the board right now but I feel another system is looking possible for Sunday into Sunday night and temperatures and precipitation type will be hard to nail down because of this uncertainty. Stay tuned and I will keep you posted on what I feel might happen.
I want to thank all of you who voted for me in the Herald and Review's Reader Choice Award. I was very flattered to be voted number one and I feel very humbled. I never thought I would get this great honor and I am truly honored that you guys have picked me as your favorite. Thanks again and I look forward to seeing everyone out and about. Here is to a great week ahead!!!
Sizzle Out!
---
20110218
Storm Spotters are a huge asset....
Spring is right around the corner and we know what usually happens in central Illinois during the spring months; severe weather. We have the best technology in the area television wise to track the storms but even technology has its limitations. No technology will ever be better then a trained human eye. We have a great spotter network ar, ound the area who are the key to keeping people safe during severe weather. If you are a weather nut and want to find a way to help your fellow person out this would be a great opportunity. DO NOT go out and spot storms without going to these classes because storms are not a game or something to mess with. Here is a list of classes being offered across central Illinois this spring. Even if you don't want to spot and are just interesting in learning more about severe weather it would still be worth your time. They are free and usually last a few hours....
February, 2011 - Upcoming
Day
City, State
Time
Loc, ation
18
Lacon, IL
(Marshall County)
6:30pm CST
Lacon-Sparland Fire Dept. --- 921 5th Street
Contact Information: Marshall Co. EMA --- (309) 246-2295
22
Normal, IL
(McLean County)
6:30pm CST
You must pre-register for this class. See the Contact Information below for details. Heartland Community College - Astroth Community Education Center - Room 2210, 1500 West Raab Road
Contact Information: www.heartland.edu/community, Ed or (309) 268-8160
23
Monticello, IL
(Piatt County)
6:30pm CST
Monticello High School - Jefferson and State Streets
Contact Information: Piatt Co. EMA --- (217) 762-9482
24
Petersburg, IL
(Menard County)
6:30pm CST
Fire Department --- 320 East Taylor
Contact Information: Menard County EMA --- (217) 632-7700


March, 2011 - Upcoming
Day
City, State
Time
Location
02
Urbana, IL
(Champaign County)
6:00pm CST
ILEAS Building --- 1701 E. Main
Contact Information: Champaign EMA --- (217) 384-3826
03
Tremont, IL
(Tazewell County)
7:00pm CST
Tazewell county EOC --- 21304 Illinois Route 9
Contact Information: Tazewell county ESDA --- (309) 477-2234
07
Mechanicsburg, IL
(Sangamon County)
6:30pm CST
***Only for fire and rescue personnel*** Fire Dept. --- 404 West Main Street
Contact Information: For more info call: David Butt --- (217) 527-1955
08
Paris, IL
(Edgar County)
6:30pm CST
VFW in Paris --- 601 W. Court Street
Contact Information: Edgar county EMA --- (217) 466-3180
09
Sherman, IL
(Sangamon County)
6:30pm CST
Sherman United Methodist Church, Family Life Center, 2336 East Andrew Road --- Sponsored by: Capitol Area Amateur Radio Emergency Response Team and the Village of Sherman EMA
Contact Information: Chris Miller - chris.miller@noaa.gov
10
Beardstown, IL
(Cass County)
6:30pm CST
Fire Department --- 1119 Edwards Street
Contact Information: Chris Miller, NWS Lincoln - chris.miller@noaa.gov
11
Peoria, IL
(Peoria County)
7:00pm CST
American Red Cross --- 311 West John Gwynn Ave. --- Sponsored by Peoria Area Amateur Radio Club
Contact Information: Peoria Area Amateur Radio Club --- w9uvi@arrl.net
14
Greenup, IL
(Cumberland County)
6:30pm CDT
Municipal Building --- 115 Cumberland Street
<, tr bgcolor="#ffff00">
Contact Information: Webb Timm --- (217) 932-3026
15
Robinson, IL
(Crawford County)
6:30pm CDT
Community Center --- 300 South Lincoln Street
Contact Information: Crawford county ESDA --- (618) 546-5602
16
Olney, IL
(Richland County)
6:30pm CDT
To Be Determined
Contact Information: Chris Miller - chris.miller@noaa.gov
17
Lawrenceville, IL
(Lawrence County)
6:00pm CDT
Central Christian Church --- 303 Buchanan Drive
Contact Information: Lawrence county EMA --- (618) 936-2318
21
Pleasant Plains, IL
7:00pm CDT
***Only for fire and rescue personnel*** Fire Department --- 611 Buckeye St.

(Sangamon County)
Contact Information: For more info call: David Butt --- (217) 527-1955
22
Jacksonville, IL
(Morgan County)
6:30pm CDT
Jacksonville High School Auditorium --- 1211 North Diamond Street-------- NOTE: An ASL interpreter will be available for the hearing impaired.
Contact Information: Morgan Co. EMA --- (217) 479-4616
23,
Manito, IL
(Mason County)
6:30pm CDT
***If attending, please register prior to the class at the contact listed below*** Midwest Central H.S. (Cafeteria) --- 910 South Washington Street
Contact Information: Doug Herrman (309)303-3112 or (309)968-6649
24
Galesburg, IL
(Knox County)
6:30pm CDT
Trinity Lutheran Church --- 304 East Ferris Street (corner of Ferris and Kellogg Streets)
Contact Information: Knox Co. EMA --- (309) 343-9151
28
El Paso, IL
(Woodford County)
6:30pm CDT
Southpoint Park Community Building --- 523 South Sycamore
Contact Information: Woodford county EMA --- (309) 923-6611
30
Owaneco, IL
(Christian County)
6:30pm CDT
Fire Department --- 105 North Locust, Street
Contact Information: Christian County EMA --- christiancoema@yahoo.com


April, 2011 - Upcoming
Day
City, State
Time
Location
04
Bloomington, IL
(McLean County)
6:30pm CDT
McLean County EOC --- Law and Justice Center, 104 W. Front Street
Contact Information: McLean Co. EMA --- (309) 888-5020
05
Clinton, IL
(DeWitt County)
7:00pm CDT
County EOC --- 201 West Washington
Contact Information: DeWitt Co. EMA --- (217) 935-9596
06
Charleston, IL
(Coles County)
6:30pm CDT
To Be Determined
Contact Information: Coles Co. EMA: Tom Watson - (217) 348-0581
07
Lewistown, IL
(Fulton County)
6:30pm CDT
Fire Department --- 110 East Avenue B
Contact Information: Fulton Co. EMA --- (309) 224-7701
11
Tuscola, IL
(Douglas County)
7:00pm CDT
To be determined.
Contact Information: Douglas County EMA - (217) 253-9538
12
Danville, IL
(Vermilion County)
6:00pm CDT
County EOC --- 2507 Georgetown Road
,
Contact Information: Vermilion county EMA --- (217) 443-6010
13
Shelbyville, IL
(Shelby County)
7:00pm CDT
Shelbyville Fire Department--- 110 North Heinlein Dr
Contact Information: Shelby Co. EMA --- (217) 774-1499
18
Decatur, IL
(Macon County)
6:30pm CDT
Richland Community College, Schilling Center --- 1 College Park
Contact Information: Macon county EMA --- (217) 424-1327
19
Lincoln, IL
(Logan County)
6:30pm CDT
Lincoln Christian Church --- 204 N. McLean St.
Contact Information: Logan county EMA --- (217) 732-9491
Sizzle Out!!!!
---
20110216
Sunny and Warm...
Yeste, rday when I was writing the forecast I really thought it would be cloudy all day with maybe a peak of sunshine. I was looking at the water vapor loop and noticed a little area of some dry air moving across northern Missouri las, t night but thought moisture from the Gulf would over run that dry and cloud the skies up. It turns out I woke up this morning to bright sunshine and mild temperatures. There is a warm front draped across southern Illinois and it is moving north which has put Effingham in that warmer air as they saw temps this afternoon in the upper 60's. I would rather miss the forecast this, way then saying, "bright sunshine and mild temperatures," and have the forecast turn out to be cloudy and rainy. I know most of you out there have needed a day like today to put us all in a great mood. It has been a long and cold winter but lets not get ahead of ourselves because we still aren't out of the woods when it comes to cold air. March is a month of , extremes with average temperatures starting out in the 40's and ending the month with average highs in the upper 50's to low 60's. We have had snow in the past in March and parts of April. Only time will tell as we get closer to Spring.
Sizzle Out!
---
20110215
Warm weather...
Looking at the latest models these mild temperatures look to continue at least through the weekend! Temperatures will continue to warm over the next 36 hours as warm air advects into central Illinois and along with that warm air Gulf moisture will come too. This will lead to some light drizzle or even a shower over the next couple of days. Then into the weekend high pressure builds in for a short time which will should provide us with a little sunshine on Saturday with temperatures in the mid 40's. Sunday into, Monday a system develops and moves into northern Illinois. I am going to watch the track of that system closely because if it heads a little further south we might see some heavier showers. The long range models bring a cool down in here by Friday the 25th as a cold front drops through giving us a chance for some rain as early as Thursday the 24th. Its a long ways off but if this forecast holds we could expect high temps to fall back below freezing.
The old wives tail states that if March comes in like a lion it should go out like a lamb and vise versa. Today on the GFS (one of the forecast models I use) we get a sneak peak at what the computer is thinking for March 1st. It shows a system lifting out of the southern Plains and bringing us some precipitation and brings cooler temperatures to the area. Could that mean March coming in like a lion? It will be fun to watch and see what it does as time goes on.
Sizzle Out!!
---
20110214
Weekends are a blast....
I always look forward to a little R&R. This past weekend Ashley and I hea, ded to southern Illinois to explore the Shawnee Hills Wine Trail again. We have been on the trail a couple times before so we had things mapped out this time. We had a few of our friends come along and they really enjoyed the experience. We rented a cabin on the trail for the weekend where we all stayed Saturday night then Ash and I stayed there last night. If you are interested in a nice place to crash on the trail its Wagon Creek Cabin. They have a hot tub out back and its a two bedroom beautiful place. (wagoncreekcabin.com) There are 12 wineries along the trail that rolls through the woods and up and down the hill in southern Illinois. If you haven't had the chance to take a trip to the Carbondale area you really should. Its a totally different look then the flat and corn fields of central Illinois. Here is the website for the wine trail.....http://www.shawneewinetrail.com/...To top off the weekend the weather was beautiful down there with sunshine and temperatures in the 60's. Happy Valentines Day to everyone and especially to Ashley!!!!
Sizzle Out!!!
---
20110211
A cold and snowy winter…
I just finished looking over the climate data for the month of January and shocking we were colder then average. The list below shows the average high and low compared to what we recorded high and lows in Decatur Il.
Avg Jan High: 34.5° &n, bsp; Avg. Jan Low: 17.1°
Recorded Avg: 30.4° Recorded Avg: 16.9°
-------------------------------------------------------------------------------------------------
-4.1° below average -.2° below average
&nbs, p; Avg Mean Temp: 25.8°
Recorded Mean: 23.6°
&n, bsp; ------------------------------
-2.2 below normal
So for the month of January we were -2.2 degrees below normal.
This winter has been cold as here is break down of the average number of days at or below 32 degrees&, hellip;..
From Nov 20th through Mar 20th As of February 10th
Max temp average: 27.8 days ≤32° This Winter: 46 days +18.2
Min temp average: 75.1 days ≤32° This Winter: 77 days +2.1
Min temp average: 8.6 days ≤32° This Winter: 4 days -8.6
This shows just how cold it has been this winter so far. It's only February and even with a warm up on the way these numbers are still impressive. The numbers on the left are from November 20th through March 20th. Numbers on the right are from Nov 20th through February 10th. These nu, mbers are based on Decatur and other places in central Illinois could be different.
, Sno, wfall for , Decatur
Average Per Month 2010
Jan: 7.7" Jan: 7.5"
Feb: 4.9" &nbs, p; &, nbsp; Feb: 12"
Mar: 2.4" &nbs, p; Mar: 0
Apr: .4" Apr: 0
Nov: 1.1" Nov: 0
Dec: 5.4" , ; Dec: 7.75
Yearly Avg: 21.9" &nb, sp; Yearly Snow Total: 27.25"
+5.35" above average
Average Per Month This Winter
Nov: 1.1" Nov: 0"
Dec: 5.4" , Dec: 7.75"
Jan: 7.7" Jan: 8.1"
Feb: 4.9" , ; Feb: 12"
Avg through Feb: 19.1" &nbs, p; Total: 27.85"
As of Feb 10th , +8.75" ahead for the winter season in Decatur
Snowfall for this year 2011: 20.1"
When you look at the number for the winter season we take the numbers from November 2010 through this February 2011 because the winter season stretches into the next year. We will find out our total winter snowfall on March 20th when the Spring Equinox occurs at 6:21 pm. I found it interesting that last February and this February we received a foot of snow both years. Just an interesting coincidence I happened to notice. These snow totals don't surprise me because we have been in a La Nina pattern this year which typically leads to snowier winters here in central Illinois. Below are some of the extremes for snow in Decatur.
Extremes for Snow Decatur Il.
Monthly Record Daily Record
Jan: 25" 1979 10" 1-13-1927
Feb: 18" 1914 8" 2-16-1903
Mar: 30.5" 1906 13.5" 3-19-1906
Apr: 11" 1920 4" 4-5-1920
May: 12.2" 1929 8.2" 5-3-1929
, ; Oct: 4" 1929 4" 10-23-1951
Nov: 13.5 1951 11" 11-06-1951
Dec: 30.5" 1973 10" 12-20-1973
We thought we have had it bad this winter just look back to these events and this winter might not seem as bad. I have to give credit for this information from the Midwestern, Regional Climate Center http://mrcc.isws.illinois.edu/climate_midwest/mwclimate_data_summaries.htm . Stay warm this weekend and it looks like a nice warm up is on tap for the extended period of the forecast and even further out then that as of right , now.
Sizzle Out!
---
20110208
Warm up coming!!!!!!
Cold temps look to stay for a couple more days then a warm up begins Friday and continues through the weekend. I am holding tem, ps down under model guidance because of the snow pack. Need to watch to see how much melting occurs early in the weekend because if we can melt enough of the snow pack then we could see temps by Monday into the lower 40's! If we didn't have the snow on the ground then we could have seen temperatures into the upper 40's. Looking out in the extended run it looks like we could see these warmer temperatures sticking around for a few days into next week. There is a storm system that the models are picking up late next week but its a long ways off. Are you ready for this warm up? I know some people are excited for the warm temperatures but some are saying they are not looking forward to cleaning up all the limbs that have fallen out of the trees and are scattered in their yards. Stay warm over the next couple of days and just know the warm up is on it way!
Sizzle Out
---
20110207
Super Bowl...
I don't know what you thought about the game but it left me with a few unanswered questions. Why where so many players getting hurt? Who was the audio technician who kept clipping mics the whole night? These are two questions that people d, on't seem to be hitting on much today. The overall game I thought was a good one and I thought maybe Big Ben was going to make a game winning drive again. Did you notice that certain areas on the field had new turf? Those were the areas that players were getting hurt. Field turf is a great playing surface used by teams not only in football but across the sporting world now. The padding comes from used rubber tires that are ground up but I didn't notice any of that coming up from the field in those areas. In other areas of the field you could see the little black chips coming up. It was just an interesting observation that I made last night. The second question was the microphone clips during the game and at halftime. The clipped Fergies microphone two to three times. Not to mention during the game the audio was over powering from the crowd noise over the announcers. I am not a huge Joe Buck fan but its nice to hear them sometimes. Over all I didn't think it was a bad game or the halftime show was that bad. I have seen and heard mixed reviews of the night so overall I think it was another successful Super Bowl.
It was a good night at home I got to relax on my couch with Ashley and we made a nic, e spread of food. We made some chicken wings,, bagel bites, taco soup and some ice cream for desert. I enjoy a good party but it was nice to just relax at home and spend some time with my wife. After this past week with the winter storm and working all the time I needed a nice quiet weekend.
Sizzle Out!!!
---
20110204
National Weatherpersons day!!!!
Tomorrow is National Weatherpersons day! If you have a facebook page you will understand this comment, some days people hit the like button when its sunny and 80 but when there is a blizzard they hit the dislike button.
This day commemorates the birth of John Jeffries who was born in 1744. He was one of the first weather observers in America an, d began taking weather observations in Boston in 1774. He took the first balloon observation in 1784. This is the day to recognize the men and women who collectively provide Americans with the best weather, water, and climate forecasts and warning services of any nation.
We are looking for a chance at some light snow again moving in late tonight along and south of I-70. Then as the morning rolls along we will see snow move north along IL-16 expect around 1" along IL-16 to maybe 1.5" in Effingham. Then another system rolls in on Sunday later afternoon into Monday which could bring more snow. Decatur, Springfield, Champaign 1" to 2" of snow. Mat, toon, Effingham, Pana, Paris we could see 2" to 4" of total accumulation. Temperatures drop quickly as highs next week might make it to the midd, le teens. Try and stay warm just remember that spring is only 43 days, March 20th at 12:32 AM!!!!!
Stay Warm and have a great weekend!!!
Sizzle Out
---
20110203
Groundhog and no Shadow....
If the groundhog doesn't see his shadow then it supposed to mean an early Spring. Looking at the latest model run I think we can through out the groundhog's forecast. Maybe groundhog stew would keep us warm from the busted forecast from Phil. This cold air we have in place today extends all the way into no, rthern Mexico and even places in south Texas today are seeing some freezing rain and snow. Looks like a little light snow in our SE counties (Mattoon, Effingham, Paris) tomorrow night into early Saturday morning. Then another system will start to develop and could bring some places here in central Illinois another couple of inches of snow Sunday afternoon, into Monday morning. After that storm system temperatures will drop back into the teens for highs. The poor folks on the east coast have been getting it handed to them this winter and looks like another major Nor'easter could impact New England by Thursday of next week. That is a long way off in the models but thats the last thing that area needs. Below are the model outlook for these two time frames.
This is the forecast for Sunday night into Monday. This shows the heaviest snow in our SE counties with about 2 to 4 inches of total accumulation. I will watching the track of this storm because totals could change.
This is the forecast for Thursday Afternoon for New England. The blue lines are isobars or equal lines of pressure. When they are this tight we see very strong gradient winds its looks to be ugly there.
Hope all of you who get snow days have enjoyed them but I want to thank all the people who have worked around the clock to keep our roads clear and emergency workers who have been out helping people. If it wasn't for these people leaving their families at home and getting out to help us we wouldn't he getting around even today. It's one of the most helpless feelings when you have to leave your wife at home during a storm and have to stay at work for a couple days. The thought is always in the back of my mind, "I hope everything is okay at home." Thanks to everyone who sent me some pictures from the storm its amazing that depending on where you live here in the CI you either have a foot of snow or several inches of ice accumulation.
Sizzle Out!!!
---
20110202
Happy Groundhog Day!!!!
Phil didn't see his shadow today so that is supposed to mean an early Spring...HAHAHAHA...kind of a funny joke.
Blizzard 2011
What a past 24 hours is has been in central Illinois. We will continue to see the winds gusting to 30 for this afternoon. This will cause blowing and drifting snow into the evening. Then we will see temperatures drop below zero with wind chill values to -15 to -25 below. If you have to travel this evening be careful but best advice is just stay home. Here are the snow totals from across the CI....
O'Hare 20.2"
Midway 19.9"
Romeoville 16.4"
Rockford 13.9"
INCHES LOCATION , COUNTY TIME

------ ------------------- ----------- -------
20.00 1 N ABINGDON KNOX 0700 AM
18.20 1 SW JEROME &, nbsp; SANGAMON 0700 AM
18.00 ST. DAVID FULTON 0700 AM
18.00 WINCHESTER SCOTT 0700 AM
18.00 5 NE AVON , KNOX 0700 AM
17.00 2 W PRINCEVILLE PEORIA 0700 AM
16.00 RUSHVILLE SCHUYLER 0630 AM
16.00 HAVANA MASON 0530 AM
15.60 BRYANT FULTON 0530 AM
15.00 3 SSE BRADFORD MARSHALL 0700 AM
15.00 GALESBURG KNOX 0630 AM
15.00 PEORIA PEORIA 0600 AM
14.80 KNOXVILLE KNOX 0700 AM
14.80 TOULON&, nbsp; STARK 0630 AM
14.70 HOPEWELL MARSHALL 0648 AM
14.50 GERMANTOWN HILLS WOODFORD , ; 0700 AM
14.40 MORTON TAZEWELL 0800 AM
14.00 7 W PETERSBURG MENARD 0700 AM
13.50 BEARDSTOWN CASS 0700 AM
13.00 SPRINGFIELD SANGAMON 0700 AM
13.00 2 SW CAMP GROVE STARK 0700 AM
13.00 5 W BLOOMINGTON MCLEAN 0600 AM
12.50 1 S MOSSVILLE PEORIA 0944 AM
12.00 CHATHAM SANGAMON 1030 AM
12.00 ROANOKE WOODFORD 0700 AM
12.00 MANITO MASON 0700 AM
12.00 LINCOLN LOGAN 0550 AM
12.00 4 NE NORMAL MCLEAN &n, bsp; 0500 AM
11.90 2 ESE NORMAL MCLEAN 0700 AM
11.70 3 SW BLOOMINGTON MCLEAN 0700 AM
11.00 ELLISVILLE FULTON 0840 AM
10.00 2 N MASON CITY MASON 0700 AM
9.00 1 S OREANA MACON 0742 AM
9.00 MOUNT PULASKI LOGAN 0600 AM
8.00 3 W FARMER CITY DE WITT 0700 AM
7.00 1 NNE MAHOMET CHAMPAIGN 0700 AM
7.00 DECATUR MACON 0430 AM
6.00 1 SSW CHAMPAIGN CHAMPAIGN 0700 AM
6.00 BUFFALO SANGAMON 0700 AM
5.00 AUBURN SANGAMON 0700 AM
4.60 OGDEN CHAMPAIGN 0700 AM
4.20 2 N HOMER CHAMPAIGN 0843 AM
4.00 SHELBYVILLE SHELBY 1025 AM
3.00 3 E PANA SHELBY 0500 AM
2.00 TUSCOLA DOUGLAS 0700 AM
1.50 EFFINGHAM EFFINGHAM 1029 AM
SLEET AND FREEZING RAIN REPORTS LISTED BY AMOUNT...
INCHES LOCATION COUNTY TIME TYPE
------ ------------------- ----------- ------- -------------
4.00 TUSCOLA &, nbsp; DOUGLAS 0700 AM SLEET
4.00 2 SW TAYLORVILLE CHRISTIAN 0700 AM SLEET
3.00 DANVILLE VERMILION 0630 AM SLEET
2.50 MATTOON COLES 0444 AM SLEET
2.00 CASEY &, nbsp; CLARK , 0700 AM SLEET
2.00 WINDSOR SHELBY 0600 AM SLEET
0.60 EFFINGHAM EFFINGHAM 1029 AM FREEZING RAIN
0.60 CHARLESTON COLES 0700 AM FREEZING RAIN
0.50 10 S MARTINSVILLE CLARK 0700 AM FREEZING RAIN
0.50 3 SW EFFINGHAM EFFINGHAM 0700 AM FREEZING RAIN
0.50 LOVINGTON MOULTRIE 0700 AM FREEZING RAIN
0.40 AUBURN &nb, sp; SANGAMON 0700 AM FREEZING RAIN
0.40 WATSON EFFINGHAM 0600 AM SLEET
0.40 NEWTON JASPER 0500 AM FREEZING RAIN
0.30 ROBINSON CRAWFORD 0700 AM FREEZING RAIN
0.25 2 E BIRDS LAWRENCE 0700 AM FREEZING RAIN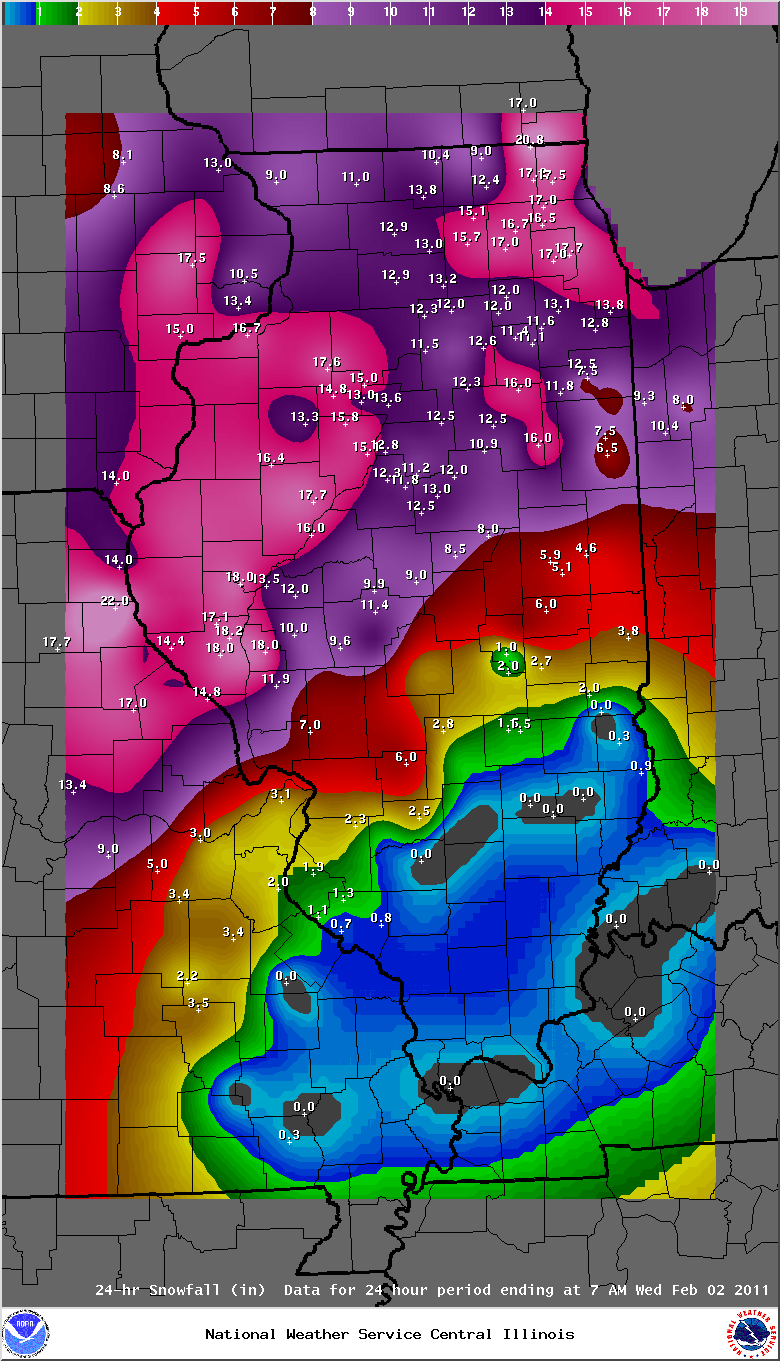 ---
,