J.C.'s Blog: March 2011
Posted:
20110331
March comes to an end….
This year has been a cloudy and cool March with 17 of the 31 days cloudy or mostly cloudy. We still ended up above normal in the temp category but only by .7 degrees. If it wasn't for the four days in the 70's (March 17th, 20th, 21st, 22nd, and 23rd with warmest reading of the month of 75 on the 21st) we would have come in well below normal. Last year we only saw 13 days of cloudy or mostly cloudy skies. Here is the monthly summary for March 2011. I am also going to compare how this March stacked up against March 2010.
March 2011 from Decatur Airport
Recorded Avg. High: 52.5 Recorded Avg. Low: 33.4
Normal High: 52.6 , ; Normal Low: 31.9
================= =====================
-.1 below normal +1.5 above normal
Recorded Mean Temp: 42.9
Normal Mean Temp: 42.2
======================
+.7 above normal for the month
Precipitation
March 2011 1.60" Airport 1.46" Stormcenter 17
Average: 3.25"
Airport: -1.65" below normal
Stormcenter 17: -1.79 below normal
The drier then normal month can be attributed to a La Nina pattern here in central Illinois.
Stormcenter 17 Temps
March 2010 Recorded High avg: 55.3 March 2010 Recorded Low Avg: 37.6
March 2011 Recoded High Avg: 53.9 March 2011 Recorded Low Avg: 35.8
===============================================================
March 2011 was -1.4 cooler March 2011 was -1.8 cooler
March 2010 Mean Temp: 46.5
March 2011 Mean Temp: 44.8
======================
March 2011 was -1.7 degrees cooler then last year
The warmest March goes back to 1946 when the mean temp was 54.3
Wettest March was set in 1898 with 9.85" while the driest .18" in 1999
Snowiest March 30.5" was set in 1906
Here is to April as we all know the saying April Showers bring May Flowers!!!!
Sizzle Out!
---
20110330
The first 30 years!
What a ride it has been for me so far on this planet. I have set and reached so many goals. I want to thank all of you for the amazing out pouring of well wishes on my Golden Birthday!
Here are a few things that I feel highlight my first 30 years….
I meet and married the love of my life Ashley
I graduated from college
I always wanted to be a meteorologist since I was 5 and I am doing that for a living.
Always wanted to make my parents proud
I have been able to travel and explore not only the USA, but parts of Canada, Mexico, and the Dominican Republic, but I want to go many more places in the Caribbean and to Europe.
We bought our first home!
We have Wrigley our first dog
I got to spend lots of quality time with my Grandparents who shared their knowledge and stories with me
Had the chance to buy a couple new cars
So many more things I am thankful for because God has blessed me
Changing gears a little. On this date in 1981 it was a dark day for America because Ronald Reagan was shot. Here is a how the day unfolded from an article I found….
President Ronald Reagan has been shot and wounded after a lone gunman opened fire in Washington.

He is currently undergoing emergency surgery at George Washington University Hospital but there are unconfirmed reports he walked in unaided.

Five to six shots were fired as he left the Washington Hilton Hotel where he had been addressing a union convention, about one mile from the White House.

A Secret Service official and a Washington policeman were also injured before the gunman was pushed to the ground by police.

The president had appeared from the hotel smiling and walked towards his limousine turning momentarily to acknowledge calls from the waiting press.

First Lady Nancy Reagan is understood to be on her way to the hospital to visit her 70-year-old husband.

The attacker is described as being in his twenties and blonde.

The assassination attempt has sent shock waves around the country where memories of the murder of President John F Kennedy remain vivid.

President Reagan has only been in office for 69 days and the attack leaves the running of the country in some confusion as his vice-president George Bush is currently on his way back from Texas.

Until the arrival of Vice-President Bush it is unclear who is in charge.

The American Stock Exchange has stopped trading and the Academy Awards have been postponed until tomorrow night in the wake of the attacks.
On a brighter note here are famous people that I share this birthday with.
The rapper Pitbull 1982
The famous race horse Secretariat 1970
Celine Dion 1968
Tracy Chapman 1964
Eric Clapton 1945
Vincent Van Gogh 1853
ONLY 2 DAYS LEFT UNTIL THE CUBS HOME OPENER!!!!!
Sizzle Out!
---
20110329
Thanks to an upper level system moving in from the west the clouds stayed locked across the area. I had a few reports this morning of some snow flakes but thanks to high pressure across the lakes it kept the lower part of the atmosphere very dry. The story for the month of March has been cloud cover and today was no exception. This marked the 17th day of mostly cloudy or cloudy skies across the prairie state. Tomorrow afternoon we will finally see the sun start to return!
A sign of very dry air look at the (red num, bers) current temperatures and then look at the green numbers (dew point) take the difference and its called the dew point depression. The larger the difference between the dew point and temp the drier the air. Dew points in this map (8:23 pm March 29th) are in the upper teens and lower 20's. The rain is still across Missouri and will have a hard time over coming this very dry air in central Illinois tonight. As temps drop I do think we might see a slight chance for a few snow flakes to drop along and to the south of Il-16.
Tomorrow will mark a mile stone for yours truly. I get to celebrate my golden birthday by turning 30 on the 30th. I am overwhelmed by all the birthday wishes tonight on facebook already. Thank you for all the well wishes as I begin my new journey into my 3rd decade on this planet.
Sizzle Out!
---
20110328
With a sun filled afternoon I think we should take a trip back in the time machine. Here is something that should remind us that it's that time of the year when severe weather can strike. I remember this quite well. The pictures from this storm were very impressive. It's amazing to see train cars knocked around like micro machines. Our weather looks to start too warm by this weekend with temperatures getting back into the 60's!
3/28/1998
A tornado touched down a mile southwest of Mattoon around 5:30 am, and traveled to the northeast. It damaged 4 homes in the initial touchdown area, and turned over 4 empty 30-ton coal cars on the railroad tracks. It then destroyed 6 buildings in a storage complex, and several homes and businesses. After moving aloft for a short time, it touched down again, with damage limited to roofs and treetops. Overall, about $3 million damage was recorded. Three people were injured, one seriously.
Sizzle Out!
---
20110325
One of the most severe ice storms to hit central Illinois since 1967 began the morning of March 24, 1978. Freezing rain continued until the morning of March 25th, and by the time the rain ended one-half to 2 inches of ice coated a 90-mile-wide belt west to east across central Illinois. One million people were without power at least 24 hours, and some outages took up to two weeks to repair. Over 1000 auto accidents occurred, and there was an estimated $20 million in tree losses. Twenty-four counties in Illinois were declared disaster areas.
Here at WAND Stormcenter 17 that same weekend the broadcast tower in Argenta crashed to the ground thanks to the ice and wind. I don't think we have much to complain about today with a few flakes of snow and cold air. It looks like this weekend will cold and we might see a little snow Saturday evening into Sunday morning. Finally, we will see temperatures warming back up into the upper 40's and low 50's by the middle of next week. Have a great weekend and I will be on the air Sunday.
Sizzle Out!
---
20110324
A rough weather day out east yesterday…
If you are a weather junky you probably remember the 20, 07 tornado in Greensburg Kansas. That particular tornado had estimated winds of 205 mph and it destroyed 95% of the town. Yesterday another Greensburg was impacted by a Tornado but this time it was in Pennsylvania. Here is an article I saw that talks about this tornado.
GREENSBURG, Pa. – The National Weather Service has confirmed that a tornado was responsible for destroying 30 homes and badly damaging about 60 more in western Pennsylvania.
Meteorologists have been surveying damage in Hempfield Township in Westmoreland County, about 25 miles east of Pittsburgh.
, Schools there were closed for a second day because of heavy damage from Wednesday afternoon's storms.
The storms were part of a far-reaching system that stretched from Nebraska to upstate New York on Wednesday.
In North Carolina, The Hendersonville Times-News reports a Polk County man was killed when a tree fell on his pickup truck. Experts in Tennessee are doing surveys in three areas to see if storms there were tornadoes.
The spring storm season and its important that we stay prepares even though are temperatures are in the 30's. We will be starting our weather radio campaign again in April and you will have a chance to buy your NOAA weather radio's again at Walgreens and Schnucks stores. You can also check out more information about it here on our website. Stay warm and we will finally start to warm up late this next , week but nothing like the past few days.
Sizzle Out!
---
20110323
Snow Snow and more Snow....
I hope you enjoyed this warm weather because its coming to an end tonight. We will see a few showers and maybe a few flurries overnight. We really dodged a bullet last night as the strong line of storms, fired in Missouri and Iowa and moved across northern Illinois. There were 16 tornado reports yesterday afternoon into the evening with 15 in Iowa and 1 in Nebraska. Our atmosphere here was fairly stable thanks to the clouds that stayed in place all day yesterday.
| | | | | | | | |
| --- | --- | --- | --- | --- | --- | --- | --- |
| 2143 | | 6 S CRAIG | BURT | NE | 4170 | 9636 | (OAX) |
| 2200 | | 2 E MISSOURI VALLEY | HARRISON | IA | 4156 | 9586 | (OAX) |
| 2245 | | BRIDGEWATER | ADAIR | IA | 4125 | 9467 | TORNADO NEAR DELTA AVE AND HIGHWAY 92 ... (DMX) |
| 2258 | | 3 NW GREENFIELD | ADAIR | IA | 4133 | 9450 | (DMX) |
| 2315 | | 1 E CRESTON | UNION | IA | 4106 | 9434 | (DMX) |
| 2316 | | 3 NE CRESTON AIRPORT | UNION | IA | 4105 | 9433 | (DMX) |
| 2, 316 | | 1 SW CRESTON | UNION | IA | 4105 | 9438 | DEBRIS OBSERVED (DMX) |
| 2317 | | W CROMWELL | UNION | IA | 4104 | 9446 | (DMX) |
| 2317 | | 3 E CROMWELL | UNION | IA | 4104 | 9440 | TORNADO WITH DEBRIS. (DMX) |
| 2318 | | 2 SW CRESTON | UNION | IA | 4104 | 9439 | (DMX, ) |
| 2318 | | 3 NE CRESTON | UNION | IA | 4109 | 9432 | (DMX) |
| 2323 | | 7 WNW WINTERSET | MADISON | IA | 4137 | 9414 | TORNADO WITH PROPERTY DAMAGE TO AN OUTBUILDING. (DMX) |
| 2324 | | 6 NNW WINTERSET | MADISON | IA | 4141 | 9408 | DAMAGE TO BUILDINGS. 20 INCH DIAMETER TREE SNAPPED OFF. (DMX) |
| 2328 | | 6 N WINTERSET | MADISON | IA | 4142 | 9402 | OUTBUILDING DEBRIS AND TREE DAMAGE STREWN OVER HIGHWAY 169. REPORTED BY OFF DUTY NWS EMPLOYEE. (DMX) |
| 2337 | | 6 SSE DE SOTO | MADISON | IA | 4145 | 9397 | DAMAGE TO A BUILDING. ROOF BLOWN OFF INTO THE FRONT YARD. (DMX) |
| 0014 | | 5 W WINTERSET | MADISON | IA | 4134 | 9411 | BRIEF TOUCHDOWN. (DMX |
Just about 200 miles north they were dealing with a blizzard. Here are a few maps with snow totals from this storm system. Over a foot of snow fell across the Dakotas, Minnesota and Wisconsin.
Wisconsin
North Dakota
Minnesota
------ ----------------------- -- -------------- -------
11.00 5 N ISLE MN MILLE LACS 0752 AM
10.80 12 N BRUCE WI RUSK 0729 AM
10.30 LITTLE FALLS &nbs, p; MN MORRISON 0630 AM
10.20 3 N ALEXANDRIA MN DOUGLAS 0800 AM
10.00 RICE LAKE WI BARRON 0900 AM
9.50 HUTCHINSON MN MCLEOD &nb, sp; 0825 AM
9.20 JIM FALLS WI CHIPPEWA 0700 AM
9.00 RUSH CITY MN CHISAGO 0846 AM
9.00 3 NE RUSH CITY MN CHISAGO 0700 AM
9.00 3 S ST FRANCIS MN ANOKA 1204 PM
9.00 CARLOS MN DOUGLAS 0530 AM
8.8, 0 CLAYTON WI POLK 0842 AM
8.50 MENOMONIE WI DUNN 0900 AM
8.50 ANDOVER MN ANOKA 0900 AM
8.50 MONTEVIDEO MN CHIPPEWA 0700 AM
8.50 MORA MN&n, bsp; KANABEC 0700 AM
8.20 2 N MENOMONIE WI DUNN 1210 PM
8.20 BOWLUS MN MORRISON 0724 AM
8.00 WATSON MN CHIPPEWA 0900 AM
8.00 HOLCOMBE WI CHIPPEWA 0811 AM
8.00 LEAF VALLEY MN DOUGLAS 0806 AM
8.00 9 NNE BIRD ISLAND MN RENVILLE 0730 AM
7.60 1 N CAMERON WI BARRON , 0556 AM
7.50 LITCHFIELD MN MEEKER 0640 AM
7.50 SAUK RAPIDS MN BENTON 0630 AM
7.50 STANLEY WI CHIPPEWA 1140 AM
7.10 ST CLOUD MN STEARNS 0100 PM
7.00 NORTH BRANCH MN CHISAGO 1012 AM
7.00 ISANTI MN ISANTI 0937 AM
7.00 MELROSE , ; MN STEARNS 0800 AM
7.00 4 NW ONAMIA MN MILLE LACS 0800 AM
7.00 2 N GLEN FLORA WI RUSK 0700 AM
6.50 COON RAPIDS MN ANOKA 1040 AM
6.00 ONAMIA , ; MN MILLE LACS 0842 AM
6.00 BLOOMER WI CHIPPEWA 0804 AM
6.00 2 WSW RICE MN STEARNS 0700 AM
6.00 3 E EAST FARMINGTON WI POLK 0630 AM
6.00 3 WSW PRINCETON MN SHERBURNE 0600 AM
5.50 DAYTON MN HENNEPIN 0700 AM
5.50 4 E ST FRANCIS MN ANOKA 0700 AM
5.50 2 N WILLMAR MN KANDIYOHI 0600 AM
5.30 ST STEPHEN MN STEARNS 0722 AM
5.20 MURDOCK MN&nb, sp; SWIFT , 0745 AM
5.20 ST CLOUD SCSU MN STEARNS 0730 AM
5.20 FOREST LAKE 5NE MN CHISAGO 0700 AM
5.20 MONTICELLO MN WRIGHT 1207 PM
5.10&nbs, p; 5 NNW MINNEAPOLIS MN HENNEPIN 1057 AM
5.00 DELANO MN WRIGHT 0900 AM
4.90 FRIDLEY MN ANOKA 0700 AM
4.60 RICE MN BENTON 0700 AM
4.60 CHANHASSEN MN CARVER 0100 PM
4.40 MINNEAPOLIS ST PAUL APT MN HENNEPIN 0100 PM
4.10 LONG PRAIRIE MN TODD 0600 AM
4.00 ROCKFORD MN HENNEPIN 0900 AM
4.00 GRANITE, FALLS MN CHIPPEWA 1120 AM
4.00 HAMBURG MN CARVER 0800 AM
4.00 PLYMOUTH MN HENNEPIN 0824 AM
4.00 WATERTOWN MN CARVER 0730 AM
4.00 4 SSE SILVER CREEK MN WRIGHT 0723 AM
, 4.00 LONG LAKE MN HENNEPIN 0700 AM
3.80 FRIDLEY MN ANOKA 0800 AM
3.80 LESTER PRAIRIE MN MCLEOD 0750 AM
3.50 1 E ST MICHAEL MN WRIGHT 0600 AM
3.40 2 SSE GREENFIELD MN HENNEPIN 0700 AM
3.40 1 WNW ROCKFORD &n, bsp; MN WRIGHT 0600 AM
3.00 2 SSE MINNETRISTA MN HENNEPIN 0830 AM
3.00 MINNEAPOLIS LWR ST ANTH MN HENNEPIN 0600 AM
2.80 MORRIS MN STEVENS 0800 AM
2.80 NEW HOPE MN HENNEPIN 0806 AM
2.60 WACONIA MN CARVER 0600 AM
2.60 EAU CLAIRE WI EAU CLAIRE 0527 AM
2.50 BURNSVILLE MN DAKOTA 1050 AM
2.50 ST PAUL MN RAMSEY 0800 AM
2.50 2 NW ROSEVILLE MN RAMSEY 0600 AM
2.30 ROBERTS WI ST. CROIX 0800 AM
2.20 AUGUSTA WI EAU CLAIRE 0839 AM
, 2.00 MORGAN MN REDWOOD 1106 AM
2.00 BALDWIN WI ST CROIX 0700 AM
2.00 GAYLORD MN SIBLEY 0825 AM
2.00 MORGAN MN REDWOOD 0745 AM
2.00 KIMBALL MN STEARNS 0600 AM
2.00 SPRING VALLEY WI PIERCE 0800 AM
1.80 CHASKA MN CARVER 0715 AM
1.70 WOODBURY MN WASHINGTON 0839 AM
1.50 DURAND WI PEPIN 0700 AM
1.50 ROSEMOUNT MN DAKOTA 0900 AM
1.40 FARMINGTON MN DAKOTA 0900 AM
1.40 5 SW ST PAUL MN RAMSEY 0722 AM
1.00 WASECA MN WASECA 0900 AM
1.00 NORTH MANKATO , MN NICOLLET 0841 AM
0.80 2 W PRIOR LAKE MN SCOTT 0806 AM
0.60 JORDAN MN SCOTT 0527 AM
0.50 MANKATO MN BLUE EARTH 1146 AM
What a day it was in the midwest!
Sizzle Out
---
20110322
March out like a lamb?
The old wives tail says if March comes in like a lamb it should leave like a lion and vice versa. Looking at the latest GFS model it is trying to send March out like a lamb. I am not going to complain if it happens like that but it would break the old wives tail. If you remember March came in like a lamb with sunny skies and temps in the upper 40's. It looks like it could leave a little cooler but dry. High pressure will be just off to the east while a storm system tries to get going in Texas. This is a long way out in the models and we need to keep an eye , on this pattern. When we get this far out model uncertainty is very large.
I hope you have enjoyed these past few days of temperatures in the 70's and even though we didnt see the sun it was a nice relief from the bitter cold this winter. I still think we could see a few storms over night and into tomorrow morning. Once the cold front clears temperatures in the afternoon will start to crash out. With cold air aloft and we will heat that air as the day goes on clouds will start to build in the afternoon and as a trough drops through it could trigger some showers late in the evening. Wednesday night into Thursday morning temperature profiles aloft and at the surface could support a quick change from a few showers into a few snow flurries. Even though spring arrived this week Old Man Winter wants to try and get the last laugh by dragging out highs back into the upper 30's and low 40's through the weekend. If you put those heavy winter coats away its time to break them out. I know I have flowers coming up in my back yard I just hope they don't get to damaged by this cold spell.
Sizzle Out!
---
20110321
What a way to start spring!
This is the way we should begin spring! Temperatures this afternoon ranged from the upper 50's from Bloomington north to the mid-70', s along and to the south of I-72. When I was working on Saturday I mentioned that we would see a cold front stall out here in the CI today. I was worried that it might stall a little further to the south keeping our highs the in 50's. Instead of that scenario playing out I was glad I stuck with highs in the 70's for today because the front stalled right along I-72. Tonight that front is starting to shift back to the north and that allow the warmer air to move across all of the CI tomorrow allowing us to make it into the 70's once again. I think for the most part the day will remain dry as we will have a strong cap on the atmosphere here thanks to a layer of warmer air above the surface. Typically in the troposphere we see the air get colder as you go up with height but sometimes we get things called inversions to develop when warm air is shoved in aloft. When that happens it creates a cap and until we warm the surface temperatures above that cap or we get cold air brought back in aloft the day will be quiet weather wise. I think this will be case for much of our day on Tuesday until the evening when a cold from will show up. Once that front pushes in here it could cause some showers a, nd storms to develop. It appears a lot of the moisture will stay to out south. If we do get storms to fire some of , them could produce very strong winds and large hail thanks to the cold air moving in rapidly aloft. Our exclusive RPM model is really trying to keep things quiet for most of the evening but we will keep a close eye on moisture transport into the area tomorrow evening and if we can break down that cap before the cold front arrives. Right now I feel our forecast handles this well by keeping a chance for some strong storms in the forecast. Next week we return back to cold temperatures. Looking at the 90 day temperature outlook it is calling for below normal temps. I hope you enjoyed this warm air while it lasted.
I also found this intersting in the trivia section on the National Weather Service homepage today.
3/21/2006
A major winter storm impacted central Illinois. A swath of heavy snow fell across much of the region, with 6 to 10 inch totals common. In addition, blizzard conditions occurred across Scott, Morgan, Sangamon, Christian and Shelby Counties, with wind gusts to 45 mph recorded. No major injuries or fatalities were reported, though numerous vehicle accidents occurred.
What a difference a few years can make!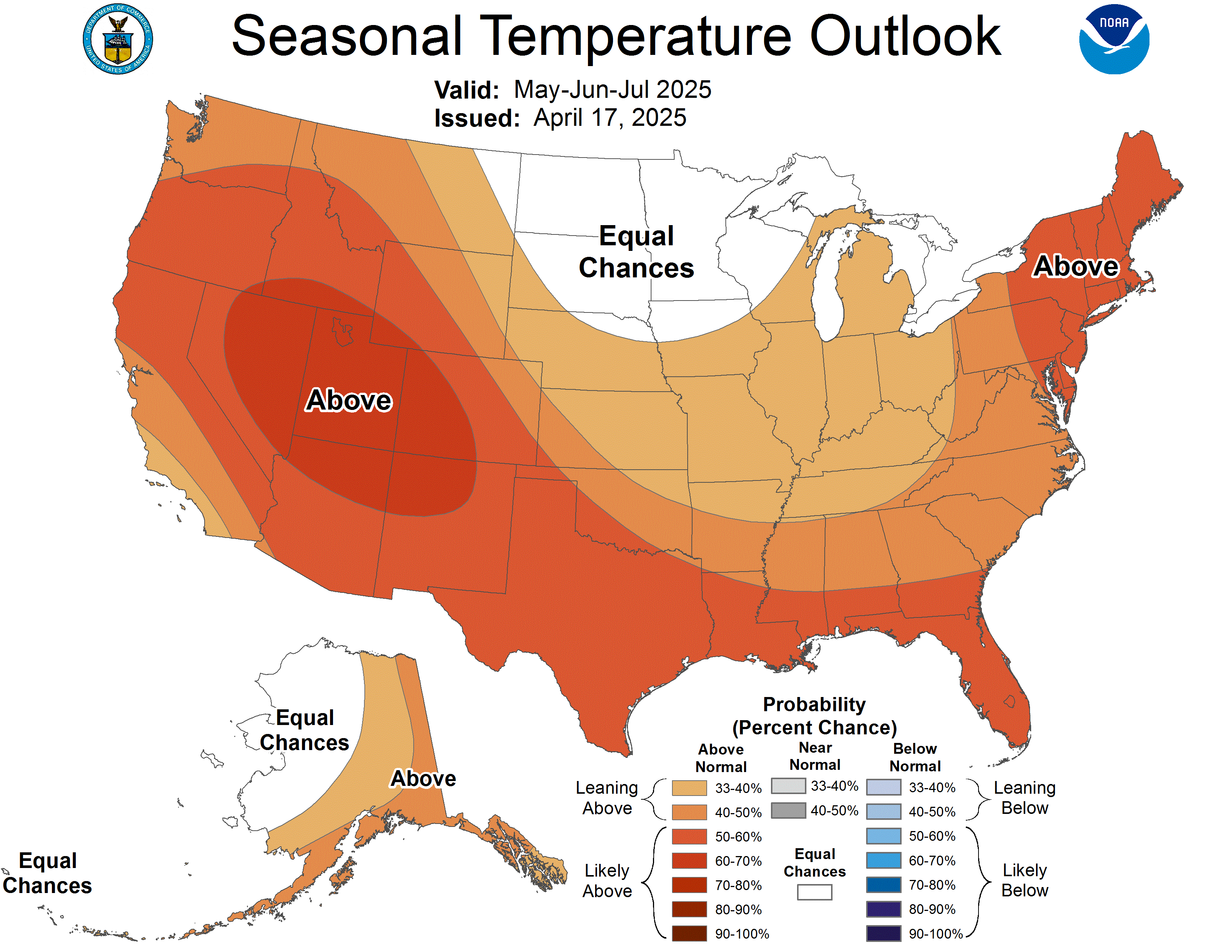 ---
20110319
Super Moon!?!
Tonight a Super Moon will occur. To be considered a Super Moon the phase needs to be full or new. Here is an article that I found that explains this. If the sky's were clear it would have been amazing.
March 16, 2011: Mark your calendar. On March 19th, a full Moon of rare size and beauty will rise in the east at sunset. It's a super "perigee moon"--the biggest in almost 20 years.
"The last full , Moon so big and close to Earth occurred in March of 1993," says Geoff Chester of the US Naval Observatory in Washington DC. "I'd say it's worth a look."
Full Moons vary in size because of the oval shape of the Moon's orbit. It is an ellipse with one side (perigee) about 50,000 km closer to Earth than the other (apogee): diagram. Nearby perigee moons are about 14% bigger and 30% brighter than lesser moons that occur on the apogee side of the Moon's orbit.
Above: Perigee moons are as much as 14% wider and 30% brighter than , lesser full Moons. [
video
]
"The full Moon of March 19th occurs less than , one hour away from perigee--a near-perfect coincidence1 that happens only 18 years or so," adds Chester.
A perigee full Moon brings with it extra-high "perigean tides," but this is nothing to worry about, according to NOAA. In most places, lunar gravity at perigee pulls tide waters only a few centimeters (an inch or so) higher than usual. Local geography can amplify the effect to about 15 centimeters (six inches)--not exactly a great flood.
Indeed, contrary to some reports circulating the Internet, perigee Moons do not trigger natural disasters. The "super moon" of March 1983, for instance, passed without incident. And an almost-super Moon in Dec. 2008 also proved harmless.
Okay, the Moon is 14% bigger than usual, but can you really tell the difference? It's tricky. There are no rulers floating in the sky to measure lunar diameters. Hanging high overhead with no reference points to provide a sense of scale, one full Moon can seem much like any other.
The best time to look is when the Moon is near the horizon. That is when illusion mixes with reality to produce a truly stunning view. For reasons not fully understood by astronomers or psychologists, low-hanging Moons look unnaturally large when they beam through trees, buildings a, nd other foreground objects. On March 19th, why not let the "Moon illusion" amplify a full Moon that's extra-big to begin with? The swollen orb rising in the east at sunset may seem so nearby, you can almost reach out and touch it.
Don't bother. Even a super perigee Moon is still 356,577 km away. That is, it turns out, a distance of rare beauty.http://science.nasa.gov/science-news/science-at-nasa/2011/16mar_supermoon/
Some other good news tomorrow evening at 6:21 pm as Astronomical spring arrives. Meteorological spring arrived on March 1st. The weather will feel like it on Monday but don't get used to the temperatures because hig, h will fall back into the mid to upper 40's next week. Have a great rest of the weekend and see you all on Monday.
Sizzle Out!
---
20110318

TGIF!!!!!
The day didn't turn out the way I thought it would, at least forecast wise. I thought this shortwave would stay a little further south but it came right across the area and dumped some rain. Rain totals have ranged from less then .02" to .20".
On the lighter side my Mom got re-married today! I headed over to Sullivan where she lives and they had their ceremony. I think the old saying is if it rains on your wedding day then its good luck. I am hoping this comes true for you Mom. It rained on my wedding day too but the sun came out right as Ashley and I were pronounced husband and wife. The funny part of the day was we were at the place where they were married and the power goes out but luckily it came back on. You want to talk about being almost a dead man from your own mother that was me today. She used to tell me if I was being bad that she brought me into this world and she could take me out of it. She didn't really mean it but I though it was funny when she told me that today. Mom and Dale congratulations and I hope that God blesses your marriage for the rest of your lives! Love you guys and enjoy the next couple of days away.
If you don't know already I have two younger brothers and they both where there today and it was nice to spend some family time today with them. Here is a photo of them today people say we all look very similar. Have a great weekend and enjoy the sun tomorrow.
Sizzle Out!
---
20110317
St. Patties Day!!!!!
I decided that I would wear green to work today for St. Patties Day. If you have ever been to the station then you might have seen the big green weather wall. If you wear certain shades of green then you would see the maps over my chest but not the case tonight. I h, ave a green shirt and tie that just happens to work on the wall. I was worried if I didn't wear this green shirt and tie I would get pinched and have bruises all over my arms. I am just kidding!
I found this article that explains what St. Patrick's Day is all about….
http://www.st-patricks-day.com/about_saintpatrick.html
Saint Patrick was the patron saint and national apostle of Ireland who is credited with bringing Christianity to Ireland. Most of what is known about him comes from his two works, the Confessio, a spiritual autobiography, and his Epistola, a denunciation of British mistreatment of Irish Christians. Saint Patrick described himself as a "most humble-minded man, pouring forth a continuous paean of thanks to his Maker for having chosen him as the instrument whereby multitudes who had worshipped idols and unclean things had become the people of God."
Saint Patrick is most known for driving the snakes from Ireland. It is true there are no snakes in Ireland, but there probably never have been - the island was separated from the rest of the continent at the end of the Ice Age. As in many old pagan religions, serpent symbols were common and often worshipped. Driving the snakes from Ireland was probably s, ymbolic of putting an end to that pagan practice. While not the first to bring Christianity to Ireland, it is Patrick who is said to have encountered the Druids at Tara and abolished their pagan rites. The story holds that he converted the warrior chiefs and princes, baptizing them and thousands of their subjects in the "Holy Wells" that still bear this name.

There are several accounts of Saint Patrick's death. One says that Patrick died at Saul, Downpatrick, Ireland, on March 17, 460 A.D. His jawbone was preserved in a silver shrine and was often requested in times of childbirth, epileptic fits, and as a preservative against the "evil eye." Another account says that St. Patrick ended his days at Glastonbury, England and was buried there. The Chapel of St. Patrick still exists as part of Glastonbury Abbey. Today, many Catholic places of worship all around the world are named after St. Patrick, including cathedrals in New York and Dublin city

Why Saint Patrick's Day?
Saint Patrick's Day has come to be associated with everything Irish: anything green and gold, shamrocks and luck. Most importantly, to those who celebrate its intended meaning, St. Patrick's Day is a traditional day for spiritual renewal and offering prayers for missionaries worldwide.

So, , why is it celebrated on March 17th? One theory is that that is the day that St. Patrick died. Since the holiday began in Ireland, it is believed that as the Irish spread out around
Sizzle Out!
---
20110316
Preview of Spring….
It was a beautiful day across the area thanks to high pressure that built in over night clearing away the clouds. Temperatures this afternoon ranged from 60 in Danville and Paris to 65 in Jacksonville. Looks like it will get even warmer tomorrow with highs in the upper 60's east to low 70's west thanks to a strong southerly wind. Make sure that you wear your green for St. Patties day or I am sure someone will have fun pinching you all day. Let not get to excited about this warm up even though the 7-day forecast has temperatures in the 50's and 60's for highs. Here is a graphic of the last average date for a freeze here in central Illinois. Astrological spring begins on Saturday evening at 6:21 pm.
---
20110315
Flood Awareness Week...
This is flood awareness week in Illinois. A very important phrase to remember is Turn Around Don't Drown. Here are some facts about flooding.....
Did you know that more than half of all flood-related deaths are drownings that result from
vehicles caught in flood waters and then swept downstream? Many of these drownings are
preventable if people do not drive or walk through flood roads, sidewalks, etc.

People often underestimate the power of flowin, g water. A mere 6 inches of fast-moving flood
water can knock an adult off their feet. Most vehicles begin to lose contact with the road in
six inches of water. They can be swept away in 18-24 inches of flowing water. This includes
pickups and SUVs. When approaching a flooded roadway remember, Turn Around Don't Drown!
I was in Arizona this past fall for a weather conferenc, e and they talked about this new law. They call it the stupid law because if you drive into standing water and get stranded you have to pay for the cost it takes to rescue you. In the desert water rises very rapidly because the ground is so hard and the water runs off to the lowest area. If other states had laws like this one maybe it would prevent people from getting themselves in situations like this. We are headed into the spring months and flash flooding happens in cities with underpasses and also in the rural areas. Please try to avoid getting yourself into a situation that could have been avoided.
Sizzle Out!
---
20110314
Monday….
I hope all of you enjoyed your weekend. Why is it that weekends always fly by? I guess we could use, the old saying, Time flies when you're having fun. I could say that about this weekend because I had Friday, Saturday and Sunday off. Ashley and I had a great weekend as we went to the wineries in the area on Friday and then Saturday cruised up to Champaign to pick up my new suits. Sunday we went to Paris and celebrated her grandma's birthday. It was a busy but fun weekend, !
The weather looks to be improving nicely this week. Tonight we will have a few showers along and to the south of I-72 and we cou, ld see a few during the day tomorrow. The story of March so far has been clouds with 9 out of the 14 days so far cloudy or mostly cloudy. The middle of the week looks amazing with highs in Wednesday in the upper 50's and then Thursday approaching 70! We will have to deal with a few showers on Friday but when spring arrives on Saturday at 6:21 pm temperatures should be in the upper 50's and then climb back into the middle to upper 60's by Sunday and Monday. Lets hope this trend continues! Have a great rest of your Monday and just keep in mind we have almost made it through winter!
Sizzle Out!
---
20110310
Lent Feedback……
I asked people what they were giving up for lent in an earlier blog post and since I won't be here tomorrow I figured I would post the responses.
I will be giving up Chips all brands and types because I have a huge vise for tortilla chips.
Dawn Sterling- Diet Coke
Shawn W. - Unhealthy Snacks
Becky M. – Desserts
Lisa C. – Easting Out
Holly L. – Pepsi
Don C. – Mt. Dew
Stephanie E. – Cappuccino
Chris Y. – Sweets
Dee Dee – Soap Operas
Sage W. – Talking about Jersey Shore and Jonas Bro's
Theresa B. – Cigarettes
Jim H. – French Fries & Chocolate Sundaes
Veronica K. – Potato Chips
Thanks for all your responses and I wish all of you luck over the next several weeks. I made it the whole time last year and I gave up late night snaking which is really hard for me not to do when I get home after work.
Tomorrow is going to be a beautiful day with sunshine finally and temperatures in the 50's. I think Ash, ley and I are going to set out on a little wine trail exertion around central Illinois. You might not know this but there are wineries in Marshall, Greenup, Long Creek, Westervelt, Findlay, Champaign, Stewardson, Rochester and coming this summer another one in Effingham. It's a fun and relaxing day to enjoy the different atmosphere's that each place has to offer. Have a great day tomorrow and enjoy the sunshine and warmth!
Have a weekend!
Sizzle Out!
---
20110309
Happy 200th belated Birthday Allen Lapham…
Who is Allen Lapham you might ask? I received an email this morning from our sales manager with an article about Allen Lapham's 200th birthday. I have read a few books about the "father" of the National Weather Service as he is known. Here is the article that was in the USA Today…..
This article was written by Doyle Rice,
Well, I missed another birthday yesterday.
Not for my Aunt Frieda or my Cousin Shermy, but for Increase Allen Lapham, the "father" of the National Weather Service.
Lapham was born on March 7, 1811.
A Milwaukee scientist, Lapham was the catalyst for the creation of the agency that would eventually become the weather service.
In the 1860s, Lapham supported a storm warning service for the Great Lakes and sent frequent clippings of maritime deaths to General Halbert E. Paine, U.S. Congressman for Milwaukee.
Paine recognized the importance of Lapham's cause and, in 1870, introduced a Joint Congressional Resolution requiring the Secretary of War "to provide for taking meteorological observations at the military stations in the interior of the continent and at other points in the States and Territories...and for giving notice on the northern (Great) lakes and on the seacoast by magnetic telegraph and marine signals, of the approach and force of storms."
The resolution was passed by Congress and signed into law on Feb. 9, 1870, by President Ulysses S. Grant. On Nov. 8, 1870, Lapham assumed responsibility for the Great Lakes region (with a salary of $167 per month), and Lapham obliged by issuing the very first storm warning that same day.
Not quite as straightforward or catchy as "National Weather Service," the agency's first name was "The Division of Telegrams and Reports for the Benefit of Commerce"
Just an interesting article that I thought you might enjoy. Tomorrow I will post all of your sacrifices for lent.
Sizzle Out!
---
20110308
Fat Tuesday...
Today is Fat Tuesday and Bourbon Street is jumping tonight until Midnight. Marti Gras has been going on for a month almost and tonight it all wraps up at Midnight when Ash Wednesday arrives and the season of Lent. I always try to give something up for lent and last year I gave up snacking at night. I was really good at sticking with my lent sacrifice. This year I have been thinking about what I could give up. I really enjoy potato chips so I think I will give them up. I know there will b, e huge temptations to eat them but if I get my mind wrapped around the fact that its a sacrifice for the ultimate reason I will make it the whole month. What are you planning on giving up for lent? Let me know and I will share them here.
Sizzle Out!
---
20110307
Pulaski Day...
The first Monday in March in Illinois is usually a day off schoo, l for kids. September 13, 1977 Illinois enacted a law to celebrate Casimir Pulaski's birthday. This holiday was first celbrated in 1978. How many of you even know who Pulaski was? Here is an article that tells his story....
Sometimes called the "Father of American Cavalry," Casimir Pulaski was born March 4th, 1747, in Warka, Poland.
(It may have been 1746 or 1748.) He became a national Polish hero in 1771, when he and his army overwhelmingly defeated Russian forces in Czestochwa, Poland. Pulaski was wrongly accused in a plot to capture and kill the King of Poland and was banished from Poland.
While in Paris, Casimir heard of the American Revolutionary War and the colonies' struggle to break free from England. He wrote Benjamin Franklin, who was in Paris, to ask if he would consider hiring him to fight against the British. After hearing of his reputation as a great leader, Franklin recommended him to General George Washington.
Washington knew that the colonists had no trained cavalry, so he met with Pulaski and introduced him to LaFayette and John Hancock. In September 1777, Washington convinced Congress to give Pulaski temporary command of the small, new cavalry detachment. On the same day Pulaski saved military supplies and pushed back the British at the Battle of Brandywine. The next day he prevented a surprise attack at an area called Warren's Tavern. Congress acknowledged Pulaski's leadership and bravery and commissioned him as Brigadier General. He was placed in command of four light cavalry regiments.
During the winter at Valley Forge in 1777-78, Pulaski wanted to train the cavalry properly, but was instructed by Congress to rest his men during the winter, as was customary at the time. Later in 1778, Pulaski became frustrated that his cavalry had not been involved in any important battles. Considering resignation, he asked Washington to allow him to start his own legion. He offered to recruit men, outfit them, and train them his own way. He would prepare this cavalry for active duty. After many letters from Pulaski, Congress finally agreed. With 68 horses and 200 foot soldiers, the Pulaski Legion would become the colonists' first true fully-trained cavalry.
He recruited many men, European and some Americans. At first, some of the American soldiers did not like him because he did not speak English, but they soon began to respect him in battle for his courage and intelligence.
During a battle in Savannah, Georgia, Casimir was wounded by a cannon. He died from complications of this wound. The first Monday in March , has been designated Pulaski Day in Illinois. There is also Pulaski County honoring this great war hero. The Pulaski National Monument is located in Savannah
http://castle.eiu.edu/~insight/pulaski/pulaski.htm
Sizzle Out!
---
20110306
Sunday night and WAND…
It's weird to be back on the Sunday night shows where it all started. As some of you know Laine has left the station to pursue other opportunities and I want to wish her all the best. In the time being you will see me, Lee and Greg filling in on the weekend until we find her replacement. I learned a lot from working the weekends when I was just a young pup here at Stormcenter 17 and it's nice to work with people like Liz. Changing things up every once in a while makes for a nice change of pace.
This week will be another roller coaster ride in weather. We have another chance at rain starting Tuesday and even a few thunderstorms are likely Tuesday night. If we have enough moisture left as this system pulls away Wednesday night we could see a few snowflakes. Temperatures tomorrow should get into the middle 40's and then into the 50's Tuesday into Wednesday. We usually see high's t, his time of the year in the upper 40's! On a side note this coming weekend we will change the clocks ahead one hour Sunday morning. The sun will come up after the time change at 7:11 AM and not set until 7 pm. It will be nice to have that extra hour of sunlight at the end of the day. Have a great week everyone and let's start looking forward to spring only 13 mor, e days!
Sizzle Out!
---
20110304
When Thunder Roars go Indoors!
Lightning can be beautiful if you observe it safely. I know as a kid I used to love watching thunderstorms blow up in the distance on a warm summer night. Then as the storm got closer the lightning got brighter and the thunder got louder. When I grew up our house was on the edge of town and just beyond the fence in the back yard was corn field which gave me a great view of the storms. If you are outside and you see lightning get inside immediately. Lightning can strike up to 10 miles away. If you don't have a house to run to get in your car for safety. Just remember the saying When Thunder Roars Go Indoors, if you know that rule then you will be a head of the game when it comes to lightning safety.
Severe Weather Weeks continues and tomorrow night we have a threat for heavy rain. The rain that is expected tomorrow night could cause some flooding in some of our counties. Here is a link from the National Weather Service in Lincoln about flood safety.
…FLASH FLOOD SAFETY…,
A flash flood is a rapid rise in creeks and streams, OR serious urban flooding, caused by heavy rain from thunderstorms. Flash flooding poses a serious threat to life and property. Flooding kills more people nationwide than any other storm hazard. In the state of Illinois, most flash floods occur during the summer, and usually at night. However, they have occurred in every month of the year, at all hours of the day.
Most flood related deaths occur in vehicles. Don't drive around barricades or across flooded roads, especially if the water is moving rapidly. Flooded or washed out roads are especially difficult to see at night. It only takes 18 to 24 inches of water to cause most vehicles to float, tip over and then become submerged in the water. Back up, turn around, and take a different roadway.
Don't ever let children play near storm drains, creeks or flooded areas. The water can easily knock them off of their feet, or can be contaminated with harmful objects. If you live near a creek or stream, evacuate to higher ground if the water rises rapidly OR if a Flash Flood , Warning is issued for your area.
Urban flooding is also potentially dangerous. Heavy rain that results in the flooding of streets, viaducts and underpasses in an urban area can pose a threat to motorists. Heavy rain can also result in basement flooding, ponding of water in low spots, and rapid flooding of storm sewer systems.
Sizzle Out!
---
20110302
Attacking a storm from different angles….
Tonight's topic on the show was how we tackle a storm here at Stormcenter 17. We li, ke to attack them from all angles. We start usually with Live Doppler 3D. We use this tool to show you the track of the storm, how many lightning strikes there are, how large the hail could be, if there is any rotation in the storm that might cause a tornado to form, and we use our street level mapping to show the exact location of the storm and when it might strike your community or block.
The next tool in our arsenal is Doppler 3D Stormview. This software allows us to roll up our sleeves and get inside the thunderstorm and show you the structure, where the most significant parts of the storm are. We can also show you wher, e the strongest rotation is located signifying where a possible tornado might form or be located at that e, xact moment. This tool makes explaining severe weather much easier to us as a meteorologist. I know it can look confusing from your couch but it's something that we like to use to better analysis a storm.
The Live Weatherbug sites across the area help us to get real time weather information from all over the Stormcenter 17 viewing area. These stations are collecting wind speed and direction, temperature, dew point, barometric pressure, and a host of other important weather data. During severe weather we can get ground truth information from our sites to let you know what is going on inside the storm so you can stay in your safe location. Ground truth information is very important because the radar can only show and tell us certain informatio, n from above the ground but we need to know what happening at the surface to keep you better informed. In this network we also have live cameras in Springfield, Decatur, Champaign and newly added today Charleston at EIU! With these cameras spread out across the market we will show you pictures for the storm as its happing which allows us to bring you those real time images.
Live Neighborhood Doppler Radar has been a staple here at WAND Stormcenter 17. We are the only station in central Illinois to have their own Doppler. This is important because we can control what we want to look at during a storm.
Finally, the O'Brien Auto Park Urbana Stormrunner is always out and about trying to keep an eye on the severe weather. In this vehicle we use it to observe storms from a safe distance and send pictures to your living room from the location of the storm. This car is essentially a moving weather bug site. We can get any meteorological weather data from anywhere the vehicle is parked plus a live picture. This means that no spot in central Illinois during severe weather will be left uncovered. This allows us to go to locations where we don't have a weather sensor and tell you exactly what is happening at that spot.
It's amazing how far weather technology has come along since I stated here in 2002 and for that matter over the past 2 decades. Central Illinois weather is very challenging to forecast and keep track of but with all these tools at our disposal we are able to keep everyone informed across the viewing area. So stay with us this severe weather season and rest assured that Stormcenter 17 will be there for you when you need us most!
Sizzle Out!
---
20110301
Knowing where you live is essential during severe weather….
I don't want to offend anyone with this topic but knowing where you live is very important when severe weather is about to strike. How many of you are able to look a blank county map like you see in the lower part of your screen on Stormcenter 17 and pick out your county? If you answered yes you are ahead of the game. You would not believe how many people can't identify their county. Why is this important? When a watch is issued you need to know if your county is in or near the watch area. A watch means severe weather is possible in or near the watch area. Once you have identified your county on the map then you should learn which counties are to your west and southwest. Typically storms move from west to east but sometimes move from southwest to northeast. By knowing which counties are around you will give you more lead time in the event of a warning in a neighboring county.
Warnings are now issued in what we call polygonal warnings. This means most of the time the warning is issued for part of a county and not the whole county. It's important to know what part of the county you live in. For example, if a warning is issued for NW Macon county then places like Warrensburg, Forsyth, Maroa, would be in the path of the storm while the southern part of the county wouldn't be included. This has helped people take these warning more serious. If you use the old analogy of the boy who cried wolf, if you issue warnings for the entire county then people who are not impacted won't take the warning seriously because nothing is happening.
I want to touch on a myth. The outdoor warning sirens are meant to be heard inside. This is false! These are only to be heard outside and the best warning device to have is a NOAA weather radio. It's very, important to stay prepared and that is why we have this week to get prepared.
Hello March and today with all the sunshine and warmer temperatures I think it's safe to say it has come in like a lamb! The old wives tail says if March comes in like a lamb then it will leave like a lion. Only time will tell we have 31 days to see this play out.
Sizzle Out!!!!
---