J.C.'s Blog: October 2011
Posted:
20111025
Aurora's Show its colors last night!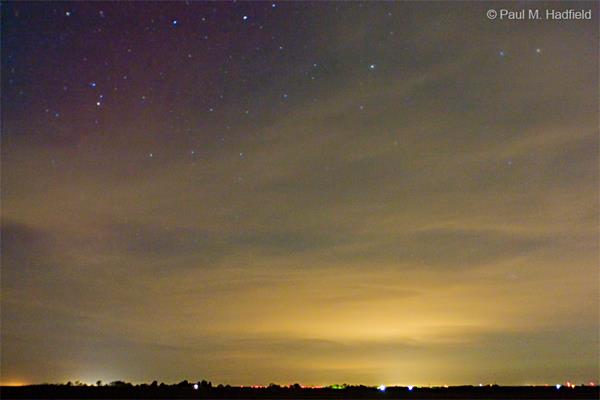 Paul Hadfield
This was just outside Lincoln Illinois last night and the yellow glow is light pollution from the city lights. Notice in the upper left you can see the red color thats the Aurora.
What a night of beauty across the lower 48 and right here in central Illinois. A CME (coronal mass ejection) "solar flare" left the sun two days before at 8 pm CDT and was traveling at 2 million mph. This took the CME around 41 hours to reach earth. The CME impacted the earth at 1 pm CDT and stretched the Aurora Oval into the lower 48. (spaceweather.com)
The Aurora Oval is a high-latitude ring of permanent aurora around the geomagnetic pole. These exist around both poles. During the day they are closer to the pole and at night will expand a little. When a geomagnetic storm strikes earth the aurora will expand further and can at times can be visible in lower latitudes. Here is a picture of how far to the south the Aurora oval made it last night. The Aurora is caused by the interaction of high energy particles (electrons) with neutral atoms in the upper atmosphere. The excited electrons then can calm down, during that process a photon or light particle is released. The release of these photons or light rays are what you see as the aurora.(spaceweather.com)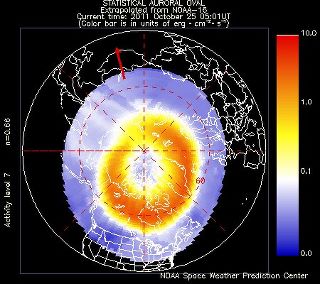 The CME was so strong last night that the Aurora was red which is very rare to see an almost completely red show. There is another index that is used to help to show how intense the solar storm is and how that it will impact the aurora and that's the K-Index. A magnetometer is an instrument that is used to measure the geomagnetic field. This measurement is taken every minute from multiple locations but the information is converted into three hour intervals. The K-Index is a range from 0 to 9 and is related to the fluctuation of the geomagnetic field over three hour intervals. The lower the number the quieter the day. As you can see in the map below the higher the K-Index the further into the lower latitudes the aurora will penetrate (Sky & Telescope (June 1968) (spaceweather.com).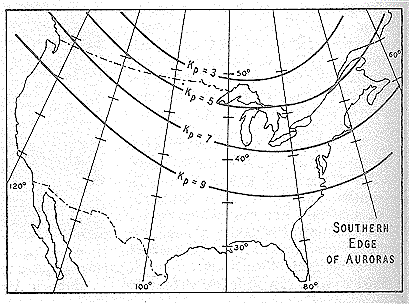 Last nights K-Index was 7 which if you look at the map shows the aurora oval making it into the mid-Mississippi valley with reports are far to the south as Alabama and Tennessee. Here is a picture taken in Alabama.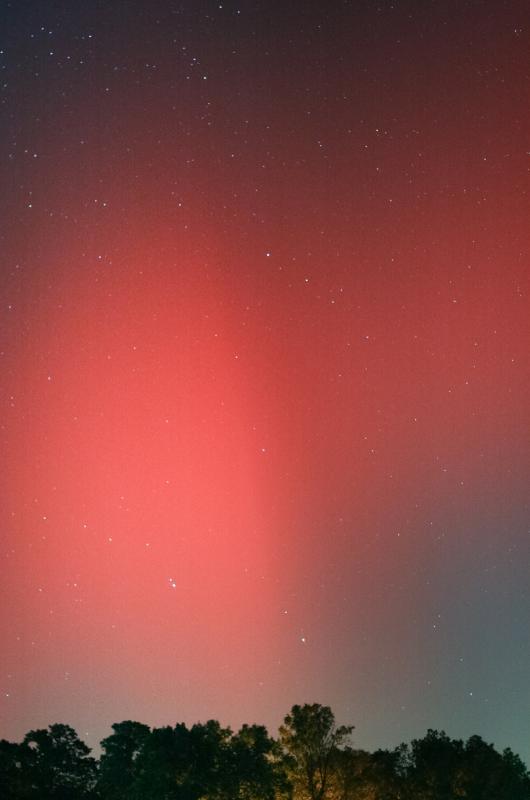 Jonathon Stone
Baileyton, AL
Head over the www.spaceweather.com to check out more pictures from across the country and to learn more about this unique display.
---
20111017
Persimmon Forecasts
I received a picture today showing a persimmon seed with a spoon inside.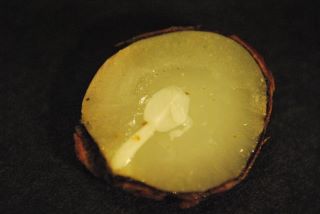 According to folklore(means hasn't been proven scientifically or disprove) that by cutting this seed open you can get an idea of what winter holds for us.
If you see a spoon, lots of heavy wet snow is forecasted
If you see a fork, powdery light snow and a mild winter
If you see a knife, bitter icy cutting winds for next several months.
The recommendation is to cut at least 10 seeds open to determine the outcome.
Let me know what your forecasts from the persimmon seeds!
---
20110928
Beautiful Fall Colors!!!!!
Here is a great explanation about what brings the colors out in the fall season.
Many people think that cold weather is solely responsible for the color change in leaves, but not so. Leaves begin to turn before we have any frosts. Change in coloring is the result of chemical processes which take place in the tree as the seasons change.
During the spring and summer a food-making process takes place in the leaves, within cells containing the pigment chlorophyll. This gives the leaf its green color. The chlorophyll absorbs energy from sunlight and uses it in transforming carbon dioxide and water to carbohydrates, such as sugars and starch.
In the fall the decrease in intensity and duration of sunlight, and the cooler temperatures cause the leaves to stop their food- making process. The chlorophyll breaks down, the green color disappears and the yellowish colors or other pigments already in the leaf become visible.
Autumn weather conditions favoring the most brilliant colors are warm sunny days and cool, but not freezing, nights. A few hard frosts can cause the leaves to wither and fall from the tree without changing color. The degree of color may also vary from tree to tree. Leaves directly exposed to the sun may turn red, while those on the shady side may be yellow. When warm, cloudy and rainy weather dominates the fall season, leaves tend to have less coloration. (This section compliments of NWS La Crosse)

Fall colors usually peak from mid October into early November across central and southeast Illinois.

---
20110927
Drought still here....
Even with the most recent rains over the past week excluding the rain last night and today the National Weather Service has released its drought impacts again. Here are the counties listed with drought conditions. Below you will also see what the classifications mean.
D2 (Severe Drought) -- 21 counties - Cass, Champaign, Christian, Clark, Coles, Cumberland, De Witt, Douglas, Edgar, Fulton, Logan, Macon, Mason, Menard, Morgan, Moultrie, Piatt, Sangamon, Schuyler, Scott, Shelby.
D1 (Moderate Drought) -- 8 counties - Crawford, Effingham, Jasper, Knox, McLean, Peoria, Tazewell, Vermilion.
D0 (Abnormally Dry) -- 6 counties - Clay, Lawrence, Marshall, Richland, Stark, Woodford
The categories of drought are defined as follows:

Abnormally Dry (D0) - Going into drought: short-term dryness slowing planting, growth of crops or pastures; fire risk above average. Coming out of drought: some lingering water deficits; pastures or crops not fully recovered.
Moderate Drought (D1) - Some damage to crops, pastures; fire risk high; streams, reservoirs, or wells low, some water shortages developing or imminent, voluntary water use restrictions requested.
Severe Drought (D2) - Crop or pasture losses likely; fire risk very high; water shortages common; water restrictions imposed.
Extreme Drought (D3) - Major crop/pasture losses; extreme fire danger; widespread water shortages or restrictions.
Exceptional Drought (D4) - Exceptional and widespread crop/pasture losses; exceptional fire risk; shortages of water in reservoirs, streams, and wells, creating water emergencies.

---
20110926
TWO YEARS!!!!
I can't believe it has been two years since I married my best friend. I couldn't have asked for a more wonderful women to spend the rest of my life with. Here is a picture from our wedding two years ago. I have to thank everyone who continue to make our lives so blessed.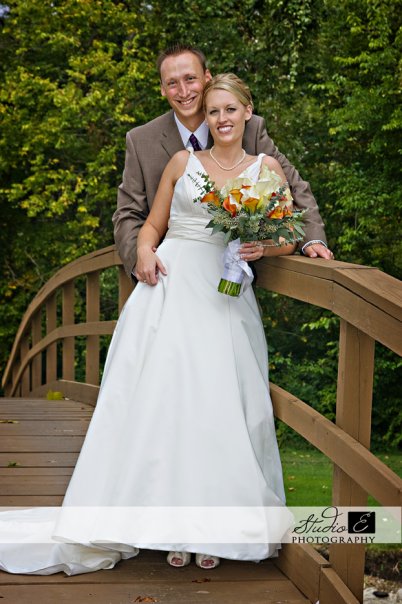 ---
20110925
Early Autumn Geomagetic Storm
A Geomagnetic Storm, now at the G2 (Moderate) level and now forecast to reach the G3 (Strong) level began following a shock arrival today (Sept 26) at 1237Z (8:37am, Eastern). This storm is a result of a Coronal Mass Ejection (CME) that erupted from the Sun on Saturday morning.
Customers who may be affected, power grid operators, satellite operators, commercial airlines, etc., have been notified and are taking appropriate actions to minimize any adverse impacts.
We're still early in the storm, waiting for the predicted higher levels of activity to occur and no impacts have yet been reported to SWPC – these will be contained in a For The Record that will follow this event at its completion.
We can consider this a near miss because we're only seeing the flanks of the CME. If this one had been headed directly at the Earth, then severe (G4) to extreme (G5) storming would have been likely. Also, the storm duration will be limited to about 12 hours, rather than the 24-36 hours that a direct hit could cause.
The active region responsible for the CME is moving into a more geo-effective position and will remain capable of sending more activity our way for several days. In the past 24 hours, a slight decrease in the frequency of activity has been noted, but the region remains capable of emitting strong storms.
The most likely locations for aurora from this storm are Europe and Asia, but activity could persist long enough for North American viewers. The maps below show likely visibility of aurora keyed to Green (G1), Yellow (G3), and Red (G5)
---
20110914
Dry weather….
As you all know it has been extremely dry across the area this summer. Here is a summary from the National Weather Service in Lincoln about the drought that is on going.
DROUGHT INFORMATION STATEMENT
NATIONAL WEATHER SERVICE LINCOLN IL
955 AM CDT THU SEP 15 2011
...SEVERE DROUGHT EXPANDS SOUTHEAST...
SYNOPSIS...
THE DRY CONDITIONS THAT HAVE BEEN AFFECTING THE AREA SINCE JULY
HAVE INTENSIFIED SOME ACROSS EAST CENTRAL ILLINOIS...AND ADJACENT
AREAS OF INDIANA. ACCORDING TO THE U.S. DROUGHT MONITOR RELEASED
ON SEPTEMBER 15...SEVERE DROUGHT CONDITIONS EXIST OVER A LARGE
PORTION OF CENTRAL AND EAST CENTRAL ILLINOIS. THIS WAS IN AN AREA
ROUGHLY BOUNDED BY THE I-74 CORRIDOR ON THE NORTH...AND FROM A
WINCHESTER TO MARSHALL LINE ON THE SOUTH. MODERATE DROUGHT
CONDITIONS EXTENDED SOUTHWARD INTO SOUTHERN ILLINOIS.
LOCAL AREA AFFECTED...
THE FOLLOWING COUNTIES ARE INCLUDED IN THE LATEST DROUGHT MONITOR:
* SEVERE DROUGHT /D2/ -- CASS...CHRISTIAN...CLARK...COLES...
  CUMBERLAND...DE WITT...DOUGLAS...EDGAR...FULTON...LOGAN...MACON...
  MASON...MENARD...MORGAN...MOULTRIE...PIATT...SANGAMON...
  SCHUYLER...SCOTT...SHELBY...TAZEWELL.
* MODERATE DROUGHT /D1/ -- CHAMPAIGN...CLAY...CRAWFORD...
  EFFINGHAM...JASPER...KNOX...LAWRENCE...MCLEAN...PEORIA...
  RICHLAND...VERMILION.
* ABNORMALLY DRY /D0/ -- MARSHALL...STARK...WOODFORD.
SUMMARY OF IMPACTS...
* STATE/LOCAL GOVERNMENT ACTIONS -- VOLUNTARY WATER CONSERVATION
  PROCEDURES CONTINUE IN DECATUR. LOCAL OFFICIALS REPORT THAT
  RECENT RAINFALLS HAVE ONLY BEEN ENOUGH TO BRIEFLY HALT THE
  LOWERING OF LAKE DECATUR LEVELS. MANDATORY CONSERVATION
  PROCEDURES MAY BE REQUIRED IN A MATTER OF WEEKS IF THE RAINFALL
  SITUATION DOES NOT IMPROVE.
* SOIL MOISTURE CONDITIONS -- CURRENT ANALYSIS FROM THE MIDWESTERN
  REGIONAL CLIMATE CENTER IN CHAMPAIGN INDICATES THAT WATER
  CONTENT IN THE TOP 4 INCHES OF SOIL...AS OF SEPTEMBER 14...IS
  GENERALLY AROUND A HALF TO 3/4 INCH...WITH THE HIGHER NUMBERS
  NORTH OF I-74. 
* AGRICULTURAL IMPACTS -- ACCORDING TO THE SEPTEMBER 12 SUMMARY
  FROM THE NATIONAL AGRICULTURAL STATISTICS SERVICE...60 PERCENT
  OF THE CORN CROP ACROSS THE STATE...AND 56 PERCENT OF THE
  SOYBEAN CROP...IS CONSIDERED TO BE IN FAIR CONDITION OR WORSE.
  PUMPKIN FARMERS ALSO REPORT THE PUMPKIN CROP WILL LIKELY BE
  LOWER THAN USUAL DUE TO THE DROUGHT. TOPSOIL MOISTURE OF VERY
  SHORT WAS REPORTED FROM 35 PERCENT TO 50 PERCENT OF THE AREA.
* FIRE IMPACTS -- NO WILDFIRE IMPACTS ARE CURRENTLY BEING
  REPORTED. SMOKY CONDITIONS THAT OCCURRED OVER EAST CENTRAL
  ILLINOIS ON WEDNESDAY WERE THE RESULT OF A LARGE WILDFIRE IN FAR
  NORTHEAST MINNESOTA.
CLIMATE SUMMARY...
RAINFALL FOR THE 7-DAY PERIOD ENDING ON WEDNESDAY MORNING RANGED
FROM A HALF TO 1 INCH...IN AN AREA ROUGHLY BOUNDED BY
WINCHESTER...BLOOMINGTON...AND SHELBYVILLE. LESSER AMOUNTS OF A
TENTH TO QUARTER INCH WERE COMMON ALONG AND NORTHWEST OF THE
ILLINOIS RIVER...AS WELL AS EAST CENTRAL AND SOUTHEAST ILLINOIS.
MORE BENEFICIAL RAIN FELL ON WEDNESDAY AS WELL...WITH A HALF TO 1
INCH FALLING FURTHER SOUTH...PRIMARILY ALONG AND SOUTH OF I-70.
HERE ARE SOME RAINFALL STATISTICS SINCE JULY 1.
LOCATION          JULY RAIN          AUG RAIN       SEP 1-14
========          ==============   =============    ========
DECATUR           0.84 /21 PCT/    0.15 / 4 PCT/      1.86
EFFINGHAM         4.13 /93 PCT/    2.46 /88 PCT/      0.71
FLORA             5.11 /124 PCT/   0.52 /16 PCT/      0.48
GALESBURG         0.97 /22 PCT/    1.19 /30 PCT/      0.65
HAVANA            2.37 /59 PCT/    0.14 / 4 PCT/      1.01
JACKSONVILLE      1.37 /35 PCT/    0.07 / 2 PCT/      0.80
LAWRENCEVILLE AP  3.86 /87 PCT/    0.56 /17 PCT/      0.83
LINCOLN           3.02 /69 PCT/    0.55 /14 PCT/      1.17
MATTOON           1.82 /43 PCT/    0.66 /23 PCT/      0.78
NORMAL            4.25 /102 PCT/   2.30 /61 PCT/      0.87
PEORIA            1.66 /41 PCT/    1.51 /47 PCT/      1.18
PRINCEVILLE       3.93 /96 PCT/    2.04 /54 PCT/      0.84
SPRINGFIELD       1.08 /31 PCT/    0.25 / 7 PCT/      0.95
URBANA            1.58 /40 PCT/    1.33 /34 PCT/      1.10
WINDSOR           1.88 /47 PCT/    1.02 /34 PCT/      0.60
PRECIPITATION/TEMPERATURE OUTLOOK...
RAINFALL CHANCES APPEAR MOST LIKELY LATER THIS UPCOMING WEEKEND...
INTO THE MIDDLE OF NEXT WEEK. CURRENT FORECASTS SUGGEST THE AREAS
FROM I-72 SOUTHWARD HAVING THE BEST POTENTIAL FOR SIGNIFICANT
RAINFALL. AFTER A PERIOD OF COOL WEATHER...WARMER CONDITIONS WILL
DEVELOP THIS WEEKEND AND CONTINUE INTO NEXT WEEK...WITH HIGHS IN
THE 70S TO AROUND 80 DEGREES. 
THE 8 TO 14 DAY OUTLOOK...FROM SEPTEMBER 22 THROUGH 28...CALLS FOR
ABOVE NORMAL TEMPERATURES...AND BELOW NORMAL RAINFALL. 
THE OUTLOOK FOR OCTOBER CALLS FOR ABOVE NORMAL TEMPERATURES...AND
BELOW NORMAL RAINFALL. 
THE 90 DAY OUTLOOK FOR OCTOBER THROUGH DECEMBER CALLS FOR ABOVE
NORMAL TEMPERATURES...AND BELOW NORMAL PRECIPITATION. 
THE SEASONAL DROUGHT OUTLOOK...ISSUED SEPTEMBER 15 AND VALID
THROUGH THE END OF THE YEAR...CALLS FOR THE DROUGHT TO PERSIST
OVER THE AREA. 
HYDROLOGICAL SUMMARY AND OUTLOOK...
SMALLER STREAMS ACROSS CENTRAL ILLINOIS ARE SEEING STREAM FLOW
VALUES AROUND THE 15TH TO 25TH PERCENTILES FOR MID SEPTEMBER.
VALUES BELOW THE 10TH PERCENTILE ARE CONSIDERED MUCH BELOW NORMAL.
HERE ARE SOME STREAM FLOW OBSERVATIONS FROM AROUND THE AREA...AS 
OF THE MORNING OF SEPTEMBER 15.
  RIVER/STREAM              SEP 15       LONG TERM 
    LOCATION                /CFS/       MEDIAN /CFS/
  EMBARRAS RIVER
    CAMARGO                 0.63           6.9
    STE MARIE                72            81
  ILLINOIS RIVER
    HENRY                   3870          6010
  KASKASKIA RIVER
    CHESTERVILLE             16            18
    SHELBYVILLE              29            34
    COWDEN                   76            69
  LITTLE WABASH RIVER
    EFFINGHAM                0.11          2.1
    CLAY CITY                16            26
  MACKINAW RIVER
    CONGERVILLE              14            16
    GREEN VALLEY             55            83
  SANGAMON RIVER
    FISHER                   7.9           5.7
    MONTICELLO               7.2           21
    DECATUR                  1.3           2.6
    RIVERTON                 86            129
    OAKFORD                  443           516
  SPOON RIVER
    LONDON MILLS             62            75
    SEVILLE                  98            146
  VERMILION RIVER
    DANVILLE                 46            79
LAKE/RESERVOIR LEVELS...     9/15 OBSERVED
    CLINTON LAKE             688.9   
    LAKE DECATUR             612.3
    LAKE SHELBYVILLE         599.9
    LAKE SPRINGFIELD         558.1
NEXT ISSUANCE DATE...
THIS PRODUCT WILL BE UPDATED ON THURSDAY SEPTEMBER 22.
&&
RELATED WEBSITES...
ALL ADDRESSES ARE IN LOWER CASE.
LOCAL WEATHER...WATER...AND CLIMATE INFORMATION...
CENTRAL ILLINOIS NWS OFFICE..........HTTP://WWW.WEATHER.GOV/ILX
ADDITIONAL RIVER AND CLIMATE INFORMATION...
U.S. GEOLOGICAL SURVEY...............HTTP://WATER.USGS.GOV
ROCK ISLAND CORPS OF ENGINEERS.......HTTP://WWW.MVR.USACE.ARMY.MIL
ST LOUIS CORPS OF ENGINEERS..........HTTP://WWW.MVS.USACE.ARMY.MIL
ILLINOIS STATE CLIMATOLOGIST.........
  HTTP://WWW.ISWS.ILLINOIS.EDU/ATMOS/STATECLI 
ILLINOIS DROUGHT TASK FORCE..........
  HTTP://WWW.ISWS.ILLINOIS.EDU/HILITES/DROUGHT
CLIMATE PREDICTION CENTER............HTTP://WWW.CPC.NCEP.NOAA.GOV 
U.S. DROUGHT MONITOR.................HTTP://DROUGHTMONITOR.UNL.EDU 
U.S. DROUGHT PORTAL..................HTTP://WWW.DROUGHT.GOV 
U.S. DROUGHT IMPACT REPORTER.........HTTP://DROUGHTREPORTER.UNL.EDU
ACKNOWLEDGMENTS...
THE DROUGHT MONITOR IS A MULTI-AGENCY EFFORT INVOLVING NOAA/S
NATIONAL WEATHER SERVICE AND NATIONAL CLIMATIC DATA CENTER...THE
U.S. DEPARTMENT OF AGRICULTURE...STATE AND REGIONAL CENTER 
CLIMATOLOGISTS...AND THE NATIONAL DROUGHT MITIGATION CENTER.
INFORMATION FOR THIS STATEMENT HAS BEEN GATHERED FROM NWS AND FAA
OBSERVATION SITES...STATE COOPERATIVE EXTENSION SERVICES...THE U.S.
ARMY CORPS OF ENGINEERS...AND USGS.
Also, the cold air has started to filter in and lows this morning fell into the upper 30's across most of central Illinois. Here are the lows from this morning, Lows from this morning...Bloomington 39, Danville 37, Champaign 42, Lincoln 37, Paris 41, Mattoon 39, Effingham 43, Carlinville 39, Taylorville 39, Decatur 42, Springfield 40, Jacksonville 41...Lincoln this morning tied a record low of 37 that was set in 2007.
20110909
La Nina Returns…..
I was looking through some articles and though this might be interesting. This tells us a little about why the weather has been so unusual lately. The map below is what impacts La Nina usually has on the lower 48 and for us here in central Illinois that usually means above average precipitation and slightly above average temperatures. During La Nina years we are usually in the battle ground of winter precipitation as the polar jet sinks into northern Illinois and the warmer air from the south migrates north. That set up usually mean icy conditions with a definitive cut off to snow. We will have to watch how the jet streams start to set up over the next couple of months but this could mean we might see a very interesting winter with above average snows to our north.
This is also bad news for our friends across the Deep South. La Nina usually means drought conditions from Texas into the southeastern states. That's because the jet rides out of the Pacific and drives the storms into the Midwest while the south stays warm and dry. Along the west coast a ridge typically develops which allows troughing across the northern plains so the Dakotas are usually put in the deep freeze and see snow. Only time will tell how this winter will play out.

NOAA's Climate Prediction Center: La Niña is back
September 8, 2011
Dry lake bed.
Download here. (Credit: NOAA)
La Niña, which contributed to extreme weather around the globe during the first half of 2011, has re-emerged in the tropical Pacific Ocean and is forecast to gradually strengthen and continue into winter. Today, forecasters with NOAA's Climate Prediction Center upgraded last month's La Niña Watch to a La Niña Advisory.
NOAA will issue its official winter outlook in mid-October, but La Niña winters often see drier than normal conditions across the southern tier of the United States and wetter than normal conditions in the Pacific Northwest and Ohio Valley.
"This means drought is likely to continue in the drought-stricken states of Texas, Oklahoma and New Mexico," said Mike Halpert, deputy director of the Climate Prediction Center. "La Niña also often brings colder winters to the Pacific Northwest and the northern Plains, and warmer temperatures to the southern states."
Climate forecasts from NOAA's National Weather Service give American communities advance notice of what to expect in the coming months so they can prepare for potential impacts. This service is helping the country to become a Weather Ready Nation at a time when extreme weather is on the rise.
Seasonal hurricane forecasters factored the potential return of La Niña into NOAA's updated 2011 Atlantic hurricane season outlook, issued in August, which called for an active hurricane season. With the development of tropical storm Nate this week, the number of tropical cyclones entered the predicted range of 14-19 named storms.

The strong 2010-11 La Niña contributed to record winter snowfall, spring flooding and drought across the United States, as well as other extreme weather events throughout the world, such as heavy rain in Australia and an extremely dry equatorial eastern Africa.
Average sea surface temperature (SST) anomalies (degree C) for the week centered on Aug. 31, 2011, indicate the re-emergence of La Niña in the tropical Pacific Ocean.
Download here. (Credit: NOAA)
La Niña is a naturally occurring climate phenomenon located over the tropical Pacific Ocean and results from interactions between the ocean surface and the atmosphere. During La Niña, cooler-than-average Pacific Ocean temperatures influence global weather patterns. La Niña typically occurs every three-to-five years, and back-to-back episodes occur about 50 percent of the time. Current conditions reflect a re-development of the June 2010-May 2011 La Niña episode.
NOAA's National Weather Service is the primary source of weather data, forecasts and warnings for the United States and its territories. NOAA's National Weather Service operates the most advanced weather and flood warning and forecast system in the world, helping to protect lives and property and enhance the national economy.
---
20110906
Hello cool mornings,
It's been a crazy start to September so far. The first three days we saw highs in the upper 90's and a little over 100. This is about 16 degrees warmer then normal. Then today and the past couple day's highs have remained in the 70's which is about 10 to 12 degrees cooler then normal. My forecast again keeps a cooler then normal until we get into the end of the weekend when we could see highs pushing near 80. What got me thinking about the extreme range of temperatures was this mornings low's across the Midwest. You have to go back to the middle of May of this year to find these temperatures we saw this morning. Lows in the 30's where reported in some locations in Wisconsin. There was frost reported this weekend across northern Minnesota. Tonight there are frost advisories in the UP of Michigan. I know it's hard to believe but its time to break out the hooded sweatshirts and long pants. We are not out of the woods yet for hot weather as the start of September has reminded us but with football in season and the farmers in the fields the temperatures out side are all pointing to autumn's arrival on September 23rd at 4:05 CDT.
Here is a map of temperatures this morning at a little before 7 AM. Notice the upper 30's across Wisconsin.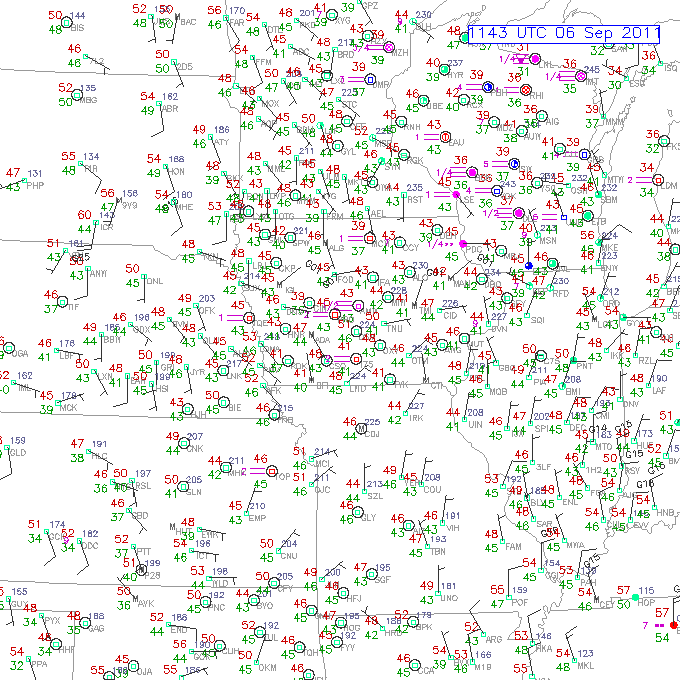 ---
20110901
Hello September and day one of Meteorological Fall.....
It has felt more like the middle of July instead of the first of September. Here are some more stats about today and tomorrow.
Springfield offically broke a record today....102 is the new record breaking the old one of 101(1984). This also breaks the all time high temp for the month of September. This was the first time a 100 degree reading was recorded at Springfield for 16 years since July 14th 1995. Charleston also joined the record breaking party with a high of 99 breaks old one of 97 (1943). Decatur got to 100 today which is 2 degrees shy of the record of 102 (1953). Tomorrows records...Spi 99 (1953), Lincoln 101 (1953), Decatur 102 (1913), Charleston 103 (1953).
Tomorrow's high's will be just as warm as today and some high schools have already moved their football games back to 8 pm so make sure you check ahead to see if the game you are planning on attending for kickoff times. We are finally going to see a huge cool down once we get into the end of the holiday weekend with highs dropping into the 70's!
Also, we are watching the Gulf of Mexico as a tropical depression number 13 that could continue to develop and move slowly along the coast. Heavy rains are the main threat as of now. The current location is a little over 200 mile southeast of the mouth of the Mississippi River.
Sizzle Out
---
20110825
Here is the latest update from the National Hurricane Center on Irene.......
HURRICANE IRENE ADVISORY NUMBER 22
NWS NATIONAL HURRICANE CENTER MIAMI FL AL092011
500 PM EDT THU AUG 25 2011

...IRENE STILL BATTERING ABACO ISLAND...NEW WATCHES AND WARNINGS
ISSUED FOR THE EAST COAST OF THE UNITED STATES...


SUMMARY OF 500 PM EDT...2100 UTC...INFORMATION
----------------------------------------------
LOCATION...27.0N 77.3W
ABOUT 575 MI...930 KM S OF CAPE HATTERAS NORTH CAROLINA
MAXIMUM SUSTAINED WINDS...115 MPH...185 KM/H
PRESENT MOVEMENT...NNW OR 335 DEGREES AT 14 MPH...22 KM/H
MINIMUM CENTRAL PRESSURE...950 MB...28.05 INCHES


WATCHES AND WARNINGS
--------------------
CHANGES IN WATCHES AND WARNINGS WITH THIS ADVISORY...

THE GOVERNMENT OF THE BAHAMAS HAS DISCONTINUED THE HURRICANE WARNING
FOR THE CENTRAL BAHAMAS.

A TROPICAL STORM WARNING HAS BEEN ISSUED FOR THE COAST OF SOUTH
CAROLINA FROM EDISTO BEACH NORTHWARD TO LITTLE RIVER INLET.

A HURRICANE WARNING HAS BEEN ISSUED FOR THE COAST OF NORTH CAROLINA
FROM LITTLE RIVER INLET NORTHWARD TO THE VIRGINIA BORDER...
INCLUDING THE PAMLICO...ALBEMARLE...AND CURRITUCK SOUNDS

A HURRICANE WATCH HAS BEEN ISSUED FOR THE EAST COAST OF THE UNITED
STATES FROM THE VIRGINIA/NORTH CAROLINA BORDER NORTHWARD TO SANDY
HOOK NEW JERSEY...INCLUDING DELAWARE BAY...AND THE CHESAPEAKE
BAY SOUTH OF SMITH POINT.

A TROPICAL STORM WATCH HAS BEEN ISSUED FOR THE CHESAPEAKE BAY FROM
SMITH POINT NORTHWARD AND THE TIDAL POTOMAC.

SUMMARY OF WATCHES AND WARNINGS IN EFFECT...

A HURRICANE WARNING IS IN EFFECT FOR...
* THE NORTHWESTERN BAHAMAS
* THE COAST OF NORTH CAROLINA FROM LITTLE RIVER INLET NORTHWARD TO
THE VIRGINIA BORDER...INCLUDING THE PAMLICO...ALBEMARLE...AND
CURRITUCK SOUNDS

A HURRICANE WATCH IS IN EFFECT FOR...
* THE VIRGINIA/NORTH CAROLINA BORDER NORTHWARD TO SANDY HOOK NEW
JERSEY...INCLUDING DELAWARE BAY...AND CHESAPEAKE BAY SOUTH OF SMITH
POINT.

A TROPICAL STORM WARNING IS IN EFFECT FOR...
* NORTH OF EDISTO BEACH SOUTH CAROLINA TO LITTLE RIVER INLET

A TROPICAL STORM WATCH IS IN EFFECT FOR...
* CHESAPEAKE BAY FROM SMITH POINT NORTHWARD AND THE TIDAL POTOMAC.

A HURRICANE WARNING MEANS THAT HURRICANE CONDITIONS ARE EXPECTED
SOMEWHERE WITHIN THE WARNING AREA. A WARNING IS TYPICALLY ISSUED
36 HOURS BEFORE THE ANTICIPATED FIRST OCCURRENCE OF
TROPICAL-STORM-FORCE WINDS...CONDITIONS THAT MAKE OUTSIDE
PREPARATIONS DIFFICULT OR DANGEROUS. PREPARATIONS TO PROTECT LIFE
AND PROPERTY SHOULD BE RUSHED TO COMPLETION.

A TROPICAL STORM WARNING MEANS THAT TROPICAL STORM CONDITIONS ARE
EXPECTED SOMEWHERE WITHIN THE WARNING AREA WITHIN 36 HOURS.

A HURRICANE WATCH MEANS THAT HURRICANE CONDITIONS ARE POSSIBLE
WITHIN THE WATCH AREA. A WATCH IS TYPICALLY ISSUED 48 HOURS
BEFORE THE ANTICIPATED FIRST OCCURRENCE OF TROPICAL-STORM-FORCE
WINDS...CONDITIONS THAT MAKE OUTSIDE PREPARATIONS DIFFICULT OR
DANGEROUS.

A TROPICAL STORM WATCH MEANS THAT TROPICAL STORM CONDITIONS ARE
POSSIBLE WITHIN THE WATCH AREA...GENERALLY WITHIN 48 HOURS.

INTERESTS ELSEWHERE IN THE MID-ATLANTIC STATES AND NEW ENGLAND
SHOULD MONITOR THE PROGRESS OF IRENE.

FOR STORM INFORMATION SPECIFIC TO YOUR AREA IN THE UNITED
STATES...INCLUDING POSSIBLE INLAND WATCHES AND WARNINGS...PLEASE
MONITOR PRODUCTS ISSUED BY YOUR LOCAL NATIONAL WEATHER SERVICE
FORECAST OFFICE. FOR STORM INFORMATION SPECIFIC TO YOUR AREA OUTSIDE
THE UNITED STATES...PLEASE MONITOR PRODUCTS ISSUED BY YOUR NATIONAL
METEOROLOGICAL SERVICE.


DISCUSSION AND 48-HOUR OUTLOOK
------------------------------
AT 500 PM EDT...2100 UTC...THE CENTER OF HURRICANE IRENE WAS LOCATED
NEAR LATITUDE 27.0 NORTH...LONGITUDE 77.3 WEST. IRENE IS MOVING
TOWARD THE NORTH-NORTHWEST NEAR 14 MPH...22 KM/H. THIS MOTION IS
EXPECTED TO CONTINUE THROUGH TONIGHT WITH A TURN TOWARD THE NORTH
BY EARLY FRIDAY. ON THE FORECAST TRACK...THE CORE OF THE
HURRICANE WILL MOVE NORTH OF THE NORTHWESTERN BAHAMAS TONIGHT...AND
PASS WELL OFFSHORE OF THE EAST COAST OF CENTRAL AND NORTH FLORIDA
TONIGHT AND EARLY FRIDAY. THE HURRICANE IS FORECAST TO APPROACH
THE COAST OF NORTH CAROLINA ON SATURDAY.

MAXIMUM SUSTAINED WINDS ARE NEAR 115 MPH...185 KM/H...WITH HIGHER
GUSTS. IRENE IS A CATEGORY THREE HURRICANE ON THE SAFFIR-SIMPSON
HURRICANE WIND SCALE. SOME STRENGTHENING IS POSSIBLE TONIGHT AND
FRIDAY.

IRENE IS A LARGE TROPICAL CYCLONE. HURRICANE FORCE WINDS EXTEND
OUTWARD UP TO 80 MILES...130 KM...FROM THE CENTER...AND TROPICAL
STORM FORCE WINDS EXTEND OUTWARD UP TO 290 MILES...465 KM.

THE LATEST MINIMUM CENTRAL PRESSURE REPORTED BY RECONNAISSANCE
AIRCRAFT IS 950 MB...28.05 INCHES.


HAZARDS AFFECTING LAND
----------------------
WIND...HURRICANE AND TROPICAL STORM CONDITIONS ARE OCCURRING OVER
PORTIONS OF THE NORTHWESTERN BAHAMAS...BUT SHOULD BEGIN TO DIMINISH
OVERNIGHT. TROPICAL STORM FORCE WINDS ARE EXPECTED WITHIN THE
SOUTHERN PORTION OF THE WARNING AREA ALONG THE UNITED STATES EAST
COAST BY LATE FRIDAY. HURRICANE FORCE WINDS ARE EXPECTED TO FIRST
REACH THE HURRICANE WARNING AREA BY SATURDAY.

STORM SURGE...IN THE NORTHWESTERN BAHAMAS IN AREAS OF ONSHORE WINDS
NEAR THE CENTER OF IRENE...AN EXTREMELY DANGEROUS STORM SURGE WILL
RAISE WATER LEVELS BY AS MUCH AS 7 TO 11 FEET ABOVE NORMAL TIDE
LEVELS OVER THE NORTHWESTERN BAHAMAS. WATER LEVELS WILL GRADUALLY
SUBSIDE OVER THE CENTRAL BAHAMAS TONIGHT. NEAR THE COAST...THE
SURGE WILL BE ACCOMPANIED BY LARGE AND DANGEROUS WAVES.

STORM SURGE...ALONG THE EASTERN COAST OF THE UNITED STATES...AN
EXTREMELY DANGEROUS STORM SURGE WILL RAISE WATER LEVELS BY AS MUCH
AS 5 TO 10 FEET ABOVE GROUND LEVEL WITHIN THE HURRICANE WARNING
AREA INCLUDING THE ABLEMARLE AND PAMLICO SOUNDS. NEAR THE
COAST...THE SURGE WILL BE ACCOMPANIED BY LARGE...DESTRUCTIVE... AND
LIFE-THREATENING WAVES. IRENE ALSO HAS THE POTENTIAL TO PRODUCE
SIGNIFICANT STORM SURGE FLOODING WITHIN THE HURRICANE WATCH AREA
INCLUDING PORTIONS OF THE CHESAPEAKE BAY...TRIBUTARIES...AND THE
EASTERN SHORE.

RAINFALL...IRENE IS EXPECTED TO PRODUCE RAINFALL ACCUMULATIONS OF 6
TO 12 INCHES OVER THE NORTHERN BAHAMAS. STORM TOTAL RAINFALL
AMOUNTS OF 6 TO 10 INCHES WITH ISOLATED MAXIMUM AMOUNTS OF 15
INCHES IS EXPECTED OVER PORTIONS OF EASTERN NORTH CAROLINA AND IN
THE MID-ATLANTIC STATES ALONG THE PATH OF IRENE.

SURF...SWELLS GENERATED BY IRENE ARE AFFECTING PORTIONS OF THE COAST
OF THE SOUTHEASTERN UNITED STATES. THESE SWELLS WILL CAUSE
LIFE-THREATENING SURF AND RIP CURRENT CONDITIONS.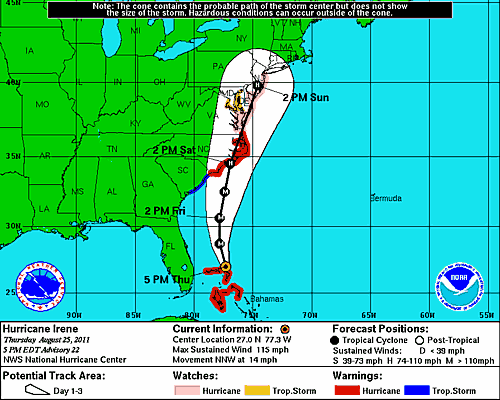 ---
20110824
Irene...
Irene....
4 pm CDT update shows Irene in the Bahamas...
30 miles ESE Long Island Bahamas
215 miles SE Nassau
Max sustained winds are at 120 mph making Irene a CAT 3 hurricane. Irene is moving NW at 12 mph and is expected to make a N NE turn Thursday into Thursday night. Hurricane force winds (+74 mph) are extended 60 miles from the center of circulation and tropical force winds (39 to 73 mph) extend 230 miles. The map below shows possible brush across the Outer Banks of North Carolina as a major Hurricane. Then it will head up the coast and be near the Jersey Shore and Long Island. The track can change but models are really starting correlate and come in line as this hurricane ride right up the gulf stream.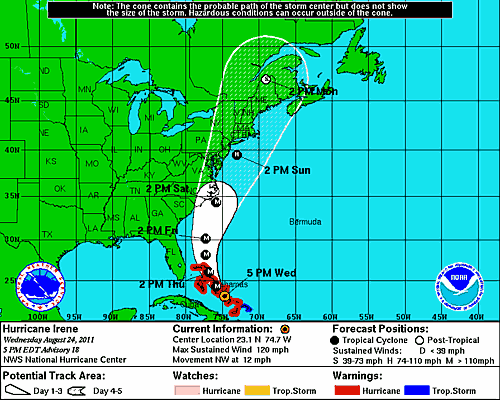 ---
20110823
Irene...
It's been a while since I have updated the blog and for that I apologize. Tonight I want to focus on Irene and the rest of the week I post updates about Irene and the track.
Irene's current location as of 7 pm CDT 50 miles WSW of Grand Turk. The maximum sustained winds are at 90 mph which means this is a category 1 hurricane. If winds get above 95 then it would become a cat 2. The storm is moving WNW at 9 mph and the central pressure recorded is 969 mb or 28.61". According the National Hurricane Center hurricane force winds are extending 40 miles from the center of circulation (winds of 74+ mph). Tropical Storm force winds extend 205 miles from the center of circulation (winds of 39 to 73 mph). The current forecast models bring Irene up the east coast over the next couple of days and it looks like the Outer Banks in North Carolina could get a glancing blow from Irene sometime on Saturday afternoon. Then Irene if the current track holds would move along the Mid-Atlantic coast before moving into southern New Jersey and then Long Island. Remember that this track could change and its needs to be watched closely with most models still trending a little further to the east tonight.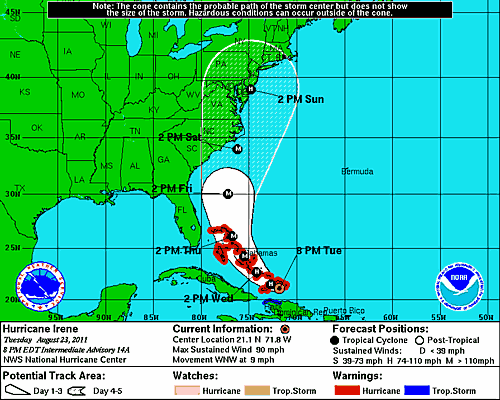 ---
20110809
Weather is changing!!!!
We are going into a pattern change and by that I mean cooler and drier air is settling in our direction. After a hot and humid July we started the this month out hot and humid but now a cold front is working its way across the CI and Canadian high pressure will set up shop. This high will bring a northwesterly flow at the surface and aloft which will drive high temperatures back into the upper 70's tomorrow and keep highs in the lower 80's through the weekend. A system will try and work its way into the CI for the weekend but I think what we will see is some scattered storms on Saturday afternoon. That system will reinforce the cooler air and keep highs in the lower 80's going into next week. Enjoy the cooler temps!
---
20110803
Hot and Humid,
The two words to title this blog entry describe the month of July perfectly. Here at WAND-Stormcenter 17 we recorded 21 days at or above 90. The hottest day of the month was on July 20th when the mercury hit 99. Listed below is how the month finished compaired to normal.
Recorded High Average: 91.7 Recorded Low Average: 73.5
Normal High Average: 87.8 Normal Low Average: 64.6
---------------------------------------------------------------------------------------------------
+3.9 +8.9
Recorded Mean Temp: 82.6
Normal Mean Temp: 76.7
------------------------------------------
+5.9
We were unusually hot for the month but we didn't break the record for mean temp which still remains at 84.1 set in 1936. The coolest July takes us back to 1971 when the recorded mean temp was 72.2.
Not only did we deal with the heat but it has been abnormally dry in most places. Here at the station we only picked up .57" of total precipitation for the month of July. In July the average precipitation is around 3.61". That means we ended up -3.04" below normal. We can tell by just looking at the burnt grass in our yards. The driest July on record in Decatur takes us to 1916 when only .11" of rain fell.
Here are a couple articles put out by the National Weather Service talking about the heat and humidity with some stats from other areas in central Illinois.
http://www.crh.noaa.gov/news/display_cmsstory.php?wfo=ilx&storyid=71491&source=0
We are not the only ones dealing with the heat and dry weather. The lone star state has has its fair share of heat and drought this season. In the city of Dallas they have been at or above 100 for 33 straight days and it looks like number 34 will be tomorrow. This current heat wave ranks second for the city behind the current record of 42 days set in 1980 when temps spiked above 100 on June 23 and continued until Aug 3. Here is a graphic showing the other records for the city.
Dallas/Fort Worth - Annual and Consecutive 100° Days Click Here for Waco
Greatest Annual
Rank
# of Days
Year
1
69
1980
2
56
1998
3
52
1954
4
48
1956
5
46
2000
6
44
1952
7
43
2006
8
(tie)
40
2011*
40
1951
10
38
1963

* through August 3

Greatest Consecutive
Rank
# of Days
Dates
1
42
Jun 23 - Aug 3, 1980
2
33
Jul 2 - Aug 3, 2011 *
3
29
Jul 6 - Aug 3, 1998
4
25
Aug 2-26, 1952
5
24
Jul 28 - Aug 20, 1999
6
20
Jul 9-28, 1954
7
19
Aug 8-26, 2006
8
(tie)
18
Jul 31 - Aug 17, 2010
18
Jul 2-19, 1978
10
17
Aug 2-18, 1956

* still active

Least Annual
Rank
# of Days
Year
1
(tie)
0
1973
0
1906
3
(tie)
1
2004
1
2002
1
1992
1
1920
1
1919
1
1915
1
1908
1
1905
1
1904
1
1903

Greatest Number of Days in a Month
Rank
# of Days
Month/Year
1
31
Jul 1980
2
30
Jul 2011
3
28
Jul 1998
4
(tie)
27
Aug 1952
27
Aug 2000
6
26
Aug 1999
7
(tie)
25
Aug 2006
25
Jul 1954
25
Aug 1951
10
23
Jul 1978
Sizzle Out!
---
20110718
July has been a scorcher!!!!!
Looking at the first 18 days of July it's not hard to spot how hot the temperatures have been. The highest temperature recorded at least here at WAND-Stormcenter 17 was in July 2nd of 96. The coolest high was recorded on July 13th of 83. The thing that has been lacking so for this July has been precipitation we have only recorded .27" for the month. The average for the month of July is 3.61 up to this point the normal precipitation should be a little over 2". This means we are running 1.73" behind for the month of July. Here is a break down below of how we stack up to normal this year.
Sorry I haven't written much lately as I have been busy working on my staycation packages.
July 2011
Recorded High: 90.3 Recorded Low: 72
Normal High: 87.7 Normal Low: 64.3
--------------------- --------------------------
+2.6 above average +7.7 above average
July Recorded Mean: 81.1
July Normal Mean: 76
---------------------------------------
+5.1 above normal
AS OF July 18th
I will update this information after the month is over!!!!!
---
20110708
I found this and thought this was interesting as we have no reason to complain about the heat early this summer.
The July 1936 Heat Wave
July marks the 75th anniversary of one of the hottest periods on record across central and southeast Illinois.
July 1936, part of the "Dust Bowl", produced one of the hottest summers on record across the country, especially across the Plains, Upper Midwest, and Great Lakes regions. Nationally, about 5,000 people died from the heat. The heat was accentuated due to a prolonged drought that was affecting the region, and poor farming methods which left little vegetation to help mitigate the hot temperatures. In Illinois, many locations saw peak temperatures in excess of 110 degrees at the height of the heat wave, with all-time high temperature records established during this period.
Some of the records from the summer of 1936 that still stand:
Sp, ringfield:
4 of its 10 hottest days on record occurred during July 1936, including an all-time high of 110 degrees on the 14th (which was later broken on July 14, 1954, with a high of 112).
Highs reached at least 100 degrees on 29 different days that year, including a record 12 consecutive days from July 4-15th. In comparison, no 100 degree days have been observed in the last 15 years.
Low temperatures were in excess of 80 degrees nearly every day from the 7-14th. July 13th and 14th, as well as the 26th, had lows of only 84 degrees. These were the hottest nights on record in Springfield.
The Weather Bureau climate summary for that month reported that 30 people in Springfield died directly from the heat, and was a contributing factor in 20 other deaths.

Peoria:
5 of the 6 hottest days on record in Peori, a occurred from July 11-15th.
The all-time high of 113 degrees was reported on the 15th, and broke the previous all-time record by 6 degrees.
There were 23 days in 1936 which reported highs of 100 degrees or higher. This includes 14 consecutive days from the 4th through the 17th.
The monthly mean temperature of 84.3 degrees was 3 degrees higher than any other month on record.
Climate Statistics from July 1936
Location
Daily Mean
Temperature
(°F)
Average
High Temperature
(°F)
Highest
Temperature
(°F)
Days
>= 100°F
Notable
Occurrences
Bloomington
84.2
99.8
114 on 15th
(all-time record)
17
Highs >= 100 from the 4-17th.
3 days with highs 110 or higher (12th, 14th, 15th).
Charleston
84.7
99.0
,
110 on 14th and 15th
(all-time record)
15
Highs >= 105 from 6-15th.
7 of top 10 highs occurred during this period.
Danville
82.1
98.8
112 on 14th
(all-time record)
15
7 of top 10 highs occurred during this period.
3 days with highs 110 or higher (11th, 14th, 15th).
Decatur
84.1
98.9
110 on 14th
(2nd highest on record)
17
Highs >= 100 from 4-17th; low of 80 on 15th.
Was all-time record high until 7/14/1954 (113 degrees).
Galesburg
84.0
95.7
112 on 15th
(all-time record)
17
Highs >= 100 from the 4-17th.
Low of 83 on 14th and 15th.
Jacksonville
84.0
100.0
111 on 14th
(tied for 3rd highest on record)
18
Highs >= 100 from the 4-17th.
Low of 81 on the 8th.
Lincoln
85.1
100.1
113 on 15th
(all-time record)
17
Highs >= 100 from the 4-17th.
4 straight days of 110 or higher (12-15th).
Olney
85.1
99.9
112 on 14th and 15th
(all-time record)
17
Highs >= 105 from 6-15th.
4 days with 110 or higher (8th, 12th, 14-15th).
Palestine
85.0
99.2
112 on 14th
(2nd highest on record)
14
Highs >= 105 from 6-15th; low of 82 on 15th.
Was all-time record high until 7/14/195, 4 (114 degrees).
Peoria
84.3
98.9
113 on 15th
(all-time record)
17
Highs >= 100 from the 4-17th.
5 of the 6 hottest days on record in occurred from July 11-15th.
Rushville
85.9
100.6
113 on 15th
(all-time record)
18
Highs >= 100 from the 4-17th; low of 85 on 26th.
3 straight days of 110 or higher (13-15th).
Springfield
86.2
98.3
110 on 14th
(2nd highest on record)
17
Highs >= 100 from the 4-15th.
Was all-time record high until 7/14/1954 (112 degrees).
Urbana
83.0
95.9
108 on 14th
(2nd highest on record)
13
Low of 80 on 8th.
7 of top 10 highs occurred during the month.
Windsor
83.9
98.0
111 on 14th
(all-time record)
14
Highs >= 100 from the 5-15th.
Low of 81 on 15th.
---
---
20110707
It's hard to say goodbye….
Life moves at a very past pace and if we don't take time to enjoy it before we slow down the race is over. I lost a very important person in my life on the 4th of July. My grandmother Alice Fultz was a huge part in who I am today. When I was little her and my Grandfather worked at a golf course near Sullivan called Timberlake. My grandfather was the greens keeper and my grandma would work in the pro shop sometimes. When I got older she loved to go out on the course with me and ride in the cart and just watch me play. Golf has been a big part in my life like most of you know as my Dad taught me how to play and when he couldn't take me in the summer to the course I would stay at my grandma's house and just walk across the street. I think the course now will mean a little more because I know that I will think about her every time I strap on the golf bag and hit the links. I want to thank all of you who send me kind words during this time and I want you to know that means a lot. I know that my grandma is watching over us with my grandpa right next to her. Thanks grandma for all that you have done for me and I will miss you very much!
---
20110705
I hope all of you had a great 4th of July. We are continuing to shoot our staycations and tomorrow we will be in Peoria at a Chi, efs game! Tomorrow you will see our trip to Rockome Gardens in rural Arcola.
Now that we have put June in the book I found this story on the National Weather Service's website and I thought you might like it. This article talks about how wet and warm June was. I hope you enjoy it.
June 2011 was an active weather month for much of the Midwest. Plenty of warm and humid air flowing north from the Gulf of Mexico interacted with a strong early summer jet stream pattern to produce numerous rounds of strong to severe thunderstorms. Areas from Iowa southeast towards the Ohio Valley saw repeated thunderstorm activity through the month which produced heavy rains, totaling two to three times the normal monthly amounts. Temperatures were near normal for much of the area, though the southern third of the state saw temperatures of two to four degrees above normal.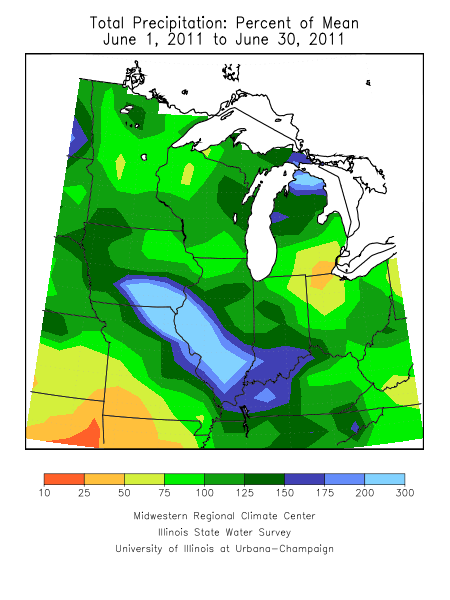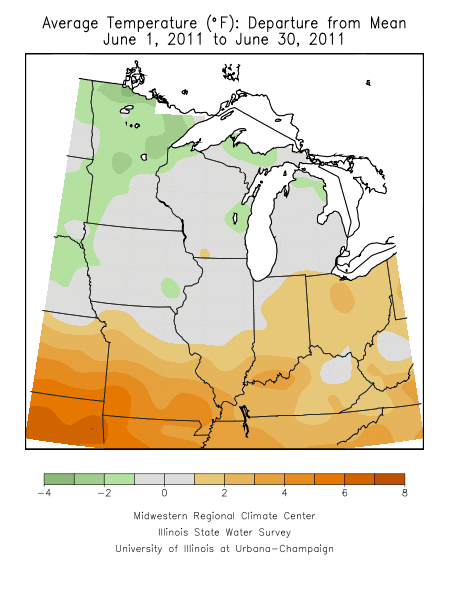 Major Event Summaries...
June 4-5:
Clusters of thunderstorms impacted central and southeast Illinois this weekend. All locations picked up rainfall: however, the amounts varied considerably. One band of heavier rainfall over one inch was noted from northern Knox County southeastward along and just north of I-74 to Champaign County. A second corridor extended from southern Fulton County southward to Winchester and Jacksonville. Yet another band of enhanced rainfall greater than one inch stretched from near Chatham in Sangamon County southeastward to Olney in Richland County.

In addition to the spotty heavy rainfall, a few of the storms produced severe weather. In particular, an intense thunderstorm cell during the evening of June 4th produced golfball-sized hail at Weinberg-King State Park in western Schuyler County, then tracked eastward, downing trees and power lines across parts of Menard, Logan, and Sangamon counties. Meanwhile, a second severe thunderstorm knocked a number of trees down in the Danville area.
June 10:
Clusters of strong thunderstorms impacted parts of central and southeast Illinois on June 10th. The storms initiated along outflow boundaries left behind by previous convection the night before. One boundary stretching along the I-70 corridor became active by mid-afternoon, triggering numerous showers and thunderstorms. These particular cells remained below severe limits, producing penny to nickel-sized hail along with locally heavy rainfall.&nbs, p; The heaviest rain occurred across Effingham and Clay counties where 1 to 3-inch amounts led to minor street flooding. Additional thunderstorms developed across east-central Missouri and southern Iowa by late afternoon, then tracked into west-central Illinois during the evening. The most intense cell moved across Schuyler and far southern Fulton counties. This storm produced very large hail at times, including a report of baseball-sized stones in the town of Augusta in Hancock County. Further east, it dropped golfball-sized hail and knocked a few trees down in western Schuyler County. In addition, it produced impressive rainfall rates...with many locations along its path picking up over an inch of rain in just 30 minutes! Other severe thunderstorms tracked northeastward into Scott County, downing trees and power lines and dropping half dollar-sized hail in Winchester.
June 14-15:
Several rounds of showers and thunderstorms brought locally heavy rain, especially to the western half of the area. The first round of convection produced 1-2" rains southwest of a Peoria to Taylorville line by early Tuesday morning, June 14th. Additional storms developed that night, lasting into Wednesday morning, June 15th. Locally heavy rain affected many locations north of I-70. Wind gusts up to 54 mph, and hail up to the size of nickels were reported with this batch of storms. Finally, as a boundary moved through the area Wednesday afternoon, isolated severe storms formed in east central and southeast Illinois and developed a couple brief and weak tornadoes in rural Shelby and Coles counties.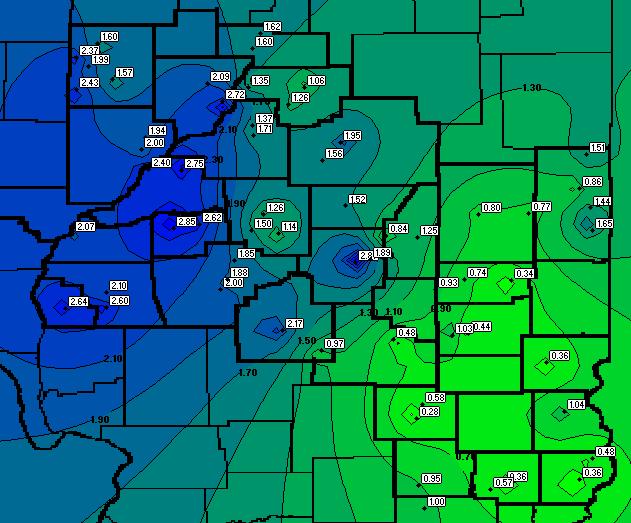 June 17-18:
Thunderstorms initiated along an outflow boundary stretching from near Jacksonville east-southeast to Effingham and Lawrenceville during the overnight hours of June 17th. Despite relatively stable conditions at the surface, a 30 to 40 mph low-level jet oriented from Texas northeastward to Missouri provided a supply of warm/moist air aloft. This feed of unstable air helped the storms to continually re-develop over the same locations, producing copious amounts of rain. The heaviest rain fell across Morgan and western Sangamon counties, where several observers measured over 4 inches of rain! Some reports of between 5 and 6 inches were also received. As a result, widespread flooding i, s occur, ring from Jacksonville in Morgan County to Loami in western Sangamon County. Other slow-moving storms along the boundary brought torrential rain to parts of Richland and Lawrence counties, where observers reported around 4 inches. Click here for more detailed information on flash flooding with this event.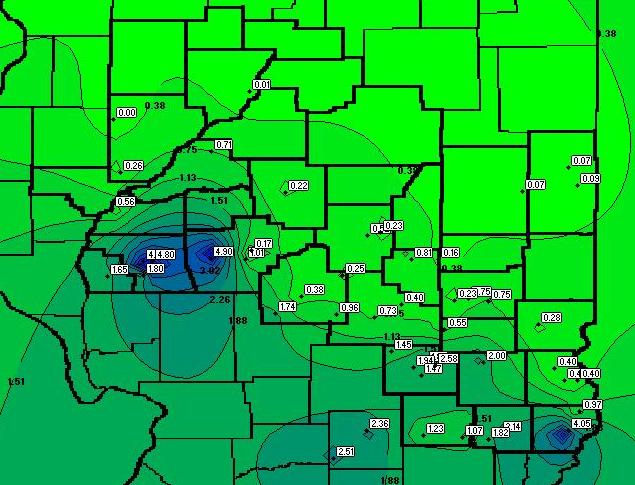 June 21:
Strong thunderstorms impacted parts of central and southeast Illinois on June 21st, as a cold front slowly approached from the west. Many of the storms produced damaging wind gusts of 40 to 60 mph as well as locally heavy rainfall. Much of the wind damage was concentrated along and east of I-57, as tree limbs were reported down in a number of communities. Other storms knocked tree branches down and produced localized flash flooding from northern Tazewell County northward through Woodford and Marshall counties. Click here to see Local Storm Reports from this event.
June 25-27:
A series of thunderstorm complexes affected central and southeast Illinois from Saturday, June 25, into Monday morning, June 27. These Mesoscale Convective Systems (MCSs) formed on the northern fringe of a hot air dome which extended across the southern and central Plains. On the periphery of this hot and humid airmass, thunderstorms repeatedly formed north of a warm front as mid level disturbances tracked east across the Midwest. A strong low level jet stream coming in from the southwest provided additional warm, moist air to feed the storms.

The first batch of MCS activity affected west-central Illinois on Saturday morning and afternoon. Extremely high rainfall rates (as high as 2 inches per hour) were observed with some of these storms. This led to several instances of flash flooding in Scott county. By Saturday evening the low level jet aided another round of heavy thunderstorms which formed in west central Illinois and tracked into the southeast part of the state after midnight. Isolated reports of hail up to the size of quarters, and wind damage were reported with these storms from the Jacksonville to Springfield areas. As the system progressed southeast, very high rainfall rates produced flash flooding in Clay and Effingham counties.

On Sunday evening the same setup was in place, and the first round of storms tracked across the central part of the state around midnight. Isolated wind damage and hail from penny to golf ball size occurred in Peoria, Tazewell, Logan, and McLean counties. Quickly on the heels of this complex, a large and well organized squall line with widespread damaging winds blasted east from Iowa and Missouri at around 60 mph. This system affected all of central and southeast Illinois between 2 and 5 AM Monday morning. Winds of 40 to 50 mph were common along the leading edge of the storms, with isolated damaging downburst winds in excess of 60 mph. Hail up to the size of nickels occurred with these storms. Again, very high rain fall rates led to another round of flash flooding across parts of the area. Click here to see Local Storm Reports from this event.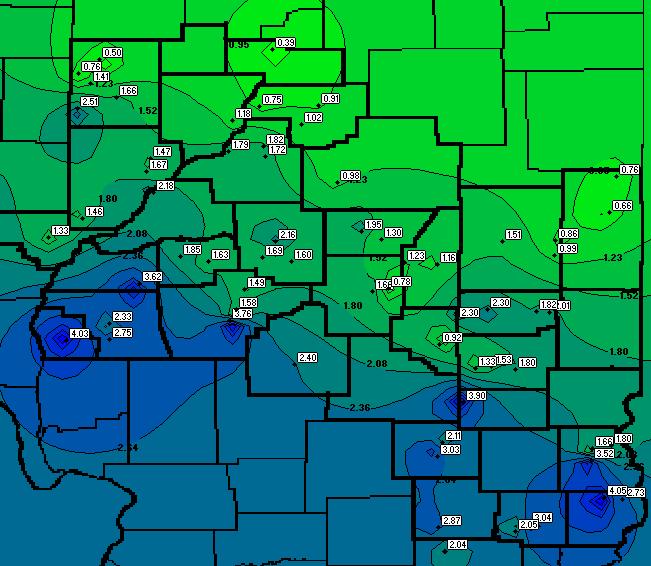 ---
20110630
Good Bye June!!!
Hello July and its going to feel like it today as highs will make it into the mid 90's. Today was trip 3 on Exploring Illinois. We headed to Rockome Gardens in Arcola and I am looking forward to showcasing this spot on Wednesday night at 10. If you missed the wineries tune in on Monday and Tuesday morning as they will run again. Here is a picture of Rockome I took on our shoot today. Thanks for the warm welcome to all the staff at Rockome today. Have a great July 1st!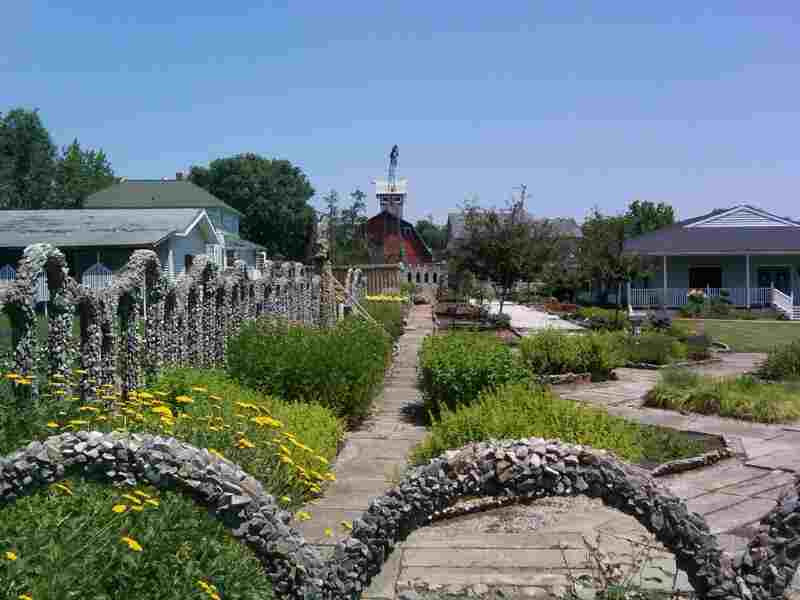 Sizzle Out
---
20110624
Wine Trip day 3…..
Today my adventures took me into east central Illinois. With stops near Marshall, Greenup and Westervelt finally capped off this evening in Decatur.
First stop this morning was in Greenup at Cameo Winery and Vineyards. This winery is nestled just on the edge of Greenup just off Illinois 121. When you drive up to the winery you see the vineyards and the winery is at the top of the hill. I have to say this is a beautiful place and the atmosphere inside is awesome. When you go inside the tasting area it looks like on old barn and I compare the building to the look of a Cracker Barrel. They have all different wines from sweet all the way to dry wines.
The second stop took me almost to the Illinois/Indiana boarder. Castle Finn Winery is fairly new and is located just to the northwest of Marshall. The winery is really quiet as it's located out in the middle of the country. If you are looking for a quiet spot to head to have a glass of wine in a wine garden that has a pond and vineyards in the background then this is your spot. The tasting room has a mountain lion about it when you walk in don't worry it wasn't found near the winery. They also have a banquet room with an all wood feel through out the entire inside. Here is a picture of the winery from the road.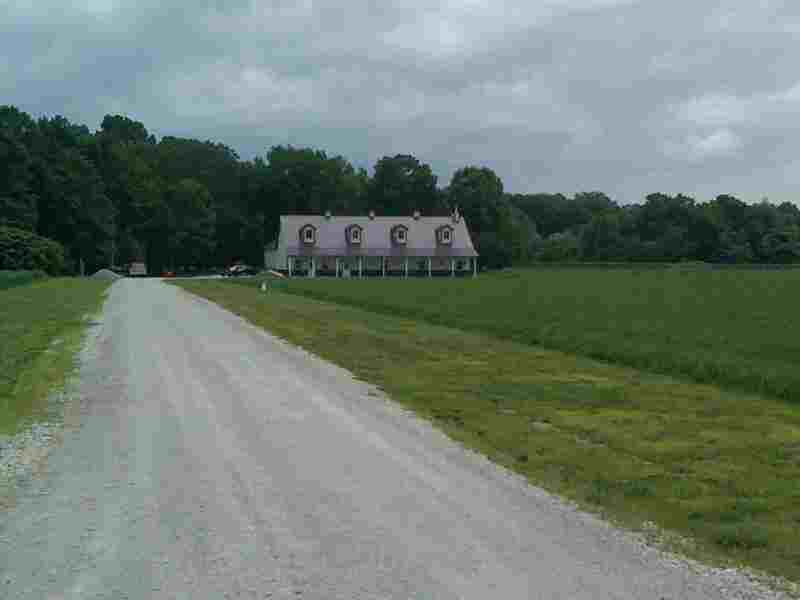 Willow Ridge was the third stop today near the small town of Westervelt. This winery is a quiet spot again in the country. The owners like to say that you get the best of both worlds with corn and beans of Illinois but the feel of being in Napa with their vineyards in sight. The tasting room is really nice with a fireplace to the back of the bar area. They also have an outdoor patio in the back and a beautiful banquet room available for rent. Their wines range again from a sweet wine to dry reds. One of the wine labels actually has a picture of a family member on his combine working the farm that the winery is located on.
The final stop tonight took us to Long Creek Vineyards just outside of Decatur on US 36. Tonight they had an acoustic band and the crowds where there. This winery is only open on the weekend but had a very nice selection of wines. If you are looking to bring your sack lunch and drink some wine in the back of the winery that overlooks a pond and vineyards they say "come on out." The wines here again range from sweet all the way to the dry reds.
Look for these reports to air Wedneday and Thursday next week and extended highlights of each winery on our website. Have a great weekend!!!!!
Sizzle Out!!
---
20110623
Day two shoot,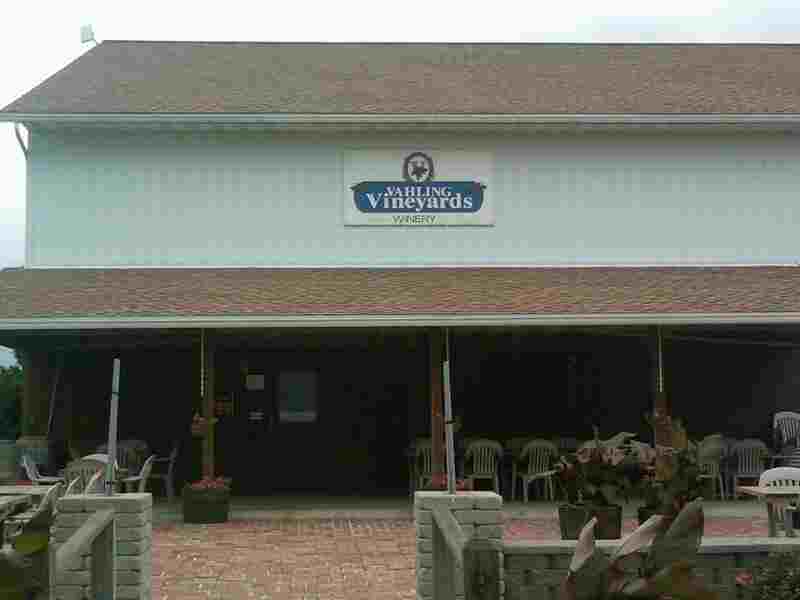 As I mentioned yesterday I am shooting some pieces that will air next week on the wineries in central Illinois. I know there are more our there but these are just a few that we are making it to. Today our adventures took us to Vahling Vineyards just out side Stewardson. I have to give a big thank you to Dennis Vahling for showing us around and taking us out into the vineyard. Here is the link to their website… vahlingvineyards.com
The second stop of the day we ran to Findlay to the Niemerg Family Winery. I have had a lot of fun at this place as my wedding rehearsal dinner was held here. Don Niemerg was there today and thanks Don for taking the time to speak with us and show us around. If you have facebook you can find them there by searching for Niemerg Family Winery.
Our final stop of the day took us to Effingham to Tuscan Hills Winery which isn't open yet but according to their website target is July 1st. http://effinghamwinery.com/
Tomorrow's trip will take us to Castle Finn near Marshall, then on to Cameo in Greenup and then to Willow Ridge in rural Shelbyville. Finally, tomorrow night I will wrap my tour up at Long Creek Vineyards in Long Creek. Check out their websites and if you get a chance take a trip out into the prairie and enjoy some of the great wine our state has to offer.
Sizzle Out!!!!
---
20110622
Wine in the CI?
If you are a wino like me and my wife you don't have to look very far. Here in the central Illinois wineries are starting to pop up all over the place. Next week I will be featuring some of these wineries in my Exploring Illinois pieces that will run in July. Next week on Tuesday and Wednesday I will be showing you the wineries that are right here in central Illinois. Tonight I shot the first piece at Walnut Street Winery and have to give a big thanks to Loren Shanle for his amazing hospitality. A little preview of this place is it has a wine garden with a botchy court. Tomorrow I will be headed to visit with Willow Ridge, Neimerg, and Vahling wineries. Stay tuned tomorrow to learn a little more about those locations. Then on Friday I will head to a new winery Castle Finn near Marshall, Cameo, and possibly Tuscan Hills in Effingham.
Sizzle Out!
---
20110620
Weekend…..
What a weekend it was weather wise. All the heavy rain caused huge floods in our western counties and I was woken up a couple times because of thunder.
It was nice to take a couple days off and recharge the batteries. I don't have that tough of a job but sometimes you just need a mental break. We had a fun filled weekend at the Fultz house as we took Wrigley on his first boat ride on Friday. He had a blast he loved ridding and letting the wind blow in his face. We then parked the boat and threw out the anchor to float for a while. He was a little scared at first but when Ashley got in the water he was ready to swim. I was a little worried that he wouldn't know how to swim but he was fine. When he saw Ash in the water he jumped right in and was having a blast. When it was time to get out he learned how to use the latter and back in the boat he came. Here is a picture of the little guy on the lake.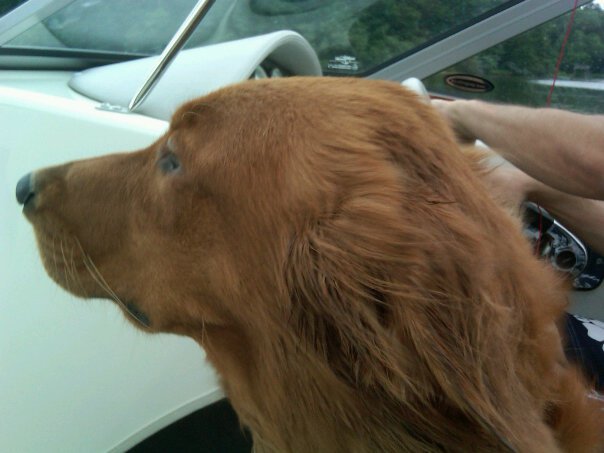 Sunday we had our families over for Father's Day cookout! We love to entertain and the menu consisted of pork burgers, potato salad, chip's and dip, green bean casserole, and strawberry pie. I think I gained about 10 pounds this weekend from all the great food. I have to say thanks for my dad for always being there for me and pushing me to be successful in anything I do. He has always been by my side whether it's been on the golf course, sports I played, or just hanging out spending quality time it's something I will never take for granted. Thanks Dad for everything!
Summer begins tomorrow at 12:16pm CDT!
Sizzle Out!!!!!!!
---
20110614
Flag Day...
Here is a little history about flag Day...
The History Of Flag Day
The Fourth of July was traditionally celebrated as America's birthday, but the idea of an annual day specifically celebrating the Flag is believed to have first originated in 1885. BJ Cigrand, a schoolteacher, arranged for the pupils in the Fredonia, Wisconsin Public School, District 6, to observe June 14 (the 108th anniversary of the official adoption of The Stars and Stripes) as 'Flag Birthday'. In numerous magazines and newspaper articles and public addresses over the following years, Cigrand continued to enthusiastically advocate the observance of June 14 as 'Flag Birthday', or 'Flag Day'.
On June 14, 1889, George Balch, a kindergarten teacher in New York City, planned appropriate ceremonies for the children of his school, and his idea of observing Flag Day was later adopted by the State Board of Education of New York. On June 14, 1891, the Betsy Ross House in Philadelphia held a Flag Day celebration, and on June 14 of the following year, the New York Society of the Sons of the Revolution, celebrated Flag Day.
Following the suggestion of Colonel J Granville Leach (at the time historian of the Pennsylvania Society of the Sons of the Revolution), the Pennsylvania Society of Colonial Dames of America on April 25, 1893 adopted a resolution requesting the mayor of Philadelphia and all others in authority and all private citizens to display the Flag on June 14th. Leach went on to recommend that thereafter the day be known as 'Flag Day', and on that day, school children be assembled for appropriate exercises, with each child being given a small Flag.
Two weeks later on May 8th, the Board of Managers of the Pennsylvania Society of Sons of the Revolution unanimously endorsed the action of the Pennsylvania Society of Colonial Dames. As a result of the resolution, Dr. Edward Brooks, then Superintendent of Public Schools of Philadelphia, directed that Flag Day exercises be held on June 14, 1893 in Independence Square. School children were assembled, each carrying a small Flag, and patriotic songs were sung and addresses delivered.
In 1894, the governor of New York directed that on June 14 the Flag be displayed on all public buildings. With BJ Cigrand and Leroy Van Horn as the moving spirits, the Illinois organization, known as the American Flag Day Association, was organized for the purpose of promoting the holding of Flag Day exercises. On June 14th, 1894, under the auspices of this association, the first general public school children's celebration of Flag Day in Chicago was held in Douglas, Garfield, Humboldt, Lincoln, and Washington Parks, with more than 300,000 children participating.
Adults, too, participated in patriotic programs. Franklin K. Lane, Secretary of the Interior, delivered a 1914 Flag Day address in which he repeated words he said the flag had spoken to him that morning: "I am , what, you make me; nothing more. I swing before your eyes as a bright gleam of color, a symbol of yourself."
Inspired by these three decades of state and local celebrations, Flag Day - the anniversary of the Flag Resolution of 1777 - was officially established by the Proclamation of President Woodrow Wilson on May 30th, 1916. While Flag Day was celebrated in various communities for years after Wilson's proclamation, it was not until August 3rd, 1949, that President Truman signed an Act of Congress designating June 14th of each year as National Flag Day.

http://www.usflag.org/history/flagday.html
Its just not a flag its a symbol of hope and freedom for us and people around the world who want to be free.
Sizzle Out
---
20110610
Interesting day in weather department...
I am not talking about the weather even though it was a rough night across the CI. Greg has been playing a game called Phrase of the Day. Today he sang "I'm to sexy" and proceeded to do a strip tease on the air. There are now dollar bills around the station with his face on them. You have to watch the video its really funny. Then tonight at 6 pm we ran a story about a fundraiser where people where eating cicadas. Sean and I decided we would try one ourselves. Vanessa brought back some for us and they where fried and then dipped in chocolate. Here is the link to that video. Have a great weekend and enjoy the break from the heat.
Sizzle Out!
---
20110608
Hazy Evening…
Did you notice the sky tonight had a little haze to it? We didn't see anything in the way of clouds tonight but it was actually the smoke from the wild fires in Arizona. Here is a look at the visible satellite from around 5:30 this evening and you can see the smoke making its way to the CI. I thought this was really cool and had to share this with you. You can also see the storms really going off up to our north in southern Wisconsin and northwestern Illinois.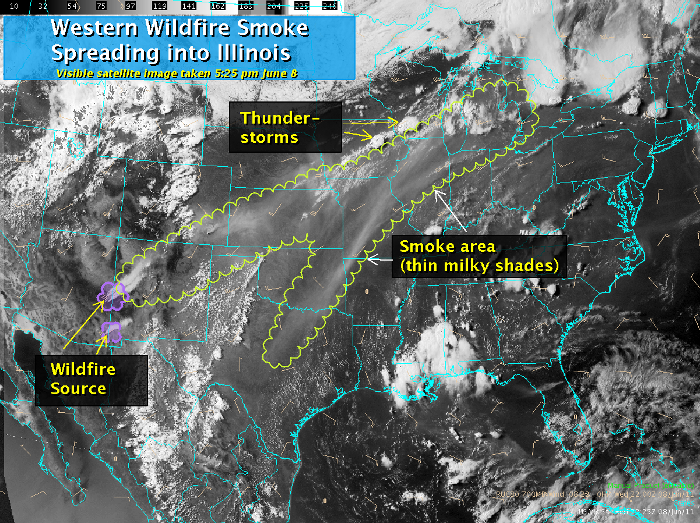 Sizzle Out!
---
20110607
Macon County Fair.....
Its that time of the year as county fair season gets underway. What is your favorite thing about a fair? What is your favorite food? I used to travel in the summer months with my grandparents to different state fairs across the northern US. We used to stop in Minot North Dakota, Great Falls Montana, Sedalia Missouri and a few other stops along the way. The longer I went the more and more the food didn't look as good. I still really enjoy a good corn dog and funnel cake! I still think seeing all the people and talking with them is my favorite part of a fair. Last night I had the chance to emcee the Macon County fair pageant. It was a fun experience and for some reason I was really worried about messing it up. I only made two goofs during the pageant, the first one was couldn't pronounce Darrah Hulva's name as its supposed to be Dare-ah. I felt really bad about that sorry Darrah. Then during the swimsuit competition I was supposed to tell the girls to make a few turns and I missed that in my script so I just had them come back on stage for and encore. I really want to thank the 2010 Queen Brittany for keeping me on track. I have to thank Jr. Miss Reghan Pfeifer and Queen Brittany for the shirt they got for me. I laughed when I saw it and thought you would enjoy it. Congrats to all the ladies who participated in the pageant and to Rachel Barter for becoming the 2011 Macon County Fair Queen.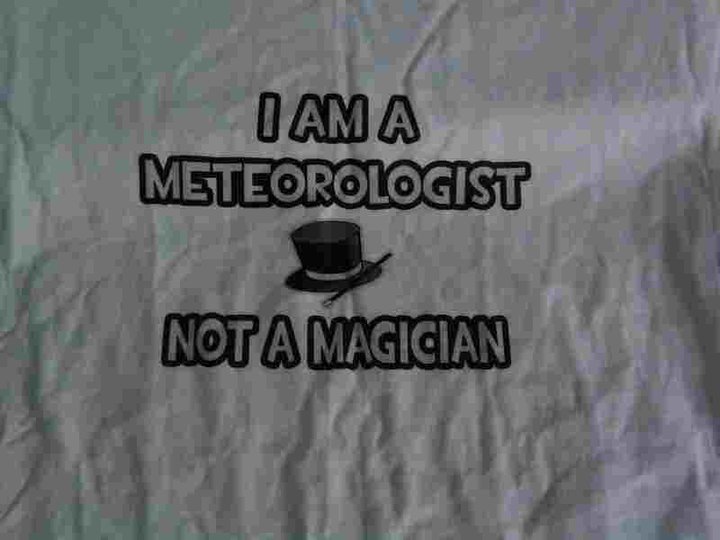 Sizzle Out!!!
---
20110603
Weekend again!!!!
I can't believe another work week has come. It was nice to have Monday off and I hope all of you took some time out of your day to say a silent prayer or to remember the reason for the day. This weekend is off t, o a hot and muggy start and looks to stay that way. Saturday we should see temperatures into the lower 90's and in the late afternoon we have a chance for some scattered thunderstorms (some of which could be strong). Then on Sunday some morning showers could be around in our southern counties and then clearing in the afternoon. We might see a pop up storm on Sunday afternoon but it's a slight chance. I hope there is a pool or a lake in your plans because it will be a perfect weekend for that.
On another note have you noticed all the scandals with politicians lately? The latest one involves Rep. Weiner and twitter. I just also read that John Edwards has been indicted on 6 felony charges one that is for 925,000 in under the table campaign contributions to hide is pregnant mistress during his 2008 Presidential run. Then there is always the circus we call the Blago trial and in Illinois while the senate was in season one senator supposedly punched another. What is wrong with this country? We are going so far into debt that we will never be able to dig out of it without taxing Americans to death. That is what is happening here in the Land of Lincoln. I want to know what has happened to the government of the people, for the people, and by the people. I really feel our biggest problems are with the parties not the people in office. If you don't vote the way your party goes then you could be ostracized and the next election those dollars you had last time from the party might disappear. What happened to representation of the constituents in your districts and letting their voice be heard in Springfield, and Washingt, on? If we have both parties bickering back and forth all the time nothing is going to get done and sometimes things have to be sacrificed to right the ship. I don't want to see certain things get cut more then the other person but enough is enough. We are spending money like drunken sailors and for what good has it done? Where are the results? This is the greatest country in the world and I am so blessed to live in America but we need to get back to the grass roots and get our politicians to wake up and listen to the citizens and not have them listen to their parties. Let's get the parties to work together and stop pointing fingers at each other and then we will start to see results. Sorry I just had to vent some on the blog tonight I am just fed up seeing all the scandals with them and all the bickering over things they should be working together on. I know people are never going to see eye to eye on everything but if we band together great things can be accomplished.
Have a great weekend everyone! Just some food for thought.
---
20110602
Time for a trip in the way back machine....
I found this on the National Weather Service page and remember this day very well.
6/2/1990

A two-day outbreak of tornadoes in the central U.S. produced 64 twisters, including 12 in Illinois. One tornado touched down in Shelby County near Wester, velt and took an 8 mile path near Lake Shelbyville to northeast of Findlay, destroying 16 , homes and damaging 60 others. Two violent tornados, rated as a "4" on a scale of 0 to 5, moved across mainly rural areas of southeast Illinois; a third traveled 94 miles across southeast Illinois and southwest Indiana, causing extensive damage. In Edgar County, one tornado damaged 6 buildings near Grandview, and another tornado began an 11 mile track near Horace, damaging several farms.
I talked about June first as the start of meteorological summer and also it is the beginning of Atlantic Hurricane Season. This runs until November and a post in the past talked about it being an active season. Here are the names for the several years of the storms.
2016

Arlene
Bret
Cindy
Don
Emily
Franklin
Gert
Harvey
Irene
Jose
Katia
Lee
Maria
Nate
Ophelia
Philippe
Rina
Sean
Tammy
Vince
Whitney

Alberto
Beryl
Chris
Debby
Ernesto
Florence
Gordon
Helene
Isaac
Joyce
Kirk
Leslie
Michael
Nadine
Oscar
Patty
Rafael
Sandy
Tony
Valerie
William

Andrea
Barry
Chantal
Dorian
Erin
Fernand
Gabrielle
Humberto
Ingrid
Jerry
Karen
Lorenzo
Melissa
Nestor
Olga
Pablo
Rebekah
Sebastien
Tanya
Van
Wendy

Arthur
Bertha
Cristobal
Dolly
Edouard
Fay
Gonzalo
Hanna
Isaias
Josephine
Kyle
Laura
Marco
Nana
Omar
Paulette
Rene
Sally
Teddy
Vicky
Wilfred

Ana
Bill
Claudette
Danny
Erika
Fred
Grace
Henri
Ida
Joaquin
Kate
Larry
Mindy
Nicholas
Odette
Peter
Rose
Sam
Teresa
Victor
Wanda

Alex
Bonnie
Colin
Danielle
Earl
Fiona
Gaston
Hermine
Ian
Julia
Karl
Lisa
Matthew
Nicole
Otto
Paula
Richard
Shary
Tobias
Virginie
Walter
Speaking of the tropics its going to feel very tropical around here the next couple of days. Thanks to a warm front that has decided to take its time we saw some showers hold together a little longer then I first thought last night. These dumped some very heavy rain in our western counties and prompted flash flood warning this morning. The front has now decided to start to move to the north and will push across the area this evening. This could spark another round of some scattered storms and then finally clear to the north by tomorrow morning. On the back side of this boundary hot and humid weather will come back in with dew points in the 70's. That air is typically what we would see along the gulf coast. High temperatures will reach into the 90's and with the moisture in the air heat index will be around 100. Make sure you take your time if you have plans outside and check on your pets making sure they have plenty of shade and water. Stay cool over the next couple of days.
Sizzle Out!
---
20110601
Here is a climate summary for meteorological Spring in Illinois.
May 2011 Climate Summary for Central and Southeast Illinois
Maps on this post are courtesy of the Illinois State Climatologist Office and NOAA Midwest Regional Climate Center
Typical May weather occurred across Central and Southeast Illinois during 2011 with occasional bouts of thunderstorms and severe weather. The heaviest rainfall across the region fell northwest of the Illinois River where precipitation for the month was generally 1.5 to 3 inches above normal. Peoria recorded 2.79 inches of rain on the 25th alone. Southeast Illinois had several rounds of heavy rainfall resulting in flooding along the Wabash River during the first week of the month.
Temperatures were also pretty typical for May with averages in the 60s. Cooler periods occurred near the beginning of the month and again in the middle, with temperatures well above normal May 9-12.
As is typical for May, periods of severe weather also impacted the region. Nine tornadoes occurred across Central and Southeast Illinois during May. Some of the more significant events are highlighted below:
May 1-3 Review
Rain fell across east-central and southeast Illinois from Sunday, May 1st through Tuesday, May 3rd as a stationary frontal boundary plagued the area. While most of central Illinois received less than one quarter of an inch during this period, locations along and south of I-70 picked up in excess of 1 inch. In fact, areas along and southeast of a Robinson to Flora line observed over 2 inches. This rain fell on already saturated ground from heavy rain during the latter half of April.

Due to excessive amounts of rain during April and early May, m, any rivers and streams went into flood across southeast Illinois. In particular, serious flooding occurred along the Wabash and Embarras Rivers.
May 13 Review
A deep upper-level low tracking across southern Missouri produced several bands of showers and thunderstorms across central Illinois on Friday, May 13th. Thanks to weak steering currents aloft, the storms were very slow-moving and thus produced locally heavy rainfall in a few spots. Most notably, portions of Marshall, Woodford, and Tazewell counties picked up 2 to 4 inches of rain during the evening of the 13th into the early morning hours of the 14th. In addition to the rain, quarter-sized hail was reported in Hopedale and Tremont in Tazewell County.
May 25 Review
Two rounds of strong to severe thunderstorms impacted Central Illinois on May 25th. The first occurred during the pre-dawn hours, while the second developed during the late aftern, oon and evening. Widespread wind damage and 8 tornadoes occurred.
The early morning storms formed well north of an advancing warm front and were fed by strong low-level winds extending from southwest Missouri into central Illinois. Despite relatively cool and stable conditions at the surface, the transport of warm/moist air aloft helped feed the thunderstorms as they tracked northeastward through the area. Thanks to the strong winds a couple thousand feet aloft, many of the cells were able to produce damaging wind gusts of 50 to 60 mph all the way to ground level. Periodic wind damage was observed in a corridor from just west of Jacksonville northeastward through Delavan in Tazewell County. Other wind damage was concentrated across parts of Douglas, Champaign, and Vermilion counties. A more intense thunderstorm cell produced two tornadoes across eastern Macon County, damaging a number of outbuildings and grain bins east of Decatur.
After a brief lull around midday, additional storms began to fire along an outflow boundary left behind by the morning activity. This boundary generally stretched along the I-70 corridor from near Paris to just south of Taylorville. Many of these storms produced small hail and gusty winds, with the strongest cell dropping golfball-sized hail in Paris.
By late afternoon, a deep upper-level low began approaching from the west. Surface warming in conjunction with cold air aloft associated with this feature led to an increasingly unstable ai, rmass across much of the Midwest. Supercell thunderstorms rapidly developed in this favorable airmass across Missouri and west-central Illinois after 4 PM, then began slowly shifting eastward toward evening. Numerous reports of wind damage and hail were received, along with intense rainfall rates leading to localized flash flooding. Once the storms pushed into east-central Illinois by early evening, they had congealed into a linear structure with many weak circulations embedded along the leading edge. Widespread wind damage occurred with this line of storms, with several spin-up tornadoes developing.
May 25 Severe Weather Outbreak
May 28-29 Review

Several rounds of storms impacted the region over the Memoria, l Day weekend with wind damage, hail, and very heavy rainfall. On the 28th, A corridor of hail as large as golf balls was reported from near Jacksonville eastward into the northwest side of Springfield. A report of golfball-sized hail was also reported in Charleston from a supercell thunderstorm that crossed the state from just north of St. Louis eastward to Paris.
On the 29th a midday thunderstorm complex brought flash flooding to the Rio area of Knox County and isolated hail and wind damage reports north of U.S. Highway 136 in Central Illinois.
Individual May Climate Summaries:
Bloomington, Champaign, Decatur, Lawrenceville, Lincoln, Mattoon, Peoria, Springfield
Spring (March-May) Seasonal Weather Summary for Central and Southeast Illinois
For the "Meteorological Spring" months of March through May temperatures were typical for the period across Central and Southeast Illinois. Some record high temperatures across the region included:
April 3rd: Lincoln 83 degrees; Peoria 84 degrees; Springfield 86 degrees
May 11th: Peoria 91 degrees; Springfield 91 degrees
A record low was set at Lincoln on May 17th with 36 degrees.
As for precipitation, rainfall amounts for the season were typically from near normal to slightly above normal. However, there were definitely some significant rainfall events that are not apparent in the seasonal normal. Of special note are the flooding rains across southeast Illinois during late April and early May, and the heavy rainfall in the Peoria area where 7.33 inches fell during April making the month the fifth wettest April on record. In addition, 2.79 inches of rain fell at Peoria on May 25th.
Eighteen tornadoes were reported across Central and Southeast Illinois during the period with the strongest (Rated EF2) occurring in Crawford County during the evening of May 25th
Sizzle Out
---