Showers will continue to come to an end over the next several hours. Rainfall totals have ranged from a little more then .5" to 1" across much of the area. We need to watch for clearing in the west because if the sky clears some fog could develop thanks to the moisture from today's rains. Sky will clear tomorrow with highs into the 50's then Thanksgiving and Friday for shoppers looks amazing with highs climbing into the low 60's. Rain chances return as another storm system will develop and push in for the weekend. Temps will start mild on Saturday, then slide into the low 40's Sunday into Monday. The low will become cut-off and retro-grade or move from east to west keeping our shower chances going into Monday and even into the first part of the day on Tuesday. If enough moisture is left over Tuesday cold temps settle in and we could see a few wet snowflakes mix in. I will be watching this system closely because any deviation in the track of the low could change the forecast.
Here are some Thanksgiving Day statistics for Springfield….
Normal High & Low Temperature Nov 25: 47 & 30 degrees
Warmest Thanksgiving Day: 67 degrees on Nov 25 1915, Nov 24 1966 & Nov 22 1973
Coldest Thanksgiving Morning: 0 degrees on Nov 23, 1950
Coldest Thanksgiving Daytime High Temperature: 22 degrees on Nov 24, 1881 & Nov 27 1930
Warmest Thanksgiving Nighttime Low Temperature: 57 degrees on Nov 26, 1896
Wettest Thanksgiving Day: 1.47 inches on Nov 28, 1968 (daily average precipitation 0.11 inches)
Snowiest Thanksgiving Day: 2.4 inches of snow on Nov 27 1980 (daily average snow 0.1 inches)
Whitest Thanksgiving Day: 6 inches of snow on the ground on Nov 27, 1975
Frequency of Precipitation Thanksgiving Day: 48 of 132 years (36%) measured precipitation
Frequency of Snow on Ground: 5 out of 110 years (4.5%) 1 inch or more snow depth
Frequency of Cold & Mild Thanksgiving Days: 43 of 132 years (33%) low below 20F
44 of 132 years (33%) high 50F or warmer
High Temperatures on Thanksgiving...
 Highs 20-29F... 13 days (9.8%)
 Highs 30-39F... 31 days (23%)
 Highs 40-49F... 44 days (33%)
 Highs 50-59F... 24 days (18%)
 Highs 60-69F... 20 days (15%)

 
 
 
 
 Low Temperatures on Thanksgiving...
 Lows 0-9F.....  2 days (1.5%)
 Lows 10-19F... 19 days  (14%)
 Lows 20-29F... 40 days  (30%)
 Lows 30-39F... 56 days  (42%)
 Lows 40-49F... 11 days (8.3%)
 Lows 50-59F...  4 days   (3%)

 
 
 
 
 Precipitation on Thanksgiving...
 Dry............... 62 days  (47%)
 Trace............. 22 days  (17%)
 0.01-0.10 inches...30 days  (23%)
 0.11-0.25 inches... 8 days (6.1%)
 0.26-0.50 inches... 5 days (3.8%)
 0.51-0.75 inches... 4 days   (3%)
 0.76-1.00 inches... 0 days   (0%)
 1.01-1.25 inches... 0 days   (0%)
 1.26-1.50 inches... 1 day  (0.8%)
 1.51+ inches....... 0 days   (0%)
Snowfall on Thanksgiving...
 No Snow...........103 days  (79%)
 Trace............. 15 days  (12%)
 0.1-0.4 inches....  7 days (5.4%)
 0.5-0.9 inches....  3 days (2.3%)
 1-1.9 inches....... 1 day  (0.8%)
 2-2.9 inches....... 1 day  (0.8%)

 
 Snow Depth on Thanksgiving...
 No Snow........... 88 days  (80%)
 Trace............. 17 days  (15%)
 1 inch............  3 days (2.7%)
 2 inches..........  0 days   (0%)
 3 inches........... 0 days   (0%)
 4 inches........... 1 day  (0.9%)
 5 inches........... 0 days   (0%)
 6 inches........... 1 day  (0.9%)
Specific weather data follows. These were measured in downtown Springfield from 1879 to 1947, and at Capital Airport from 1948 to the present.
http://www.crh.noaa.gov/ilx/?n=thanksgivingdaystatisticsspringfield
Winter weather preparedness week continues and today's topic is definitions. We through these terms at you on television all the time but you might not know what they mean. Listed below are the criteria that are met for one of these winter watches, warnings, or advisories to be issues.
Definitions:
Winter Watches: Severe winter weather is possible in the next 1 to 3 days. We are still tracking the storm, and the impacts could change, so keep up with the latest information - especially if you have travel plans.
Winter Advisories: Winter weather the next day or so - such as snow, sleet, icing (freezing rain), gusty winds and/or cold temperatures will result mainly in travel problems / delays. If you plan on spending time outdoors, be prepared to stay as dry and warm as possible.

Advisories for snow are issued for 2 to 5 inches. Advisories for ice are for icing less than 1/4" thick.

Winter Warnings: A Winter storm the next day or so - is expected to result in signficant amounts of snow, sleet, icing, very gusty winds and/or extremely cold temperatures. The impacts will be significant with hazardous travel and possibly extended power outages. Getting stranded outdoors could be deadly.

Warnings for snow are for 6 inches or more. Warnings for icing are for more than 1/4" thick, which can cause damage to trees and power lines.
Once again you can log onto www.crh.noaa.gov/ilx to see more information about winter weather preparedness.
---
20111114
Winter Preparedness Week
I know it's hard to think about winter on a day where we saw severe storms roll across the area. It's November and that means old man winter will be here before we know it. We have already seen a few snowflakes in some parts of the area but it's always good to go back over some of the precautions we should take before winter throws us a big punch. All this week I am going to focus on winter weather here on my blog and I know it's been a while since I have written here. Today's topic is average snowfall for the winter months across Illinois. Here is a map that shows the average snowfall for these points. Here is a list of what some of the cities across our area average.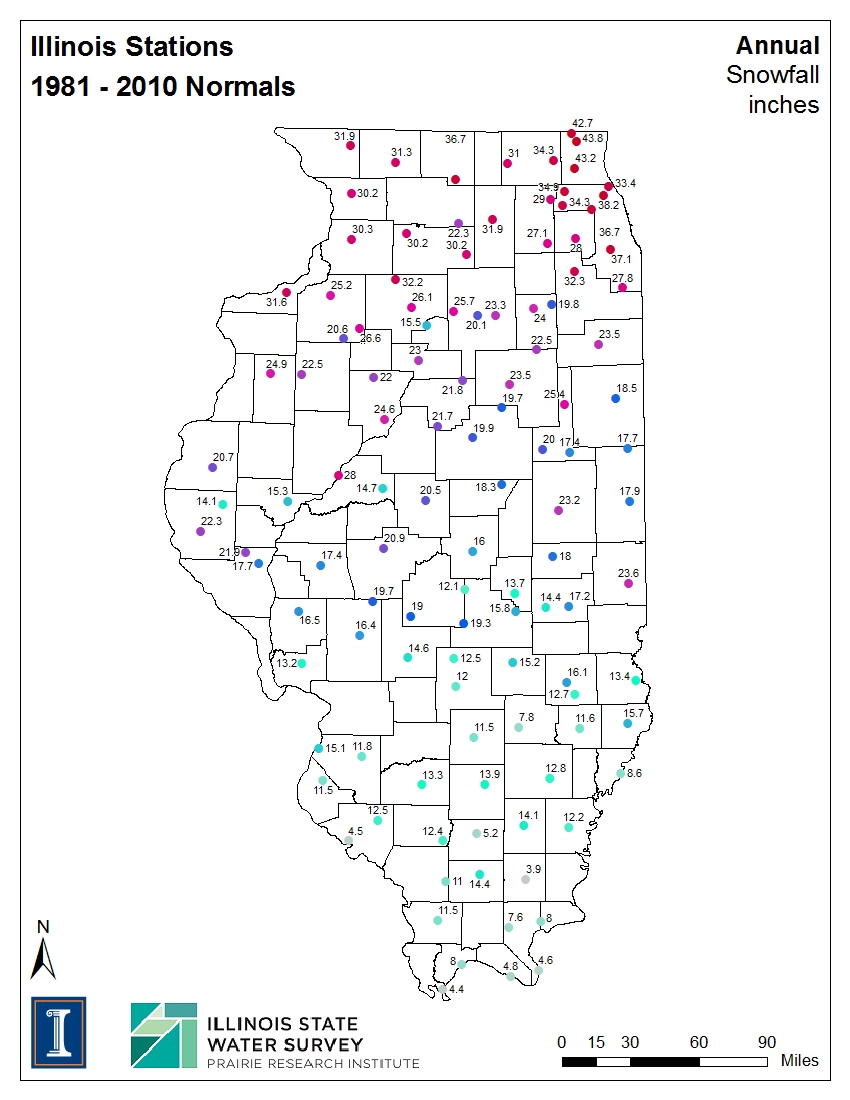 Champaign 23.5"
Paris 23.5"
Springfield 20.9"
Lincoln 20.5"
Decatur 16"
Effingham 15.2"
Just remember some years we see more and other years less.
Here is a map that shows how many days on average we see with freezing rain. Notice the corridor between I-72 and I-74. That area, which includes Decatur, Springfield and Champaign on average, sees the highest number of days with freezing rain.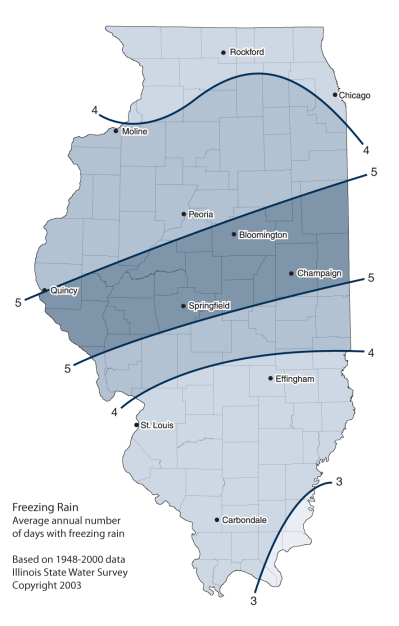 The final map shows how many days on average we see a 6+ inch snowfall across that state. As expected the highest numbers are across northern Illinois.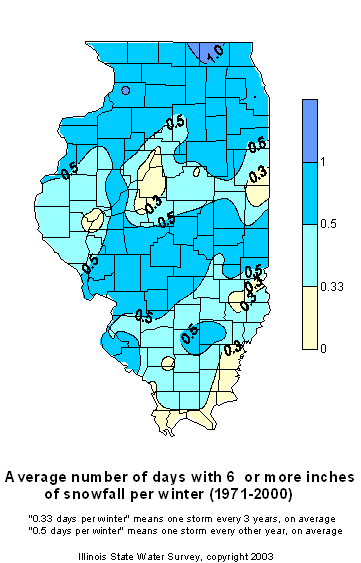 Just a little food for thought this evening and if you get a chance you can find more information by going to the National Weather Service page at www.crh.noaa.gov/ilx.