***If you want to read my blog post about Infertility and the struggles I went through, click here.
---
A new year and new beginnings for the Skrysak family! 2013 was a difficult year for us. We had the absolute best moment of our lives, becoming pregnant with triplets and meeting our babies. That was met with the worst moments of our lives, having to say goodbye to Abigail and Parker. Mr. Skry and I try not to dwell on what happen, instead appreciate the short time we had with our beautiful children and embrace every single moment with our surviving triplet, Peyton.
Peyton turns 7 months old this week and we are thrilled with her progress! She's still a petite little thing and has a ways to go before she catches up to other children her age. But, we reached an amazing milestone last week--Peyton graduated from oxygen assistance!!! The nasal cannula came off and we were able to put those massive oxygen tanks away. Peyton looks like a completely different child without all of the equipment! For nearly 7 months, we have only seen her with tubes on her face. What a joy it is to see her growing up and doing so well.
We still have quite a few doctor's appointments and weekly therapy, but Peyton continues to prove every statistic wrong. When my triplets were born, they were given a less than 10% chance of survival. Yet here we are 7 months later, and you would never know that Peyton faced so many struggles. Because she is doing so well, I feel comfortable thinking about returning to work. While I have enjoyed my time at home, I think that heading back to the news desk will help me move forward. My life has been on hold since I became sick 8 months ago. I still have many moments of sadness and heartache, but I am ready to get back to my career and I think working will help me heal. Plus, I sure do miss the adult interaction! There is no definite date for when I'll be back, but hopefully soon. We are just tying up a few things at home and making sure that we find the perfect person to watch over Peyton while Mr. Skry and I work.
In the meantime, you can keep up with Peyton and my family on her blog, Perfectly Peyton. I try to update that weekly with plenty of pictures and our daily adventures. I look forward to seeing you back on the airwaves soon. Thanks again for everyone's support!!!
What a whirlwind of a month! It's interesting to look at my last post on Skry's The Limit. We knew Peyton would be coming home soon, but had no idea it would be one week later. Ryan and I thought she would be coming home by Halloween, but we got quite the treat when we left the hospital with Peyton on October 17th.
It's been a busy month adjusting to having our daughter home. I'm not going to lie, I may have driven towards the hospital on accident on more than one occasion...it's a hard habit to break when you are used to making twice daily trips for four months!
So what have we been up to, other than sleepless nights? In the last month, Peyton has had dozens of doctors and therapy appointments, dressed up for her first Halloween and finally got to be held by her grandparents. She even was the star of a special "Welcome Home" photo shoot. We'll be using one of those pictures to send out cards to our family. If you would like to find out more about our time at home and our journey with the triplets, I've started a new blog and website called "Perfectly Peyton". I update it weekly with new pictures and our latest adventures. You can even sign up to receive emails when I update it. Peyton, Parker and Abby have tens of thousands of new friends around the world and we thought a website dedicated to our surviving triplet would be a good way for people to stay updated.
Does this mean Skry's The Limit is done? No way!! Let's just call it a brief hiatus. I will still try and get on here to post some updates, but I'd like to separate work and home. Right now I'm taking a leave of absence to be home with Peyton. But, I plan on getting back to work at WAND. This blog will allow me to post updates that aren't all about my family! So, in the meantime, head over to Perfectly Peyton to find out about life at home. I sure do miss the news and find myself tuning in every night to stay up to date on current events. And of course I still do check my work email daily and love hearing from you. Thanks again for all of the support--I know this year of heartache and miracles wouldn't be the same without all of the love and prayers.
Click this link for Peyton's blog: www.PerfectlyPeyton.com

---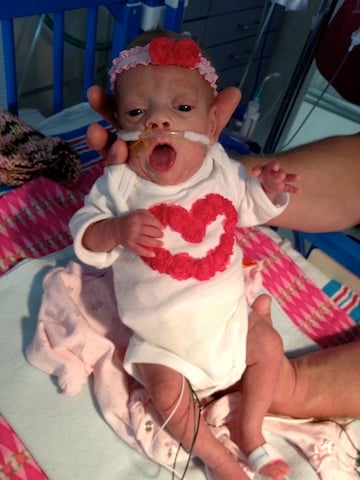 It's hard to believe that our time in the Nicu is nearing the end. Just last week, Peyton's doctor told us she thinks we'll be bringing her home by the end of this month. I cried right then and there. Ryan and I remember those early days in June when we P & P were barely a pound. Fast forward nearly 4 months and we are now racing around, finally buying furniture for Peyton. We didn't want to jinx ourselves, so we held off until it was definite that we would be bringing home a child. For 109 days, Mr. Skry and I have been making twice daily trips to the Nicu. At times it can be draining and emotionally exhausting. And while this isn't the normal start to parenthood, we've learned to adjust to our "new normal".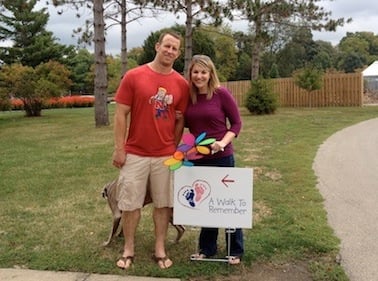 Did you know that October is Infant and Pregnancy Loss Awareness Month? I just learned of this a few weeks ago. Breast Cancer Awareness (which is an extremely important cause) often overshadows the other causes for the month of October. Ryan and I took part in a special "Walk To Remember" last weekend in Springfield. It was such a difficult day, but a wonderful way to pay tribute and remember Abby and Parker. Several hundred people took part, which really puts into perspective how many people have walked in my shoes. As I looked around the crowd, I couldn't help but feel grateful. So many people have lost a child and left the hospital empty handed. Every day I feel sadness over the loss of my two children, but I remind myself how lucky I am to have at least one survivor.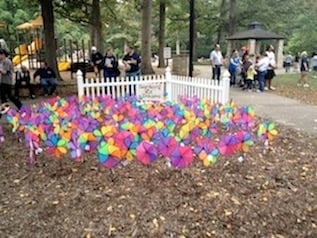 Parents received a flower windmill for each child lost. When Abby and Parker's names were called, we placed their windmills in the "Garden of Dreams". It was a beautiful ceremony and something we will do every year. The hundreds of families released a balloon in memory of their lost child/children and we walked for those babies who never got to take their first steps.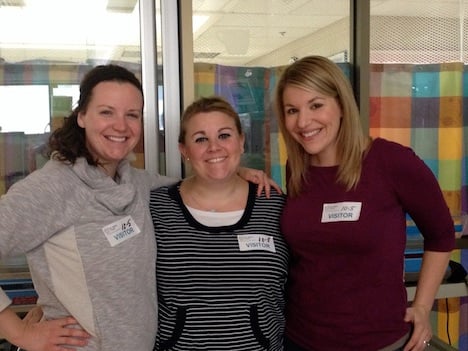 I have to say a big thank you to some special friends of mine. Katie and Brittny are two fellow Nicu moms and have spent countless weeks in hospital along with me. We got to know each other through our children. Day in and day out, we have checked in on each other and they have been a rock for me as I navigate through grief and the trials of having a Nicu baby. When I mentioned that I was going to the walk, they instantly offered to be there to support us. I truly believe there are times when people are brought into your life for a reason and I know that is the case with my new friends. We are all nearing the end of our Nicu days, but I know that we will be life long friends.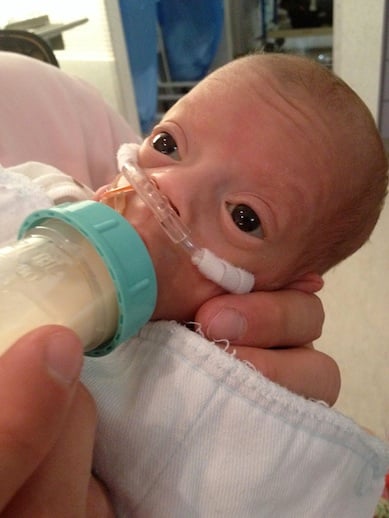 Ok, onto Miss Peyton! She must know that her time is almost up because she is taking every challenge by storm. She is doing great at learning how to eat and breathe and her eyes continue to show good progress. We're hopeful that the surgery worked and she won't need another. Plus, we know she is going to be adorable rocking the eye glasses someday!!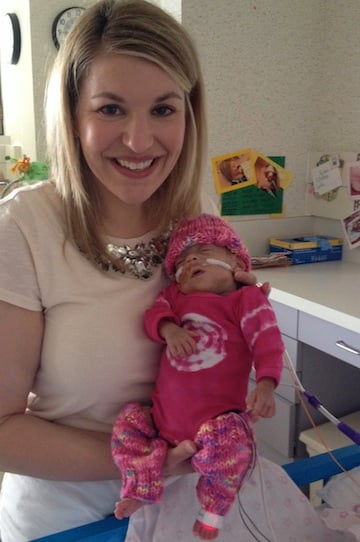 And I still think she is the most fashionable preemie in the Nicu. Check out this outfit my mother made. Yes, she actually tie-dyed a little onesie and knit Peyton leg warmers!! Leg warmers are popular right now for kids, but no one sells tiny ones for preemies. The outfit is quite big, but she'll fit into it in the next month or two.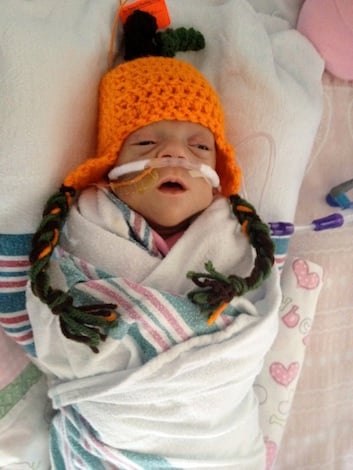 Peyton has also been showing off her large collection of hats. She got into the fall spirit as a pumpkin, thanks to a viewer, Katie. She's the same gal who made Parker and Peyton those adorable hats when they were first born….so sweet!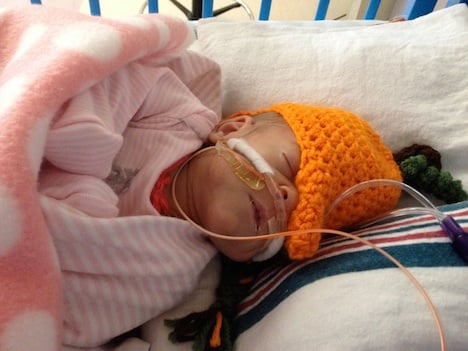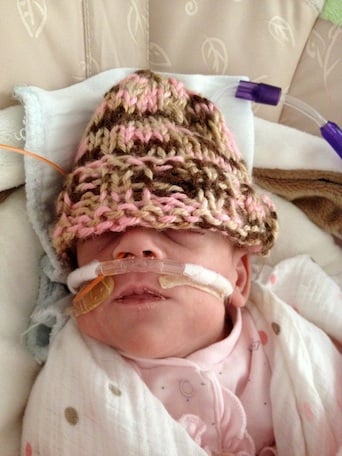 And Peyton doesn't want to take them off. She constantly sleeps with her hats taking over her face! We have so much fun putting her in new outfits. Thank you to everyone who has sent gifts to Peyton. She even gets mail addressed to her at the TV station! I have one last note that I mentioned on my Facebook page. I'm working on a new website/blog that will follow our journey. I'll keep this one going, but the new website will allow me to post pictures, let people subscribe to updates, etc. It's called "Perfectly Peyton…Navigating Life With Our Surviving Triplet". A fellow triplet mom is setting it up for me (I owe her my life…it's ADORABLE!). I hope to have it up and running in the next week or two.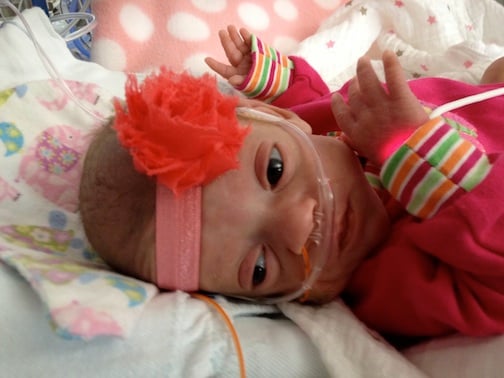 Next week's update—Who does Peyton look like? Everyone has said she is a spitting image of Ryan, so I have our baby pictures to compare to Peyton. Should be fun (and embarrassing!).
---
Miss Peyton is 3 months old!! On one hand, it feels like just yesterday when I delivered the triplets. On the other hand, it feels like I've aged 10 years over the last 3 months. I'll get to some new pictures in a moment, but first I want to give you all a health update.
(My favorite part of the day…getting cuddle time!)
As Ryan and I have experienced, things happen quickly in the NICU. One day can be great; the next day can be difficult. Doctors have been doing eye checks on Peyton for about a month. This week, it showed that she developed an eye condition, which left untreated, could lead to blindness. 24 hours after hearing that news, Peyton was whisked away for surgery. Of course, we had some hesitations. The first thing I thought of was Parker's situation. The stress of surgery and being put under anesthesia contributed to Parker's complications. Could the same thing happen to Peyton? Doctors reassured us, that she would be ok. Peyton is older, much bigger, and this surgery was less invasive.
(Peyton is groggy and swollen from surgery, but on the road to recovery)
So after 94 days staring at the NICU walls, Peyton went for a joyride! They bundled her up into a portable isolette and took her to the main hospital for laser surgery. It took about an hour and the doctor is "cautiously optimistic". We are hopeful this is a one-time surgery. As I joked with the nurses, she needs to be able to see all of her darling hats and headbands! Needless to say, this week has been extremely stressful. Worrying about our daughter, along with the mounting medical bills and me not working, has led to several sleepless nights.
Now onto a happier occasion and some adorable pictures. Monday, Peyton turned 3 months old. While a discharge date hasn't even been discussed, we know that our days/weeks are numbered. This week was a little setback, but Peyton has made huge strides over the last 3 months.
It's hard to even remember Peyton and Parker looking this tiny. But her first month, Peyton was all skin and bones. Fast forward two months, and she actually looks like a normal preemie baby! She has tripled in size and is starting to fill out.
(Peyton loves Nurse Mindy! )
(Oops! She hasn't quite grown into the matching headband!)
It's amazing to see the difference even from last month. Granted the cute little onesie (compliments of my crafty mother) is a little big, but you can definitely tell that she's growing up.
Each month that passes by, I find myself reflecting on our experience. I think the theme of this year is "bittersweet". Each milestone Peyton reaches is such a happy occasion, but it also reminds me of my two children who are no longer here. Not a day goes by when I don't think of Abby and Parker. And on the 23rd of each month, my mind wanders back to that bittersweet day when I delivered the triplets. It still is so vivid in my mind. On nights when I can't sleep, I find myself playing back my journey in my head. The moment we started IVF…the day we were shocked to find out we were expecting triplets…the day I landed in the hospital for good…the day Abby passed away…the day Parker joined his sister. They are all moments I don't want to forget, even the terrible ones. Each memory is a piece of the puzzle, which has led us to today. We have a beautiful daughter, whose perseverance and tenacity are traits we should all strive for. This little four-pound child won't give up. Peyton and her siblings have taught thousands of people how to love, how to be kind to others, and how to cherish your family. As I have mentioned before, we are so grateful for the kindness and generosity of complete strangers. So many people think of her as family and we think about all of you every single day.
(What is she doing? I think she is puckering up for a kiss)
A funny side note—we've adopted a saying that will stay with us forever. Yesterday, Peyton had wild hair from her hat. We call it "Parker hair". As you may recall, Parker always had crazy hair from the way he laid his head. Even friends have shared pictures of their children with me, now calling their bed head "Parker hair". It makes me smile every time!
---
9-12-13


(Peyton has learned to smile! This was after she made a mess in her bed and the poor nurses had to clean it up. )

I was reminded this week that grief can hit at anytime. I've been doing great emotionally and I think a big part of that is because Peyton is doing so well (I'll get to her update below, along with more hilarious pictures). Many friends remind me that I don't have to be so strong. Not to worry, Ryan and I are not putting on an act. Everyone handles grief differently, and our route is to be positive and not dwell on the negative. With that said, we will always have difficult moments and shed plenty of tears over our children who we can no longer hold here on earth.

It's interesting how little things can trigger that grief. On Monday, I met the nicest viewer who made beautiful quilts for Peyton. I was in a great mood. But as I sat holding Peyton, just looking at her made me cry. There were several new babies brought into the Nicu that day and I couldn't help but look at the happy parents. The joy they saw as they stared at their perfect little child or twins, made me long for that moment. I felt robbed of the special memories that most parents get. I never got to hold my babies and smile for the camera the moment they were born. Instead, I have pictures of Ryan and I in tears, watching our daughter Abby pass away in my arms. I didn't even realize that Peyton and Parker survived because I was so sick and was rushed off to surgery. I never had that precious moment of seeing my babies for the first time in the NICU. It was a few days before I had the strength to be wheeled out of the ICU to meet Peyton and Parker. I was in such a daze, the first week of their lives was a complete blur to me. As I watched families react to their healthier babies, a rush of emotions took over. I left the NICU and burst into tears the moment I reached my car. I spent the day crying at home and feeling sorry for myself. I didn't have the courage to walk back into the hospital on Monday, knowing I couldn't handle it. It was then that I realized mourning is not something that only lasts a short while, it is a feeling that will likely stay with me for years to come.

I'm not sharing this heartbreak for people to feel sorry for me. As I've said before, I don't have the attitude of "woe is me". I just want to be as brutally honest as possible. Oftentimes, people hear the miracle stories, but there is so much more to the story before the happy ending. After crying with family and friends that day, I was better. I was reminded that it's ok to break down and feel sad. It's all part of the mourning process. I spent the evening in kitchen baking for the nurses, which cheered me up. And the next day, I was back to my positive self, happy to see my daughter and feeling ok with seeing other happy parents.



(I had to share this picture of Parker. We call his hair sticking up "Parker hair", since it always looked like that. When Ryan wakes up in the morning, I just point and say "Parker hair"! Even his sister Peyton gets "Parker hair" every so often.)

Now onto happier news. I want to share with you a story that will likely stay with me for the rest of my life. A triplet mom halfway around the world let me know that my angels are busy ones. She was looking at a picture of Parker and her son asked who he was. After sharing his name, her boy asked if he could play with him. The mom said no, that Parker lives up in Heaven with his sister Abby. The next morning, the mom asked her son what he dreamt about. He told her he played with Parker and Abby at the park. He went on to tell about the swings, climbing a tree and feeding the ducks. He said Parker was a good sharer, but Abby was a naughty girl throwing rocks. The mom was shocked at his long-winded dream. She shared the story with me so that I would know my children had a busy night in Heaven playing in a park in Australia. I get tears of joy every time I share this story. Thinking about my sweet angels staying busy and playing together makes me know everything will be ok.




That brings me to our little ray of sunshine here on earth, Peyton. She's up to 3 ½ pounds. She still isn't fitting into preemie clothes just yet, but she's close!


And she seems to enjoy our dress up moments with the nurses. Even a droopy bow didn't bring her down.
So many people commented on the funny faces she makes. She sure is developing quite the personality! Ryan and I learned how they give her a bath and the face she kept making is now her signature look.



("Is this really necessary guys?")



(Nurses call the princess of the NICU. She gave us the same face of "Really guys?" as we tried out a tutu from a viewer—Adorable!)




Last week, we tried out her new Oregon Ducks football headband…a gift from a lady out in Oregon (I wish I could list all of the random acts of kindness from viewers and other people across the country, but it would probably take me days!). SO cute! I picture Peyton thinking, "What? Oregon is only ranked #2 in the country, not #1?!?".

As she gets bigger, she has more activity throughout the day. She gets physical therapy several times a week, where they work on her range of motion and head positioning. She also gets her eyes checked once a week. Ryan and I have many pictures like the one below, where her eyes are all over the place. Her muscles are not fully developed so it's entertaining to watch where her eyes decide to wander.




Overall, Ryan and I are thrilled with Peyton's progress. We are finally shifting our talks from "If " she goes home, to "when" she goes home. While we know that things in the NICU can change in a heartbeat, we feel that in our hearts Peyton will be coming home. And for those asking, Riley is doing great. I feel terrible that I haven't mentioned our "first child" lately. He definitely knows something is going on. We let him sniff the blankets and clothes we bring home from the hospital. He also is attached to one of my childhood stuffed animals …it goes everywhere with him. But for the most part, he seems like he just wants to mope...secretly knowing that his world is about to change!

---
It's hard to believe it's already September. My family has been through quite the whirlwind over the last few months. And I have to admit, I'm ready to forget the summer of 2013. On one hand, bringing three beautiful lives into this world was absolute joy. On the other hand, no parent should ever have to bury a child…especially two babies within two months.
Peyton is our little miracle and doctors say she is doing remarkably well for a baby born that early and tiny. And look at that adorable smile! Every time I get sad, I just look at her beautiful face and it melts my heart. I'll give an update and plenty of pictures below, but first I want share with you the emotional toll Mr. Skry and I have faced.
Losing Abby was devastating. After going through that loss, we never thought we would have to experience that heartbreak again. After P & P reached the one month milestone, I really started believing that they would survive and thrive. But on day 37, our world came to a screeching halt. Parker never fully recovered from his major intestinal surgery. And worse, the stress of his health caused a massive brain injury. He would never fully recover. I remember that day perfectly. Ryan and I were back to our cheerful selves. Our babies seemed to be doing well. We were meeting with their doctor for a routine visit, but never in a million years did we expect to hear the grim news. My body began to shake and I could barely breath. I remember trying to hold it together until the doctors and nurses left…and hysterically crying the moment they stepped out of the room.
So now we were left with a decision no parent should ever have to make. We knew Parker's time was limited, we had to decide when was the right time to let him go. It was one thing losing Abby hours after she was born, but we didn't have a choice. Here we were watching our perfect little son moving and smiling, knowing that he would slowly become paralyzed and wouldn't survive another surgery. We were left not with a choice, but with having to tell doctors when to pull the plug. We sat on the information and did hours of research, hoping that a miracle would happen. But deep down we knew, Parker was sick and we didn't want to see him in pain. After two weeks, our families flew in to say goodbye and Parker joined his sister Abby in Heaven.
Those two weeks were so memorable, filled with moments that I will cherish for the rest of my life. A local photographer from Lincoln, Jim Grimaldi, volunteered his time and took these beautiful pictures of P & P. When I look at the hundreds of photos, I see absolute bliss. Ryan and I forgot that a camera was there and Jim captured such candid moments that show how happy we were with our children in the NICU.
(P&P started holding hands. The ultrasound pic in the background shows all three triplets)
(The shoes are the same ones that I used to announce my pregnancy on television)

We bought a video camera and filmed our babies. Even the most mundane tasks, like changing Parker's diaper, were captured. I can't wait to show Peyton those videos years down the road. We never want her to forget that she is a triplet.
We enjoyed precious moments that nurses made possible. It took a lot of work, but they managed to let us hold both of them together. As you can see, they loved their time together. Peyton had her arm around Parker. I remember holding Peyton for the first time after Parker passed away. The first thing she did—reach her arm out looking for her brother.
(They really looked so much alike!)

The week leading up to August 16 was gut wrenching, but we stayed strong for our babies, not wanting them to see us in any agony. Before Parker passed away, one of our nurses took some beautiful pictures. Parker was wide eyed for Nurse Paige and these pictures show the love surrounding our family.
Ryan and I woke up the next day and we were at peace. I thought the grief would set in, but we spent weeks grieving before he passed away. Seeing Parker so happy and peaceful, made us realize that it was time for him to go. Now I won't lie, I cry every single day over the loss of my two babies. I always pictured Parker following in his father's footsteps and playing football. I imagined Ryan coaching his little league team and gathering around the tv for NFL games. But instead, I'm left with an adorable picture of Parker sporting his Oregon Ducks football hat. He sits in a frame next to me, watching college football with us in spirit. Some days are more difficult than others. When I open Facebook and see pregnancy announcements, I shut down my computer. It brings me back to the day we found out we were pregnant with triplets…a perfect day that would end in tragedy months later.
But those tough days are becoming "less" difficult. I read every single email, message and comments from all of you. When I post a picture, I get excited to hear from you. We have SO many people praying and thinking of us across the country. I love when people will "send me love" from their state (I think we have people reaching out from every single state in the country!). And the stories people share, make me realize the good that has come out of our tragic experience. Parker and Abby have touched thousands of lives. They have made people realize that the trivial things in life aren't so important. They have made parents hug their children a little tighter. And if that was their purpose in life, they I'm at peace with it. I'm not going to spend my life dwelling on our losses. I'm going to cherish every single second I spent with my babies and use my experience to help others. Plus, I have one precious little miracle that keeps up our hope.
It's time to dry those tears and move on to happier news. Miss Peyton finally reached 3 pounds!! It took about 10 weeks, or 70 days, but she's slowly getting bigger….or should I say long and lean.
This picture shows her size. That 2 month sticker is what people put on onesies to show how big their child is. Well, Peyton doesn't quite fill it out yet, but she is well on her way! She keeps the nurses busy and keeps the entire NICU entertained with her collection of bows and hilarious facial expressions.
She's been smiling a ton and is starting to look around wide-eyed, taking in the world just like her brother Parker used to do. And while we remain cautiously optimistic, I truly believe that Peyton will be our miracle child and will be coming home with us sometime this fall. Keep up the prayers and comments, I love hearing from you. Thanks again for all of the sweet letters, gifts and messages. Ryan and I feel so grateful for all of the good people in this world, helping us work our way through this whirlwind experience.

---
It's with deep sorrow that I have to share this news. Our perfect little son Parker has joined his sister Abby in Heaven.
Parker passed away on Friday, due to health complications. We had a beautiful service this weekend and have been surrounded by friends and family during this difficult time. Ryan and I are once again heartbroken, having lost two children in less than two months. But, we are so thankful for the 55 wonderful days we had with our son. Parker was a fighter from the beginning and overcame so many odds in his short time with us. While we are absolutely devastated, we are at peace knowing how much joy he brought to others. From our family and friends, to his nurses and strangers who only knew him through pictures...Parker has touched thousands of people across the country.
We've opened up our lives and think of all of you as our extended family--thank you for the prayers and support. His sister Peyton is one lucky girl, she now has two angels watching over her.
---
8-5-13
I'm so sad to have to share this. Just hours after posting a positive health update on my blog, we received some grim news on Parker. Our sweet baby is facing more complications. The stress of his health and surgery means he faces a lifetime...e of major disabilities and health problems. Ryan and I are absolutely heartbroken. While we believe in miracles and know that our trio is evidence of that, we are also realistic and know he challenges ahead. In the coming days and weeks, we'll have to make decisions that NO parent should ever be faced with. I'll be taking some time off from my blog, so please check Facebook for pictures and updates. We love our triplets more than anything in the world and we are enjoying every single minute we have with Peyton and Parker. Thank you for all of the support and love...we're glad our story has touched so many lives.