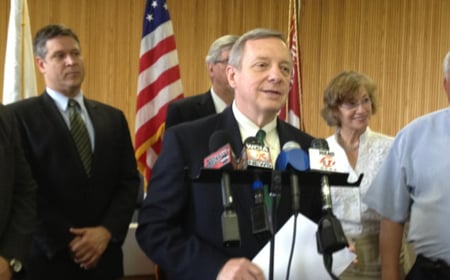 CLINTON, IL- Mayors around central Illinois want the EPA to block the expansion of the Clinton Landfill, and now they have enlisted the help of Senator Dick Durbin.
The Clinton Landfill has been trying to expand since 2007. Specifically, the landfill wants to start accepting industrial waste.
Illinois Senator Dick Durbin and several central Illinois mayors are opposing the landfill expansion, saying chemical wastes could contaminate the underground water supply.
"Dumping toxic chemicals, like PCB's, in a landfill directly above an aquifer is a dangerous thing to do," Senator Durbin said Thursday.
Surrounded by area mayors and county board members Thursday, Senator Durbin said he is asking the EPA to block the landfill from being able to bring in industrial waste.
Normal's Mayor Chris Koos, like Durbin, is opposed to the landfill expansion.
"PCB's are incredibly toxic materials; they don't break down," Koos says. "And to have them leaching into the Mahomet Aquifer would be disastrous to central Illinois."
The Mahomet Aquifer supplies drinking water to about 850,000 central Illinois residents.