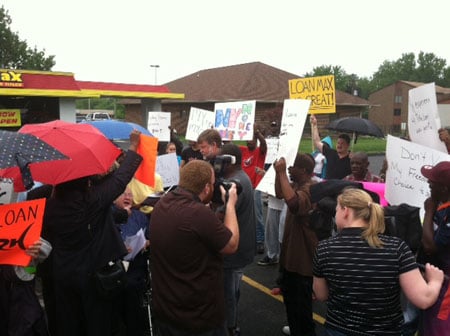 DECATUR, IL- One group's push to lower interest rates at payday and title loan businesses was met with strong opposition in Decatur Monday.
Illinois People's Action is a faith based group that says it is fed up, not with payday loans, but with the high interest rates on those loans.
The group set out to rally against high interest lenders at the latest store to open in Decatur Monday, but not long after a second group showed up in support of the payday lenders.
Aaron Smith is a father from Bloomington. He says without the help of payday loans, his kids would have had a "really sad, pitiful Christmas."
"I would use them again in a heartbeat," Smith says.
But members of Illinois People's Action say stories like Smith's are few and far between. They say payday lenders cause people in the community to get caught in a cycle of debt they can not repay.
Susan O'Neal is a lawyer who says she has witnessed how vicious predatory lenders can be. Now she is working alongside IPA to get a law passed to lower interest rates on payday and title loans.
Under current state law, borrowers can ask for a repayment plan that will stop interest charges if the loan is 35 days old or older. For more information on getting help with payday loans, click here.