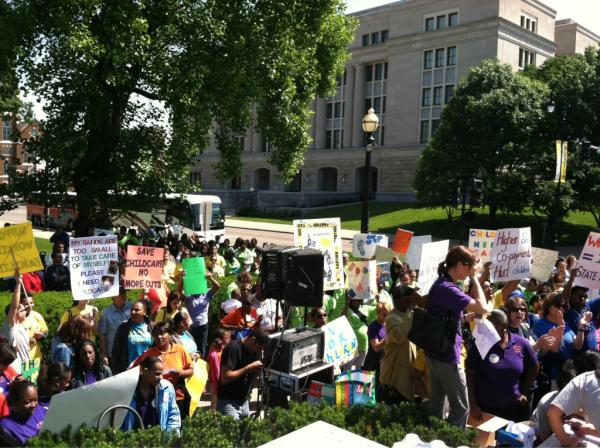 Springfield, IL – Hundreds of parents and child care providers from Springfield and throughout Illinois gathered this morning at the State Capitol to support full funding of the Child Care Assistance Program (CCAP) through June 30th and to reject $85 million in proposed cuts that would take effect on July 1st if enacted.
"Illinois Action for Children" claims the $85,000,000 in proposed cuts will mean many families won't be able to afford child care. The group is also fighting new eligibility rules and increased co-pays for parents.
"For God's sake do not do this to families and young children," Maria Whelan of Illinois Action for Children told the crowd. "We have proven we can stop bad ideas."
Rally participants presented paper "building blocks" that each tell a personal story of the positive impact of child care on children, families and the economy. Each paper "block" represents a child who will lose access to child care if these cuts occur. These "blocks" will be displayed at the Rally before participants go into the Capitol and present them to their legislators.
Meantime, one method the state is proposing to fund the teachers' retirement system is also under fire. Specifically, the state is looking to cut more than $1.5 billion from schools and local governments. The tax money instead would go toward funding pensions.
Cities like Decatur and Springfield would lose millions of dollars if legislation is approved to take away state tax dollars. A legislative committee was supposed to take up the bill Wednesday, but postponed action.
Springfield Mayor Mike Houston told WAND News the legislation, in effect, forces additional taxes on people across the state.