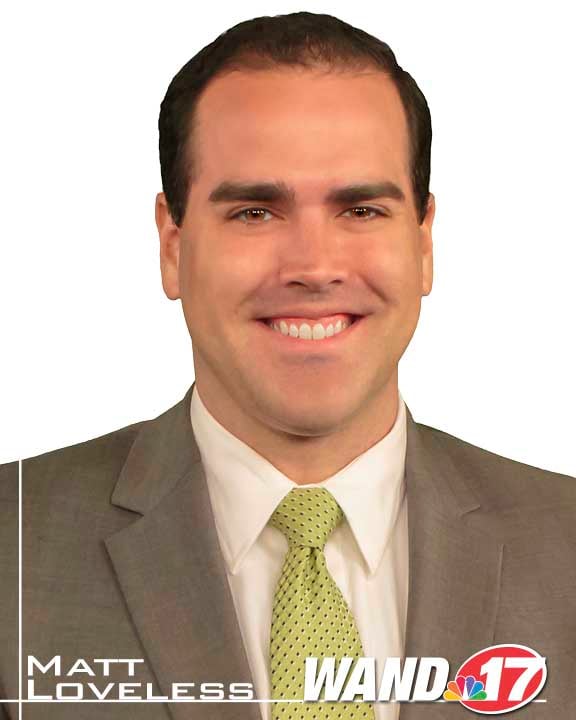 Sports Director Matt Loveless anchors nightly sports segment for WAND. Matt came to the station in April of 2012, after spending his entire life in the northwest, and he's a sports guy in every sense of the word.
Most recently, Matt was working at KTRV TV in Boise, Idaho, covering all kinds of sports. Most days, that included the Boise State University football team. With their national notoriety, and their ability to create quite a bit of controversy in the college football polls, there was never a dull moment covering the Broncos. Before that, he was a nightly news anchor and general assignment reporter at KLEW TV, the CBS affiliate in Lewiston, Idaho. In the years before, he spent time with KNDO TV in his hometown of Yakima, WA, and at FSN Northwest, the regional sports network for the area covering his favorite teams and players.
For Matt, sports are a career as much as they are a passion. Growing up in Washington state, he is a fan of the Seattle Mariners, Seattle Seahawks, and the now-non-existent Seattle Supersonics - which made his work with FSN Northwest all the more exciting. He graduated from the Edward R. Murrow School of Communication at Washington State University, and even though he'll be covering other college teams on Saturdays in the fall, he manages to keep one eye on his Cougs.
Matt says one of his favorite parts of his job at WAND is the Pepsi Sports Challenge, and encourages people to email him with ideas... He'll try anything! Contact him at matt.loveless@wandtv.com.