Oh Baby! Lovington Quads Are Home
Posted: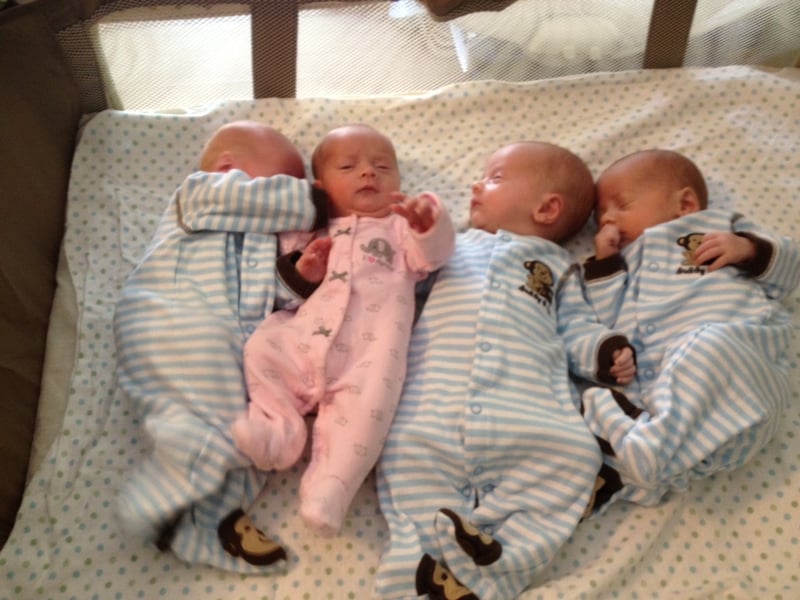 Lovington - Kari Burnett is a labor nurse at Decatur Memorial Hospital. Now she has her own labor of love times four. Quadruplets born on June 6th.
"All I wanted was four healthy babies and I got them," Kari told WAND News.
Kari gave birth to one girl, Jianna, and four boys. The boys are named Jaleb, Jace and Jacoby. The quads are now at their Lovington home. "I do get sleep," Kari said. " I get about an hour and a half between each feeding. That's enough. That works."
"We're very happy that they're home," dad Jesse Burnett stated. "They're doing well and now we can take care of them and watch them grow. So, it's actually a blessing."
The Burnett's are getting help from friends and relatives in caring for the quads. Kari and Jesse were even able to get away for a few hours Friday evening for a trip to the St. Louis Cardinals baseball game.
The big job next to feeding? Changing diapers. "We go through 48 diapers in a 24 hour period and sometimes more," Kari stated. "So, lot's of diapers. Lot's of wipes."
"It seems like as soon as we get done with one feeding and have their diapers all changed, it's no more than a blink of the eye, we're doing it all over again," said Jessie.