Kevin's Thunder
Posted: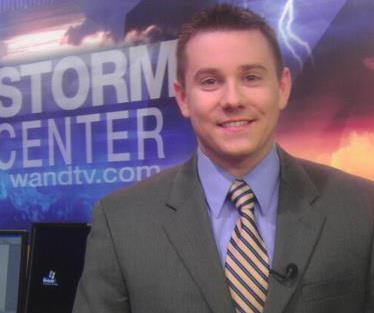 Facebook Me
Follow Me on Twitter
06-09-2014
Wow! It's been a little while since the last blog post. Figured now would be as good of a time to update as any, so here we go!
Life's been full throttle the last couple of months. My schedule has been turned upside down since March when I took the reigns as the Morning/Noon meteorologist here at WAND. My days now start at 2 AM and I usually try and get to bed around 6 or 7 at night. In between that time I am at the office, being a dad, and trying to make the most out of my now "challenging" lifestyle. I guess it does help a little that its summer time and there are things to do outside. Most of the time I take the kiddo on walks/runs, go to the pool or walk around stores aimlessly just to get out of the house; but we enjoy our afternoons and evenings off together!
JC and I have "held down the fort" for about a week now as a 2-man crew. We are happy to announce our new Weekend Meteorologist will be starting today (June 9)! His name is Adam Del Rosso and he comes to us from a station in Steubenville, Ohio! He has a lot of experience and is very excited to move to the Midwest where the weather is a little more active! You can catch him this upcoming weekend on Saturday, then all of next week (June 16-20) on WAND Today and at Noon. This leads me to my last update…
I'M GOING ON VACATION!!! I'll be gone all of next week, soaking up the rays of the sun on the white sandy beaches of Destin, Florida! I've been looking forward to this trip for quite some time now; not just to get away but to also enjoy some time with the family. You see, there are four families going – mine, both of my brothers, and my parents. It's the first time in 11 years we have done a family vacation! My parents are especially excited because all three grandkids will be there too! We rented a beach house about 100 yards of the ocean so we're ready to sip on some tropical drinks and just kick back and relax! Don't worry – I'll post a picture or two via Facebook/Twitter!
That's it for now. Have a great week!
--KC-
-
______________________________________________________________________________________________________________________________________

11/15/2013
Two months ago I thought I would have updated my blog at least three times by now with baby updates and what it's like to be a dad… WRONG!
The little guy has kept us busy… REALLY busy! I knew life would change when our little Simon was born, but I guess I didn't quite realize that my life would now revolve around this tiny little human being. As much as things have changed, it's all been for the better.
Simon will be two months old come November 17 and so far, it's been quite the adventure. When he was born, he suffered an injury on the way out called Brachial Plexus Palsy (or Erb's Palsy). In a nut shell, his arm got stuck and some of his nerves in his arm/shoulder were stretched. He is a healthy baby boy with the exception of his left arm; the good news, however, is he is showing signs of a full (hopefully) recovery. His hand still moves like normal, and his elbow is working; now we just need to work on his shoulder and his bicep. The frustrating thing as a parent who has a child that was born with this condition is

time is the only cure

. We do exercises with him and he has a physical therapist, but doctors say it could take anywhere from a few months to a few years to see a full recovery; it all depends on how/if the nerves in his shoulder/arm heal.
Compared to what some parents have to go through we still find ourselves counting our blessings on what a perfect little boy we have. I truly feel his arm will recover and later in life he will astonish scouts from the St. Louis Cardinals and become a Cy Young left handed pitcher! (HaHa… Here's the hoping right!)
Parenthood has been a blast so far. My wife and I wouldn't have changed anything for the world and can't wait to see the adventures we have in the future.
--KC--
---
Facebook Me
Follow Me on Twitter
9-5-2013
Sunny and cooler… Sunny and warmer… Not a whole lot of rain to talk about…
Oyyyyyyy! I feel like a broken record! We've really fallen into a dry slump here in central Illinois. In fact, the National Weather Service just announced it was the third driest August we've had in Illinois! (here's the link) http://www.crh.noaa.gov/news/display_cmsstory.php?wfo=ilx&storyid=96951&source=0
In the month of August alone we only received .09" of precipitation at WAND. The last measurable rainfall we have on record is .51" back on July 30!
Right now the models aren't showing much, but there will be a slight chance for isolated showers/storms Saturday night into Sunday morning. A cold front will arrive over northern Illinois; depending on if it set up over central Illinois there will be a chance for rain. Still, if we see any, it won't be much!
What do you think of the dry end to summer? Is it still as bad as 2012?
Hopefully relief will be on the way sometime soon! Cheers!
--KC--
---
8-16-2013
Holy cow! Am I posting my SECOND blog post in a week? Ladies and gentleman, boys and girls, you're witnessing history in the making! I have a few extra minutes on my hands this week due to our crazy schedules of covering the state fair so I feel I need to take advantage of it!
It's hard to believe but the summer seems to be winding down! The state fair is coming to an end, school is starting back up and I'M ABOUT TO BE A DAD! It was fun and exciting to find out back in January that my wife and I were expecting but I just can't believe that 8 months have gone by that fast!
Our official due date is September 25. We're having a boy, as most of you know, and have had a name picked out now for a few months. While we have told our family and friends we haven't told a lot of other people; so, without further ado… After careful consideration we agreed on naming our little one Simon Francis. It's always a little scary putting the name out there because you never know how people are going to react. For the most part people have been supportive of the name. But it is kind of funny to watch some people react when you tell them and you know they're just smiling and nodding. None the less, we're ecstatic about the name and even more ecstatic about his arrival at the end of September!
I'm sure I'll be posting more about how things are going closer to the due date. In the mean time, feel free to give me any advice for a first time dad! I've got that scared, nervous, excited feeling but deep down know it's all going to be just fine!
--KC--
---
08-13-2013
Weather-wise, it looks like it's going to be a great week for the 161st Illinois State Fair! We saw a few showers and storms on Monday but high pressure is going to be with us the rest of the week giving way to sunny skies and temps in the mid-to-upper 70's.
I can't believe it's already that time again for the state fair. This will be my third one since moving to central Illinois. The last two years my wife and I enjoyed walking through the stables on "Ag Day" and looking at all the pigs, cows and other farm animals. Let's face it, growing up in St. Louis we weren't accustomed to the farm life! Another hot attraction for us is the harness racing; although we never seem to place our bets on the winning horse!
As far as the food goes, last year we tried some deep fried cheese curds from a vendor who lives in Wisconsin; needless to say, we were NOT disappointed! We did try a deep fried brownie but didn't think it was anything to bark about. I know chocolate covered bacon has been circulating this year so maybe that will be my one indulgence!
Whether it's walking around or tasting the new food concoctions, I'm sure 2013's fair will be another hit! What's been the craziest/best food you tried?
--KC--
---
06-25-2013
In never fails! When either Greg or JC go on vacation and I am scheduled to fill in for their shift it's almost a guarantee (figuratively speaking) that severe weather hits!
What a difference one year makes though. At this time in 2012 we couldn't buy any relief from the drought. Now it seems like we can't get the rain to stop!
The storms that developed the last few days were thanks to the change in the season from spring to summer. Temperatures have been in the low 90's with dew points in the 60's & 70's; with daytime heating of the atmosphere and high levels of moisture in the air it's a classic set up for pop-up thunderstorms. With no fronts or jet stream in place there was really nothing to aid in the development of tornados. Instead, our severe weather threats were primarily hail, strong winds, lots of lightning and heavy rain.
It looks like there will be another chance for strong storms on Wednesday as this weather pattern continues. BUT, relief is on the way! By the end of the week a cold front will arrive brining us much cooler temps into the weekend. We'll be waiving goodbye to the 90's and welcoming highs in the low 80's with lower humidity levels.
--KC--
---
05-28-2013
Oh boy! So much for that "New Year's Resolution" of updating my blog more frequently. Well you caught me! But how is your New Year's Resolution going? Still sticking to it?
I'll keep this update a little more personal rather than "weather related".
As I'm sure you're well aware there's been a "Baby Boom" here at WAND! And I'm excited to say that I am included in that "Baby Boom". My wife and I found out in January that we were going to be parents in another 8 months or so! It was quite the surprise!
We were just about ready to leave Decatur to head out west for our annual trip out to Colorado. Just as we were about to walk out the door my wife turned the corner out of our bedroom and her eyes were as wide as they could go. Low and behold there were two little lines gleaming up at us from the test! While it was a surprise, we couldn't be happier! Turned out it added that much more enjoyment to our vacation!
We're just about 23 weeks along now so well over the half-way point! Things have been going great and all of the doctor visits have gone smoothly. We found out about 8 weeks ago that we were going to be having a baby boy! It's been challenging trying to come up with names but I think we finally have one picked out (unfortunately for you, you're just going to have to wait till he is born to find out what it is!)
Little Chierek's due date is still on track for September 25 and mom & dad couldn't be happier to say hello to him when he arrives!
Since I haven't updated my blog lately I figured that'd be a great way to start things off. Hopefully all is going well with you too. Now, only if we could get it to STOP raining (kind of a bizarre request coming from last years dry weather, huh).
--KC--
___________________________________________________________________________
02-08-2013

Happy New Year! Wait a minute, what? Isn't it already the beginning of February?

While this may be the case, you'll understand why I said that when you look at the last time I posted on my blog; December 10 of last year. OK OK, so I fell a little behind. Starting today, I'm making a 'New Year's Resolution' of trying to update my blog more often.

Things have been going well so far in 2013. In January my wife and I went to Colorado for a week of skiing in the mountains of Breckenridge; it was a blast!

So far the weather hasn't been to bad this year. A few snowfalls have brought just a little bit of snow but it really hasn't amounted to much. Nothing like the blizzard that's going to hit the northeast this weekend. Places like Boston could get between two to three FEET of snow! While I wouldn't mind getting a significant snowfall here in central Illinois, I'm glad it's nothing like that!

Well, I just wanted to update things on my blog. I am alive and doing well! Keep checking in every week for new updates about the weather and how things are going! Until next time...

--KC--
---
12-10-2012
Whoops! It's been a little while since I've posted on my blog! Got a little sidetracked I guess!
About a month ago I started doing something new on my facebook page and I've gotten a lot of positive feedback so I wanted to share a link with you… Here it is:
http://www.crh.noaa.gov/ilx/trivia/trivia.php
This will take you to the Central Illinois - National Weather Service Trivia Page. You can click on any day, all 365 throughout the year, and it will give you a weather trivia fact for that day in Central Illinois.
For instance, did you know on February 16 (1976) severe thunderstorms developed across parts of central Illinois during the late afternoon hours. A tornado touched down in Pana, in Christian County, destroying a home and damaging about 50 others. The storms also produced strong winds in Macoupin, Montgomery, Shelby, and Coles Counties. Damage occurred to trees, power lines, and some buildings as a result.
Or how about on December 27 (2008) when a strong cold front pushed into an unsesaonably warm airmass over central Illinois, causing severe thunderstorms with widespread wind damage. In Springfield, part of the roof was blown off a school, and 3 large barns and the grandstand were damaged at the state fairgrounds. In addition, heavy rain fell on partially frozen ground to cause flooding in a few areas.
It's a pretty neat link. Try it out and test some of your family or friends!
--KC--
---
11-8-2012

Here comes Round 2! Mother Nature is adding insult to injury across much of the NE portion of the United States only days after Sandy ravaged that part of the country. Now, instead of preparing for a hurricane, our friends to the northeast are getting ready for a Nor'easter. So, just what exactly is it?

A Nor'easter occurs in the eastern portion of the United States, generally between October and April. They form when an area of Low pressure develops off the southeastern coast (near Florida), gathering warm moist air from the Atlantic. Strong northeasterly winds will force that system to move up the coastline. Meanwhile, an area of High pressure (cold, dry air) will develop in the Arctic and continue to sag to the south along the northeastern coast. When those two systems collide, the moisture and cold air produce heavy amounts of snow and rain, potential for hurricane force winds, and high waves that can cause erosion to beaches.

So if it wasn't bad enough that the east coast is still trying to recover from Hurricane Sandy, now they have to worry about the first big winter storm that could dump up to 12" of snowfall in some locations. --KC--
---
11-1-2012

Why is it that time always seems to fly by? Honestly! Today is already the first day of November which means we only have two more months to go until 2013.

When most people think of November, I'm sure the first thought that pops into their head is Thanksgiving. While "Turkey Day" is easy to associate with the second to last month in the year, there's a particular day that a lot of people don't think about until it arrives; Daylight Savings Time (DST)!

That's right, it's that time of the year again! The time where we turn our clocks back an entire hour only to throw off our biological clocks; where 8 AM now becomes 7 AM. As if that weren't confusing enough, we lose that all important hour of daylight in the evening. So all you kiddos out there, you can wave goodbye to playing outside until 5:45 PM because now it will start getting dark around 4:45 PM.

Daylight Savings Time begins on the second Sunday of March and ends on the first Sunday of November. In November, clocks are moved back one hour from 2 AM DST to 1 AM standard time. Than, in March clocks are moved forward one hour from 2 AM standard time to 3 AM DST.

So why? Why do we move our clocks back? Why do we "fall back" in the Fall and "spring forward" in the Spring? Some say the concept of DST started back in the late 1700's with a man by the name Benjamin Franklin.

The story goes, Franklin wrote of waking up at 6 AM only to realize the sun would rise before he did. Realizing this, he believed people could make better use of the daylight and accomplish more with the natural light of the sun. However, he didn't quite know how to put his thought into motion.

It wasn't until a few century's later before it would actually be implemented. Modern DST is credited to a New Zealand man by the name George Vernon Hudson.

The first time DST was issued was April 30, 1916, during World War I. Germany was the first country to try the new time switch in an effort to help conserve coal to be used for the war. It wasn't until 1918 when DST was first implemented in the United States for the states that chose to observe it.

So whether you like it or not, twice each year we are forced to move that hour hand by one hour. But hey, look on the bright side, we get an extra hour of sleep Saturday night!
--KC--

---
Kevin's Thunder

More>>

9-21-2012 The Autumnal Equinox will occur at 9:49 AM CDT tomorrow (September 22). Can you even believe it's here? Summer went by way to quick; didn't really have a chance to "enjoy" it because of the

More \232a

9-21-2012 The Autumnal Equinox will occur at 9:49 AM CDT tomorrow (September 22). Can you even believe it's here? Summer went by way to quick; didn't really have a chance to "enjoy" it because of the

More \232a

7-25-2012 I ended up working the morning show twice this week (Tuesday & Wednesday). It has its pros and cons. Call me crazy, but I actually love the shift. I wake up at 2:00 AM, get ready, and am

More \232a

7-25-2012 I ended up working the morning show twice this week (Tuesday & Wednesday). It has its pros and cons. Call me crazy, but I actually love the shift. I wake up at 2:00 AM, get ready, and am

More \232a