Bulletin Board Material; May and June 2012 Blog Archive
Posted:
6-13-2012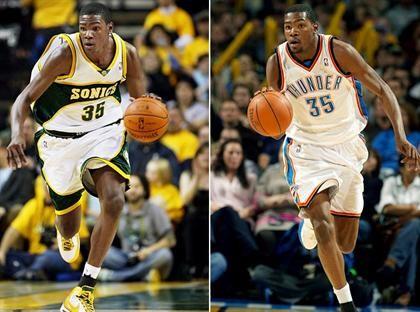 There will not be NBA Finals coverage on WAND this year.
I told my Twitter and Facebook followers my official answer as to why this week: Neither the Thunder nor the Heat are local teams, therefore I will not spend time in my limited sportscast to make mention.
The local sports philosophy has shifted towards "if you can see it on ESPN, then we won't waste time working on it here." No one's going to beat the ESPN empire when it comes to covering the major sports, but ESPN will never hold a candle to our ability to get into the small communities, and tell the never-before-heard stories. It's a philosophy I've always followed. Unless I can make a local story out of it, I don't show the World Series, Stanley Cup, or NBA Finals. I have yet to work in a city with a major league franchise, so it's never been a local story.
Like I said, that's my "official" answer.
I'm a stranger in a strange land, more than ever since I moved to the Midwest in April. I'm the only one in my office who will openly root for the Miami Heat, yet simultaneously refuse to watch the NBA finals this year.
I'll admit, when I moved here it was hard for me to put NBA highlights in my sportscasts. Here in Illinois, many iconic images from the 90s are hated images out west (The Utah Jazz have a different memory of Jordan's jumper in '98). As much as I try to be an unbiased sports reporter, I'm also a fan (something I hope actually makes me a better sports reporter). I don't dislike the Bulls, who dispatched of my Sonics in the '96 Finals. I'm actually very excited to follow this franchise.
It's that I dislike the NBA.
I dislike the way they play the game, particularly the lack of effort on defense. I dislike how, while the talent is far superior, the professional game is played with less passion than the amateur game. It's the only sport where this is true.
Really, though, it's because one of my favorite childhood teams no longer exists. Yes, I'm a bitter Supersonics fan, and I'm not afraid to admit it -- on both accounts.
Most casual NBA fans know there used to be the Seattle Supersonics, and they became the Oklahoma City Thunder. Here in central Illinois, that about all you've ever needed to know regarding the topic.
I was there when the Sonics were sold. I was doing an internship at FSN Northwest, when I got a call on the morning of July 19, 2006, a day I was supposed to have off.
"Something big is about to go down," was the setup I got from an FSN producer. Local media had been put on alert by the Sonics, without immediate notice as to what was going on.
When I got to Seattle's practice facility, where they were holding a press conference, I saw sitting on the table the Sonics' 1979 championship trophy. I was getting a camera lesson from an FSN videographer, who had me getting shots of the trophy -- in hindsight, it felt like he was saying, "get a gooooood look, because you're never seeing this again."
The Sonics had been sold, to an owner in Oklahoma City -- and with no ties to Seattle.
I watched former Sonics owner Howard Schultz shake hands with new Sonics owner Clay Bennett. I listened to Bennett, a businessman from OKC, a city that wanted an NBA team, claim that the Sonics wouldn't be leaving. I still have the reporter pad on which I wrote the following quotes from Bennett:
"The NBA and the city of Seattle are synonymous."
"It is not our intention to move or relocate the teams."
There was a fair amount of skepticism from the reporters there, and I remember thinking that was the end of my Sonics. I also remember one of FSN's reporters telling me, "No way that happens."
Teams get bought and sold all the time, but there was something that made this day different. Following the press conference I immediately went back to the office and saved all of the raw footage onto a BETA tape, which I still have. Having been in the room with Bennett when he gave Seattle false hope has always left me feeling that in some way, Bennett lied right to my face.
The rest is history: There are no Seattle Supersonics, and a team that didn't exist that day -- the Oklahoma City Thunder -- is playing in the NBA Finals.
There's been plenty of coverage this week, including a great article in Yahoo! Sports, about the mood in Seattle during these Finals.
It's fun to read comment boards in Seattle publications, many of them reminiscent, most of them scathingly bitter towards Schultz and Bennett. It's less fun to read them on national publications, which make many in Seattle seem like whining babies.
Yes we are bitter. We're bitter because the Thunder are a really good basketball team. We're bitter because Kevin Durant is arguably the NBA's best player. We're bitter because the Thunder are becoming a dynasty before our very eyes.
We're bitter because it could -- and should -- be happening in Seattle.
We don't fault the players. Durant, and OKC's Nick Collision spoke often about wanting to stay in Seattle. We don't fault the fans, either, because they have every right to enjoy this (although the t-shirts that they've printed up sarcastically saying "Thank you, Seattle" haven't exactly endeared them to the Emerald City).
Seattle fans were not failing to support the team, which those outside of the city seem to believe. They were robbed of something they wanted. Imagine having an irreplaceable item that you loved stolen from you, and having to watch as the person who stole it profited millions of dollars from it. Making it worse, the one person who should be protecting the interests of long-time NBA cities (the commissioner), helped make the move happen.
I couldn't stand seeing Clay Bennett enjoy a western conference championship, and it would drive me nuts to see him holding the NBA championship trophy. Therefore I will be rooting for the Heat, and public enemy number one, LeBron James -- but you're going to have to tell me how it ends, because I won't be watching.
A sports guy refusing to watch one of the biggest sporting events of the year?
It would sound strange, but like I said, I'm a "local" sports guy... so my hands are tied.
"Officially."
---
5-29-12
Major League news and notes, including my first trip to St. Louis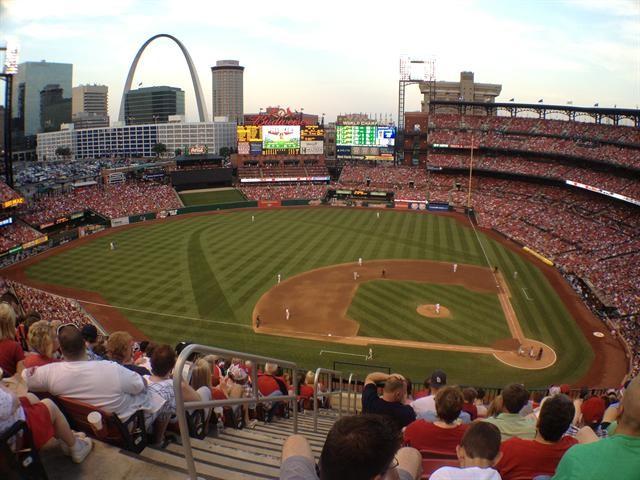 I made my first trip to Busch Stadium over the weekend, and I was impressed. The new stadium looks pretty from the outside, has good -- albeit expensive -- food on the inside, and people were right when they told me there isn't a bad seat in the house. The set-up reminded me a lot of Safeco Field in Seattle (you'll quickly found out, many of my comparisons will be in relation to my hometown teams). Really, the seating chart, from top to bottom is almost identical. The facades on the outside are similar, and the banner signifying "Left Field" or "Center Field" look just like Seattle's, even down to the font.
One thing the stadium isn't shy about touting -- nor should it be -- is the fact that the franchise has won 11 World Series', of course, most recently last October. The "Exce11ence" t-shirts were everywhere. Each entrance had the years of each of those championships plastered all over the place, and 11 championship flags fly in center field more prominently than the American flag (in fact, you actually can't even see Old Glory from the left field stands). Back in Seattle, there are 4 banners hanging from the rafters, each signifying the only four years the team has made the playoffs; from 2000 when the won the wild card, and in 1995, 1997, and 2001, when they won the AL West. They've never survived more than 6 games in a league championship series, so I guess you celebrate what you can. But enough about my sad, sad team...
Though I've made clear I have no rooting interests here in the Midwest, I was disappointed to attend the worst of a three-game losing streak (Saturday's 4-0 loss to the Phillies) which saw the Cardinals drop a half game behind Cincinnati in the standings (entering Tuesday night). Philadelphia's Kyle Kendrick spread around 7 hits in a complete-game shutout, which led to his first win of the season. The best offensive performance of the night by the redbirds went to David Freese, who was 2-for-4 with a pair of singles. Speaking of Freese...
-The Cardinals have been without their third baseman the past couple days with a sore wrist, and will likely miss Wednesday's series finale against the Braves.
-This is a cool story out of Chicago. A group of guys spent the last three months walking from the Cubs' spring training home in Mesa, AZ to the Windy City with a goat named Wrigley in tow. They call themselves "Five Guys and a Goat," using the premise of the "Curse of the Goat" to help raise awareness -- and money -- for cancer research. A side note: Since the guys (and the goat) arrived in Chicago, the Cubs snapped their 12-game losing streak - and are 2-0.
-Two straight wins doesn't exactly mean the Cubs are going to charge for the pennant, and following that 12-game skid, GM Theo Epstein talked about how no one is "untouchable." Even with the trade deadline still more than two months away, the Cubs are certain to be selling, and stocking up for some young "core pieces" for the rebuilding plan. One named mentioned for a possible trade-deadline deal: Ryan Dempster. The 35-year-old is sporting an impressive 2.14 ERA -- 4th in the league -- but is 0-3 thanks to a disturbing lack of run support during his eight starts.
-I know there's much more of a following with the Cubs here in central Illinois, but you can't ignore what's happening on the south side. Coming into the day, the White Sox are on a string where they've won six straight and 9-of-10. This week, Paul Konerko, deservedly so, was named AL player of the week. He's on a current 14-game hitting streak, during which he's got a .540 batting average, 5 homeruns, and 15 RBI. The streak has him leading the majors in batting a .395, 8th in the AL in HRs (11) and 7th in RBI (33).
Keep track of me:
Email: matt.loveless@wandtv.com
---
5-24-12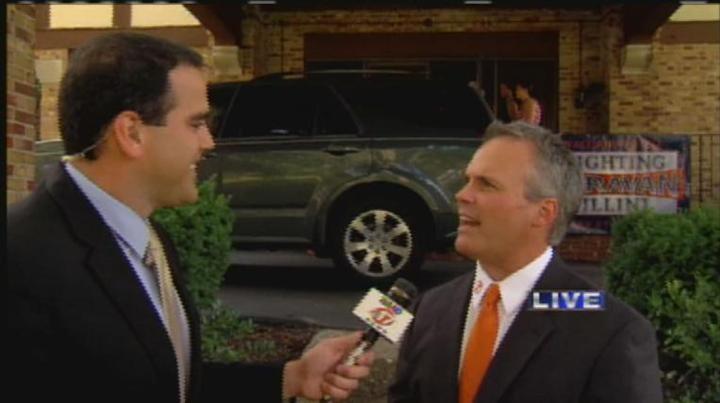 I got my first experience with the new regime at the University of Illinois today, thanks to the Illini Caravan's stop in Decatur. Athletic Director Mike Thomas (who's been around for about 9 months), was in town with new football coach Tim Beckman, men's basketball coach John Groce, and women's basketball coach Matt Bollant. Also there was men's golf coach Mike Small, whose become known as one of the top golf coaches in the country. They're an optimistic bunch, but you're allowed to be that way when there aren't any games to play for a few months.
First impressions (other than the fact that I looked HUGE next to Beckman...): It looks like they've hired good people. Most all coaches are good in front of a camera, but each, even in their busy schedules, were happy to shoot the breeze with me off camera, which tells me that at the very least they are personable, and usually that means they care about making an impression on people. Exactly how they'll fare on the field or court is yet to be seen.
As far as football is concerned, Beckman certainly doesn't inherit a rebuilding project in Champaign, but it's also not a championship caliber team. His reception at these caravans seems to have been warm, and he's bringing his share of excitement - but that's to be expected (these coaches don't get their jobs without at the very least being able to fake optimism). I caught up with him Thursday on WAND (see the interview here on my facebook page). He's doesn't mind talking - and I'm told he's the one at these caravan's that hasn't needed a microphone.
After talking to him, as a person, you can't help but hope Beckman gets the chance to coach until he gets a full slate of his recruits in place. As a fan, though, you also can't help but want the success to start immediately. My guess is Beckman's perception the first couple years is going to be largely measured on those first five games (W. Mich., Ariz. St., Charleston Southern, La. Tech, & Penn State). A 4-1 or 5-0 start will no doubt endear him to fans as he approaches a brutal road schedule which includes games at Wisconsin, Michigan, and Ohio State.
Groce is entering a similar situation. Illini men's hoops started the 2011-2012 season 14-0 in the non-conference schedule, and ended it losing 9-of-10 and 12-of-14 against Big Ten opponents. The former Ohio U. coach earned some respect in one of those 13-4 upsets in the 2012 NCAA tourney, but now knows in the Big Ten, he really can't "upset" anyone anymore. His first impression of the basketball team: He told ESPN this week they need to get tougher.
The last guy, who'll fly under the radar I'm sure, is women's basketball coach Matt Bollant. Bollant brings a career .829 winning percentage to Champaign. At Wisconsin-Green Bay, his teams compiled a 148-19 record over the last 5 years. Their conference record was 85-5. All that means to the Illinois women (which finished 11-19 last year), is that they're coach has done well in the past. At the caravans, though, fans have been impressed. His career record, despite being compiled at smaller schools, is absolutely ridiculous, and is keeping fans, at the very least, curious about what might happen in the coming years. A few extra tickets sold will keep the AD Thomas a happy man.
As we know, great talent and good coaching - not just nice people - win games, and right or not, it's going to determine the long-term future of all these coaches. We'll see what happens, but for now I'll stick to the optimistic side. There's no reason yet to think anything otherwise.
---
5-22-12
Hello central Illinois (and world wide web)! I feel like we haven't been properly introduced. I've been sports director at WAND TV for a few weeks now - and they let me have a blog, so that must mean they want to keep me! I want to be able to use this blog as a way to relay some of the day-to-day sports happenings in and around central Illinois. You'll be able to find links to relevant stories, some inside info about your local teams and players, as well as what I hope will be a few entertaining anecdotes about life in TV and sports. I'm a northwest native - from Washington State, and through my years in television, the farthest away from home I've ever lived was in Boise, Idaho, so this is an all-new experience for me, and I thank those of you in the community who've welcomed me so far.
Prior to accepting the job at WAND, I had spent a grand total of 16 hours in the state of Illinois. I did, however, fit in a Cubs game at Wrigley, a tourist stop to the observation deck of what was then called the Sears Tower, experienced some Chicago nightlife, and ate a few 2am slices of deep dish pizza. Oh, and I got a couple hours of sleep. My experience in Decatur has been, needless to say, a bit different, though no less of a whirlwind the past few weeks.
I'm sure people reading this will want to know my sports leanings, as a fan, so let's get it out there. Not surprisingly, I'm all Pacific Northwest; primarily the Seattle Mariners, the Seattle Seahawks, and the Washington State Cougars (my alma mater... Go Cougs!). I also still call myself a Seattle Supersonics fan, despite their lack of existence.
Warning: Years of fan frustration explained below...
As I've always heard, and I'm quickly figuring out, fan bases out west are much different than they are here. In general, there's not a whole lot of pressure to win in the northwest, as shown by the city's lack of a major sports championship since 1979. I've suggested FEMA build a bigger office in Seattle for the disasters Seattle sports management have put on the field and court. In recent years, it's been even worse - in 2008, the Seahawks were 4-12, the Mariners were 61-101, Washington State football went 2-10 (even our rivals - the University of Washington- to my delight, went 0-12), and the kicker: The Supersonics - Seattle's longest standing sports franchise, was relocated to Oklahoma City. And for the record, I despise the Thunder.
You can't suffer 33 years of across-the-board futility without being a generally apathetic fan base. That's clearly not the case here, and I'm excited for it. I've been coached on the Cubs-Cardinals rivalry from fellow co-workers, most of whom are Cubs fans (speaking of futility). For the record, I don't have a leaning toward one or the other. The closest I've ever been to the rivalry, as was the case with many, was in 1998, and the awesome homerun battle between Mark McGwire and Sammy Sosa. I LOVED it, and looking back even knowing the PEDs were rampant, I still love it, and was thrilled to be in the middle of two rabid fan bases once I accepted the job here. I've already experienced the wrath of a St. Louis fan, who called the station to complain about "that new sports guy who clearly has a bias toward Chicago" because I didn't mention the Cardinals in a sportscast. Never mind that by the 6pm news, the Cubs had finished their day game, and the Cardinals were still two hours away from first pitch. Like I said, rabid.
What I hope to accomplish more than anything while I'm here, though, is to really tap into the local sports stories nobody around here has heard before. I'll never forget to show you the national and regional professional leagues you want to know about, but in the end, that's not as important to me as getting out into the community that watches us.
I'm easy to access if you have story ideas or complaints for my "biases". My twitter handle is @mattloveless and my email is matt.loveless@wandtv.com. You can also "like" my facebook page, or check out my Youtube channel from time to time. I just finished shooting my first Pepsi Sports Challenge - keep an eye on that for May 28 at 6pm. And keep an eye on the blog. There's plenty more to come!