3-30-12
Happy Friday! It looks to be a gorgeous weekend in Central Illinois. I plan on spending a ton of time outside....which brings me to today's blog post.
I moved to the area in the dead of winter and I remember thinking, "boy, this is ugly". My drive into Illinois included dormant grass and leafless trees. Fast forward a few months and I'm speechless. It's absolutely beautiful! There are so many trees blanketing the area and I find my self looking around in awe.
I live in an area filled with wildlife and beautiful nature. I took to Facebook recently to figure out what some of the trees are in my yard. Here's one of the magnolia trees in my yard (thanks to the viewers for figuring out the type!). It has to be one of the prettiest trees out there when it blooms.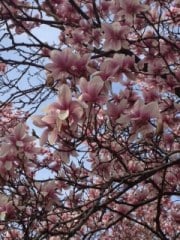 And as fast as it bloomed, the petals were off the trees and on the ground. You can figure out what I'll be doing this weekend (Or maybe I'll leave the yard work to Mr. Skrysak!!).
All this week, I've been staring at this gorgeous tree in my yard. It's blooming these small magenta/purple flowers and I'm seeing this tree all over the Springfield area.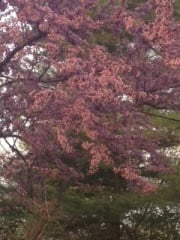 Any idea what type of tree it is? Find me on Facebook or comment on my blog...would love your help figuring it out!
---
3-26-12
Hope you all had a wonderful weekend! I thought I would share with you another funny dog story. If you've seen my Facebook page, you know all about my very clean dog Riley. Well, here's the back story: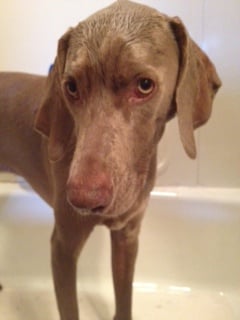 Riley, like many of your dogs I'm sure, loves to roll in EVERYTHING! Doesn't matter if it's goose droppings, or a dead bird...he thinks it's the best smelling cologne. This weekend he pulled a dead fish from the lake and proceeded to coat himself in it until he smelled like week old trash. It doesn't help that I'm not a fan of seafood--the scent of fish doesn't please my senses (more like makes me gag)!
Needless to say, Riley gets a bath quite often, recently 3 times in one week. I'd bet that he's the cleanest dog in Central Illinois! I don't know about you, but I crack up every time he's summoned to the bath. Mr. Skrysak and I call it the death walk...and let me tell you, he's got that march down perfect. He first hides in the corner, then slowly walks to the bath with his tail until his bottom and his ears and head droopy. No need to imagine his look--of course I captured it on camera! Here are a few pics from his shower. His facial expressions are priceless.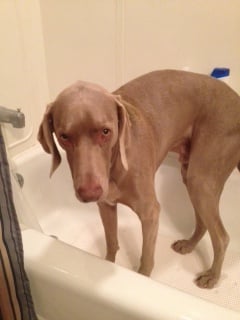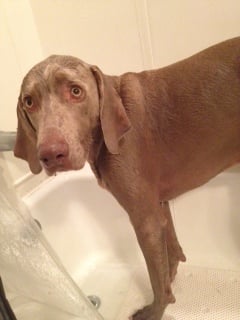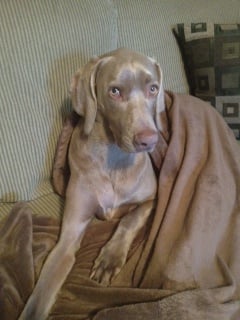 I'll leave you with one more thought--Riley absolutely loves the water. He grew up around lakes and is always swimming. So, isn't it weird that he doesn't like bathes? I love hearing stories about our beloved pets...make sure to share yours on my Facebook page or comment on the blog. Have a great week!

---
3-20-12 (aka Election Night)




Do you watch the news and think it looks effortless? Those graphics pop up at just the right time, the reporters know exactly what to say? Well it's election night here in Illinois and I thought I would give you a peak as to what actually goes on....and remember, this is only the primaries. November will be much more hectic!

It's about 6:30, or as I like to say, the calm before the storm. The polls are open until 7 and the results won't start trickling in until after that. But in a matter of hours, our newsroom will be full of staff and volunteers making phone calls and updating our results.

Tonight, we're covering 83 total races in Central Illinois, including the GOP Presidential race. So where do we even start? I have give a shout out to our Assistant News Director Tom Lesyna--He's been organizing our coverage for 10 years now. He starts about a month before by making phone calls to figure out what issues are on the ballot and who exactly is running for each position. Imagine the 83 races tonight...that's a whole lot of phone calls/research!

Let's fast forward to tonight. We had election team coverage all day from various polling places. We have reporters in place tonight, covering the outcome of some of the hotly contested races. And then there are folks like me. I'm manning the phone at my desk, checking in on results as they come in and will be on set tonight reading some results. Several coworkers are working late to make sure we don't skip a beat. Once the numbers start coming in, they're put into our news program via computer. So when you watch the news, the graphics just pop up perfectly! We ran through a "mock" newscast earlier today to make sure the graphics were correct and the anchors can see the monitors to read the results.

So watch tonight or check out our coverage online tomorrow (we post newscast videos on the web). It sure takes a lot of man power and coordination for a night like tonight. It's days like these that I love working in the news biz...everyone works so well as a team and there's an adrenaline rush as we work to put on a clean and informative newscast.



---
3-14-12




Check out this Irish treat!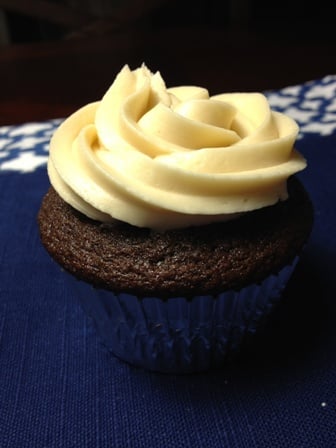 I don't know about you, but I love St. Patty's day food! I already made my corned beef and cabbage last night....that way I have leftovers tonight. If you're planning on making it, here's my simple tip: Use beer! I threw the beef in the crock pot with veggies and the seasonings that came in the packet. I added a Guinness beer and then covered the beef with water. After 8 hours on low, it was so tender and easily fell apart. Delicious!
Ok, the real reason I wanted to post today was to share the BEST cupcake recipe out there (that's the pic I took of my finished product). I posted a picture on my Facebook page this week and had a lot of comments from viewers, so I figured I should share the recipe. I can't take credit for this one. A former coworker would bring them in to the news station each year on St. Patrick's Day. I had to continue the tradition now that I'm in Illinois. They were a huge hit...just ask my coworkers! It's a rich chocolate and Guinness cupcake with a Bailey's Irish Cream ganache and Irish Cream frosting. It's a little labor intensive (not for the beginner baker), but it's worth it in the end.

Let me know if you try it out and what you think!
Here's the recipe:
Guinness and Baileys Irish cupcakes
These little beauties from Ireland really do offer a genuine taste of Ireland, just as they satiate your chocolate and cream cravings. With their lively mix of Guinness and Baileys, just one taste will tell you that they're a little triumph of the cake makers art.
Ingredients
Serving: 24 cupcakes
1 cup stout (Guinness)
16 tbsp. unsalted butter
¾ cup unsweetened cocoa powder
2 cups all-purpose flour
2 cups sugar
1½ tsp. baking soda
¾ tsp. salt
2 large eggs
2/3 cup sour cream
For the Baileys ganache filling:
8 oz. bittersweet chocolate, finely chopped
2/3 cup heavy cream
2 tbsp. butter, at room temperature
2 tsp. Baileys Irish cream
For the Baileys butter cream frosting:
8 tbsp. unsalted butter, at room temperature
3-4 cups confectioners' sugar, sifted
4-8 tbsp. Bailey's Irish cream
Method
To make the cupcakes, preheat the oven to 350° F. Line two cupcake pans with paper liners. Combine the stout and butter in a medium saucepan over medium heat. Add the cocoa powder and whisk until smooth. Remove from the heat and allow to cool slightly.
In a large mixing bowl, combine the flour, sugar, baking soda and salt. In the bowl of an electric mixer fitted with the paddle attachment, beat together the eggs and sour cream to blend.
Add the stout-butter mixture and beat just to combine. Mix in the dry ingredients on low speed just until incorporated. Divide the batter evenly between the cupcake liners, filling them about 2/3 to ¾ full.
Bake until a toothpick inserted in the center comes out clean, about 17 minutes. Allow to cool in the pan for 5-10 minutes, then transfer to a wire rack to cool completely.
To make the ganache filling, place the chocolate in a heatproof bowl. Heat the cream in a small saucepan until simmering, then pour it over the chocolate. Let sit for one minute and then whisk until smooth. If the chocolate is not completely melted, place the bowl over a double boiler or give it a very short burst in the microwave (15-20 seconds). Add the butter and Baileys and stir until combined.
Set aside to let the ganache cool until it is thick enough to be piped. (You can use the refrigerator to speed the cooling process, but be sure to stir every 10 minutes or so to ensure even cooling.)
Meanwhile, cut out a portion from the center of the cupcake using the cone method (a small paring knife works best for this). Once the ganache has reached the correct consistency, transfer it to a piping bag fitted with a wide tip and pipe it into the cupcakes.
To make the frosting, place the butter in the bowl of a stand mixer fitted with the paddle attachment. Beat on medium-high speed until light and fluffy, about 2-3 minutes. Gradually add the powdered sugar until it is all incorporated. Mix in the Baileys until smooth.
Add more if necessary until the frosting has reached a good consistency for piping or spreading. Frost the cupcakes as desired. Bon appetite!
---
3-12-12
Happy Monday! I can barely move today, after a weekend full of yard work. The tall trees are beautiful in my yard, but it sure does leave a lot to clean up!
Anyway, do you ever watch the news and wonder-- "where did that person come from?" I'm still fairly new to Central Illinois and to WAND, so I figured I should introduce myself. Where to start? In short--I'm a California girl. I grew up near the beautiful beaches in San Diego. I always get asked "Why would you ever leave California?"....the answer's pretty simple--it's too crowded/too fast paced for me and the cost of living is sky high! The beauty of this industry is that I can live all over the place and meet new people and live in unique communities. So where have I been? I'm not going to bore you with all the little details, but here's a quick rundown: Nebraska, Michigan, Idaho and now Illinois. When I tell people that it's nice to get back to the Midwest, it sure is. People in the Midwest are so down to earth. I love that I can head to the grocery store and my checker takes the time to chit chat. Plus, I love that I'm not stuck in hours of bumper to bumper traffic! Not to worry--I do get back to San Diego a few times a year. I'm extremely close to my family, so it's a good excuse to get back to visit. It really is one of the prettiest places I've ever lived!
I already introduced you to my dog, Riley....but you haven't met my other half. Here's a pic of the Skrysak family.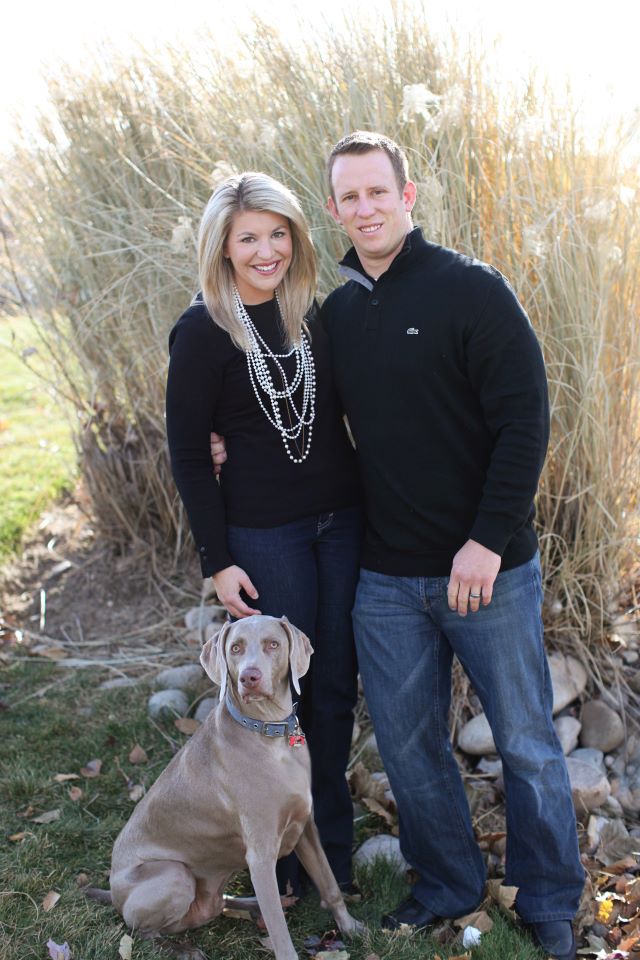 That tall dude is my husband, Ryan. He usually stays far away from the news camera, but I'm sure you'll hear his name in the blog from time to time, so I figured I should show off a picture. He's a Nebraska corn-fed boy! And yes, our lives revolve around our dog. When he's that cute, how can you not spoil him rotten!
Have a great week and check back--I'll be posting blog updates a few times a week.
---
3-9-12
Greetings from Central Illinois! I'm brand new to this blogging world, but so excited to put my thoughts down on paper (or at least in cyberspace).
So what am I hoping you get out of this blog?
Well, first off--insight to who I am. You only get a glimpse of me as I report the news....a lot of times news anchors are serious and you don't get a chance to see our true personalities. In a nut shell, I'm quirky, bubbly (always smiling), and I'm extremely sarcastic! So hopefully you'll get to know the true me through this blog.
But don't worry, It's not going to be all about me! I spend so much of my work day searching for unique stories, I often come across fun tidbits and websites to share. Plus, I'm a frugal freak--I am always in search of finding the best deal (which of course I'll pass along). I also LOVE to cook and bake, so expect to find some of my favorite family recipes I'll pass along.
There you have it...I'll give you a little background on me in my next post. But, I'll leave you with this pic to introduce you to my "child" Riley. He's a weimaraner and as you'll figure out in no time--I'm animal lover!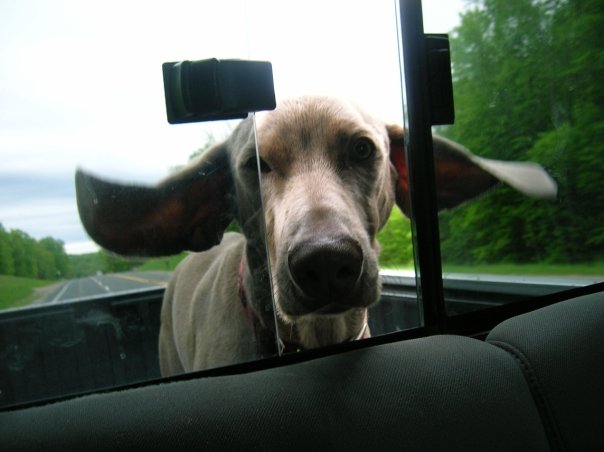 Thanks for taking time to check out my blog. Make sure to get my updates and a behind the scenes look at the news biz on my Facebook page and on Twitter.
-S
PS--What do you think of my blog's name? I have to give a big shout out to J.J. for this idea. I decided to let the viewers pick a name and turned to social media. After dozens of suggestions, the overwhelming winner was "Skry's The Limit"....thanks J.J.!
E-mail Stacey: stacey.skrysak@wandtv.com
Stacey's Facebook
Stacey's Twitter