5-22-12
Are you ready to save hundreds of dollars on groceries?!? No, I'm not an extreme couponer, but I sure do love to cut coupons. I only spend a few minutes a week doing it... so what exactly does it take to save big? Here's my secret.

A few years ago I met the greatest group of savvy savers in Idaho. They started a website called
www.fabulesslyfrugal.com
and have become nationally recognized. The ladies were just featured on the Today show and in the New York Times. I did some news stories with them on how to use coupons to save on holiday meals and they showed me tricks to get started myself.
It really comes down to cutting the coupons you know you'll use and waiting until there's a sale. Good example--This week my grocery store had bbq sauce on sale for $1 and I had a coupon. I ended up buying 6 bottles for 50 cents a piece. Ok, you're probably wondering what I could ever do with that much bbq! It's an easy condiment that doesn't expire anytime soon. So I decided to stock up. The more you do that, the more your stockpile grows.
Sounds complicated, but it's really not. Here's some incentive:
This was a grocery store trip I made last year. I spent $14 on all of this (Those Lean Cuisines cost over $2 a piece normally)...and drum roll please...I saved over $60 thanks to coupons! Ok, no I don't normally eat ice cream and hot fudge sauce, but it was all free! My husband sure enjoyed the drumsticks and I donated the items I wasn't going to use to a food pantry.

The best way to figure out what to do is to follow bloggers. We featured Margie with
www.MySpringfieldMommy.com
during our "Website of the Week" segment and she has great tips on how to save on any and everything! Her best advice for newbies:Start slow and don't get discouraged. There are a lot of coupons out there and it takes time to master your system. But, with a little practice comes a big financial savings reward. Margie makes it really easy too. She posts the weekly sales at the grocery store and then shows you which coupons to use. If you're not in Illinois, you can still follow her website and the Fab Frugal gals because they have a lot of national deals on their websites as well. Everything from freebies to where your kid can eat free!
While Mr. Skrysak doesn't think I'm very frugal (I have a major shopping problem!), I take pride in finding good deals. I don't like to pay full price on stuff, so I always search online for coupon codes or special store discounts. You may be only saving a few dollars here and there, but it sure adds up!
How do you save money? What websites do you follow? Let me know, I'd love to share it with other viewers!
---
5-15-12
It's been a couple of weeks since I last "blogged". I don't want to bore you with random thoughts on a daily basis (although I'm sure they could be quite entertaining to some of you...I'm definitely quirky!).
I needed some inspiration for a post and I sure got it yesterday when I picked up the newsroom phone. I just happened to answer the line when a kind man from Danville asked who I was. I explained my role and he replied with "Well, this is embarrassing...". Instantly, I thought that it was a complaint about me, but turns out the man was just embarrassed because he had called with a compliment about the 4pm newscast and didn't think I'd be the one taking the call. He said he and his wife were loyal "Jeopardy" viewers (which comes on after the 4pm news), but he always watched another channel for news. That was until recently. He just loves our chemistry at 4pm and picked up the phone to share with us at WAND. Needless to say, he sure did make my day.
I've been in the news biz for more than a decade now and I'm so used to hearing complaints, it's a nice gesture when we receive accolades. Over the years I've received my share of nasty emails and phone calls. Sure, it comes with the territory. We put ourselves out there on television everyday and people are allowed to have their opinions about us. I've grown a hard shell to the criticism and I don't let it get to me. I do the job the best that I can and I'm fine with the fact that not everyone is going to like me.
But, sometimes I think viewers forget that we do have feelings. My all time favorite email came about a year ago. It was from a viewer Boise, complaining about a different newscast. He then wrote, "I can put up with you and your below average looks and cheerleader voice". He signed the email, "Thanks lumpy". So in the course of an email, he called me ugly, fat and told me I have a terrible voice. So what did I do? Killed him with kindness. I told him that I couldn't do anything about my below average looks, but I would sure work on my voice. I remember my mother in shock when I told her about the email. I think her exact words were "How could anyone hate my daughter?".
Sure the comments and complaints got to me early in my career. No matter how many miles I run a week, I know I will never be a size 2. And no matter how much make up I have, I can only do so much to enhance my look. I've just learned to be blessed with who I am and not let the negativity bring me down. It's not worth it to dwell on the bad stuff when there is so much good stuff in life to enjoy. So that's my advice for you--don't worry what other people think of you, enjoy what God gave you!
One final note--I gave a presentation in Boise about 6 months ago about this topic. Just click on the link: You Look Thinner In Person. As you can tell from the title, it's a humorous look at the news business and the comments I get. It was in front of about 700-800 people, so obviously I have no problem making a fool of myself!
---
5-1-12
This past weekend reminded me how great it is to be back in the Midwest. I grew up on the West Coast and loved my California childhood, but my family sure has deep roots here in the Midwest.
Here's my history: My parents grew up in St. Louis and Chicago and met at Bradley University in Peoria. Crazy to think I'm living in their old stomping grounds! It's so much fun to reminisce with them over their favorite places in Illinois and hear their fun childhood memories. I can tell you that Steak N' Shake comes up at least weekly in our conversations!I have so many memories of eating Fannie May chocolates and building snowmen in the Illinois snow (always a thrill since I grew up in the land of palm trees and beaches).

With my family originally from this area, it means that many of my relatives are also in this region. I've lived in so many states over the years, but I've never been so close in proximity to this much of my extended family. This past weekend Mr. Skrysak and I hopped in the car for a quick day trip to St. Louis. My cousin and her adorable kids had the whole day planned out for us! Here's a picture of us at Jilly's Cupcake Bar. If you're ever in St. Louis, it's a must eat. The cupcakes were so delectable and rich, perfect for any sweet treat addicts out there like me!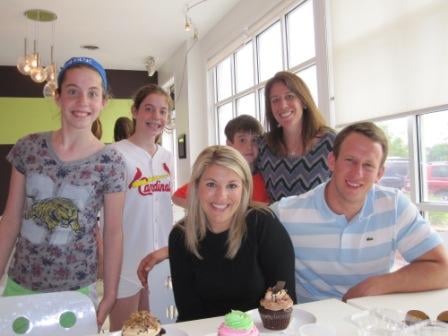 After a day of exploring the Gateway Arch and catching up with the family, we left with happy hearts. Our get-togethers over the years are usually for weddings and other celebrations, but I feel so blessed to be just a quick drive from so much of my extended family.
Nothing beats catching up with your relatives--Family is such an important piece of life's puzzle.

---
4-23-12
Good Monday morning. After an unforgettable weekend trip to Chicago, I'm sitting at my desk groggy, with tired bags under my eyes. The reason--several of my good friends from college all came together to celebrate one last single weekend for our friend Megan. In other words, a bachelorette weekend in the Windy City.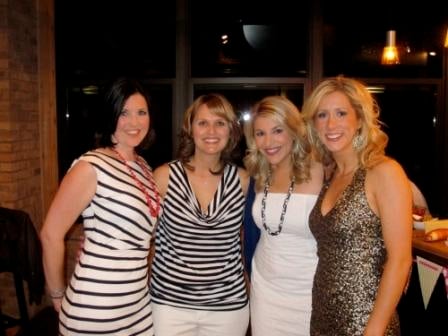 When you think of bachelorette parties, you probably think "wild and crazy". Yes, we are sorority sisters and had plenty of fun in college. But we're now in our 30's, married and some with kids. So, it shouldn't come as a surprise that on Friday night we were thrilled to be in our pj's in the hotel by 10pm!
I wanted to share with you what these girls mean to me. Having good friends are so important in life. These are girls that I spent four years with at the University of Oregon. They saw me grow up before their eyes and experience life's ups and downs. I remember spending hours in our sorority lounging and catching up on the little things in life. And not so surprisingly, this past weekend was reminiscent of that.
We all met 14 years ago. While we are scattered around the country and busy with our own families, we still make it a point to be a part of each others lives. Some of these girls I haven't seen since my wedding years ago, but we just pick up where we left off, like no time has passed. That's what I love about good friends. It doesn't matter how often you see them or hear from them, good friends are like sisters. This past weekend, we spent hours of time of laughing until tears were rolling down our faces. We sang at the top of our lungs our old sorority songs and 90's songs we just to dance to (lots of rap and hip-hop!). This was one of the best weekends I've had in years and it was all because of my good friends. I hope you are as lucky as I am to have a friendship like this....they make life a whole lot brighter.
Oh! One more picture to share with you. I was a Delta Gamma and there's a signature pose that we make in pictures (the anchor!). So for any other DG's out there, here's us posing at the Bean in Chicago.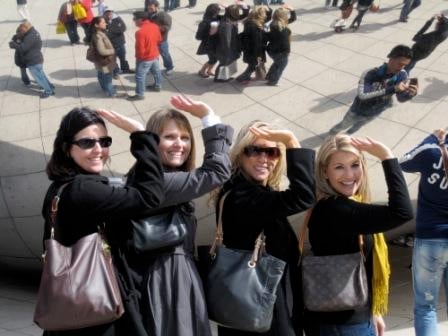 ---
4-16-2012
Happy Monday! Another weekend has flown by...I can't believe it's already the middle of April!
I start off most days by waking up at 5am to hit the gym. There are great classes at my gym, so it's motivation to jump out of bed and not be late. Today I strolled into my step class and saw the usual gang. But to my surprise, I saw a new guy, ready to attempt the class. If you haven't taken a step class before it can be a challenge. It's a lot steps, a lot of turns and a lot of dance jargon. I had a tough enough time trying to master the routine when I first started, I can't imagine being a guy in a room full of mostly females.
The new addition to class had me thinking. Here's a guy who stepped up to a new challenge. How often do you try something new? I know with me, I'm usually so scared to try a new gym class. It's ironic because I'm a "people" person and I'm used to putting myself out there in public eye. But here's a secret about me--I'm scared to fail. Over the years I've learned it's ok to do so and it's made me a stronger person.

So, here's my challenge for you--Try something new! Is there a gym class you've always wanted to try? How about a new hobby to pick up? Or a community class that sounds interesting? Challenge yourself and don't be afraid to fail! You just get back up and dust yourself off. You'll learn a lot more about yourself the more things you try.
Let me know if you take on my challenge!
---
4-6-2012
I don't know about you, but our newsroom is buzzing this Good Friday. Most of my coworkers are heading home for the Easter and Passover holidays. It had me thinking about my family that's far far away in California. I haven't lived near them in over a decade, but my childhood traditions are kept up no matter where my home is.
In case you haven't figured it out, I LOVE to cook! Every place I have lived, my home becomes a meeting ground for meals. Since I'm usually away from my family on most of holidays (the news biz never stops!), my friends and coworkers become my "family". Mr. Skrysak and I usually host a big meals for our friends so that they feel a sense of family. Plus, it's a great chance to try out new recipes and share my favorites from years ago.
So this weekend is Easter. While I do celebrate Passover (which falls during the same time as Easter this year), I wanted to share my favorite Easter memory. Every year, my mom would host an Easter brunch for friends and family (now do you understand where I get my hosting skills from?!?). On the menu--her unbelievable eggs benedict! This recipe is melt in your mouth good...heart attack on a plate good...so rich it sticks to your ribs good. Here's a hint of what goes into it: dozens of egg yolks and a whole lot of butter! My mom even made the dish for thousands of viewers on my newscast in Nebraska! It's a Skrysak tradition and my mom's recipe is well known all over the country now, after I have carried on the tradition every year.

I always make my mom's recipe, plus some asparagus and fresh fruit. I've tried several different coffee cakes over the years and finally found the PERFECT one! It's a sour cream coffee cake from the Food Network. I posted the recipe below in case you're looking for a no-fail sweet treat. My coffee cake is usually greeted with a lot of Hmmm's and "mouth full of food" gratitude. My one suggestion: double the crumb topping/filling. Let me know if you try it out--I'd love to hear the verdict!
Happy Easter and have a wonderful Passover week!

Sour Cream Coffee Cake Compliments of the Food Network

Ingredients
12 tablespoons (1 1/2 sticks) unsalted butter at room temperature
1 1/2 cups granulated sugar
3 extra-large eggs at room temperature
1 1/2 teaspoons pure vanilla extract
1 1/4 cups sour cream
2 1/2 cups cake flour (not self-rising)
2 teaspoons baking powder
1/2 teaspoon baking soda
1/2 teaspoon kosher salt
For the streusel:
1/4 cup light brown sugar, packed
1/2 cup all-purpose flour
1 1/2 teaspoons ground cinnamon
1/4 teaspoon kosher salt
3 tablespoons cold unsalted butter, cut into pieces
3/4 cup chopped walnuts, optional
For the glaze:
1/2 cup confectioners' sugar
2 tablespoons real maple syrup
Directions
Preheat the oven to 350 degrees F. Grease and flour a 10-inch tube pan.
Cream the butter and sugar in the bowl of an electric mixer fitted with the paddle attachment for 4 to 5 minutes, until light. Add the eggs 1 at a time, then add the vanilla and sour cream. In a separate bowl, sift together the flour, baking powder, baking soda, and salt. With the mixer on low, add the flour mixture to the batter until just combined. Finish stirring with a spatula to be sure the batter is completely mixed.
For the streusel, place the brown sugar, flour, cinnamon, salt, and butter in a bowl and pinch together with your fingers until it forms a crumble. Mix in the walnuts, if desired.
Spoon half the batter into the pan and spread it out with a knife. Sprinkle with 3/4 cup streusel. Spoon the rest of the batter in the pan, spread it out, and scatter the remaining streusel on top. Bake for 50 to 60 minutes, until a cake tester comes out clean.
Let cool on a wire rack for at least 30 minutes. Carefully transfer the cake, streusel side up, onto a serving plate. Whisk the confectioners' sugar and maple syrup together, adding a few drops of water if necessary, to make the glaze runny. Drizzle as much as you like over the cake with a fork or spoon.