Allegiant Air to Take Over Springfield Service to Florida
Posted: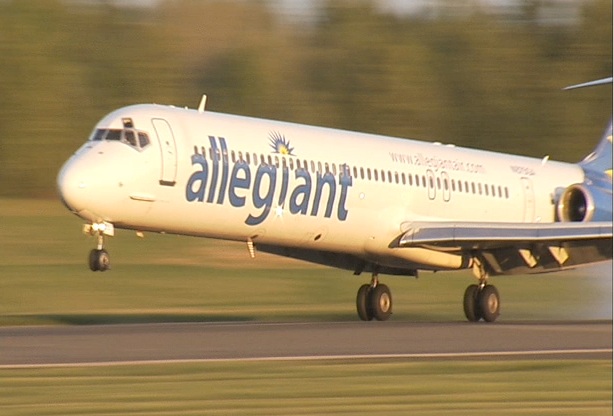 SPRINGFIELD - The Abraham Lincoln Capitol Airport, has been working to find another airline to take over service to Florida after direct air went out of business in March. Vision Air covered that service over the summer, but the airport authority needed a solution that would be more likely to become permanent.
In a press conference Wednesday, Eric Fletcher, Manager of Airports for Allegiant Airlines, announced twice weekly, nonstop service to Southwest Florida via Punta Gorda Airport (PGD). The one way tickets are available for purchase now, the first flight leaves Springfield November 6th. Fletcher said he's excited that Allegiant can offer an introductory one-way rate of $93.
"We've been talking to Springfield for a while, and we've been looking to reenter the market and we think that this is the perfect time," said Fletcher.
Allegiant formerly served Springfield with flights to Las Vegas. Airport Executive Director Mark Hanna is happy to have them back.
"It's a very successful route and Allegiant is a very successful partner, they're a very reputable, very reliable airline and we are grateful to have them here in Springfield," said Hanna.
A $250,000 dollar federal grant from the Department of Transportation will help pay for some of the service.
"This is something that we would normally have done regardless, but the grant certainly helps us financially. It will allow us to work more with Allegiant and hopefully add more destinations and more frequency," said Hanna.
For now the Tuesday and Thursday flights will run through mid April of next year, but Fletcher says Allegiant wants to stick around.

"We hope to maintain this route permanently, not just seasonally but year round, and not just this route; we're hoping to expand and add additional routes and additional destinations," said Fletcher. "We fly all around Florida: Orlando, St. Pete Fort Lauderdale, and also out west. We fly to Las Vegas, phoenix, and Los Angeles."


For more information and to book flights go to www.flyspi.com