Springfield Bans Minors from Using Tanning Beds
Posted: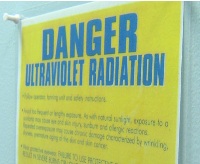 SPRINGFIELD - It was a controversial ordinance to start with, but in the end, aldermen voted 7-3 to bar minors from using commercial tanning beds within the city limits of Springfield. The ban, which doesn't take effect until January 1st, 2012, carries fines between $75 and $750 dollars for the first offense. It also will not effect minors that use spray tanning booths.
T

he ordinance was an effort of Ward 2 Alderman Sam Cahnman. He's been pushing for a ban for some time now. In the weeks leading up to the vote, Cahnman brought in a plethora of medical experts and those that had lost loved ones to skin cancer for testimony.
"I'm very proud of the city council, I respect the Alderman that disagreed, but this is something that we need to do not only in Springfield, but statewide, as well as across the country to protect our children," said Cahnman.
Now, many are asking what will happen in the unincorporated areas around the capitol city? How hard will teens have to try to get around the ordinance?
Chatham's village president Tom Gray says, his community is a non-home-rule community. Like most small villages, that means the leadership in Chatham don't have the authority to regulate things like tanning and other businesses. Gray says those decisions aren't even up to county level government.
"We cannot regulate tanning salons under our section of the municipal code," said Gray. "There would have to be a statewide tanning ban or the general assembly would have to come in and amend the municipal code and give non-home-rule governments the authority."
A statewide ban is something Ward 6 Alderman Cory Jobe supports. Originally, he opposed a ban in Springfield, but after hearing the evidence and doing his own research, Jobe was compelled to vote yes.
"The last thing I want to do is be a parent to our parents, but I think sometimes we've got to take action and really it should begin at the state capitol," said Jobe, who is now working to draft a non-binding resolution in support of a state ban on underage tanning.