What Seniors Should Know to Stop Fraud and Theft
Posted: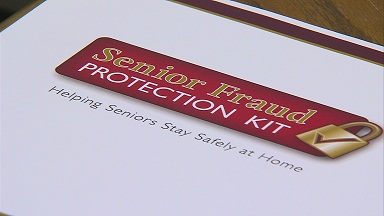 SPRINGFIELD - Like many seniors her age, Louise Wolosick and her husband had to spend some time in a nursing home. But the move wouldn't be permanent.
"He got to go home, but they told me I couldn't go home until I had somebody to take care of me," said Wolosick.
She set out to do just that. She gathered a few lists from area hospitals and friends. She found someone that was able to work seven days a week, and for a decent price.
"She sounded perfect, so I hired her, and I was able to go home the very next day," said Wolosick
But the woman she hired was far from perfect. Wolosick and her husband hid expensive jewelry all over the house. Some in her dresser, some in his, and various other spots around their home. It wasn't hidden well enough.
"She took every stitch of gold and silver I had, the only thing I have left is this necklace here," Wolosick said holding up a modest silver chain with a small jewel attached.
On top of that, her "care giver" took $250 dollars in a quarter collection Wolosick had been saving. The thief also wrote forged several personal checks.
"She only really got away with one, I think 390 dollars," said Wolosick
Wolosick immediately called the police, but after everything was said and done, her hired help had made off with close to $10,000 dollars worth of their personal belongings. Wolosick still needed an in home care giver, but didn't know where to turn and who she could trust.
Through a family friend she came across Home Instead, a company that helps seniors live independently at home. The local Springfield franchise is owned by Laura Carmody, now a personal friend of Wolosick's.
"That was just so vicious, and violating, and shocking to her - that someone she had trusted and worked with for several months would do something so horrible," said Carmody. "Seniors are very vulnerable for a couple of reasons; one, because they're often home alone, and secondly because seniors are more financially secure."
Carmody says scams over the phone are becoming more popular as well. Her advice is to make sure you're on the 'do not call' list. That should stop a lot of fraudulent calls to begin with. She also tells seniors she works with to ask for a call back number.
"Ask them 'you know it's not a good time for me can I call you back?' and usually they say no they don't want them to call back," said Carmody.
Home Instead has put together a senior fraud prevention kit that carmody hopes will help other seniors avoid what Louise Wolosick had to go through.
"Another point on that, is to make sure that anyone you invite into your home has been thoroughly drug tested and background checked like all of our caregivers are," said Carmody.
For more information and to get your own Home Instead Fraud Protection Kit visit the Springfield office at 901 South MacArthur or call 217-571-1200.