Republican Leaders aren't Happy With Progress on Medicaid Reform
Posted: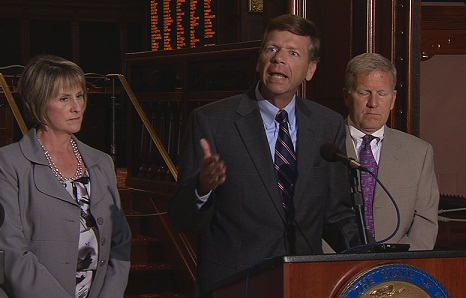 Springfield, IL - Early this summer, state lawmakers left Springfield feeling a little better about the state's medicaid system. They worked together to fill a $2.7 billion hole in the state's dilapidated program. But now, republicans are crying foul, saying the governor isn't doing his part to follow through on that reform.
Republican leaders in the house and senate held a press conference Monday calling Governor Quinn out. They say all the work that was done on medicaid reform last session is slowly washing down the drain.
They criticized the governor for implementing only part of the medicaid package: cuts to providers, the cigarette tax, and the paying down of old bills.
House Republican Leader Tom Cross (R) says his party isn't satisfied, because the actual reductions to the system just aren't happening.

"If we are going to be able to fulfill our budget, get to the numbers that we want to, we have to have full implementation. And one of the areas that I use as an example, is the issue of scrubbing. That takes people that are ineligible on the rolls, off," said Cross who was accompanied by Senate Republican Leader Christine Radogno and Deputy Senate Republican Leader Dale Righter.

The process of scrubbing, republicans say would take 300,000 ineligible people off medicaid. They also claim it would save the state $350 million.

They want those steps taken in the next two weeks, but say the governor's plan won't implement that part of reform until this coming January.

The GOP leaders said their press conference today was a way of putting a little heat on Governor Quinn.