Law Enforcement: Communication Key in Dealing with Mentally Ill Criminals
Posted: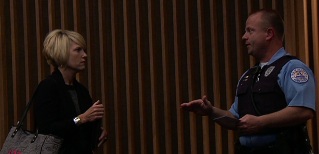 Springfield, IL - After a recent local case involving officer safety, Sangamon County State's Attorney John Milhiser says, safety education for law enforcement is even more important.
Jesus Ramirez was convicted of the attempted murder of a Sangamon County Sheriff's deputy and a Springfield Police officer.
"I think it's an example, and it really shows that the law enforcement in our community are out there 24/7 putting their lives on the line to protect all of us," said Milhiser
Milhiser was part of the panel discussion. He was accompanied by other big names in law enforcement and mental health.
"Sharing knowledge and resources, so we know who to go to. It's really important to know the law enforcement are out there on the front lines, we also have the prosecutors, judges, and mental health providers so all these individuals need to work together," said Milhiser.
Richard Aguilar was also part of the symposium. Aguilar is a thirty year veteran of the Chicago Police Department.
"Police departments have changed through the years; the focus used to be on crime, but now focus is on social issues like mental illness," said Aguilar.
The event's moderator, Tony Lucas, is a law enforcement coordinator for the Central Illinois District US Attorney's Office. He says getting all these resources together discussing issues surrounding offenders with mental health issues, is key.
"The big thing we wanted to do here today is improve communication, make everybody aware of the perspectives and problems the other side has," said Lucas.
Another theme of the day: doing more with less.
"Money is not the answer the reality is there's plenty of people in our system and plenty of systems in our world and all we have to do is use them," said Lucas.
The symposium held at UIS Tuesday was the first of many more that will be planned throughout the state.