Red Cross Stresses Fire Preparedness
Posted: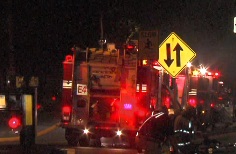 Springfield, IL - The Capitol Area Red Cross Chapter has had a busy summer. They've responded to an above average number of house fires, helping those displaced. Now that fall is here and winter is right around the corner, they're working to educate home owners about preparedness and prevention.
Spokesman Wes Lind says as people begin to heat their homes, the risk goes up.
"When it gets cooler we see a huge spike in our fire responses, the people we help. We're already seeing it over the last few weeks, we've responded to two or three fires each weekend," said Lind.
The Red Cross is making a big push to educate people on how being prepared can go a long way.
"We just urge people to do the little things: like making sure you have working smoke detectors in your home and around your bedrooms. One on each floor of your house, they can be lifesavers," said Lind.
Lind says that getting your heating unit ready for winter is a simple way to avoid disaster.
"It's a good idea to get those things cleaned out every year anyway," said Lind.
Mike Miller, with Allied Plumbing and Heating says too often, negligence can lead to huge problems.
"Making sure preventative maintenance is done is key. Having a professional technician do the job to make sure (it) is safe to run," said Miller.
Dirty filters are among the most common issues Miller's team runs into.
"It's a main reason for these things to fail. As far as things catching on fire make: sure everything is away from the furnace, no papers or anything like that," said Miller.
He says that having a professional check your heating unit before winter is crucial.
"You're going to cause more problems by not changing your filter, and not doing preventative maintenance," said Miller.