UIS Hosts Voter Registration Drive
Posted: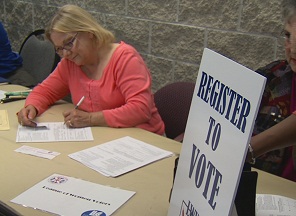 SPRINGFIELD -- There are more than two million 18 to 29-year-olds that are eligible to vote in the State of Illinois. With the presidential race as close as it is, getting those young people registered and excited to vote could be the difference between winning and losing.
In recognition of National Voter Registration Day, the University of Illinois at Springfield hosted its first registration drive Tuesday. The event was a team effort by a number of student groups on campus: student government, Leadership for Life, the College Republicans, the College Democrats, and the Black Male Collegiate Society.
Blake Worlind was one of many students, and community members, that registered at the event.
"You may not think it matters, but it's something you have to do I feel," said Worlind "...there are very few people voting it seems."
Worlind is right, according to Rupert Borgsmiller, Executive Director of the Illinois State Board of Elections.
"State-wide we're about 500,000 off of what we had four years ago," said Borgsmiller
Director of Civic Engagement at UIS, Mark Dochterman, says the event is meant to bring those that may be "on the fence" about voting, an easy, convenient way to get registered.
"Young people don't vote at the same rates and also if you can get people to vote early they will continue to vote over their lifetime," said Dochterman.
If you're not already registered, you have two more weeks to do so. Tuesday, October 9th is the last day to register. You must be a United States citizen and over the age of 18 by election day. You also have to be a resident of the precinct you'll vote in at least 30 days before election day.