9-21-12

Just call me the crazy dog lady! When people talk about their kids, I'm the one who pulls out my phone to show pictures of my "child", aka Riley. Mr. Skry and I got him when he was 6-8 weeks old. Look at him as a puppy....how can you not just squeal with an "awe" or "oooohhh"?
He's been a huge part of our lives, been around for 6 1/2 years of the 9 years the Mr. and I have been together. Riley has been across the country and back. He made the move from Michigan to Idaho, then back to the Midwest. Do you think we confused him much?! Sure, I have my days with him. You can't leave ANYTHING on the counter or he will consume it. If we leave our pantry door open, he will clear the shelves....sometimes eating the food, other times playing hide and seek by leaving bags of bread/pretzels/etc in various rooms. I have really considered buying a home security camera so I can see what he does when we're not home (My guess is sleep, mixed with a lot of pacing).

Check out the two pictures:

Yes, we now have a stainless steel trash can that he can't get in. And the second picture, that was an Easter basket sent by my in-laws. He really enjoyed the chocolate and peeps...and surprisingly did not get sick, even after consuming the chocolate AND the wrappers!

Ok, so let's get to the point of today's blog post. I am so lucky that I can share my crazy love for animals with so many people. Our newsroom is extremely "pet friendly". We often spend our days talking about the funny things our dogs and cats do. Every so often, a coworkers dog will be roaming the halls of WAND and everyone stops to play. It's not just in the newsroom, the entire community seems to care so much about animals. We team up with the Macon Co Animal Control And Care Center weekly to help get the word out on adoption.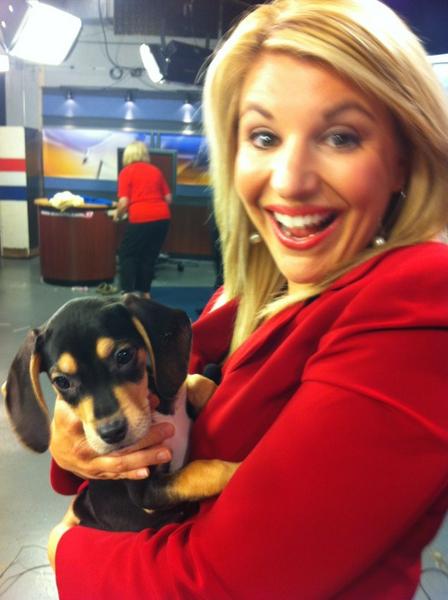 Each week I get home from work and the first thing my husband says is, "did you bring home another dog?". That's usually followed by Riley sniffing my clothes and giving me a look that says, "Mom, I know you cheated on me.". I sure hope you can tell how much these volunteers care about the animals. Shirley Stanley and others spend countless hours volunteering at the shelter and help find homes for each and every stray animal. They're passion and love for the animals is contagious! So, a big thank you to those in Central Illinois who allow me to be that "crazy dog lady". I love hearing your pet stories, keep them coming!
---
9-10-12
I don't know about you, but this past weekend had me longing for autumn. The air was crisp and the temperature was just perfect. For the first time in months (thanks to a summer of unbearable heat), I pulled out jeans and a cozy sweater. Normally, I spend every Sunday in the fall/winter making a pot of soup. But, with the temperature back to the 80's this week, I figured I would settle for homemade apple bread.

Yes, the aroma of apples and cinnamon consumed my kitchen last night. I discovered the recipe years ago and it's a huge hit in my house and the newsroom. Mr. Skry ate several slices in one sitting and my coworkers gobbled up the rest in a matter of minutes! Just email me or send me a message on Facebook if you want the recipe...easy to make and delicious!
So what is it that I love about fall? Growing up in San Diego, the palm trees don't lose their leaves and the temperature doesn't vary too much (I always laugh at the ladies sporting scarves when it's sunny and 72 on the beach!). Mr. Skry and I spent several years living in Northern Michigan and I can easily say that's when I really fell in love with fall.
This picture is from our engagement shoot years ago. I think it sums up the scenery pretty well. People flock to that region in the fall for "color tours". It's a perfect weekend outing--driving along the lakeshore, admiring the changing trees and sipping on warm cider from a local farm (pumpkin donuts are also a must-try!). While I loved growing up in such a great California city, I have to say that I prefer the four seasons over palm trees and the ocean. There is something about a lazy afternoon, getting cozy by the fireplace and sipping hot cocoa, all while the dog plays in a pile of leaves outside.
So wherever you live...whether it's the warm beach or the cool Midwest...take a few minutes on your weekend to appreciate your surroundings. I tend to find beauty wherever I live and I'm sure you can too!
---
8-27-12
While most people love the summer, I spend the dog days counting down to September. This week is like Christmas for me....Football season has finally arrived!!! For the next 4-5 months, I will be completely engrossed in college football. My weekends are spent mapping out which games my husband and I will watch, pretty much planning things around the pigskin. Last year, I even left my husband at home, so I could travel to Dallas with my dad to watch my beloved Oregon Ducks lose to LSU (Yes, I'm still bitter!).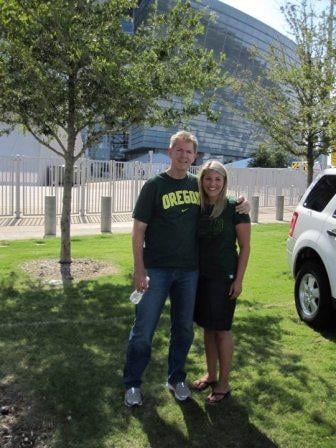 I'm sure some of you think I'm crazy. Who would spend hours of their weekend in front of the tv? While some of you live and breathe MLB or NHL, it's all about football for me. I always tell people that it's the reason my husband married me! I definitely have my "girly" ways, but come autumn, just call me "one of the guys". So how did I grow to love the sport? I have to give credit to my dad. He grew up in Chicago, making him a huge bears fan. I remember when I was a child, sitting with my dad watching Da Bears, eating my mom's delicious bean dip.
But, it wasn't until college that I found my true calling. I went to the University of Oregon during the Joey Harrington days (Yes, you may remember the "Joey Heisman" campaign). There is something about the crisp fall air in Eugene, thousands of fans cheering in their green and yellow at a jam packed/rowdy Autzen stadium...oh, and that lovable duck mascot Puddles. There is something about college football that I like better than the NFL. Don't get me wrong, I spend every Sunday watching the NFL, screaming at the tv and staring at my fantasy football lineup. But for some reason, I'm more of a college fan. Football is everything at the U of O, partially thanks to Phil Knight (We like to call the Nike CEO "Uncle Phil"). Those flashy uniforms, the unbelievable speed, the jaw dropping facilities.

Fast forward more than a decade and I'm still that loyal fan. My love for football has turned into a wonderful bonding experience with my dad. As I've mentioned before, I'm extremely close with my family. I talk to my mom and dad several times a day. And with my father, you can bet that at least one phone call a day will be to discuss sports. A year ago this week, we traveled to Dallas to watch the Ducks. This year I'll be heading to LA with my dad to watch them play USC. It's great having such a close relationship with my father and I'm so lucky he gets as excited as I do over football. If we're not on the phone talking football, we are going back and forth, emailing articles about any and everything football.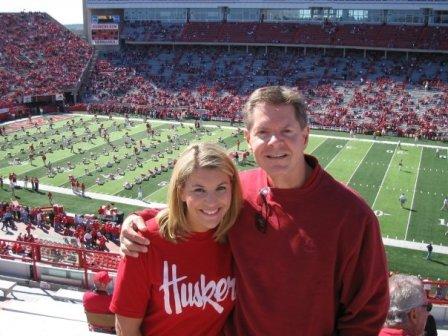 So here's to another wonderful season of football. As life unfolds and we face our up's and downs, at least we can escape every weekend as we cheer on our favorite teams. Go Ducks!!!
PS--Yes, that's a Husker game I'm at with my dad. We don't discriminate...I married into a Husker family!
---
8-16-12
Being from California, I've always heard about the kindness of Midwesterners. This week truly showed me how great people in Illinois really are. I'm in the middle of broadcasting live from the Illinois State Fair this week (thank goodness our boss canned the live shots today...it's rumbling and pouring outside!).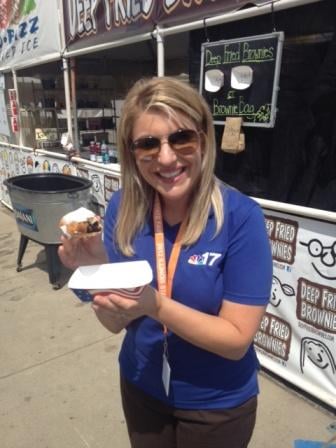 I have met hundreds of wonderful people there, all with such unique stories. First off the viewers: Boy, we are so lucky to have such kind viewers! No comments of "lay off the fried food". No "We don't like you on TV" mentions...only sweet people sharing how much they enjoy our station. I can't tell you how nice it is to hear those comments. As I've mentioned before, I have grown a hard shell to criticism in this profession. So, It's really refreshing when we get the positive comments. So often it's only complaints we receive.
I have done countless interviews this week. I met farmers who have been serving up local produce for decades. I met the sculptor of the famous "Butter Cow". I met a beekeeper sharing his story of generations of people enjoying his honey ice cream. I saw little piglets born, milked a cow, even learned the tricks to becoming an auctioneer. Each person told a different story, but not one was more important than the other. They each are a piece of the Illinois State Fair and I'm so lucky I was able to take part.
It takes a week like I've had to remember how great my job is. We get into our groove and have our ups and downs. But, when we get to step away from the anchor desk and out into the community, it gives us newsies a different look at our job. How many people can say they get paid to eat fried food? Ride down a massive slide live on TV? Milk a cow? I'm having the time of my life this week and I am so thankful to work with such wonderful people who make it possible. My coanchors Dawn and Sean are amazing. Along with our producer Denise, I don't think we have ever laughed so hard at work!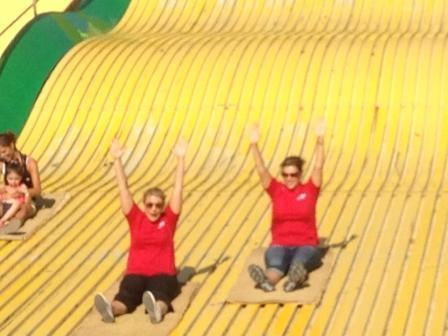 So it's back to the fair tomorrow for one last hurrah. Look for a smorgasbord of fried food for our fair finally...and of course, get ready for more laughter. You never know what's going to happen on live TV! I posted a few pictures from our week below.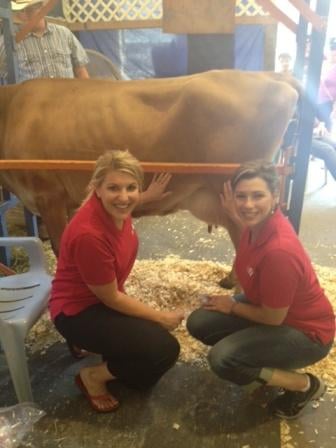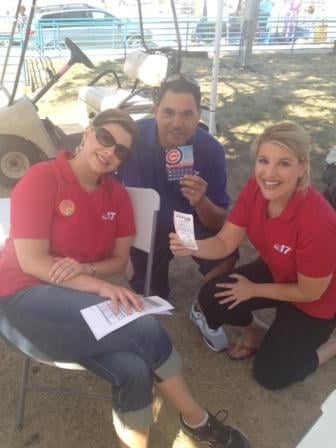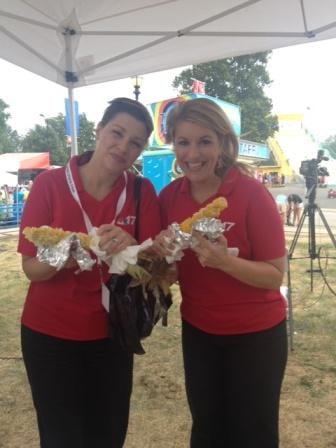 ---
7-25-12
While most of you are just getting to work for the morning, I'm almost done with my day. I'm filling in on the morning show this week, which means my alarm is going off around 2am! I figured this is the perfect opportunity to give you a glimpse of life on the dark side (or shall we say morning side) from an outsider looking in.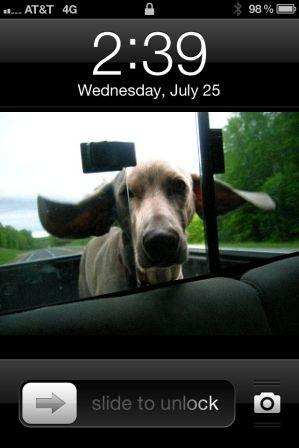 That's a snapshot of my phone this morning. Picture me yawning as you are sound asleep, dreaming of cooler weather and rain (right?!?). In the course of my 20 minutes it took me to get ready for work, it was crystal clear that I'm not used to this shift. First off, I walked from my bed to the shower in a daze and slammed head first into the wall. Oops! Maybe should have opened my eyes to see where I was going (Hope there isn't a bruise tomorrow!). I then showered and brushed my teeth, only to realize I used my husband's toothbrush instead of mine (Sorry Mr. Skry!). At that point, my dog woke up clearly thinking it was morning and he was ready to play. After a few minutes of staring outside into the dark night, he realized it's time to sleep and hopped into my side of the bed acting like it was his place...not mine.
It's now about 9 in the morning. I'm on cup #4 of coffee, scrounging around for something for lunch (yes, it's lunchtime on my clock!) and counting down the moment until I can commute back to Springfield and start counting sheep for a nap. Three days down, two to go.

Here's the strange thing-- I used to be a morning anchor. I spent about 6 years on the morning shift. I was the girl with the massive amount of velcro rollers, driving through town with no shame. I absolutely loved the show and the laid back attitude of morning television, but I also absolutely hated the hours. I don't know many people who can easily program their bodies to wake up in the middle of the night. I'm a morning person, meaning that I normally wake up anywhere from 5am-7am...but that 2am alarm is brutal.
So, I wanted to take this week's blog post to show my admiration for our WAND morning crew. Mark, Stephanie and Greg have great chemistry and truly look like they enjoy themselves on the news. I picture Mark waking up every morning with Disney birds and butterflies chirping as he sings some upbeat tune. How is he always so happy?!? He has to have a down day sometime, right? As for Greg, I remember the first week meeting him and thinking "this guy is crabby". Ok, so maybe he has his crabby days, but I think I mistook it for his witty personality. He's got that dry sense of humor that comes across hilariously when mixed with Mark and Stephanie. And Stephanie, she has to be one of the most down-to-earth people in our newsroom. Always so kind and always looking like a million bucks at 5am (how does she do it!?! Tips please...). And that's just the talent you see on air. There is a whole crew behind the scenes producing, editing and directing. They make what happens on the air look effortless. So, thanks to the entire morning crew for welcoming me into your club, even if only for a week. This "outsider" looking in sees an all star cast of characters, working together to create magic on television.
E-mail Stacey: stacey.skrysak@wandtv.com

Stacey's Facebook

Stacey's Twitter