Bulletin Board Material: August and September 2012 Entries
Posted:
9-12-12
We're already one-third of the way through the high school football season, and here in central Illinois conference races are beginning to take shape, and many predictions are already falling apart. Take the Okaw Valley Conference of example. In week two, the favorite, Maroa-Forsyth, fell at home to Unity in a 7-6 one-play-changed-the-game affair. The next week, Unity fell at home in a shootout with Central A&M, 47-41. The Raiders deservedly climbed a spot in the 1A standings this week. On the other side of the coin, the perennial playoff-bound St. Teresa Bulldogs are 1-2, with their only win coming in a week three snoozer, a 7-0 victory over Warrensburg. Also, keep an eye on Argenta-Oreana. We called them a dark horse entering the season, and they've quietly built a 3-0 record, entering a home game against Unity.
In the Big 12, the Eisenhower Panthers -- who I will admit I wrote off before the season started -- are 1-2, and while that's not spectacular, consider they came into last week on a 22-game losing streak. Eisenhower has scored 44 points through three games. During their 0-9 campaign in 2011, they scored 24 all season. Things are progressing in Decatur, faster than many anticipated, and just in time for a cross-town rivalry game with MacArthur here in week 4.
Like the Okaw, the Central State Eight "game of the year" happened in week two - a 29-26 win for Sacred-Heard Griffin, over two-time defending 4A state champ Rochester. Now SHG and Glenwood appear to be in a race for the finish, and it looks likely that it could be a battle of a couple of 7-0 teams when they play each other in week 8, which could be a whole lot more interesting if they can climb in the standings -- they don't have far to go.
Here are the latest rankings of Illinois high school football teams in each class, according to an Associated Press panel of sportswriters:

Class 8A
School W-L Pts Prv
1. Bolingbrook (11) (3-0) 128 1
2. Maine South (2) (3-0) 117 2
3. Chicago Mt. Carmel (3-0) 94 3
4. Marist (3-0) 77 5
5. O'Fallon (3-0) 72 4
6. Loyola (2-1) 65 6
7. Hinsdale Central (3-0) 39 7
8. St. Rita (2-1) 30 8
9. Homewood-Flossmoor (3-0) 29 10
10. Naperville Neuqua Valley (3-0) 18 NR
Others receiving votes: Waubonsie Valley 15, Palatine 12, Simeon 9, Belleville East 7, Hoffman Estates 2, Machesney Park Harlem 1.
Class 7A
School W-L Pts Prv
1. Glenbard West (10) (3-0) 125 1
2. Lincoln-Way East (1) (3-0) 116 2
3. Rockford Boylan (2) (3-0) 100 3
4. Providence (3-0) 87 4
5. Wheaton North (3-0) 82 5
6. Batavia (3-0) 66 6
7. Cary-Grove (3-0) 42 9
8. Wheaton Warrenville South (1-2) 40 8
9. East St. Louis (1-2) 31 10
10. Elk Grove (2-1) 8 7
(tie) Lake Zurich (2-1) 8 NR
Others receiving votes: Libertyville 4, Downers North 3, Harvey Thornton 2, Plainfield Central 1.
Class 6A
School W-L Pts Prv
1. Crete-Monee (12) (3-0) 147 1
2. Lemont (3-0) 121 2
3. Chatham Glenwood (2) (3-0) 115 4
4. Sacred Heart-Griffin (Springfield) (3-0) 102 5
5. Kaneland (3-0) 98 6
6. Normal West (3-0) 73 8
7. Nazareth (1) (2-1) 53 7
8. Prairie Ridge (2-1) 30 3
9. St. Francis (3-0) 18 NR
10. Oak Lawn Richards (2-1) 17 NR
(tie)Rock Island (2-1) 17 NR
Others receiving votes: Lake Forest 13, Richwoods 7, Ottawa 4, Bloomington 3, Hinsdale South 3, Lakes Community 2, Lincoln-Way West 2.
Class 5A
School W-L Pts Prv
1. Morris (11) (3-0) 152 1
2. Montini (4) (2-1) 142 2
3. Joliet Catholic (2-1) 122 3
4. Woodstock Marian (1) (3-0) 108 4
5. Washington (3-0) 101 5
6. Normal University (3-0) 73 7
7. Jacksonville (2-1) 42 10
8. Charleston (2-1) 40 9
9. Marion (3-0) 28 NR
10. Sycamore (3-0) 21 NR
Others receiving votes: Tinley Park 12, Sterling 11, Triad 8, Rochelle 8, Urbana 5, Highland 5, Belvidere 2.
Class 4A
School W-L Pts Prv
1. Rock Island Alleman (12) (3-0) 147 1
2. Rochester (3) (2-1) 120 2
3. Breese Mater Dei (3-0) 110 3
4. Coal City (3-0) 103 5
5. Monticello (3-0) 92 6
6. Bishop McNamara (2-1) 76 4
7. Elmhurst Immaculate Conception (3-0) 63 10
8. Stillman Valley (2-1) 25 NR
9. Peoria Notre Dame (3-0) 24 NR
10. Macomb (3-0) 21 NR

Others receiving votes: Columbia 7, Manteno 7, Greenville 6, North Chicago 6, Fairbury Prairie Central 5, Richmond-Burton 5, Quincy Notre Dame 4, Peotone 1, Pontiac 1, Benton 1, Harper 1.
Class 3A
School W-L Pts Prv
1. Aurora Christian (13) (3-0) 139 1
2. Sterling Newman (3-0) 119 3
3. Williamsville (1) (3-0) 106 4
4. St. Joseph-Ogden (3-0) 92 6
5. Elmwood-Brimfield (3-0) 74 5
6. Winnebago (3-0) 70 7
7. Tolono Unity (2-1) 53 2
8. Wilmington (2-1) 47 9
9. Althoff Catholic (2-1) 30 10
10. Anna-Jonesboro (3-0) 27 NR
Others receiving votes: Nokomis 4, Paxton-Buckley-Loda 4, Vandalia 4, North Boone 1.
Class 2A
School W-L Pts Prv
1. Mercer County (12) (3-0) 146 1
2. Casey-Westfield (1) (3-0) 116 4
3. Morrison (1) (2-1) 107 3
4. Rockridge (1) (3-0) 90 5
5. Carlinville (3-0) 75 7
6. Maroa-Forsyth (2-1) 70 6
7. Momence (2-1) 66 2
8. Downs Tri-Valley (3-0) 48 8
9. Clifton Central (3-0) 46 9
10. Camp Point Central (3-0) 22 10
Others receiving votes: Bismarck-Henning 15, Watseka 8, Athens 5, Wethersfield/Annawan 5, Cerro Gordo (Cerro Gordo-Bement Coop) 4, Illini West (Carthage) 1, Beardstown 1.
Class 1A
School W-L Pts Prv
1. Stockton (13) (3-0) 153 1
2. Lena-Winslow (1) (3-0) 140 2
3. Concord (Triopia) (2) (3-0) 125 3
4. Forreston (3-0) 110 4
5. Moweaqua Central A&M (3-0) 102 6
6. Aquin (3-0) 72 7
7. Sidell (Jamaica)-Salt Fork (3-0) 64 8
8. LeRoy (3-0) 48 9
9. Stark County (2-1) 27 5
10. East Dubuque (3-0) 21 NR

---
9-1-12

It was a nice start to the season for the Illini, who beat Western Michigan 24-7 Saturday. There were plenty of reasons to celebrate at the end of this one. Tim Beckman starts "Operation New Era" with a convincing win, there were sparks from a Nathan Scheelhaase-led offense, and the defense was even better than advertised. The bad: First and foremost, they lost Scheelhaase for most of the second half due to an ankle injury, the severity of which is yet to be seen. After the game, Beckman said they'd have to evaluate it this weekend.

Some very timely turnovers changed the course of this game. Interceptions by Michael Buchanan, Earnest Thomas III and Ashante Williams each came at points in the game when Western Michigan appeared to be worked with some momentum. In the case of Williams' INT, the Broncos had been driving, down 10, on UI's 40 yard line. Instead, seconds later, the Illini led by 17, and the game was out of reach. As expected, WMU QB Alex Carder led the air attack (26-of-49, 239 yards, 1 TD 3 INT), but that was all the Broncos could muster. They finished the day with -6 rushing yards, so hats off to the D for making WMU one-dimensional - and controlling that dimension as planned.

Credit is also due to the Illini offense... in the first half. Scheelhaase commanded the offense well, and his 64-yard touchdown pass to Ryan Lankford seemed to announce that the Illini would be in control of this from the get-go. Scheelhaase went 11-for-18 in the game, with 126 yards, a touchdown, and interception, adding a rushing score to put Illinois up 17-0 going into the half. After his injury, sophomore Reilly O'Toole only added seven yards to the team's total, and couldn't lead the Illini past mid-field for the remainder of the contest. Again, the seriousness of Scheelhaase's injury is unknown, but we saw drastically difference offenses in the first and second half. That's not a coincidence.

Another bright spot: TE Jon Davis leading the Illinois rushing game, getting in time at H-back. His 54 yards led the team, and while being a relatively small number, he did it on just six carries. On his first two, he had runs of 17 and 18 yards, and his 6'3", 240lb. frame clearly gave the defense a tougher time in terms of bring him down. I expect Beckman to plug Davis in there for about a half dozen carries every week.

Remembering that WMU lost Carder's top three targets to graduation last year - and there never really was a rushing threat - it's still difficult to evaluate what this says about the Illini moving forward. More than anything else, what's important to note is that they came out ready to play. It's not uncommon for even some of the top teams in the country to spend a quarter or two... or four... with what can best be described as "first-game jitters". The Illini had none, and that's on the coaching staff, which is a promising sign. An important rematch with Arizona State awaits...
---
8-31-12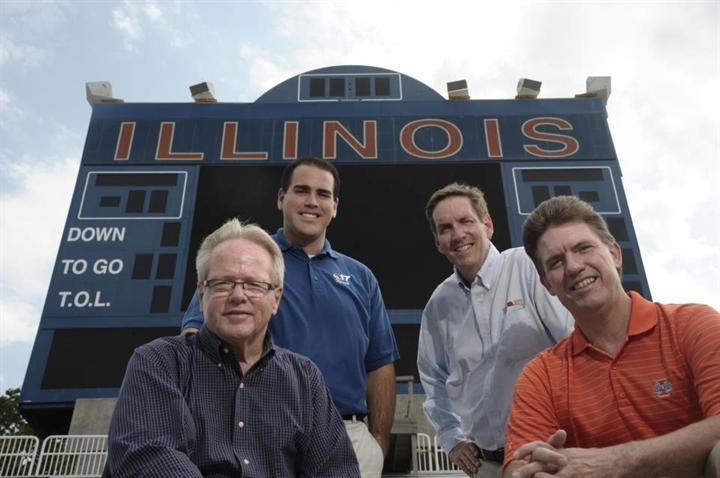 It's an exciting and busy time in the WAND newsroom. To go with some of the most complete Friday Frenzy shows we've ever done, we're kicking off the Illini season with a brand new program for Saturday mornings. It's called Inside the Illini: Big Ten College Football. We'll refer to it as "Inside the Illini" for short. We're actually cutting into Saturday morning cartoons... and I apologize in advance to the kids - and especially their parents - for stealing away an hour of your distractions.
By no means does our new show revolutionize the idea of a pregame show, but it will give viewers in Central Illinois (and when it gets on the web, the whole world!) a completely unique, and almost exclusively Fighting Illini football show. Week-to-week we'll have a full breakdown of the previous game (or in our first show, the previous season). We'll look in-depth at both the Leaders and Legends Divisions, preview the upcoming matchup, and see how Illinois alums are doing in the NFL. And we'll do it all among some from the Illini fanbase at the Buffalo Wild Wings in Savoy.
The format is similar to one we used for a number of years at my former station KTRV in Boise, Idaho. We covered Boise State football like crazy, and there were a number of things I think really worked for the show:
1) It's pre-taped. We'll still provide great coverage within each of our newscasts, including live reports from Memorial Stadium, but on Inside the Illini, you'll get a pregame show without the glitches (and at times even College Gameday can't say that). We spend the week searching the archives, breaking down the tape, and putting it back together in high def. In the end, it's a clean product beginning to end, and I think you'll appreciate that.
2) We have the experts. I'll admit, I'm new to the Big Ten, and the University of Illinois, but by no means am I new to college football. Since 2003, I've covered Washington State, Idaho, and Boise State out west, including analysis of the Pac10/12, WAC, Mountain West. I've covered 1-11 teams and 14-0 teams, and have about a half dozen bowl games under my belt. Still, you won't necessarily be relying on me to give you the expert opinions that will carry the show. Our experts include Steve Kelly, of Sports talk with Steve Kelly on WDWS radio in Champaign, and he's been covering the Illini for decades. Brian Barnhart, the "Voice of the Illini" will also be on the panel, along with Bob Asmussen, Champaign News-Gazette Illini beat writer. Each week, they'll give their opinions on the big topics in football, and let you in on what they saw covering practices and press conferences during the week.
3) It's about football. Too many times in a local news pregame show, you'll see a news reporter standing in a parking lot talking about John Doe's homemade salsa. Hey, I enjoy a good tailgate party as much as the next person, but as a sports guy I'd much rather get injury news and matchup breakdowns in the hour before the game. So a warning: It's for football fans, not people who want to learn how to make a good bean dip.
4)
You can win free stuff
. Yes, free stuff. First of all,
"Like" our Inside the Illini page
on Facebook. We'll post stories from our coverage of the Illini throughout the week, and we'll want you to interact with us as well. Ask questions about the Illini to our panel, and each week we'll pick one to answer on the air. If we pick yours, you win a $25 Buffalo Wild Wings Gift Card. We also want you there for our tapings of the show, which will be each Wednesday at noon during the season at BWW in Savoy. People who are there will enter a raffle to win two tickets to the week's game. We'll announce the winner at the end of the show. We want it to be as interactive as possible.
I know the first show is all put together and ready to go on the air, and we hope you'll tune in! Saturday, September 1st at 10am, with the game starting at 11! Stay with us all season, and give us your feedback on facebook.
---
8-23-12

Less than 24 hours from the time I write this, a full night of high school football will be in the books. An exciting, yet daunting thought for a local sports reporter... Noah Newman and I have a good plan together to get you highlights from more than a dozen local games, as well as scores from at least 30 games going on in the area. We promise it will be one heck of a Friday Frenzy.

We took a look at the Okaw Valley Conference in our previews on the blog yesterday, but before we get to tomorrow, I want to make sure we give you capsules and predictions for the rest of the teams whose practices we covered. You'll notice, not EVERY team in Central Illinois is featured -- Unfortunately between Noah and I, it's difficult to get around to covering the more than 60 teams who deserve our coverage. We also don't want to evaluate a team we didn't actually get to see in action.

We do, however, have previews for a returning state champ (and preseason #1), a team looking for their first win in more than 1,000 days, and a program that will be playing their first-ever varsity game Friday. Enjoy, and we'll see you on WAND Friday night!

BIG TWELVE

Eisenhower Panthers (0-8, 0-9)
The Panthers may be a better team in 2012, but they proved last year, there's a long way to go until that translates into wins. They surely don't need the reminder, but Eisenhower has been consistently, shockingly bad for more than a half-decade now. Since 2005, they are 3-60 (a .048 winning percentage), and they haven't won a game since Oct. 9, 2009 (a 20-8 win over Urbana). Last season, the team -- mostly filled with freshman -- was shut out five times, and in their four other games, they never scored more than 6. Understandably, that type of recent history doesn't exactly inspire a team, but at the practice I attended, players didn't seem particularly motivated to escape the Big Twelve cellar. After so many years of futility, unfortunately, a "culture" of losing can be created, and I think it's going to be hard for 2nd year coach Mike Goodwin to pull away from that. I expect a repeat performance for the Panthers in 2012. PREDICTION: 0-9 -Loveless

MacArthur Generals (5-4, 5-5)
Considering how young they were, last year was a huge success for the MacArthur football program. The Generals needed a win in week nine at Urbana to get in the playoffs, and they took care of business in convincing fashion. The 'big game' experience should pay off this fall. The Generals have a stud in senior running back Brian Jennings. He's one of the best at his position in central Illinois, and has a bright future at the next level. Quarterback Devin Ingram is also a big time threat in the running game. He's shown the ability to single handedly take over a game with his legs. The defense lost one of their best players in LB Derek Schultz, who transferred out of the area. He'll be hard to replace, but overall the Generals have the talent to put together another winning season. PREDICTION: 5-5, loss in 1st round -Newman

CENTRAL STATE EIGHT

Rochester (12-2, State Champs)
Wes Lunt, Zach Grant and company lead the Rockets to their 2nd straight state title last year. Grant lead the nation in receiving, and Lunt is now the starting quarterback for Oklahoma State. Head Coach Derek Leonard knows he can't replace those guys. But this Rockets team will still be one of the best in 4A. Austin Green takes over for Lunt under center. Green's a great athlete. He put up huge numbers at QB when filling in for an injured Lunt early last season. So we know he'll be just fine. We also know Wisconsin commit Garret Dooley was put on this earth to play football, and he's determined to lead this team to a 3-peat. With seven starters back on Defense, this Rockets team will hold the opposition to fewer points, and their offense will score enough to make another deep run. PREDICTION: 8-1, state runner-up -Newman


SANGAMO

Sangamon Valley Storm (4-3, 4-5)
The Storm were a field goal away from the 2011 playoffs, a goal that eluded them for the 4th straight season. Though, a three game losing streak to end the year (during which they gave up 52.0 points per game) didn't help either. If they're going to return to the playoffs this year, they'll have to do it with a much younger cast of characters. Head Coach Michael Lee said there's inexperience in just about every unit, with the exception of linebacker. They'll be leaning on LBs Andrew Urbanowicz and Hunter Talbert to be both the vocal and physical leaders on that side of the ball. Also, senior quarterback Casey Lyon will get his first season as a starter, which could be defined by how his young offensive line performs. Lee said both lines are sophomore-heavy, which means the Storm may have to wait to end that playoff drought. PREDICTION: 4-5 -Loveless

APOLLO

Mt. Zion Braves (6-1, 9-3)
Year one of the Scott Davis era was a big success- The Braves went 9-3, and made it to the quarterfinals. The team doesn't return many starters from last year, but Davis is optimistic they can still make a deep playoff run. It's hard to see this team doing any worse than 6-3. Only three of their opponents had winning records last year (Effingham, Charleston, Mahomet-Seymour). Look for Austin Ray to have a big season at the running back position, as Davis gets to the postseason for the 11th straight year. PREDICTION: 8-3, loss in 2nd round -Newman

LITTLE OKAW VALLEY

Cerro Gordo-Bement (6-1, 6-4)
The Broncos had a breakthrough in year two of the Andy Kerley era, and the defending conference champs have a good shot at a repeat in 2012. They have a major weapon in running back Dee Woods. Look for him to absolutely punish Little Okaw opponents this year. It's the first year of a co-op with Bement, which boosts the roster by nearly 20 players. It's helped out big time in practice- they now can field a scout team. The Broncos have lost their first three games each of the last two years. If they can avoid an 0-3 hole, they'll find themselves hosting a playoff game in week ten. PREDICTION: 10-2, loss in quarterfinals -Newman

PRAIRIE STATE

Decatur (Lutheran School Association) Lions (N/A)
It's a new season for everyone, but that has a different meaning at LSA, The Lions are entering their first year of varsity football (hence the "N/A" in their previous years' record). Records aren't necessarily available for this, but I'm told their JV team went 6-2 in 2011, for what it's worth. If anything, that at least proves they have experience winning against teams their own age. That's why I wouldn't bet the Lions will go winless this year. Their biggest problem will be with depth, especially as the season rolls on. They have just 21 players on their roster, and one of them -- their kicker -- is a freshman from the soccer team. Coach John McIntosh is confident with his offense, with Senior QB Skyler Taylor leading the group, and runningback Gage Moore in his backfield. Considering Prairie State cellar-dwellers like Bunker Hill and Mt. Olive -- which both had serious problems scoring -- the Lions could notch a couple of wins in year 1. PREDICTION: 2-7 -Loveless
---
8-22-12
It's time for another football season! A year full of haves, have-nots, will-not-bes, and hopefully a few pleasant surprises. Yes, it's my first year of Illinois high school football, and I'm thrilled to finally get the season going. Between Noah Newman and myself we're trying to pay a visit to each of the teams in our viewing area, and are ready to put on our analyst hats.
I will admit, despite seeing (live or on tape) more than a hundred high school games each year, none of them involved teams from here in Illinois, so feel free to take my analysis with a grain of salt. I've done my research on recent history, and we've talked with coaches and players, asking them to evaluate themselves, so we have a pretty good foundation for a 2012 season preview. Also, there are always a few key pieces of information that I know will generally shape a football season, especially a high school football season:
-How did they do last year?
-Who's coming back?
-What's the talent/leadership like at quarterback?
-Size, size, size
Now, since it is an election year, and we newsy folks don't want to give off the impression that we're biased, each team gets one paragraph, followed by a prediction. Noah and I have gone down each schedule for each team. Now, we may not necessarily agree on head-to-head matchups, which is why in our first post, a disproportionate amount of teams are picked to make the playoffs, and for accountability's sake, we make sure to identify the prognosticator after the prediction.
Our first set of predictions comes out of an intriguing Okaw Valley Conference, which remains familiarly top-heavy. There is, however, some interesting activity in the middle of those standings, and both Noah and I think there will be some teams losing the grip on their playoffs spots, as well as some that are ready to end postseason droughts:
Argenta-Oreana Bombers (2-3, 4-5)
The term "dark-horse" comes to mind when watching the Bombers. A-O was on the outside looking in during the 2011 playoffs, but they weren't far off. They'll return QB Gage Eller, and a big chunk of an offense that showed flashes last year -- in three of their wins, the Bombers scored 46, 49, and 52 points. Coach Chad Eisenmenger has said their biggest issue at camp was finishing, and claimed the team has had trouble focusing through an entire practice. Their first three games are by no means easy, but they are manageable (@ Shelbyville, at home vs. St. Teresa, and @ Sullivan). A 3-0 start could be just what the Bombers need to hone that focus, and build confidence, for a solid regular season run. The rest of their schedule won't do them any favors, which is why I won't necessarily put them in the playoffs just yet, but this team could have a surprise in them. If they get just one, I think they'll be in the postseason. As it is... PREDICTION: 4-5 -Loveless
Central A&M Raiders (3-2, 6-5)
A 2011 playoff team, the Raiders seem poised for improvement in Mark Ramsey's 30th season as head coach at Central A&M. Curt Ramsey, Mark's son, returns to quarterback the team, and by what I've seen, he'll get plenty of time in the pocket. The most jaw-dropping sight at their practice: The offensive line. Curt Ramsey claims the five starting linemen total 1,400 lbs. I didn't have a scale handy, but I'm inclined to believe him. I expect an improved offense, and if the defense improves even slightly, the Raiders could be in store for not only a return trip, but a higher seed in the playoffs. PREDICTION: 6-4, loss in 1st round -Loveless
Clinton Maroons (1-4, 2-7)
The Maroons seem to have become accustomed to the lower half of the standings. In 2011, John Hayden's squad finished 2-7 for the third consecutive year. This season, they're returning more than a dozen players with varsity experience, and have found themselves in a previously-unexpected QB competition. Hayden said he hasn't yet named a starter in a battle between senior Greg Osgood and sophomore transfer Zach Pate, who last season was at Sacred Heart-Griffin. Their biggest problem: the offensive line - undersized, and lacking depth. That will be an issue for a team that hopes to rely on the run game. PREDICTION: 3-6 -Loveless
Maroa-Forsyth Trojans (5-0, 12-1)
Josh Jostes enters his 13th season as the team's head coach. He's built the program into a perennial powerhouse, but he didn't do it overnight. The Trojans were just 1-8 in 2000, and they suffered four losing seasons before finally making the playoffs in 2004. They haven't missed the playoffs since- look for that trend to continue this year. The Trojans have reloaded quite well. Sophomore Jack Hockaday takes over under center. It's hard to replace Logan Stelzreide, but Hockaday is a phenomenal athlete and should put up big numbers on that brand-new turf. This team will be really really really good again, but it's hard to see them matching what they did last year, especially on defense (they replace the entire defensive line). PREDICTION: 11-1, loss in quarterfinals -Newman
Meridian Hawks (0-5, 0-9)
The Hawks dealt with all sorts of issues -- from depth, to maturity -- in 2011. Some of that may linger, at least early in the season, but second year head coach Matt Bryant is confident his returning cast will at the very least improve the 2012 version. The monkey on their back is that zero in the win column, which actually dates back to 2009 (they were 0-9 in 2010 as well). Bryant said his team has talked openly about that dubious distinction, and he's hoping they use it as motivation. Hopefully, they won't be discouraged after week 1... the Hawks travel to Tolono to take on Unity (11-1 in 2011). PREDICTION: 2-7 -Loveless
Monticello Sages (4-1, 7-4)
It's Cully Welter's fourth season as Monticello's Head Coach, and he's turned the Sages into a perennial playoff contender. This year he's hoping they take the next step, and become one of the top dogs in the Okaw Valley. With 36 upperclassman on the team, including a stud running back in Ryan Donahue, there's a good chance the Sages contend for the Okaw Black title. They've got Tolono Unity at home in week 7...if they can win that game, I see them going undefeated in the division. PREDICTION: 7-2, loss in quarterfinals -Newman
St. Teresa Bulldogs (3-2, 7-3)
A program like St. Teresa doesn't really do the whole "down year" thing, but this just may be one. They're coming off a respectable season, and a playoff berth in the tough Okaw Valley Conference. Some may notice though, that their 7-3 record was, remarkably, their worst since the 2001 season (4-5). At first glance, it looks like that downward trend will continue. St. Teresa is noticeably undersized, a side effect of graduating 19 seniors last year. Only two starters return, and that means the Bulldogs could struggle to hang on to that last playoff spot out of the Okaw's Black Division. PREDICTION: 4-5 -Loveless
Shelbyville (0-5, 2-7)
Year one of the Stan Wienke era didn't go smoothly, as the Rams went 0-5 in the Okaw Black Division, finishing 2-7 overall for the fourth year in a row. Despite the poor record, Shelbyville was actually one of the best offensive teams in the conference, scoring 26 points per game, but their defense was perhaps the worst, allowing over 43 points per contest. Another problem last year -- injuries. The Rams struggled to stay healthy, with 13 guys on the injured list at one point. The injury bug is back- one of their starting linebackers was injured in practice this week, and could miss most of the season. The QB-WR duo of Tucker Schwengel and Nate Standerfer is capable of a special season. It's probably the best passing attack in the conference. Bottom line- if the defense keeps them in games, the Rams could be headed to the playoffs for the first time in seven years. PREDICTION: 5-5, loss in 1st round -Newman
Sullivan-Okaw Valley (2-3, 3-6)
This could be the best team that no one saw coming in 2012. The Redskins haven't been to the playoffs since 2001, but their motto "It begins with us" could be more than just another slogan. Last season, the Rockets had a 2-3 record in their division. Considering the fact that you could count on one hand how many on their roster had varsity experience prior to the season, that was pretty impressive. Most of the team returns from last year, including senior Caden May. May was a quarterback for the first six games last year, and despite starting just three games at runningback, he earned honors as an all-Okaw honorable mention RB, gaining more than 700 yards on the ground. It will be exciting to see what he'll do with a full season of RB reps for the first time. Noticing that St. Teresa has major questions in every position group, the Redskins see a golden opportunity snatch up that last playoff spot, and I think that playoff drought will come to an end. PREDICTION: 5-5, loss in 1st round -Loveless
Tolono-Unity (5-0, 11-1)
The Rockets are ready to begin their quest for their 19th straight playoff appearance, a streak that isn't in jeopardy one bit this season. Unity lost more than half of their starters on each their offensive and defensive sides, and coach Scott Hamilton said the biggest deficiencies are on the offensive line and secondary, though I don't think that's cause for concern. Based on what I saw in practice, they've got plenty of size to fill the line, and it looks like good speed and ability in the defensive backfield. However, I think the losses could be enough that a talented team like Monticello could give them trouble in week 7. Unity opens the season at home against Meridian, but everyone, including most of us in the media, are already looking at week 2: Unity @ Maroa-Forsyth. Don't believe the "one-game-at-a-time" rhetoric... The Rockets are already scheming for the Trojans. During practice this week, they were running plays for their defense specifically based on plays M-F ran at their scrimmage on Aug. 17. They know, as well as we do, that the Okaw Valley championship could be decided before we even hit September. PREDICTION: 9-2 loss in 2nd round -Loveless
Tuscola (4-1, 11-3)
Tuscola has made the state title game four of the past five years. Over the past two decades they've been one of the best small school programs in the entire state. They haven't missed the playoffs since 1993. Much like Maroa, they don't rebuild, they reload. And they'll have to reload again this year, because they had a special group of seniors graduate. Players and coaches think they'll be right back at the top of 1A....and considering what they've accomplished over the past few years, I'll take their word for it. PREDICTION: 9-3, loss in quarterfinals -Newman
Warrensburg-Latham Cardinals (1-4, 1-8)
When fumbling the football, missing tackles, and dumb penalties are the things you're still working to fix in week two of camp, you know you're starting from the ground up. That's where second year head coach Tanner Lawson's team is entering the season. Their only win last year was against the a winless Meridian team. A good chunk of the 2011 squad were freshman and sophomores, and while that doesn't necessarily mean success this year, it could be a reason for the Cardinals to think a year or two ahead. The Cardinals may be a marginally better team than they were in 2011, but like many of the teams at the bottom of the Okaw Valley standings, their schedule isn't doing them any favors, and I think the other teams in the conference are getting better a little quicker than the Cardinals. PREDICTION: 0-9 -Loveless
---
8-20-12
We got the chance to see the Illini football team for the first time in eight days today. Practices have been closed since the last day of Camp Rantoul, and since we last talked with coach Tim Beckman, the focus has shifted squarely toward Western Michigan.
The head coach said he thought the team came out a bit sluggish following their only day off during the entire camp schedule, but he said the team finished practice strong, and will need to keep it up with their opener 12 days away.
"We practice a lot like they do in the pros, where your 2s will run the 'looks,'" said Beckman, who told media Monday they'd been gameplanning for the Broncos for a couple of practices now. "That's what we're going to ask our 2s to do - to give great pictures of Western Michigan, because they're a very good football team."
Here are a few notes from today's practice:
- Graham Pocic -- the standout center, who's been at guard during camp -- was in at right tackle today. Beckman didn't say this was where he wants Pocic during the season, but seems to want to assurance that it's an option if needed. QB Nathan Scheelhaase was asked if the "musical chairs" on the O-line would affect him: "From a quarterback's standpoint, you just want to make sure you pick up what the defense is bringing, picking up the extra guys that they may be blitzing, so that's really what I've got to focus on. I have confidence in the guys in front of me that they'll be able to stop the guys in front of them."
- Speaking of position-switches, tight end Jon Davis, as expected, is getting serious practice time in other offensive positions. Today, it was at runningback, where there are some depth issues. RB Donovonn Young, who had a standout year as a freshman in 2011, admits the backfield is lacking experience, but says it's not lacking talent. Davis is a willing, and able, body to add a bit of depth when needed. "I'm just trying to do whatever the coaches ask me to do. if they ask me to be in the backfield, that's what I'm going to do."
Beckman added, "He's a young man who can flex out, he can play the true tight end position and play in the backfield. He can play multiple positions and that's what we'll utilize him for."
- The Illini appear to be moving toward a receiver-by-committee offense in 2012. While no one seems to want to name the next big "playmaker", Scheelhaase did offer up a handful in his receiving corps that he'll be comfortable targeting in a number of situations: "I think those guys on the outside, Ryan Lankford, Darius Millines, Spencer Harris -- they all stepped up and made play in this last scrimmage we had, and really in the last few weeks, they're really getting things rolling."
Lankford is another guy in a position group that lacks significant experience, and he talked about mixing in guys like Davis, and Terry Hawthorne to deal with their depth issues: "Our coaches do a great job of knowing what guys have which strong points. Bigger guys, they'll put them in a position where they can use their size. Faster guys, put them in a position where they can use their speed."
- Apparently, Beckman isn't only trying to keep players on their toes during practices, but he'll keep a few secrets from his coordinators as well. "I'll put the ball down, and not tell them the situation in the meeting, and then they've got to call the plays," said Beckman. " I think it's important, and it's something coaches did for me when I was coordinating, is put me in situations as a coordinator that I had to make a call, and that's what we do a lot out here during practice."
- One piece of injury news: Sophomore LB Henry Dickinson is out for the season. Beckman said he broke his leg and ankle in normal practice drills on Tuesday. Dickinson saw limited time last season, and mostly on special teams, but Beckman said he'd been really impressed by Dickinson's progress during camp. He was doing a great job, he really was. It's unfortunate, there's no question about it," said Beckman. Dickinson will use a medical redshirt this season, and will be expected to return next season.
---
7-31-12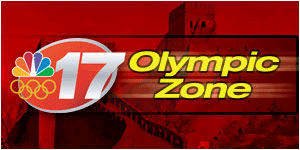 It's already been an exciting set of Olympic Games for central Illinois. On just the second day of competition, Chatham native Kelci Bryant, and her teammate Abby Johnston won the United States' first diving medal since 2000, and the first ever in a synchronized event. It was one of the events we bookmarked long before the games started, and it created quite a buzz in Bryant's hometown.
I went to her family home, where the only person not in London was her older brother Steven, who said he had to stay back to work on his master's degree. He was, however, able to watch the event live online.
"I cried when she first won it. It was like 'Holy cow, my sister just won a silver medal," he said. "It was pretty emotional, just knowing how hard she's worked - since she was 8 years old - for this."
I had expected to see business signs lighting up with "Congrats Kelci!" or "Home of Olympic Silver-Medalist Kelci Bryant", but the celebration in town was pretty quiet. I'm told, however, it was the main topic on conversation in Chatham for many in the 24 hour following.
"I was like 'Oh my goodness! That's like 10 minutes away from my house.' It was really cool," said Ashley Angel, who lives in Auburn.
"We just always had that goal of getting a medal," said Steven Bryant, "and now that we've got it, and see that it means so much to other people, it really kind of sinks in as to how great it really was."
I was struck by the number of times he said "we" during our conversation, proving that the medal was the culmination of a lot of time, effort, and sacrifice by the entire family. In a small way, members of the community tend to feel that way, too.
Bryant is one of a number of, not only Americans, but Illinois natives looking to earn a medal over the next two weeks. Monday, Northwestern alum Matt Grevers won a gold in the 100m backstroke, and Friday, a slew of Illini grads - mixed in with a Millikin alum - will go for medals in track and field.
We've already had emails and calls asking, not always politely, why we haven't covered some local athletes. It takes a little restraint to hold back the sarcasm while reminding viewers that the Olympics last 16 days... thus there are events yet to take place.
For those of you who happened across the blog, here's the remaining schedule for the Olympians that have ties to central Illinois (all times central - but of course, tape-delay will have it airing later on NBC):
Thursday, August 2
3:00pm
Men's 100m Butterfly Semifinal - Tyler McGill (Champaign Central grad)
4:15pm
Men's Basketball Pool Play - USA (Andre Iguodala - Springfield Lanphier grad & Deron Williams - Illinois grad) vs. Nigeria (Richard Oruche - UI-Springfield)
Friday, August 3
1:00pm
Women's Discus Qualifier - Gia Lewis-Smallwood (Illinois grad)
1:30pm
Women's Soccer Pool Play - Great Britain vs. Canada (Illinois grad Emily Zurrer on Canadian team)
1:40pm
Men's 100m Butterfly Final - Tyler McGill (Champaign Central grad)
Saturday, August 4
8:30am
Men's Basketball Pool Play - USA vs. Lithuania - Andre Iguodala - Springfield Lanphier grad & Deron Williams - Illinois grad
12:50pm
Women's Discus Final - Gia Lewis-Smallwood (Illinois grad)
4:15pm
Men's Basketball Pool Play - Nigeria (Richard Oruche - UI-Springfield) vs. Argentina
Monday, August 6
4:00am
Men's Discus Qualifier - Lance Brooks (Millikin grad)
Women's 100m Hurdles 1st Round- Nikkita Holder - Canada (Illinois grad)
8:30am
Men's Basketball Pool Play - France vs. Nigeria (Richard Oruche - UI-Springfield)
4:15pm
Men's Basketball Pool Play - USA vs. Argentina - Andre Iguodala - Springfield Lanphier grad & Deron Williams - Illinois grad
Tuesday, August 7
4:00am
Men's 110m Hurdles 1st Round - Andrew Riley - Jamaica (Illinois grad)
12:50pm
Men's Discus Final - Lance Brooks (Millikin grad)
Women's 100m Hurdles Final - Nikkita Holder - Canada (Illinois grad)
Wednesday, August 8
12:, 50pm
Men's 110m Hurdles Final - Andrew Riley - Jamaica (Illinois grad)
---
7-27-12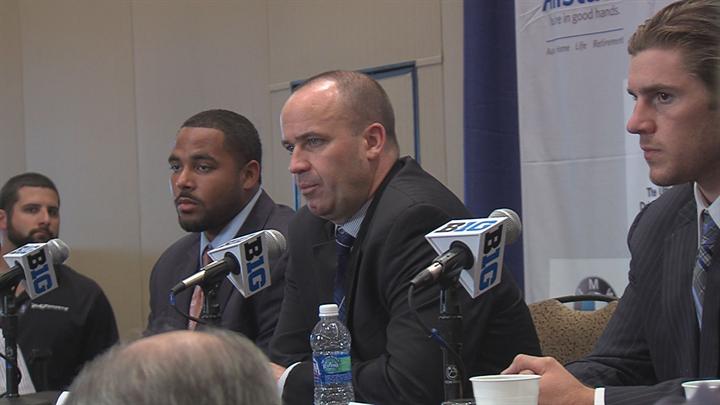 There was plenty that came out of Big Ten Media Days on Thursday and Friday, and between here,
Facebook
,
Twitter
, and the 6pm and 10pm news, we'll try to get you as many angles as we can. That will include interviews with the Illini as they get for the start of camp on August 6th. There was one topic, however, that was unavoidable.
No matter what colors they were wearing, everyone had to answer questions about Penn State. Despite rumors that only head coach Bill O'Brien would be there representing the Nittany Lions, three players showed up, they said as a sign of solidarity.
"Obviously today, with these guys coming up, it shows everybody that we're sticking together and we're moving forward," O'Brien said Thursday.
The most common question had to do with recruiting. After the NCAA said Penn St. players were free to transfer, for some, that meant open season. The most talked about thus far has been the Illini, visiting Happy Valley, and
talking with players within a couple days
of Monday's news.
Despite reports that claim Illini coaches were "on campus," UI Head Coach Tim Beckman said they met at a couple of restaurants, and said they extended invitations to meet with Penn State players.
"Prior to us going there, the Penn State athletic department knew who we were in contact with through compliance, and through the athletic directors," Beckman said. "We did everything the NCAA asked us to do."
It was interesting as coaches rotated the Media Day stages, each getting asked the same question, and each with a varying opinion from each end of the spectrum, and everywhere in between. Beckman said the decision to pursue players was made for the betterment of the Illini program.
"We're down to 80 scholarships right now," he s, aid. "We only have 80 scholarship football players. We have a dire need for these football players sitting next to me for some depth. It was one of the things that I felt that I owed to the team, and I owed to making us a better football team."
Like I said, however, not everyone shared Beckman's sentiment.
Michigan head coach Brady Hoke, when asked how much they've pursued Penn State players: "None. It's not our personality"
Ohio State coach
Urban Meyer
,
whose own recruiting tactics came under fire
this winter, said there are no written rules when it comes to recruiting: "I think at the end of the day it's not coaches, it's players. A player has the right to go where he wants to go."
Meyer added, "I've been asked: 'Would you go actively recruit a player on another team? Like I see a Penn State player, and say 'Hey I'm Urban Meyer, would you come play for me?' I wouldn't do that."
O'Brien stuck to his statement about staying focused on moving forward. "I don't really have anything more to say on that, other than those guys are playing by the rules," he said.
It looks as if at least one player is ready to leave Penn State. Freshman OT
Ryan Nowicki
is reported to be
interested in heading to the University of Washington
, but according to a number of reports, he was one of the players who met with Illini coaches this week.
---
7-23-12

When I clocked in today (okay, I don't actually "clock in") the big MLB trade deadline story here, as it was across the country, was Ryan Dempster's impending trade. The Cubs have the top pitcher (stat-wise) in the game, and despite some recent flashes, are selling this year... again. A quick update, it appears as if the

Braves are close to a deal for the ace

. As late as Monday evening, mlb.com was reporting that the deal was ready, just waiting for Dempster's approval, despite Dempster taking to Twitter, saying

there is no deal with the Braves

. We'll see. Among other things, that's what I came into work ready to monitor in the sports world. Well, that, and a little story involving Penn State...

I can sympathize with Cubs fans, who understand, and simultaneously loathe this time of year. Dempster has a 1.86 ERA - and has been far and away the best pitcher in the NL, and right now he wears a Cub uniform. And Cubs fans know, they don't get to keep him. Whether it's the Braves today or another team tomorrow, he won't be a Cub on August 1st.

I've made this clear before: I'm a Seattle Mariners fan. I've vented about the frustrations of being a fan of a team that's never been to a World Series, or been able to keep their superstars. Even in central Illinois, I listen to just about every radio broadcast in the background of my work day. Today, though, I wasn't thinking about the Mariners.

Then, I got a text message from my brother, back in Seattle. All it said was: "Ichiro?"

All I thought was, "Uh oh."

Ichiro arrived in Seattle in 2001. I was in high school. That year, the team won a major league-record tying 116 games. Ichiro hit .350, won the batting title, won the Rookie of the Year award won, a Gold Glove, and the MVP award.

He made a great first impression, maybe the best the MLB has ever seen. Along the way he won nine more Gold Gloves, another batting title, broke the AL hits record, and became a fixture in Seattle. So, it was safe to say, we forgave him when his skills started to erode.

He's in the midst of the worst season of his career, just a year after his previous worst season. In 2011, Ichiro failed to hit .300, or reach 200 hits, for the first time in his MLB tenure, ending a streak that had never been accomplished before. Most of fans knew it was time for him to go, and I think many of us hoped he would retire as a Mariner.

Whoops.

On July 23, Ichiro was traded to the New York Yankees. Why, oh why, did it have to be the Yankees?

As I type this, I'm watching minute-by-minute coverage of the "event", including the first time he ran out of the dugout in a Yankee uniform. They just flashed a graphic that said "Minutes Away: Ichiro's Yankee Debut." It's a bit surreal, magnified by the fact that he's making his Yankee debut in, of all places, Seattle... against the Mariners. Not because I'm not used to seeing this kind of thing happen all the time, but because it just happened to a player from my team. Ichiro was an absolute star for 10 years, and is as sure a hall of famer as there will be in the next decade. During those years, I was between the ages of 15 and 25, young enough to still have some sports idols, and old enough to be able to put their accomplishments in proper perspective. Even though Ichiro became a replaceable part of the Seattle lineup, he was an irreplaceable part of my growth as a sports fan. That's why today is sad, even though it was necessary. Both for him and for the Mariners.

More than anything now, I just want him to get a World Series ring. If that means rooting for the evil empire in the playoffs to see that happen, so be it. Go... Ya... uh... Go Yan... ah I can't even bring myself the say it. Go... Ichiro!

What I, and a slew of Cubs fans, can do is hope this trade deadline will be beneficial long-term. For me, I just hope someone can give me for the next 10 years, what Ichiro gave me for the last 10.
---
7-18-2012
It's been a while since I last updated the blog, and that'll happen when you're in the final stages of planning a wedding. Yes, I'm a married man now! It was a beautiful wedding for which I give all planning credit to my wife. It was also nice to disconnect from the world while I spent a week in Hawaii with my beautiful new bride.
I'm back now though, and of course in many ways it already feels like I never left (I have to keep looking at pictures to remind myself this time last week I was pigging out at a luau in Maui...). Luckily, I was gone during a slow time in sports - the NBA season is over, NFL and college camps haven't started yet, and thanks to the All-Star break, three of the days I was gone were free of major league baseball. One of the central Illinois stories I left behind, though, is right back in the forefront: High school conference realignment (to me, the thought of realignment at that level is silly... I'll get to that later).
The brief history: The Okaw Valley Conference has 12 teams. Seven of them recently expressed interest in leaving. Five of them want the conference to stay together. The group of seven claims it's travel - and school size - that are fueling their decision, and they declined a handful of proposals that would adjust division lines based on both geography and enrollment. The group of five have said it seems the others have already made up their minds.
Wednesday, the athletic director for Argenta-Oreana High School (one of the "defectors") threw in a new proposal: A 16-team, two-division conference, split north and south, and (for the most part) putting the teams that want the conference to stick together in their own division. For those who clicked on this blog to see what the division would look like, here it is:
South Division:
Argenta-Oreana
Central A&M
Meridian
Shelbyville
St. Teresa
Sullivan
Tuscola
Warrensburg-Latham
North Division:
Clinton
Maroa-Forsyth
Monticello
Unity
?
?
?
?
You might notice, that's not very balanced. Prior to this proposal, though, Clinton, Maroa-Forsyth, Monticello, Unity, and St. Teresa (the five that want to stay) had said they identified a few schools to invite in case of a break-up. If they did indeed talk with these schools, they could fill the rest of the north division. It's a good proposal, if the conference needed one. My opinion, though, is that they don't.
Let's look at stated reasons for the move, first at geography.
-Argenta-Oreana has expressed interest in starting a new conference with Shelbyville (45 miles away), leaving behind Monticello (15 miles away)
-Warrensburg-Latham wants to leave along with Sullivan (40 miles away), but doesn't want to travel to Maroa (13 miles away).
Hmmmm. It must not REALLY be about geography. How about school size? Is it tilting the conference standings during the football season?
-The two smallest schools (Maroa-Forsyth, and Tuscola) were a combined 23-4 during the 2011 football season.
-The biggest school (Clinton, enrollment of 504) finished the football season 2-7.
So, school size isn't really creating an unfair advantage either.
The only numbers that would support the move are strictly about football, and only about recent football success:
-2011 winning percentage for the 5 schools that want to stay: .709
-2011 winning percentage for the 7 schools that want to leave: .386
It's clear, and despite the PR-speak by those who claim otherwise, it's not really a secret. The schools that want to leave are tired of looking bad on the football field, but is this really going to help them? Is this really going to help their student-athletes learn the lessons both winning and losing provide?
A note to these schools who are sick of losing: Since the existence of any and every league, any and every race - or any kind of competition at all - just as someone has won, someone has also finished last. Every single time. Each year, some kid has misspelled the first word at the Scripps National Spelling Bee. It happens, and we really need to stop teaching our kids the new-age lesson of "when the going gets tough, stop trying... or do something easier."
The Okaw Valley Conference is not the NFL. The quarterback from the 10-0 team is no more likely to succeed in life than the quarterback from the 0-10 team. 30 years from now, few will remember what their high school football team did in 2012, but I fear these bad lessons that come with this particular high school conference realignment may very well shape opinions, attitudes, and work ethic of these people. You teach a 16-year-old it's okay to take the easy way out, and that's a lesson they carry with them for the rest of their life. Teach them that it's okay to lose as long as you gave it your best, and that's also a lifelong lesson.
No one wants to be part of a losing team (let's be honest, no sports guy has as much fun covering a losing team, either) but statistically, half of the world's athletes lose more than they win. If the Okaw Valley Conference breaks up, will Meridian High (0-9 in 2011) suddenly win a state title? Probably not, and in fact it's far more likely that they finish 0-9 in the OVC 2.0. Then at what point will they want to bolt with the bottom half of that conference for the OVC 2.0.1?
An incredibly high percentage of high school athletes will not go pro, nor will they play the sport in college. High school is a place to learn, in the classroom, as well as the court, field, or track. It's a place to teach them science, math, and history, to teach them how to work with others, and to teach them how to be better people. I think it's time for their parents, coaches, and athletic directors to let them learn how to lose. Right now, they're doing it the wrong way.