Oak Ridge Cemetery Finances Warrant Help From City
Posted: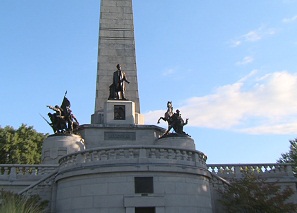 SPRINGFIELD -- It's the second most visited cemetery in the country. But now that Oak Ridge isn't bringing in enough revenue, the city will have to step in.
Springfield Office of Budget and Management Director Bill McCarty says for years the cemetery has had to dip into its endowment fund.
"The cemetery's revenue from its normal operations cannot keep up with its expenditures: in other words the cemetery cannot support itself," said McCarty.
Earlier in the year, the cemetery was looking at taking over $400,000 dollars from the endowment fund.
"The purpose of that fund is to pay for the ongoing care the maintenance of the cemetery once it runs out of burial plots," said McCarty. "We don't agree with that approach. If the cemetery has to be subsidized, which it does, we feel it needs to come out of the city's general checkbook."
Translation: burial and pre-need sales are down. The situation doesn't look like it will improve anytime soon. McCarty says the trend of people looking into cremation as a less expensive option isn't helping.
"The problem is going to be exacerbated, it's going to get worse and worse, not better. We have to figure out a way to increase that revenue someway, somehow, if are going to minimize the drag on the corporate fund," said McCarty.
The proposed "fix" could cost the city up to $300,000 per year, though McCarty believes it will be closer to $100,000 for this fiscal year.
But some city leaders are skeptical of the plan, like Ward 5 Alderman Frank Edwards.
"That expense is going to take away from something else that we were already doing," said Edwards.
He wants more information from the administration, and Oak Ridge's Executive Director Michael Lelys.
"How much does it cost to open a grave? How much does it cost to set the vault? Let us see the business side of it, and then compare those costs to surrounding cemeteries around us and see why people are choosing to go somewhere else. That's all I'm asking for," said Edwards.
Michael Lelys wasn't available for an interview, but in the past has said Oak Ridge is always looking for new ways to generate money, but they're just aren't many options.
Revenue for this fiscal year is expected to be in the $900,000 range, while expenses are projected to total around $1.2 million.