Unexpected Arrival at Prairie Capitol Convention Center
Posted: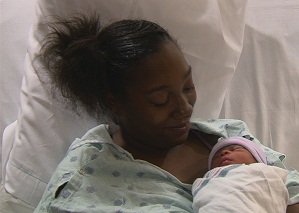 SPRINGFIELD -- The Prairie Capitol Convention Center has hosted some big names, but Springfield's newest star, just couldn't wait to get on the marquee.
4 pound 12 oz. Ja'Mai Sykes was born Friday morning while her mother Latreece Sykes was attending an election judge training event at the convention center.
"I'm just happy it's over now, happy she's finally here," said an exhausted Sykes.
"I was actually in class when it happened and I got up because I felt like I had to go to the bathroom."
That's when Latreece's mother, sister, and family friend Kathy Baxter followed her.
"She came out, we sat her down, and she started having contractions. I went in and told the teacher that was teaching us to call 9-1-1," said Baxter.
Latreece said the whole thing took place in under ten minutes.
"By the time I laid down, she was already coming out," said Sykes.
Kathy Baxter said she had no experience in delivering a baby, but knew she had to act fast.
"After I'd seen the head... we were just standing there, and I had the baby in my hands before I knew it," said Baxter.
Brian Oaks is General Manager of the P.C.C.C.. He says his staff runs through a lot of preparedness scenarios, but know one was ready for baby Ja'Mai.
"We've had a lot of unique experiences here over the years but, I don't think this is one that any of us really expected," said Oaks.
"It was a neat day, and for the people to rally around the lady who was having the baby, and for everything to go well, it sure made for a fun time," added Oaks.
Latreece Sykes couldn't be happier with her baby girl and is grateful for those that were there to help.
"Thank you! I appreciate everything, and at that moment, I didn't know what to expect. It just caught me off guard, and shocked me," said Sykes.
Latreece and her family will receive ten years of circus tickets from the Ansar Shrine, five years of Kids Fest tickets from Capitol Radio Group, and five years of Disney Event tickets from the convention center.