Salvation Army Receives $10k Donation
Posted: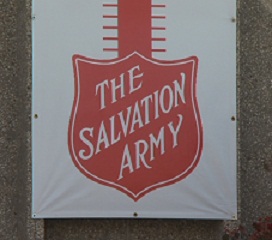 SPRINGFIELD -- Dan Salisbury of Midwest Office Supply was one of four local businesses that presented the ceremonial "giant check" to the Salvation Army Tuesday morning.
"On behalf of the Caddy Shack Open and our four sponsors, we are proud to present to The Salvation Army today, this check for $10,000, and we wish you well," he announced.
Salisbury, along with representatives from Giganti and Giganti Jewelers, Staff Carpet, and the Bank of Springfield chose The Salvation Army as the benefiting charity for their annual Caddy Shack Open Golf Tournament.
The community need for The Salvation Army is on the rise and they've simply outgrown their North Sixth Street location. Major Paul Logan and his staff have been working hard to raise the money to renovate their new facility on North Ninth.
"We have a $6.8 million campaign, $4.8 million is our actual right now," said Logan.
The Salvation Army's fundraising campaign officially ended in September, but Logan says they'll extend it until their goal is met. Beyond large donations, they're still looking for individual pledges from the community.
"Once the money has been pledged or committed in cash, we can go ahead and borrow from The Salvation Army, knowing those pledges will come in later. We can use that money to start the project," said Logan.
Initial phases of the renovation could to take place as early as next month.