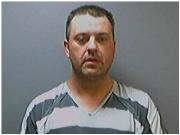 Mattoon IL – Police arrested a Champaign man who tried to rob two drug stores.
Police say, 40 year old, Terry Leece tried to rob the CVS Pharmacy at 6:30 Tuesday morning, and then robbed the Walgreens on Logan Avenue just before 8am.
Officers say Leece tried to drive away, but backed off from the chase. They saw Leece again about 15 minutes later and after another chase caught him after he crashed.
Leece is being held at the Coles County Jail.