Boo at the Zoo Alternative Routes
Posted: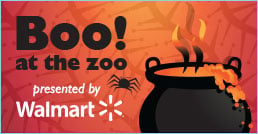 Decatur IL – The annual Boo at the Zoo starts Friday October 19th, with a safe way for kids to tick or treat.
Although road construction continues near Scovill Zoo, and has closed Country Club Road south of the zoo, the event can be accessed off of Route 36. Just watch for the Boo at the Zoo signs along Route 36.
If you normally take Lost Bridge Road please take either of the two alternative routes. Those routes are, Baltimore Avenue from north Lost Bridge Road, or Maryland Avenue east from Lost Bridge Road.
Parking will still be available in the Scovill Zoo lot and the Children's Museum. Parking will also be available in the grass at the north end of Scovill Park. Park shuttle vans and a free hay rack ride will take visitors to the zoo entrance.
The event dates are as follows:
October 19, 25 – 26, & 29 - 31
5:30 – 8 p.m.
Saturdays & Sundays, October 20 – 21 & 27 - 28
3 – 8 p.m.
Location: Scovill Zoo (71 South Country Club Rd., Decatur)
Admission:
$4.00 Collecting Treats
$3.00 No Treats
Under Age 2 - No Treats - Free
Train:
$2.50 Adults
$2.00 Children 2-12 & Seniors 65+
Carouse:
$1.50 Per Rider