Lt. Governor/Verizon Raise $10,000 for Domestic Violence Prevention
Posted: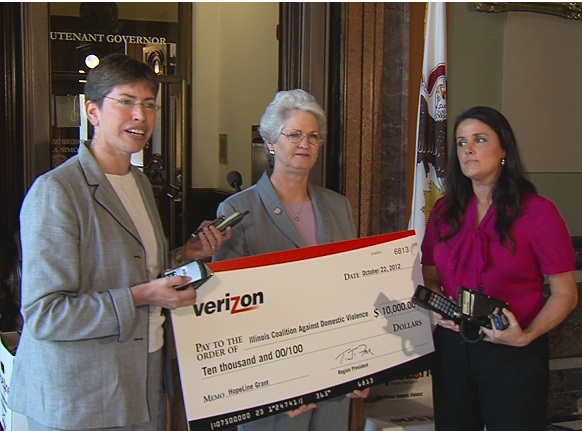 SPRINGFIELD -- Most of us have old cell phones. Verizon Wireless wants to take your's off your hands. For each cell phone collected by Lt. Governor Sheila Simon's office, Verizon donated $10 to the Illinois Coalition Against Domestic Violence.
Simon says her years as a prosecutor, make this cause near and dear to her heart.
"This is one of the ways that our office has been able to help out," said Simon.
She remembers a specific case she dealt with years ago.
"A live-in lover who shot his girlfriend in the head... she survived, and was going to testify about it," said Simon.
It made her realize how involved, and unique each victim's story can be.
"It encapsulated all the struggles of domestic violence: the woman who didn't want the father of her children to go off to the Department of Corrections, the defendant's family in the court room watching her testify," she added.
Illinois Coalition Against Domestic Violence Director Vickie Smith says Verizon's help, is essential to the work her group does.
"Not just in Illinois, but all over the country. They're a great corporate sponsor to the work that we do, trying to respond to victims and keep families safe," said Smith.
A portion of the $10,000 raised will help pay for a program called The Virtual Legal Clinic. It helps victims connect with quality lawyers around the state, all of whom, volunteer their services.
"What's next legally? What do I do with the car that my boyfriend and I bought together? How do I rearrange that? If we don't have kids, do I need an attorney to represent me in divorce?" said Simon.
The two pilot programs in Jacksonville and Peoria use Skype to provide that free legal help.
"We found that it's been a good service to the survivors to connect. It's particularly easy for attorneys as well," added Simon.