Lt. Governor Holds College Affordability Summit
Posted: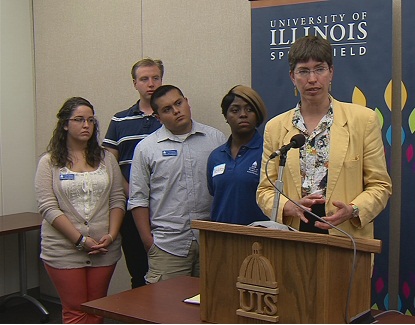 SPRINGFIELD -- Students at the University of Illinois Springfield, or on any other college campus, will tell you that their debt and post-graduation job prospects, will be very important when they go to cast their ballots next month.
Students like Dan Garcia and Nekira Cooper who, like so many of their peers, didn't have their education handed to them on a silver platter.
"I have a decent amount of loans. With interest rates, and all that, the election is going to be very important," said Garcia, a senior studying political science.
Sophomore Nekira Cooper plans to join the military once she finishes her undergraduate degree. Still, financing college, was a multi-resource endeavor.
"I get every kind of financial aid: M.A.P. grants, Pell grants, work-study... my major concern is one of the candidates taking that away, because that ruins a lot of students opportunity," said Cooper.
If you think young people aren't paying attention to this election these students are here to prove you wrong.
"They're going to say things that you want to hear. It was the second debate where they had a college student ask them about things like that, and both candidates said 'well we're going to get you a job," said Garcia.
Lieutenant Governor Sheila Simon is touring all the state's higher education institutions. Her task: to call on state, federal, and university leaders to keep college affordable.
"The state is certainly not doing as much as it used to. We're working on couple of things from the state end of operations to, within the money we have, use it as efficiently as possible," said Simon.