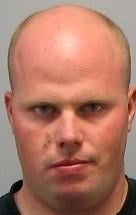 Springfield IL – A former Jerome police officer who is awaiting trail on official misconduct and obstructing justice charges, is in more legal trouble.
Springfield police arrested 26 year old Steven Stirmell early this morning for DUI after an off duty Sherman officer saw him crash at Chatham Road and Iles Avenue.
Stirmell was indicted on the misconduct and obstruction charges in June and is scheduled to go on trial next month.