Your Tax Dollars - Loaded With Pork
Posted: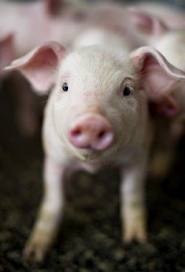 Springfield - Like watching cable TV? So do Illinois prison inmates. And your tax dollars have paid the bill for the past two years to the tune of $2.2 million dollars.
That's just one of the findings of the 2012 Illinois Piglet Book put out by Citizens Against Government Waste and the Illinois Policy Institute. The Piglet Book identifies 200 examples of government waste totaling $354 million.
"Prison is not supposed to be a fun place," said Kristina Rasmussen of the Illinois Policy Institute. "But apparently they've got a great selection of TV channels."
The Piglet Book cites numerous examples of pork:
*$124,720 spent in Chicago for the "Lego Kid Fest Chicago" at McCormick Place.
*$9,941 spent by the Springfield Park District for bobble head toys.
*$2,374,868 spent in Metro East for the construction of a 500 seat 3D-capable cinema.
*$241,283 in TIF money for the Jumer's Casino & hotel.
*$200,000 in Williamson County for the Shawnee Bluffs Canopy Tour Inc. for development of "eco-friendly customized zip lines."
"What is that," Rasmussen asked referring to the zip lines. "And why are our tax dollars being spent on that? You know, if it's a fun business, why can't a private sector business set it up?"
The $354 million identified in the Piglet Book may only scratch the surface. "Instead of focusing on core services they continue spending as usual. And it's really disheartening because it's our money on the line," Rasmussen said.