Undocumented Immigrants Fight for Driver's Licenses
Posted: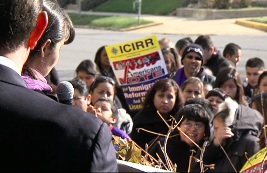 SPRINGFIELD -- Carolina Rivera and her family have lived in Illinois for twenty years as undocumented immigrants. After her husband was deported, Rivera became the head of her household in Chicago.
"I have to support my children, I have to take them to school, I have to work and provide for what they need," said Rivera. She has no access to insurance or a license, if she gets pulled over, she could be deported.
"I am tired of living with fear, and I am tired of seeing my children everyday living with fear that their mother maybe someday wont come back home," said Rivera.
According to Lawrence Benito, CEO of the Highway Safety Coalition, lawmakers will see a bill during the veto session that would change everything.
"We're going to get, on the federal level, immigration reform done this year, and we're going to pass drivers' licenses out of the state house this week," said Benito
He bussed hundreds to Springfield Tuesday morning to take their message to lawmakers.
"This is an issue of public safety it needs to be addressed as soon as possible," he added.
His effort has support from democrats and republicans, but most of them are from Chicago. D
downstate republicans like Senator Sam McCann say that measure sets a bad precedent.
"My district does not believe this is a good piece of legislation so I will be voting no," said McCann.
Recently, opponents like McCann have received hundreds of emails and calls on the issue.
"Every single one of them, to the best of my knowledge, has been no on this," said McCann.