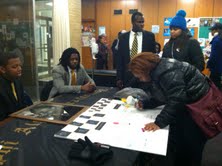 CHARLESTON-None of the men at Eastern Illinois's chapter of Alpha Phi Alpha were alive when Dr. Martin Luther King Jr., walked the earth. But they say they're keeping his messages relevant today.
They lit candles, joined together in song and walked alongside one another on a frigid January night. The members of Alpha Phi Alpha fraternity marching together in memory of Dr. King's memory for the 26th year in a row.
They also had a dream board, where people would write down their dreams and fears, with the goal of overcoming obstacles and realizing goals.