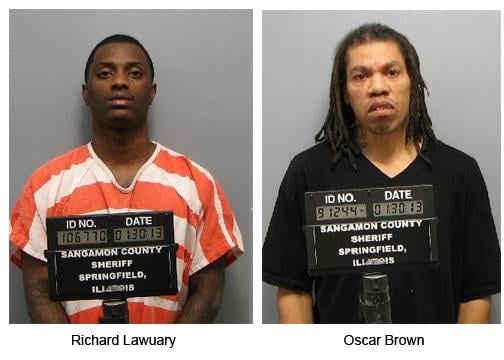 SPRINGFIELD- Police make arrests in an early morning shooting that killed a man and wounded another.
Thirty-four year-old Oscar Brown is being held on first degree murder and attempted murder charges. And 21-year-old Richard Lawuary is in custody on aggravated use of a weapon and obstruction of justice.
Deputy Chief Cliff Buscher says the shooting happened at 19th and Kansas Streets around four this morning. Thirty-eight year-old Charles Rice was shot to death and a 40-year-old man was also shot. He's now in stable condition at St. John's Hospital.
Rice was not from Springfield, but was visiting from Minnesota. His autopsy will be performed tomorrow.
Police are still investigating and would like anyone with information to call them or Sangamon County Crime Stoppers.