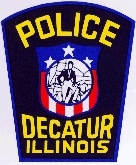 Decatur - Decatur is pushing ahead with leasing a south end building to house its new police station.
The city is entering into an agreement with Dewberry Architects of Peoria to determine what will be needed in a building located on South Side Drive and to negotiate a possible lease with the buildings owner. The city council could vote on finalizing a lease for the building this coming summer.
"We have been way behind the times," Mayor Mike McElroy told WAND News. "This is going to allow us to get a facility that they can be proud to work in."
Decatur Police have been located in the Law Enforcement Center in downtown Decatur since the 1980's. They are currently out of space and need more room.
If renovations start on the South Side Drive property this summer the department could move in late this year or early 2014. Police dispatchers will remain at the Law Enforcement Center.