Caterpillar Foundation makes charitable investment to Millikin
Posted: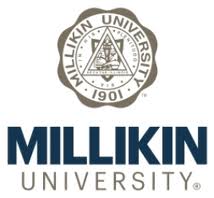 DECATUR – The Caterpillar Foundation has made its second payment of $1 million to Millikin University as part of the Caterpillar Foundation's $7 million pledge made in 2011. This charitable investment is earmarked for construction and renovation to transform Aston Hall into a Center for International Education on the university's campus.
In 2011, Caterpillar Inc. Chairman and CEO, Doug Oberhelman, a 1975 Millikin graduate, announced a charitable investment of up to $11.5 million toward Millikin's "Transform MU" capital campaign, the largest show of support in Millikin's history.
The investment, made both by the Caterpillar Foundation and personally by Oberhelman and his wife, Diane, will support the creation of a new university center that will house the Oberhelman Leadership Development Center, help renovate Millikin's oldest residence hall to create a Center for International Education and double the number of students supported by the university's Long-Vanderburg Scholars Program for minority students.
The $1 million check presented March 19 by Caterpillar Decatur's General Manager Walt Hupe is designated for Caterpillar's committed total of $3 million to help renovate and develop the new Center for International Education, which will provide housing for international students and serve as a home for multicultural affairs staff, international programs, study abroad and global awareness.
"Thanks to the generosity of Caterpillar and the Oberhelmans, the new Center for International Education will serve a vital role in enhancing a critical area of our university mission – to prepare our students for democratic citizenship in a global environment," says Millikin Interim President Rich Dunsworth. "Our students are going to work in an environment, far more diverse than any previous generation has. To not only achieve professional success in tomorrow's expanding global workplace, but to have a life of meaning and value, we must understand the world around us. The development of the Center for International Education is a vital piece in developing that understanding."
Millikin's partnership with Caterpillar extends back nearly six decades to 1955 when the company made its first investment in the university.