"Good Vibrations" at Decatur Celebration
Posted: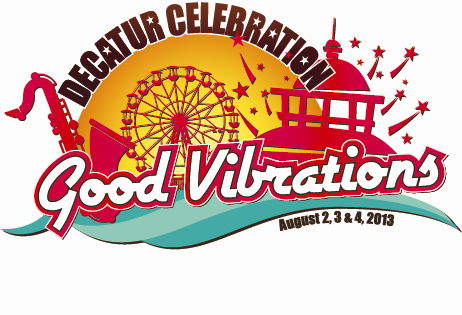 Decatur, IL - Decatur Celebration organizers announced today plans for the 28th annual street festival this August 1, 2, 3 and 4. The massive 4-day event attracts hundreds of thousands of people annually to the downtown business district of Decatur, Illinois.
2013 THEME
This year's festival theme hints at Decatur Celebration as a "staycation" or weekend getaway destination and is reminiscent of watching the sunset on a beachfront promenade complete with carnival rides and concerts— "Good Vibrations!"
WHAT'S "ON TAP" FOR 2013
NEW! Celebration Kick Off Concert featuring Here Come the Mummies on Thursday, August 1 at the Lincoln Square Theater. Tickets range from $15 to $40 and go on sale May 1.
NEW! Country Financial Band Together Wristbands will offer chances to win large cash prizes.
NEW! Theater 7 celebrates their 50th Anniversary with events including a Street Piano and an interactive mission that brings improv to the streets and makes you the actors.

The second annual Heinkel's Packing Company Hot Dog Eating Competition will take place on Saturday. A pre-qualifying event will be held on June 22 at Curly's Bar.

The Award Winning Land of Lincoln Credit Union 21 Film Project hosts their Awards Ceremony in the Civic Center Auditorium on Friday, and screens films Saturday and Sunday in The Back Lot.

Once again the Cyber Street Team will offer up to the minute festival updates through social media and chances to win festival perks including (10) Superfan Experience Packages.
2013 HEADLINERS
The stage is set for success with a well-rounded and highly energized lineup of national headliners:
Double Platinum early 2000s rock band, Vertical Horizon, with hits "You're a God," "Best I Ever Had (Grey Sky Morning)," and "Everything You Want"
Quadruple Platinum 1990s alternative rock band, Blind Melon, with hit song "No Rain"
Grammy Award Winning Platinum hip hop trio, Naughty by Nature, with hits "Hip Hop Hooray," "O.P.P.," and "Jamboree"
Double Platinum '70s Rock Band, Foghat, with hits "Slow Ride," "I Just Wanna Make Love To You," and "Drivin' Wheel"
'90s Dance Club Music Diva, Ce Ce Peniston, with chart topping songs "Finally," "We Got a Love Thang," and "Keep on Walkin"
Grammy and ACM Nominated country artist, David Nail, with hit songs including #1 on the country charts "Let It Rain," "Red Light," and "Turning Home"
The man with over 243 thousand Facebook Fans, Country comedian Kevin Fowler with hilarious antics and hit songs "Pound Sign (#?*!)," "That Girl," "Best Mistake I Ever Made," and "Ain't Drinkin' Anymore"
Season 10 American Idol Finalist Casey Abrams with hits "Get Out" and "Simple Life"
Dove Award Winners, Building 429, named the 2012 Billboard Christian Artist of the Year with hit songs "Where I Belong," "Listen to the Sound," and "We Won't Be Shaken"
Christian duo for KING & COUNTRY, named as one of Billboard Magazine's "New Artists to Watch" in 2012 with hit songs including "The Proof of Your Love," "Busted Heart," and "Middle of Your Heart"
Emerging country music star, Tyler Farr, with fan favorites "Redneck Crazy," "Hot Mess," and "Hello Goodbye"
Grammy nominated, Lisa Haley & the Zydekats brings a unique fiddle driven style combining music from the Louisiana Bayou, French Celtic, R&B and Jazz.
Classic rock fans will enjoy Heartache Tonight, A Tribute to the Eagles playing the soaring harmonies of "Seven Bridges Road," the snarling guitars of "Life in the Fast Lane," the country rock of "Take it Easy" and the beautifully evocative "Heart of the Matter"
Voted Best Band of Warped Tour, Reverend Peyton's Big Damn Band, brings their country blues sound offering hits from their album "Between the Ditches" which debuted at #1 on the iTunes Blues Album Chart.